Barrett embarks on his path back to Majors
Nats hurler returns to hill following two catastrophic arm injuries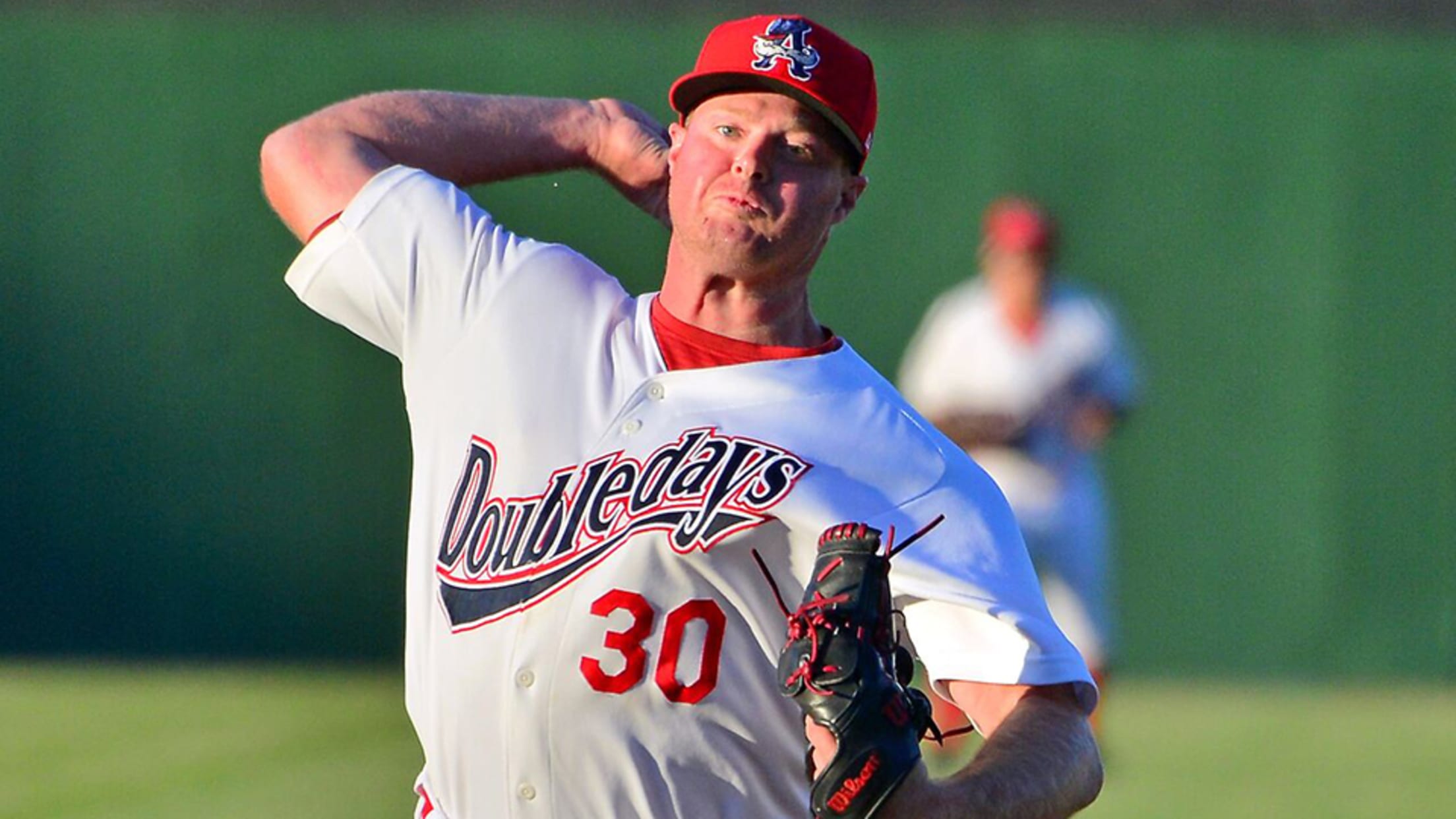 Aaron Barrett posted a 3.47 ERA and 84 strikeouts in 70 innings across 90 games as a Major Leaguer in 2014-15. (Rick Nelson/MiLB.com)
The climb through Minor League Baseball to the Majors can be so long and arduous that it's easy to think troubles are a thing of the past for any player who secures himself a spot at the game's highest level.For Aaron Barrett, though, misfortune intervened after he climbed that ladder
The climb through Minor League Baseball to the Majors can be so long and arduous that it's easy to think troubles are a thing of the past for any player who secures himself a spot at the game's highest level.
For Aaron Barrett, though, misfortune intervened after he climbed that ladder once, and he's started all over again. The right-hander hopes that four years in the Minors and nearly two seasons in the Nationals bullpen were only the beginning of his road to long-term success in The Show.
Mental over physical
A ninth-round pick in the 2010 Draft, Barrett spent four seasons in the Minors before making his Major League debut on Opening Day 2014. In that rookie year, he posted a 2.66 ERA in 50 appearances out of the Washington bullpen, striking out 49 batters over 40 2/3 innings. He began the following season with similar success before a right biceps strain put him on the disabled list for a month. He returned to the Majors on July 10 and appeared in 10 more games before the trajectory of his career was altered forever.
By that point in the season, Barrett's right elbow was in constant pain -- so much so that he was losing feeling in his fingers. He was diagnosed with a sprained elbow and he was placed on the disabled list on Aug. 6. Further examination revealed bone chips and a torn ulnar collateral ligament. He had Tommy John surgery less than a month later.
As a trying but uneventful rehab process came to a close the following summer, Barrett began to pitch at a practice facility in Florida in preparation for returning to game action. Another catastrophic injury struck before he got the chance. While the righty delivered a pitch on July 23, 2016, his humerus -- the bone located between the elbow joint and the shoulder -- cracked. The sight and sound has stayed with the hurler and everybody else who was in the vicinity when it happened.
"One week," Barrett said. "That's how far I was away from going on a big league rehab [assignment]. That one pitch was all it took to snap my humerus. To [Dr. James Andrews'] knowledge, I'm one of the only guys to have that happen post-Tommy John. Because of that, I've been on my own in the rehab process, for lack of a better term. It's uncharted territory. Doc calls me a miracle, basically. I have two plates and 16 screws in my arm."
The Nationals stuck with Barrett, re-signing him to a Minor League contract at the beginning of 2017. He's been on the comeback trail ever since.
"I would say the mental part of this has been the toughest thing for me," Barrett said. "Physically, there are a lot of things that I needed to do, but it was the battle in my mind that was hard. For the longest time I questioned, 'Why me?' I had no setbacks from Tommy John. In fact, the day I broke my arm I was throwing 95-96 [mph]. I was devastated."
In addition to more traditional rehab methods, Barrett visited with a special physical therapist. The connection between the brain and the rest of the body is strong, and he experienced that firsthand. His mind was initially resistant to his desire to lift his arm to the throwing position. It was one of many obstacles Barrett faced and one he's convinced he couldn't have gotten over by himself.
"I've been fortunate to have a great support system," he said. "My wife [Kendyl] and my family have been my rocks. I'm also a man of faith and my trust in the Lord and believing that He's ultimately in control helped me look at things in a different way. I began to realize that baseball isn't everything, but it was something I took for granted. Obviously, I didn't want this to happen, but now I just put my foot on the gas pedal and go for it. I have nothing to lose. I ask myself, 'What can I do to get better today?' It's all about having a positive attitude."
'Salt of the Earth'
Barrett's positivity through his tumultuous three years hasn't been lost on the Nationals, who continue to help their pitcher along his rehab process. The native of Evansville, Indiana, returned to the mound in March and was immediately hit by a wave of emotion, some due to memories -- good and bad -- but mostly because he wasn't sure he'd ever make it back.
"I've had plenty of emotional roller coaster rides during this process," Barrett said. "Playing catch for first time last year was one and then facing live hitters [during batting practice] this spring was another. I literally started bawling in the dugout because of the enormity of the situation. It really was overwhelming, but in a good way. I actually called my wife from the dugout while I was crying, but I didn't really know how to explain what I was feeling."
The next step was a live game during extended spring training, and with it came a surprise.
"The Nats do something great when a pitcher comes back from a major arm injury or surgery," he said. "After that first pitch is thrown, they stop the game and have everyone stand up and clap. I had to step off mound and take a second. It was a big moment and to have them stick with me through all of this is amazing."
Among those in attendance that day was Nationals Minor League pitching coordinator Paul Menhart, who was also present when Barrett's humerus snapped in 2016.
"He's closer than I thought he'd be at this point in his rehabilitation," Menhart said. "To be where he is now, which is very similar to where he was prior to Tommy John, is something. He's not that far away. The goal now is to get through this year healthy so he can have a normal offseason. Our plan is to take things slow, give him ample rest between his outings and not overextend him.
"It's been [a lengthy process], to say the least, but he's a very special kid. It gets tearful at times watching him take these steps and get over these hurdles, but this kid is the salt of the earth. His work ethic and personality are second to none."

Road (back) to 'The Show'
All the blood, sweat and tears finally paid off for Barrett on June 15. It was Opening Day for Class A Short Season Auburn, which took a 3-1 lead into the sixth inning of its New York-Penn League tilt with visiting Batavia. As eight younger players took the field, a 30-year-old pitcher with 90 games of MLB experience jogged to the mound for his first time in a competitive game in 1,043 days.
Barrett allowed a single in the sixth but recorded all three outs via the strikeout. He began the seventh by surrendering a base hit and a walk before he was removed from the game. Barrett experienced some mild arm soreness following the outing, but nothing serious or abnormal.
"It was definitely a thrill being back under the lights again," he said. "After being in Florida for what seemed like forever, it was great to go out there and get some real adrenaline flowing. Having that competitive feeling back is indescribable."
Being back in the New York-Penn League has brought up a flood of memories for Barrett, who spent his second year as a pro with Auburn.
"It really takes me back, being down here," he said. "I was talking to one of the clubhouse guys the other day and mentioned that my last bus ride was in 2013 in Double-A or something like that. But it's almost a blessing, in a way. You remember how hard you worked to get where you were. A lot of things have changed for me, but it's still the same game. I'm enjoying being around the younger guys, some of whom are playing their first time under the lights. I was fortunate to have some vets help me along when I was a Minor Leaguer, so now I'm trying to pay it forward."
Barrett understands what he needs to do as his progression continues. He realizes there will be more bus rides and overnight stays at Holiday Inns, but his eyes remain firmly set on the same goal he had in his debut season.
"I'd be lying if I said I didn't have the Majors on my mind," he said. "If you don't set lofty goals, you're only going to limit yourself. It's a matter of time and building up arm strength while pitching in games again. I have to prove I'm healthy, but the Nats know what I'm capable of. I'll just continue to work my butt off until I get to that point. To be where I'm at today is a blessing."
The club feels the same. After all, they aren't going through this ordeal with Barrett simply because he's a nice guy.
"Everything will be dictated by his performance and recovery," Menhart said. "If we feel he's ready to go up another level, we'll move him up accordingly. But it would be silly for us to rehab him if we didn't think he'd be a viable option for us in the big leagues at some point."
While baseball is ultimately a business, people in the Washington front office are also pulling for Barrett on a personal level. Just ask Menhart, who considers himself one of the University of Mississippi product's biggest fans.
"I don't know if you could put a number on how much I want to see him succeed," the former big leaguer said. "We're not supposed to have favorites, but he's one of my all-timers. I root for him daily. I love him and wish nothing but the best for him. No matter what happens, he's already a success in my eyes."
Among the many positives Barrett has taken from his time away from the game, there's one memory that he'll never forget.
"The greatest blessing for me was being there for the birth of my daughter [Kollyns] last October," he said. "If I had been healthy and none of this had happened, I probably would have been with the team [in the playoffs]."
Now a father, a husband and once again an active pitcher, Barrett looks back on his ordeal with a sense of pride.
"The whole process has taught me a lot," he said. "I had made it to the top. I was there, and to know what you're capable of when fully healthy only to have it ripped away from you is tough. It's one of those things where a lot of folks never thought I'd throw again. I thought so too for a time, but those days are over. Instead of questioning how this could have happened to me, I prefer to think, 'Why not me?'
"It's been a long road, but I keep telling myself that when it's all said and done, it's going to be one hell of a comeback story."