Suns' Soto sets career high with six RBIs
Nationals' No. 2 prospect goes 3-for-3, reaches base five times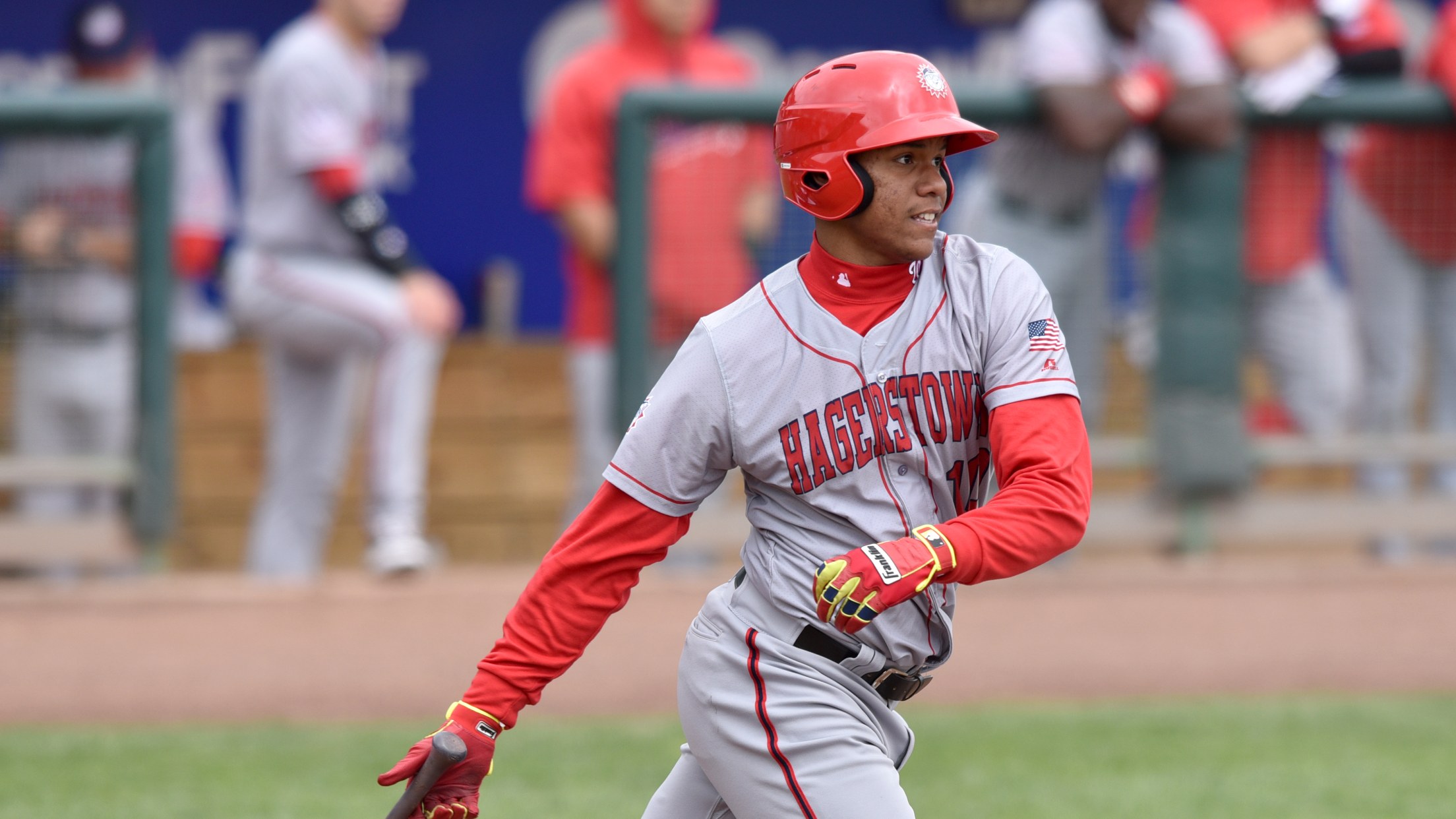 With three homers in six games, Juan Soto has matched his total from an injury-plagued 2017 season. (Ken Inness/MiLB.com)
Juan Soto is showing exactly what he can do with a clean bill of health.The Nationals' No. 2 prospect reached base in each of his five plate appearances Tuesday, going 3-for-3 with a homer, double and a pair of walks while collecting a career-high six RBIs to lead Class A
Juan Soto is showing exactly what he can do with a clean bill of health.
The Nationals' No. 2 prospect reached base in each of his five plate appearances Tuesday, going 3-for-3 with a homer, double and a pair of walks while collecting a career-high six RBIs to lead Class A Hagerstown to a 9-3 triumph over Columbia at Spirit Communications Park.
Box score
"Soto is amazing. When he's healthy, he can do anything in this game," Suns hitting coach Amaury Garcia said. "He's a hitter. He can use the whole field. He has a plan every time he goes up there, and he can make adjustments right away.
"I work with him in the cage and he has a routine that he does every single day. It doesn't matter how he does in the game. He can have six hits or no hits, he does his routine every day. He's fun to watch. He's just amazing."
MLB.com's No. 29 overall prospect walked in the first inning, scored two runs with a single up the middle in the third and smacked a two-run homer to center field in the fifth. He walked again and came around to score in the seventh before finishing his night with a two-out, two-run double in the eighth.
"[Soto] is very good at working the count in his favor," Garcia said. "He looks for his pitch, and if he gets ahead he's dangerous. He's a great fastball hitter and if he gets one he's not going to miss it."
The native of the Dominican Republic got some help from his teammates in eclipsing the career-high four RBIs he established Sunday. Nats' No. 7 prospect Yasel Antuna was on base for all three of Soto's hits and Cole Freeman -- the team's 27th-ranked prospect -- was aboard in the third and eighth.
"The nice thing about this team is that we have good hitters. And those guys get on base in front of [Soto] and put more pressure on the pitcher," Garcia said. "And when a pitcher makes a mistake against Soto, he's going to make him pay."
The 19-year-old tied his 2017 home run total with his shot on Tuesday off starter Marcel Renteria. Soto was limited to 32 games last year as he dealt with a fractured ankle, broken hamate bone and an injured hamstring.
He went 3-for-9 with two walks, a double, home run and five RBIs in five Grapefruit League games this spring.
"The big thing for Soto this year is to be healthy," Garcia said. "If he can stay healthy, he's going to move fast [through the system]. I don't expect him to be here very long -- I think he will be leaving soon. He's a special guy."
Antuna doubled, singled and walked with an RBI and three runs scored in the contest.
Rob Terranova is a contributor to MiLB.com. Follow him on Twitter @RobTnova24.