Soto makes noise in Double-A debut
Nats No. 2 prospect follows two-RBI double with two-run homer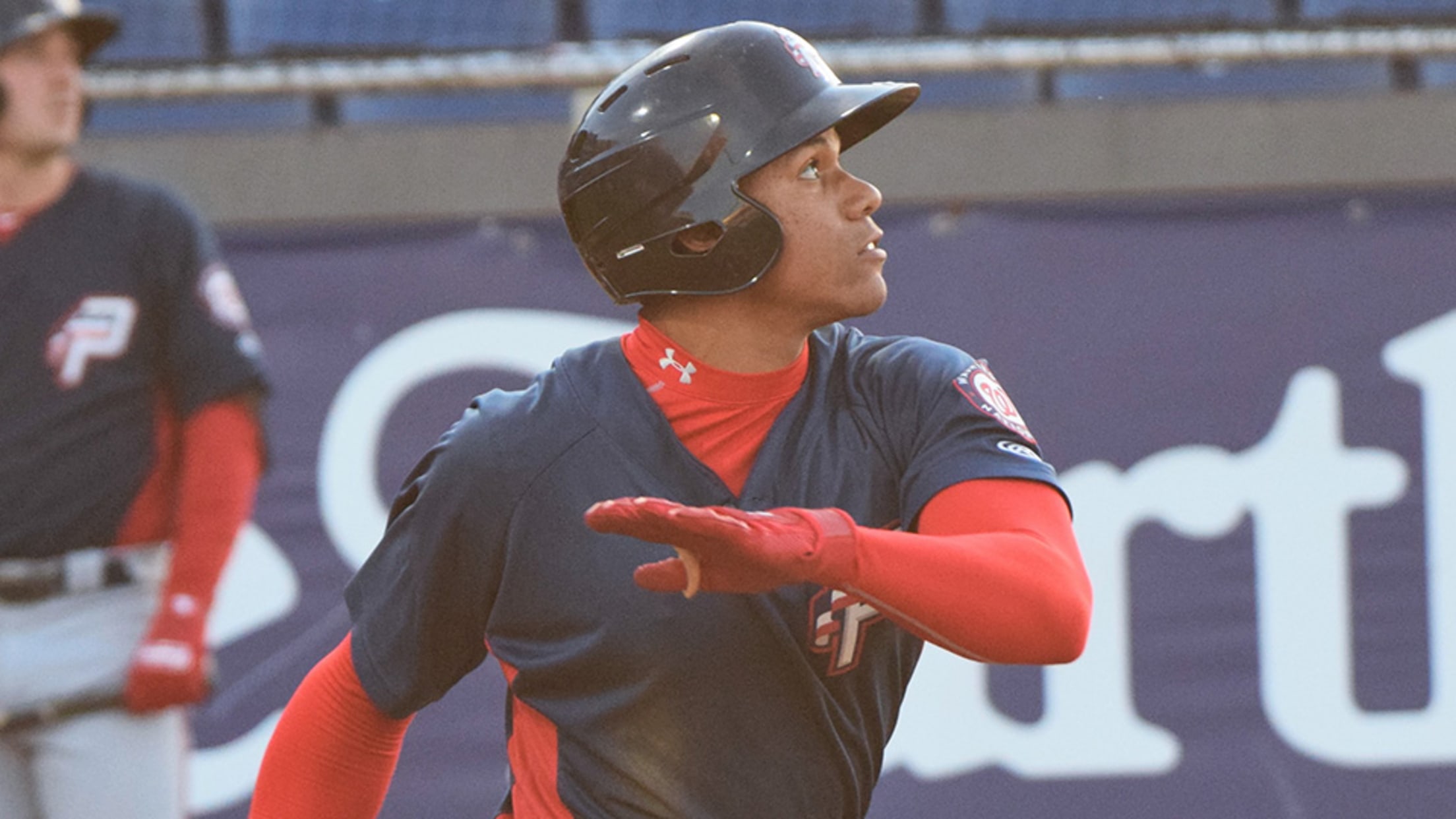 Juan Soto leads the Minor Leagues with 44 RBIs and stands second in homers with 12. (Patrick Cavey/MiLB.com)
No matter where Juan Soto plays, he has made one thing abundantly clear: He will hit. On the day the second-ranked Nationals prospect was promoted to Double-A Harrisburg, Soto belted a homer, a double, plated four runs and helped set up the game-winning run in the Senators' 9-8 victory over the
No matter where Juan Soto plays, he has made one thing abundantly clear: He will hit.
On the day the second-ranked Nationals prospect was promoted to Double-A Harrisburg, Soto belted a homer, a double, plated four runs and helped set up the game-winning run in the Senators' 9-8 victory over the Fisher Cats in 10 innings at FNB Field.
MLB.com's No. 16 overall prospect wasted little time acclimating to Harrisburg, lining a two-RBI double to right field in the first inning off Fisher Cats starter Francisco Rios on a 2-0 offering that caught the heart of the plate.
Soto tagged the right-hander again during the next frame, this time driving an opposite-field, two-run homer on a 1-0 pitch.
"I thought he stayed in the zone," Senators manager Matthew LeCroy said. "He used the whole field."
The 19-year-old grounded to second in his third and fourth at-bats of the night, before using his heralded plate discipline to draw a walk in the eighth. Facing New Hampshire right-hander Zach Jackson, April's South Atlantic League Player of the Month fell behind 1-2, fouled a pitch off and proceeded to take three consecutive balls. Soto then showcased his speed, swiping second for his third stolen base of the season.
Leading off the 10th with a runner on second, Soto gave a 3-1 fastball a ride to the gap in left-center, but Fisher Cats center fielder Jonathan Davis tracked it down near the wall.
"I thought he hit it really well, but he was able to move the runner up," LeCroy said. "You can tell he's got a pretty good approach."
Gameday box score
The Senators skipper had a small sample size of watching Soto in Spring Training. The Dominican Republic native arrived around lunchtime, met with LeCroy, took batting practice. Since Soto already has some friends on the Senators, the club showed a palpable excitement when he joined the team.
"When you move up a level, it doesn't matter how tired you are or how bad of a travel you had, you're kind of geeked up for the game," LeCroy said. "You're one step closer. You can tell he keeps his body in shape. There's a lot of good things that you see. He's just gotta continue to be consistent. Hopefully we can help him along the way to get to the ultimate goal and that he does get an opportunity when he's ready."
The way Soto took batting practice left an impression on LeCroy, who said his preparation tactics had already made waves through the organization.
"He's just so well prepared, every day," the manager said. "There's a lot of things in his games I'm sure he's got to get better at -- defensively ... and the baserunning. But the hitting part, he's very mature. He took really good in BP, not trying to hit home runs. [He] had a plan. That's always good to see in a young kid."
Through his first two levels of the Minors this season, Soto batted .372 with 12 homers and 42 RBIs over 31 games between Class A Hagerstown and Potomac. He leads all of organized baseball in RBIs and stands third in long balls.
LeCroy expects Double-A to present a more consistent foil for MLB.com's No. 8 outfield prospect.
"Hopefully he'll continue to be well prepared, which I don't think he'll change," LeCroy said. "I like what I see so far. This will be a good challenge for him and play with some guys who can really throw the baseball. They're able to repeat a little bit more than they can in A-ball. I'm sure he's ready for the challenge."
Nationals scouts and player development personnel also have raved about Soto's maturity. The 6-foot-1, 185-pound prospect reminds LeCroy of his former Twins teammate Joe Mauer when the six-time All-Star was Soto's age.
"He's so balanced when he hits," the manager said. "That's what Joe was. I saw Joe when he was 17, 18 in his first Major League camp. I remember seeing him in his first at-bat ever at Spring Training, it was like he'd been there forever. You see the similarities in the way you don't panic when you hit. He just has the unique ability, so far from what I've seen, to slow the ball down and stay in the strike zone."
Soto's rapid promotion through the system in 2018 doesn't come as too much of a surprise to LeCroy.
"I think if they didn't think he'd have that ability, he'd probably stay in A-ball," LeCroy said. "But he started out so well at both levels. Our front office, they do a nice job of knowing when to send guys up here. I'm sure he'll have some times when he struggles. But I'm sure they'll be very few just because of his approach."
Toronto's top-ranked prospect, Vladimir Guerrero Jr., went 3-for-5 with two doubles, one RBI and scored twice.
Chris Bumbaca is a contributor for MiLB.com based in New York. Follow him on Twitter @BOOMbaca.