Reetz blasts off twice for P-Nats
Nationals No. 15 prospect enjoys first career multi-homer game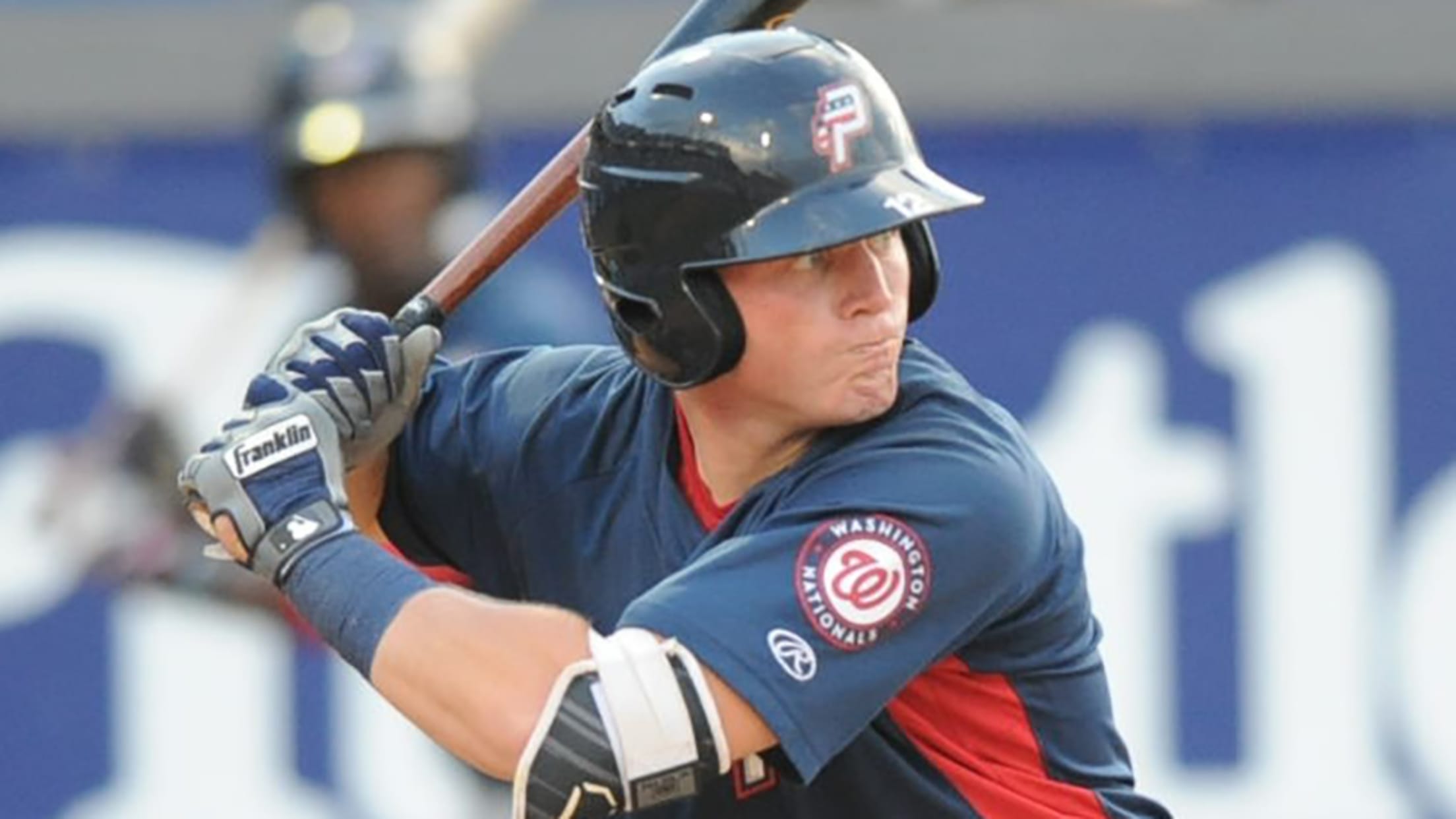 Jakson Reetz has a 1.044 OPS during day games this year for Class A Advanced Potomac. (Brad Glazier/MiLB.com)
Maybe the key for Jakson Reetz to break out at the dish was simply more playing time. Since the arrival of a third catcher with Class A Advanced Potomac, the Nationals' 15th-ranked prospect has received more at-bats, and he's taken advantage of the situation. Reetz recorded the first multi-homer game of
Maybe the key for Jakson Reetz to break out at the dish was simply more playing time.
Since the arrival of a third catcher with Class A Advanced Potomac, the Nationals' 15th-ranked prospect has received more at-bats, and he's taken advantage of the situation. Reetz recorded the first multi-homer game of his career Monday and finished 3-for-5 with three RBIs as Potomac defeated Frederick, 10-7, at G. Richard Pfitzner Stadium.
Matt Reistetter arrived from Double-A Harrisburg over the weekend to give P-Nats manager Tripp Keister another option behind the plate to complement Reetz and Tres Barrera.
"I was alternating [Reetz and Barrera], giving them basically equal playing time," Keister said. "It's allowed us to [be able to] DH one of the guys who's not catching. So they're getting more consistent at-bats. Knowing you're going to the ballpark and be in the lineup, there's a lot of comfort in that. I think they both benefited from that. It's good to see Jakson having a day like he had today."
Gameday box score
Reetz struck out swinging against Orioles No. 14 prospectZac Lowther to end the first inning. In the third, the two battled for seven pitches before the 22-year-old reached on an infield single.
In an 0-2 hole against reliever Mike Burke to lead off the fifth, Reetz tied the game with a solo shot to left-center for his fourth home run of the season. One inning later, the 2014 third-round Draft pick waited on a 1-1 offering from Burke and deposited it over the right-field wall for a two-run homer.
"Anytime a guy has a two-homer game, it's a special day," Keister said. "Just kind of the way the game went, we were down a bunch early, gave up seven runs in the first two innings, and the fact we came back. The second homer was some add-on runs late, which was really big. The dugout was pretty happy."
Recently, Keister and Potomac hitting coach Luis Ordaz have been working with Reetz to control his directional hitting, with the goal of not trying to force the pull or even to the opposite field. Rather, the staff wants the Nebraska native to use the middle of the field and simply react to pitches.
"He's just been really working on his direction," the skipper said. "Sometimes he gets across himself a little bit with his lower half. [We're] just working [to be] more direct and thinking more back up the middle. If the ball is in, he'll naturally pull the ball and if the ball is away, he'll naturally let it get a little deeper. But really thinking more middle of the field, obviously trying to hit the ball hard, but letting where it goes happen. ... He's been working really hard at it."
The approach worked Monday, with Reetz pulling one homer and going the other way for the second. The 12:05 p.m. first pitch may also have something to do with the 6-foot-1 prospect's success; he owns a .297/.395/.649 line with four of his five home runs coming during day games this season. In nine July contests, the Reetz is batting .333/.487/.600 with five RBIs and six walks.
Reetz hit nine homers during his first four Minor League seasons, but Keister thinks he might be on the verge of powering up.
"It's a byproduct of the work he's been doing with his swing," Keister said. "It was good to see him get rewarded for the work he's been doing. He is a strong kid. He certainly has power. So it's not as if it's a once in a blue moon thing, but I hope it does become more consistent for him."
T.J. Nichting plated three runs with a pair of doubles for the Keys, who did not score after putting up six runs in the second. Lowther wound up with a no-decision, allowing five earned runs on six hits over three innings with four walks and four strikeouts.
Washington first baseman Ryan Zimmerman began his rehab assignment with the P-Nats on Monday, returning from a right oblique strain that landed him on the 60-day disabled list in May. Having Zimmerman around is always a treat for Keister and his club.
"He's the face of our franchise," the manager said. "He's a special guy to approach, to talk about baseball with. He really does treat everyone with a lot of respect. He was great for the guys. He actually played really well today."
Zimmerman reached in all three of his plate appearances -- going 2-for-2 with a walk -- and played five innings at first. Keister said the 33-year-old saw plenty of pitches at the plate and battled with two strikes.
"It was a good day for him, a very positive day for him," Keister said.
Chris Bumbaca is a contributor for MiLB.com based in New York. Follow him on Twitter @BOOMbaca.