Suns' Garcia collects four more hits
Nationals No. 5 prospect rolling since early-season struggles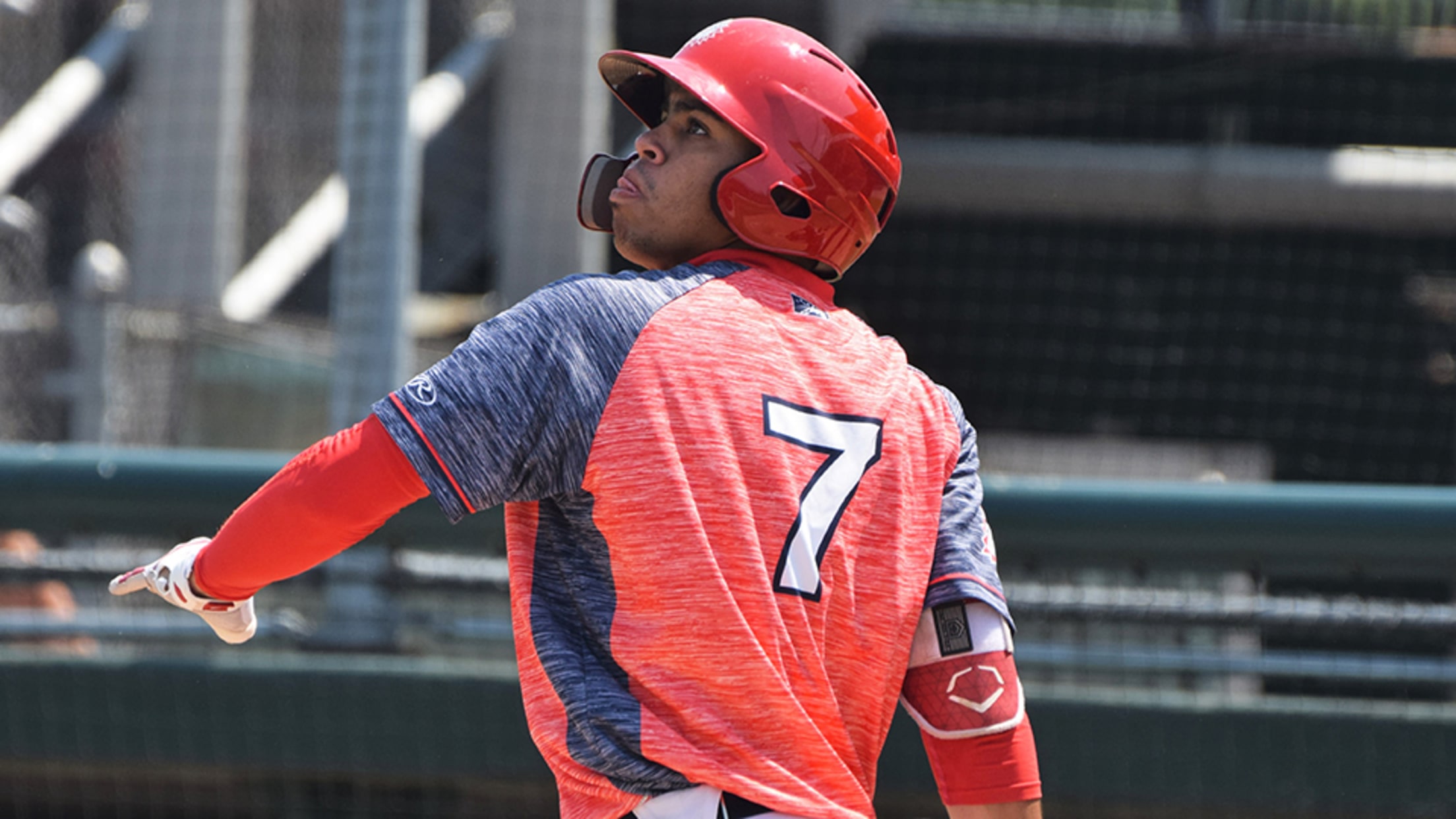 Luis Garcia ranks fifth in the South Atlantic League with 86 hits in 76 games. (Patrick Cavey/MiLB.com)
Despite being one of the youngest players in the South Atlantic League, Luis Garcia is not afraid to let his personality shine through on a daily basis. On Sunday, the Nationals' fifth-ranked prospect showed off more than his braces-filled smile with a 4-for-5 afternoon, scoring three times and plating a run in
Despite being one of the youngest players in the South Atlantic League, Luis Garcia is not afraid to let his personality shine through on a daily basis.
On Sunday, the Nationals' fifth-ranked prospect showed off more than his braces-filled smile with a 4-for-5 afternoon, scoring three times and plating a run in Class A Hagerstown's 11-4 victory over West Virginia at Municipal Stadium.
"He's an exciting player," Suns manager Patrick Anderson said. "The young man, he's always smiling, cutting it up with the fellas, a really good teammate. It's really a fun young man to be around. To be able to have that mindset is great."
Gameday box score
In the first inning, Garcia went the other way and singled through the left side off starter Cody Bolton to load the bases. Facing Bolton in the second, the 18-year-old again utilized the opposite field and laced a double to left. He swiped third for his eighth steal of the season, then scored on a double by Jake Scudder.
Garcia lined a single to left leading off the fourth, advanced to second on a wild pitch and scored on Alex Dunlap's sacrifice fly. With two outs in the fifth, the third baseman drove in a run with an infield single, swinging at the first pitch from right-hander Sergio Cubilete.
"He's always been really aggressive," Anderson said. "His strike zone discipline as of late, in the last month or two, has been a lot better. He's done a really good job identifying off-speed pitches and pitches he can go handle. Having somebody be aggressive who is really learning the zone is what the Minor Leagues are about, especially at the plate. We're really happy with his progression there.
"He's going to have days just like a normal 17-, 18-year-old, but real happy with what he's done. When he gets going, it's fun to watch."
The New York native grounded out to second in his final at-bat in the eighth.
Garcia spent last year in the Rookie-level Gulf Coast League, so 2018 has been an adjustment as he deals with playing a full season for the first time. That grind, coupled with arduous travel in the SAL, can be difficult, but Anderson said his demeanor has alleviated any pressure.
"It's a hard thing to do at any level, let alone your first full season," the skipper said. "His personality is more consistent. It's really impressive for such a young kid. He comes to the ballpark wanting to play. He works hard. It's really what you ask for."
Consistency is something that eluded the 6-foot prospect to begin the season. He batted .198 with no homers in April, then put up a .371/.404/.526 slash line in May. For the season, he's hitting .299/.339/.406 with three homers and 29 RBIs.
"That's what we're here for in the Minor Leagues -- [to learn to] be consistent," Anderson said. "for him to be able to learn from what went on early on in the season about just being consistent and going about your business and going about your routine. So far, he's had good results. The kid competes. He's done a great job and it's a tribute to our hitting coach here, Amaury Garcia, and our hitting coordinator, Troy Gingrich."
Anderson hopes that Garcia's tangible athleticism and approach keep progressing. The manager also offered a comparison to a former teammate -- Juan Soto. The 19-year-old tore through the Nationals system and already has impacted the big league club.
"The biggest thing, at such a young age, that we saw with Soto -- even though they're different players -- was learning the strike zone," Anderson said. "A reason why Soto is so good is he's really patient and aggressive -- a controlled, aggressive approach. That's what allowed him to be successful here and then move up to the big leagues."
Over the last month, Anderson noticed an improvement in Garcia's two-strike approach. He said he believes the 190-pounder has taken a little bit of how Soto operates in similar situations on him.
"He gets a little bit wider, he chokes up on the bat, he puts the ball in play," Anderson said. "He has that mindset. ... It's one of those things the organization believes in and he's starting to buy into it at such a young age. It's going to be fun to watch as he gets older."
Nationals No. 6 prospect Yasel Antuna cracked a two-run homer and singled. Scudder went 3-for-5 with three RBIs.
Pirates No. 13 prospectOneil Cruz followed up a four-hit night by delivering an RBI single for West Virginia.
Chris Bumbaca is a contributor for MiLB.com based in New York. Follow him on Twitter @BOOMbaca.