Nationals Prospect Primer: Robles at the ready
No. 6 overall prospect 'a luxury'; Soto, Kieboom shake injuries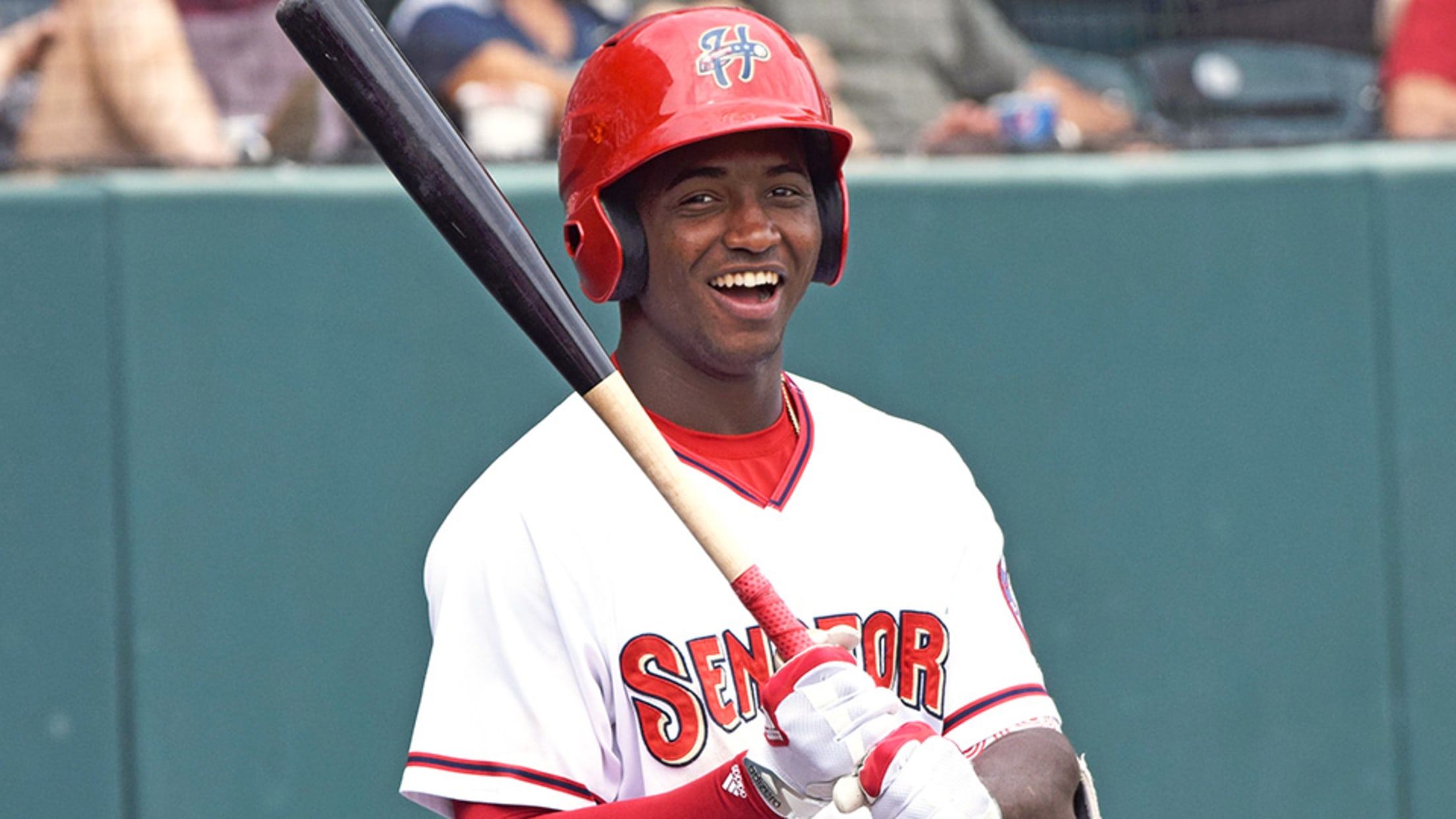 Victor Robles is the only Top-100 prospect with three tools graded at 70 or higher. (Patrick Cavey/MiLB.com)
Some players are on the verge of stardom, others are entering a crucial phase of their development and still others are getting their first tastes of full-season ball. With the 2018 season approaching, MiLB.com takes a look at the most intriguing prospects from each MLB organization.Shining star: Victor Robles, OFThe
Some players are on the verge of stardom, others are entering a crucial phase of their development and still others are getting their first tastes of full-season ball. With the 2018 season approaching, MiLB.com takes a look at the most intriguing prospects from each MLB organization.
Shining star: Victor Robles, OF
The top-ranked Robles is the Nationals' good problem. The 20-year-old bypassed Triple-A and made his Major League debut last September after batting .324/.394/.489 with 16 extra-base hits for Double-A Harrisburg. He has all the tools capable of making an impact in Washington right now, but with a loaded outfield, he represents a luxury the team can stash in the Minors for the time being.
"He's impressive," first-year manager Dave Martinez told MLB.com. "Good kid. Wants to learn. Been talking to him a lot about just doing the little things, but he gets it. He's going to be fun to watch. He really is. He does it all. I was watching when they were fielding in the outfield, and it's almost like he glides out there. He's going to be a good one."
Signed out of the Dominican Republic in 2014, Robles is MLB.com's No. 6 overall prospect and the only player within the Top 100 with three tools that grade at least a 70 (75-grade speed and 70-grade arm and field). Although he struggled this spring, going 9-for-48 (.188) at the plate in 21 Grapefruit League games, there isn't an indication he will have any problem with his next challenge in Triple-A.
"Victor's very passionate, a young man who's obviously very gifted, who can make an impact and play the game in all phases," Nationals director of player development Mark Scialabba told MiLB.com. "He has that youthful energy that sometimes gets him in trouble, but we'd much rather that than have somebody that we have to speed up."
Back and healthy: Juan Soto, RF
If not for Robles and a fractured ankle in 2017, Soto could very well be the MVP of this system. The ankle injury derailed his first full season last summer, but he was able to provide some eye-popping numbers in a small sample with Class A Hagerstown. Over 23 games with the Suns, Soto batted .360/.427/.523 with three homers, five doubles, 15 runs scored and 14 RBIs.
"He's a big, strong, physical left-handed bat," Scialabba said. "Very advanced approach at the plate, understands the strike zone [and] identifies pitches very well, especially for his age. [He] has power to all fields and really projects as, hopefully, your middle-order impact bat down the road."
The No. 29 overall prospect injured the ankle while sliding into home in a game on May 2. He rehabbed in the Rookie-level Gulf Coast League in July before getting shut down again, this time for surgery to remove the hamate bone in his right hand. His last comeback effort in September was cut short by a hamstring injury, but Scialabba assured the outfielder is ready to go.
"He has a great work ethic and he's someone we feel can impact the game on both sides of the field," Scialabba said. "Very much a leader off the field, very mature beyond his years and very exciting, young prospect with a high ceiling. … You look at his tools, and just his ability and how he goes about his day-to-day activity, his approach is extremely consistent from at-bat to at-bat. He has great plate coverage and understands what pitchers try to do to him at a young age."
Full-season debutant: Seth Romero, LHP
Romero debuted with one start in the GCL before stepping up to Class A Short Season Auburn last summer. The 21-year-old amassed a 5.40 ERA over six starts with the Doubledays, striking out 32 while issuing six walks in 20 innings.
"Big, strong, physical kid, Lightning-quick arm from the left side," Scialabba said of Romero. "So [he's] someone that, I'd say, could start down the road in the middle of our rotation, possibly in the front line. He has that sort of ability and upside ceiling to him and we're excited about where he is right now physically. He's good so far and we're excited about that, moving forward."
The Nationals' fifth-ranked prospect has a good feel for each of his three effective pitches. He boasts a plus fastball, which can reach 96-97 mph and a wipeout slider in addition to a developing changeup.
However, Romero has had some difficulties off the field. In May of his junior season at the University of Houston, he reportedly was dismissed from the team following an incident involving a fight with a teammate. He did not play again with the Cougars and was selected by the Nationals with the No. 25 overall selection in last June's Draft.
"We gave him a clean slate, and just like with any other player, there's certain standards here with the Washington Nationals and he's going to abide by them," Scialabba said.
The issues don't seem to have been ironed out yet. On March 6, Romero was sent home from Spring Training for an undisclosed "violation of team rules."
Major-league ready (non-Robles edition): José Marmolejos, 1B/OF
After signing with the club out of the Dominican Republic in 2011, Marmolejos moved unhurried through the Minors until a breakout season with Hagerstown in 2015.
Since then, the 25-year-old has continued to ascend toward the Majors. Over 107 games with Harrisburg last season, Washington's 22nd-ranked prospect batted .288/.361/.458 with 14 homers, four triples, 18 doubles, 68 runs scored and 66 RBIs.
"When you look at Jose, he's a professional hitter," Scialabba said. "He has a short, simple, compact swing. He repeats it well, looks to hit the ball where it's pitched and not do too much. He's starting to learn how to leverage the baseball a little bit more now and he's someone that we see as impacting the Major League level."
The 6-foot-1, 225-pounder profiles as a first baseman, but played the lion's share of his time in the outfield -- exclusively left field -- for the Senators, getting in 52 games at left and 37 at first. He appeared in 18 games in the Grapefruit League this spring, collecting 10 hits in 41 at-bats with a homer and six RBIs.
Breakout prospect: Carter Kieboom, SS
Much like Soto, Kieboom's 2017 season could be described as a hot start in Hagerstown that was derailed by injuries. Unlike Soto, however, the 20-year-old was able to return for the final weeks of the regular season. The No. 90 overall prospect batted .296/.400/.497 with eight homers, 12 doubles, 36 runs scored and 26 RBIs in 48 total games with the Suns.
"[He's a] very gifted, young hitter that has the ability to hit for power and average," Scialabba said. "Very instinctual hitter, uses the whole field, stays inside the baseball, but can turn on velocity and drive the ball deep into the gaps."
The third-ranked Nationals prospect pulled up with a hamstring injury while running out a ground ball on May 12 and returned to Hagerstown on Aug. 15 after rehab stops in Auburn and the GCL. He seems to have put the injury woes behind him and looks to be ready for the season.
"He's strong, he's in great shape. He works extremely hard at his craft in all phases. I'm excited about his development at shortstop as well," Scialabba said. "Unfortunately, the injury last year took some time away from him on the field, but he put himself in a nice position now to help us. We're excited about seeing him where he goes to start the year."


More to keep an eye on:
Scialabba sang the praises of the system's talent in the middle of the field. In addition to Robles, center-field prospects Daniel Johnson (No. 9), Blake Perkins (No. 11), Andrew Stevenson (No. 12) and Rafael Bautista (No. 21) all have the potential to make an impact with the Major League club in the near future. Johnson was the Nationals' Minor League Player of the Year last season. Luis Garcia (No. 6), Yasel Antuna (No. 7) and Jose Sanchez (No. 23), a trio of shortstops the club scooped up in 2016 at the open of the international signing period, are likely to leave the complex leagues behind them. Fourth-ranked Erick Fedde, who debuted in the big leagues last year, will likely be relied upon to provide some rotation depth at some point in Washington throughout the season while right-hander Wil Crowe (No. 8) will likely make his full-season debut.
Predictions:
Most home runs in the system: Johnson
Most stolen bases: Bautista
Most strikeouts: Romero
Current prospect to get the most Major League playing time: Fedde
Non-Top-100 prospect to end 2018 in the Top 100: Johnson
Gerard Gilberto is a contributor to MiLB.com. Follow and interact with him on Twitter, @GerardGilberto4.