Barons' Jimenez gets hotter, homers again
Top White Sox prospect stretches hitting streak to eight games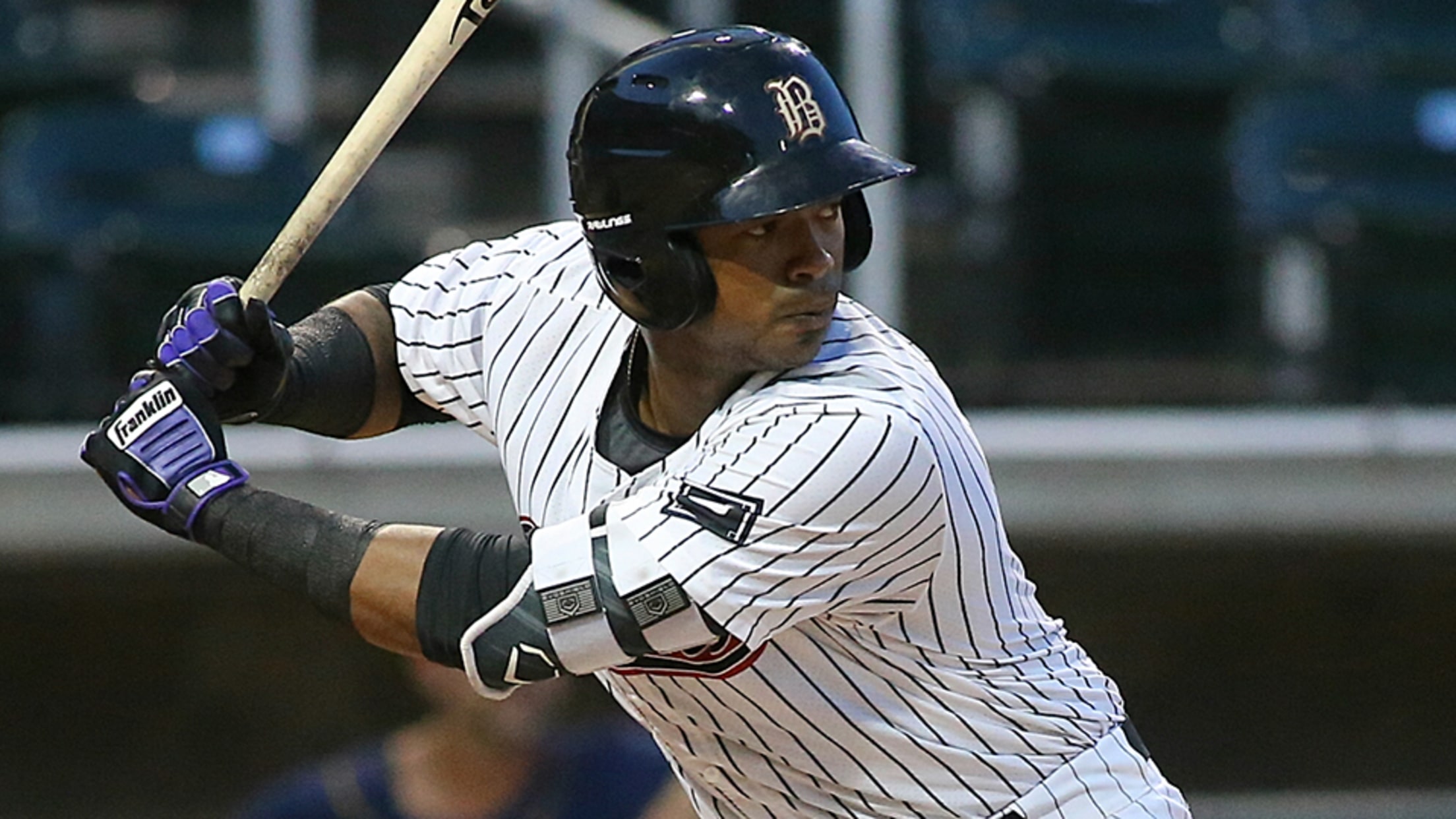 Eloy Jimenez is batting .368 during his eight-game hit streak for Double-A Birmingham. (Jimmy Mitchell/Birmingham Barons)
Eloy Jiménez capped a week of steadily increasing production with a season-high three hits on Friday.The top White Sox prospect hit his fifth homer of the year, going 3-for-5 and finishing a triple shy of the cycle while driving in three runs in Double-A Birmingham's 5-4 win over Tennessee at
Eloy Jiménez capped a week of steadily increasing production with a season-high three hits on Friday.
The top White Sox prospect hit his fifth homer of the year, going 3-for-5 and finishing a triple shy of the cycle while driving in three runs in Double-A Birmingham's 5-4 win over Tennessee at Smokies Stadium.
"I don't think at any point there was doubt to what he was going to be able to do," Barons hitting coach Cole Armstrong said. "He's an electric player. He's one of the best hitters I've ever seen at this level at that age. To be honest, just to see what he was doing in his work and where his focus was every day in his preparation, it wasn't a matter of hoping for if it's going to come -- it's just when it's going to come. It's a matter of time."
In his first at-bat of the game, Jimenez dispatched a 1-2 offering from Smokies starter and seventh-ranked Cubs prospectThomas Hatch over the right-center field wall for a two-run homer.
For Jimenez to see the work he's done in the cage pay off in a game is a pivotal step, Armstrong said.
"To be able to come up and do it going the other way like that, it's cool," the hitting coach said. "Because when you see a kid working that hard at it and then all of a sudden -- bam -- first at-bat of the game, you actually get to see the result. That does wonders to your confidence out of the gate."
MLB.com's No. 4 overall prospect followed with a lineout to third the second inning but led off the fifth with an infield single to the left side. Even though Jimenez didn't hit the ball hard, Armstrong said it was an example of him staying on an inside pitch instead of opening up his swing.
"It ends up coming off as kind of a roller to third base," he said. "With his speed, being able to get down the line and beat those hits out, that helps out a lot."
Gameday box score
Facing Tennessee right-hander Zach Hedges in the sixth, Jimenez jumped on the first pitch and again used the opposite field to his advantage, lining a double to right and plating Eddy Martinez for his third RBI of the night.
The 21-year-old outfielder extended his hitting streak to eight games and has recorded more than two hits in four consecutive games. A week ago, Jimenez was batting .212 with two homers and a .687 OPS; the native of the Dominican Republic has clubbed five homers to go with a .290/.313/.597 slash line.
It's the result of progress that's been coming together as he began getting comfortable at the plate.
"You see it one at-bat one night, a couple of at-bats the next night," Armstrong said. "Then, all of a sudden, it takes off. You see it for four at-bats in one night, like [Friday]."
Jimenez spent the first two weeks of the season on the disabled list with a mild pectoral strain, which contributed to his slow start, Armstrong said.
"When he first got back, basically what we saw was that he was having a little bit of a tendency to get jumpy and come off the ball a little bit," Armstrong said. "But the awesome thing about Eloy is he's so self-aware with his swing. He knew it and him coming into the cage, it wasn't even something where I had to tell him what drill to do. He was working at it every day to stay square and get his direction back to the middle of the field."
The adjustments, evidenced by driving two balls with authority to right field on Friday, are working. Jimenez shows no signs of slowing down, either.
"There's not a whole lot technically to do with Eloy," Armstrong said. "He's got an incredible swing. It's just a matter of him being able to keep himself at that point, which he's shown the ability to do in the past. I have zero doubts that the progression that he's made is going to stop or stall in any way. He's just going to keep getting better and better."
White Sox No. 20 prospect Jordan Stephens (3-3) picked up the win and struck out eight over 6 2/3 innings, allowing three runs -- two earned -- on eight hits and a walk.
Chris Bumbaca is a contributor for MiLB.com based in New York. Follow him on Twitter @BOOMbaca.