Benson captains rare four-homer game
Cleveland's No. 25 prospect plates eight runs for Lake County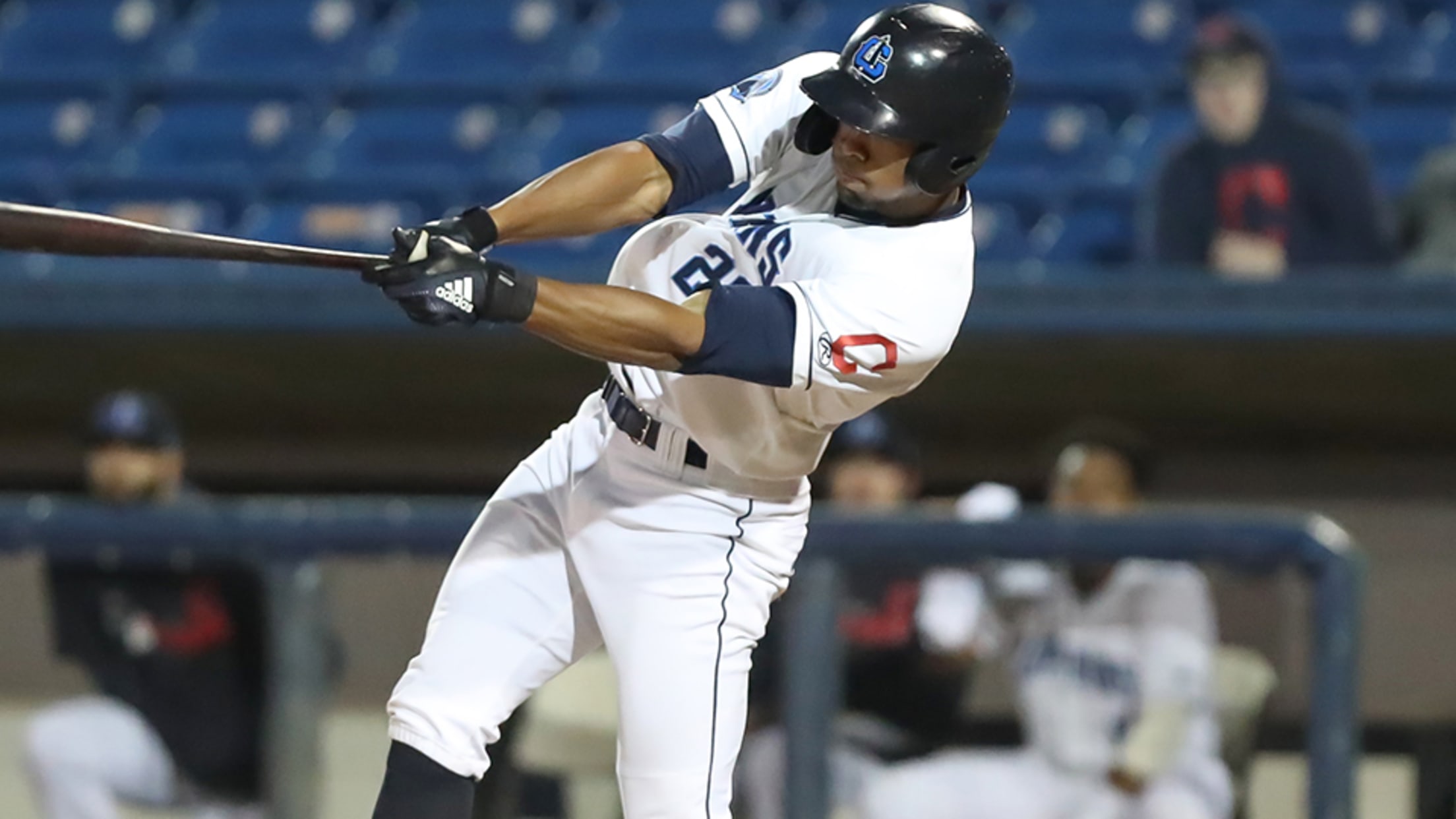 Will Benson has amassed 28 home runs since the start of last season. (Tim Phillis/Lake County Captains)
As Will Benson circled the bases for the fourth time Thursday, he felt shivers throughout his body. Even with 44 career dingers under his belt, he -- or anyone in Class A Lake County history, for that matter-- had ever experienced a night like this. "To look into the eyes of
As Will Benson circled the bases for the fourth time Thursday, he felt shivers throughout his body. Even with 44 career dingers under his belt, he -- or anyone in Class A Lake County history, for that matter-- had ever experienced a night like this.
"To look into the eyes of my teammates and to see that they were amazed, that's what made it, 'Oh, this is legit,'" Benson said. "Most homers are cool, but this time, everyone's faces were different. It was nice."
Cleveland's No. 25 prospect collected a career-high four long balls -- including a grand slam -- to power the Captains past South Bend, 12-6, on Thursday at Classic Park. In the first four-homer game in the Minors since 2014, Benson set a professional best with eight RBIs.
Gameday box score
With the slugger's 55-grade power and the wind blowing 19 mph out to the outfield, all the ingredients were there for an historic evening. Even coming into the game with a .564 slugging percentage, Benson said there was no thought that anything like it was in the offering.
But in quick succession over six innings and four long balls later, he had a 300-point uptick in his slugging percentage.
"I do the same thing every day, I get the approach from my first swing I take in the cage," Benson said. "When it comes to game time, I just trust my approach, and whatever happens after that, happens."
In three of the four at-bats in which Benson went deep, he fell into two-strike counts before barreling up. There wasn't anything in particular that differed in his approach in those spots. The 20-year-old just found pitches to hit and did plenty of damage. The only time he couldn't muster up a long ball was in his final at-bat in the eighth, when he struck out on eight pitches.
"With two strikes, you're pretty much in battle mode -- you're just trying to win pitch by pitch," he said. "Thankfully today, other than the last at-bat, I was able to win in those two-strike situations. Even still in the last at-bat, I still got it to 3-2, so it was a good day with two strikes."
Benson got things rolling in the first inning against South Bend starter Eury Ramos with a two-run homer to right field. Two frames later, he mashed the first offering from the right-hander for a solo roundtripper over the fence in right-center. Benson said he didn't see anything in particular in the first at-bat that tipped the scales in the hitter's favor, he just stuck with his plan he had from the outset of the night.
Switching gears against reliever Zach Mort in the fourth, the Atlanta native had an at-bat he said he won't soon forget. Up 2-1 in the count with the bases full against the righty, Benson fouled off six consecutive pitches. On the 10th offering, Benson spotted a changeup and deposited it over the wall in right-center.
Benson said almost nothing can compare to that sequence.
"Honestly, that's probably my favorite at-bat of my whole life," he said. "The only thing that I vividly remember is that it was just a battle. I was on the fastball. Yeah, that'll probably be the at-bat that I'll remember for the rest of my career. That was awesome. ... There's not an at-bat that I've had that equals that at all."
With the game still in the early stages and Benson already the sixth player in the Minors this season with a three-homer game, his teammates took note of what was at stake.
"I remember after the grand slam, I think it was Tyler Freeman joked, 'We're only in the fourth inning,'" Benson recalled. "I said, 'Oh shoot, you're right.' I mean I was like, 'I need to stay locked in, this game ain't over.'"
Keeping that focus, Benson led off the sixth, going to a full count against Jeffrey Passantino. In 2018, Benson had gone 0-for-7 with four strikeouts against the righty. In the outfielder's words, Passantino had "eaten my lunch pretty good." But with one hand this time, Benson took the seventh pitch and slugged it over the much-visited fence in right-center.
According to SABR, that marked the first time since Garrett Jones completed the feat for Quad Cities in 2002 that anyone in the Midwest League homered four times in one night.
"Once I hit it, I was like, 'Wow, that's incredible," Benson said. "I was just thanking God all around the bases. ... I'm just very thankful and blessed to go out there and do that. I don't want to say it was a dream come true, but it's something that you'll never forget."
He had a chance to make it five-dinger night in the eighth, but was retired for the first time by righty Dalton Geekie. The Captains in the dugout didn't give him any ribbing following the punchout.
"They patted me on the back," Benson said of his teammates. "They didn't give me hard time [for the strikeout]."
It was the second time in the young season that a player went deep at least three times against South Bend. Dodgers prospect Niko Hulsizerblasted three homers against the Cubs on Monday.
In his first full professional season in 2018, Benson bashed a Midwest League-best 22 long balls with a .180 average in 123 contests. Back on the circuit this year, the 2016 first-round pick has upped his average to .341 while collecting six dingers through the first 12 contests. He surpassed his previous career high of five RBIs, which he accomplished twice in 2018. Benson has six career multi-homer games over three-plus pro seasons.
Mike Ford of Class A Charleston was the last Minor Leaguer to park four in a single game on May 25, 2014. Jon Griffin of Double-A Mobile had done likewise just four days before that.
"I'm very blessed and very thankful it was me," Benson said. "It was cool, it was all hard work. I've been putting in time and the results are showing, it was nice."
Andrew Battifarano is a contributor to MiLB.com. Follow him on Twitter, @AndrewAtBatt.