Darkis' short-season homer mark lives on
Slugger set mark in 1980 with 25 blasts in Northwest League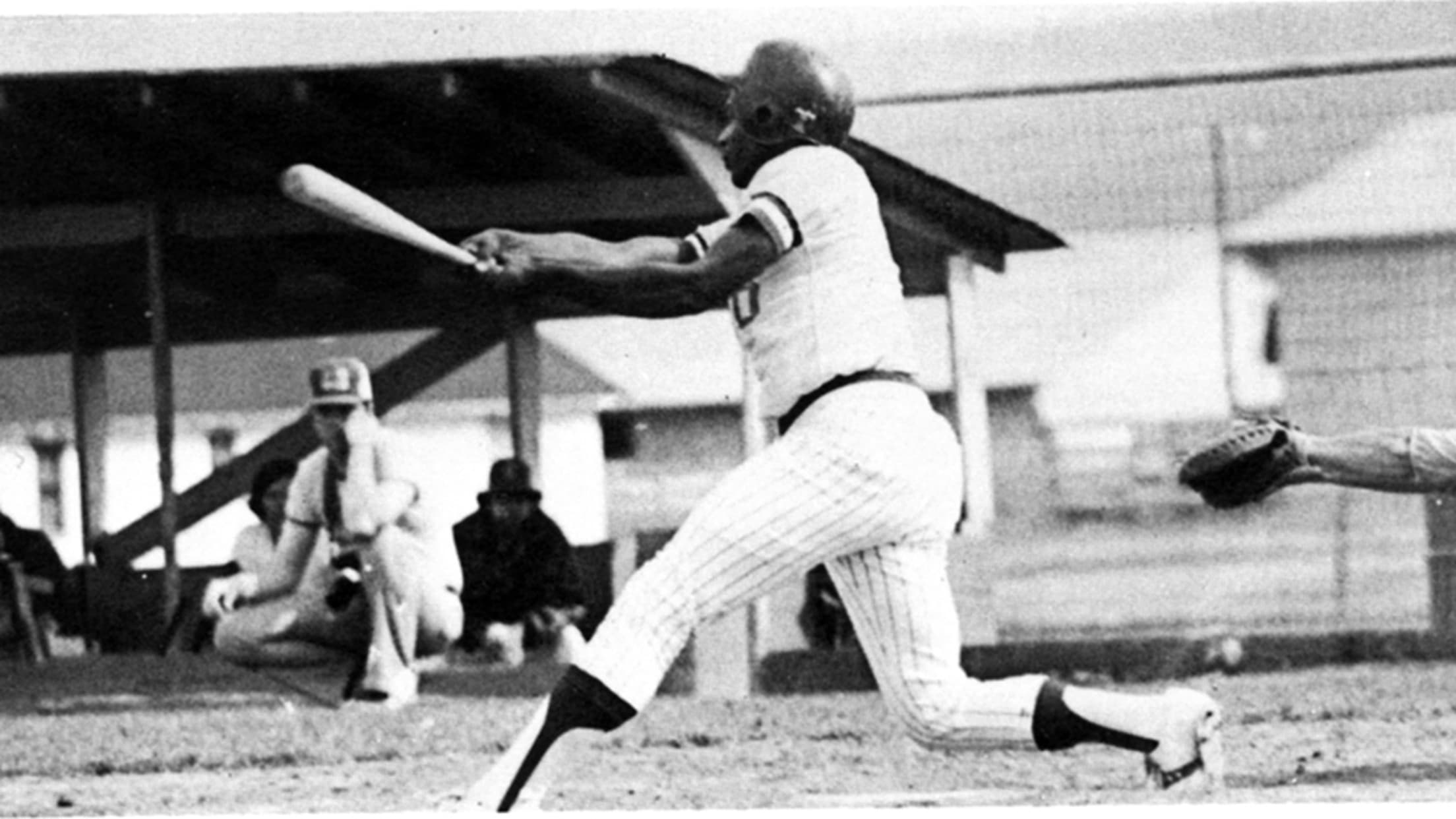 Willie Darkis played 112 games at Triple-A over two seasons in the Phillies and Rangers systems. (Eastern Oklahoma State College)
Minor League Baseball is known for its rich history, dating back more than 100 years. While much has been written about the best teams and top players who have graced the Minors, there remain many stories either untold or largely forgotten. Each week, MiLB.com will attempt to fill that gap
Minor League Baseball is known for its rich history, dating back more than 100 years. While much has been written about the best teams and top players who have graced the Minors, there remain many stories either untold or largely forgotten. Each week, MiLB.com will attempt to fill that gap and explore these historical oddities in our "Cracked Bats" feature. Know of any stories to be considered for this feature in the future? Send an email and let us know.
Joe Bauman will always get his due, and deservedly so. The same goes for Bob Crues, Dick Stuart, Bob Lennon, Frosty Kennedy and the other great single-season sluggers in Minor League history.
They were legendary in their respective eras and time has only served to cement their place as mythic figures in the lower leagues. Yet when the aforementioned bashers are spoken of, Willie Darkis' name never surfaces in the conversation. He never played in a long-forgotten circuit like the Longhorn, Texas-New Mexico or Western League, circuits in which legends often were born.
Darkis, however, deserves a spot among those sluggers -- he holds an often overlooked home run record of his own: he smacked 25 homers for Central Oregon in 1980 to lead the Northwest League and set a short-season record.
While it would be difficult to gauge how valid this mark is, Mike Blake's book, "The Minor Leagues, A History of the Little Show," published in 1991, credits Darkis with the short-season mark.
According to available records, the previous record was held by Deron Johnson, who hit 24 homers in 63 games in 1956 for Kearny of the Class D Nebraska State League.
The Minor League Encyclopedia backs up the argument, having listed all the short-season home run leaders since 1980 as well as the league record-holders for current and defunct short-season leagues. Based on available information, Darkis' record has stood for nearly three decades, though several players have challenged his place among short-season sluggers.
Mitch Einertson slammed 24 home runs for Greeneville in the Appalachian League in 2004. Utica's John Hennell had 23 homers to pace the New York-Penn League in 1982, while Medicine Hat's Greg Morrison cranked 23 homers during the 1997 Pioneer League season.
But none has equaled what Darkis did in 252 at-bats for the Phillies in 1980.
While Darkis' career peaked in Triple-A and he retired in 1986, his spot in history remains secure for another season: Brandon Waring, the short-season home run leader in 2007, fell short of Darkis' mark with 20 homers in the Pioneer League.
Darkis had shown power potential in his first year as a pro when he smacked 20 homers and drove in 83 runs in 272 at-bats with Helena of the Pioneer League in 1979, just months after the Phillies made him a 15th-round Draft pick. The Eastern Oklahoma State Community College product then went on his record-setting binge the following summer, hitting homers No. 18, 19 and 20 over one August weekend to break the Northwest League record of 17, shared by Lewiston's James Buckner (1972) and Walla Walla's Albert Richmond (1978).
What makes what Darkis did in '80 so special was the fact that he missed some time after hitting his 17th homer near the end of July. His father was involved in a traffic accident back in Oklahoma, and Darkis returned home and spent two weeks with him while he recovered.
After he hit 45 homers and drove in 156 runs in 524 short-season at-bats over two seasons, the Phils decided to move Darkis up to the South Atlantic League for the end of the 1980 campaign. He appeared in 17 games for Spartanburg but batted .191 without any homers. Darkis split the 1981 season between Spartanburg and Peninsula of the Carolina League, combining to hit .238 with 13 long balls and 55 RBIs.
A year later, Darkis regained some of his power stroke in Peninsula when he cracked 22 homers and drove in 60 runs in 90 games. The numbers prompted a promotion to Double-A Reading in 1983, where he hit an Eastern League-leading 31 homers and collected 102 RBIs. That proved to be Darkis' last gasp, however. He combined for 26 homers over the next three seasons and finished his career with the Rangers and Tigers.
"He certainly looked like a guy that I thought would be a good Major League player," said Bill Bryk, a former manager who saw Darkis in 1980 while managing Grays Harbor in the Northwest League. "He was a good-looking athlete and was one of the better prospects in that league. He was a strong kid with some power."
Bryk, now a scout for the Padres, recalled a powerful hitter who dominated the circuit.
"Not to take anything away from him, but the ball really jumped out of that park [in Bend, Oregon]. They were at a bit of a higher altitude," he said. "But he was certainly one of the better players in the league."
Kevin T. Czerwinski is a reporter for MiLB.com.