Timber Rattlers turn wild triple play
Brewers infielders Corey, Morrison, Lara support Francis' gem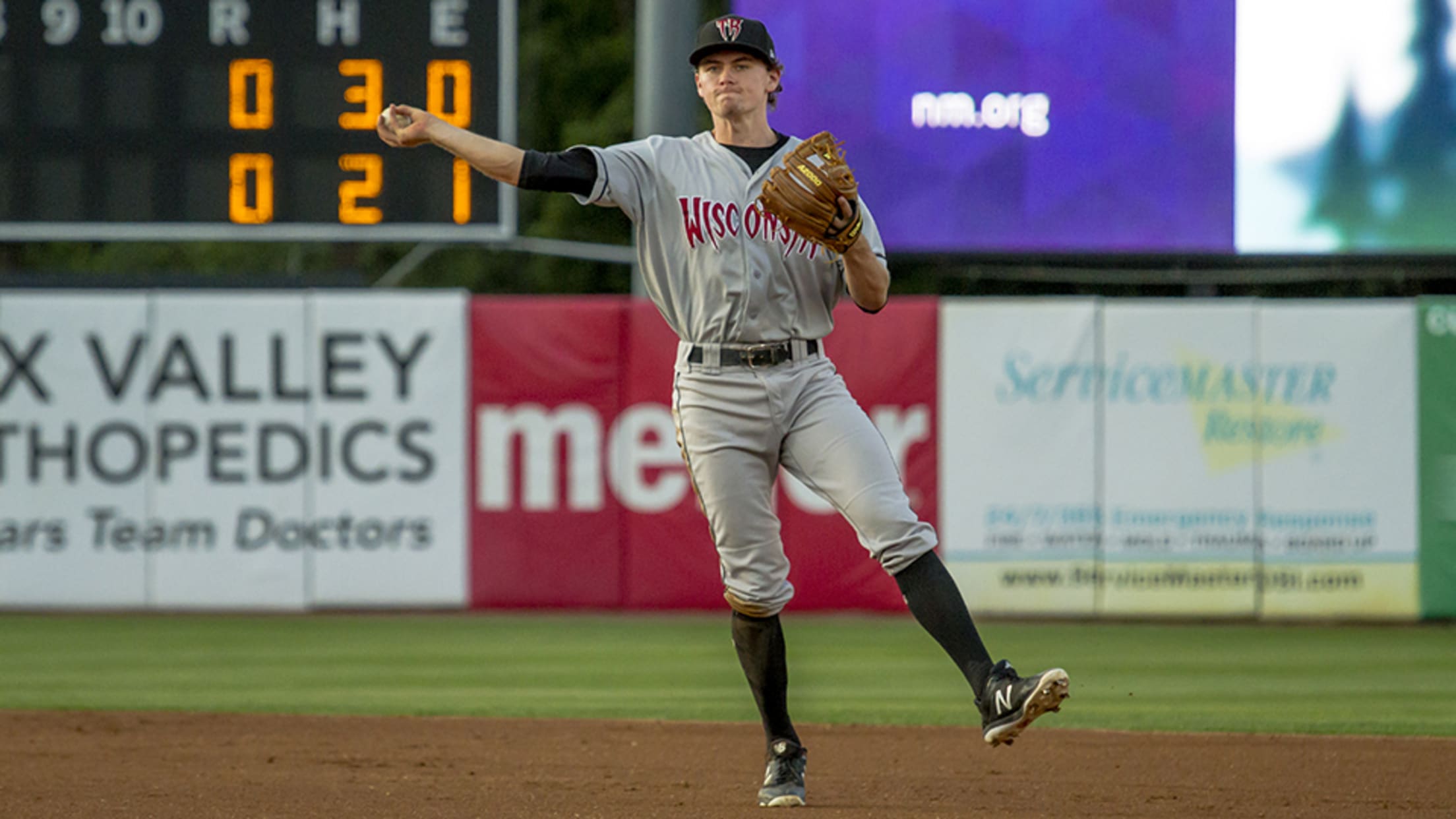 Trever Morrison played four different positions over the past two seasons in the Minors. (Justin Edwards/MiLB.com)
Kenny Corey hadn't had his first 2018 at-bat before becoming part of history for Class A Wisconsin.The second baseman joined up with third baseman Gilbert Lara and shortstop Trever Morrison to turn a grounder into three outs on a 6-4-5-4-5-6 play in the third inning of Tuesday night's 3-1 victory
Kenny Corey hadn't had his first 2018 at-bat before becoming part of history for Class A Wisconsin.
The second baseman joined up with third baseman Gilbert Lara and shortstop Trever Morrison to turn a grounder into three outs on a 6-4-5-4-5-6 play in the third inning of Tuesday night's 3-1 victory over Quad Cities.
Gameday box score
It marked the third triple play in club history and the sixth this season. The River Bandits also fell on the wrong end of the only other three-out swing in the Midwest League, the first coming against Burlington on April 21.
Timber Rattlers starter Bowden Francis painted himself into a corner to open the inning as Ruben Castro doubled to left and Jacob Meyers was hit by a pitch. Francis got ahead of Bryan De La Cruz, 0-2, before getting him to hit a soft line drive toward the middle of the diamond to begin the triple play.
"It was pretty much just a reaction-type play for me," Morrison said. "I was just doing what I can to keep the ball in the infield because we got a man in scoring position. That was basically my primal objective."
Kenny noticed he had a play on Castro -- who hesitated to advance to third on the line drive -- and tossed to Lara to begin a rundown, going back and forth with Kenny before getting the tag down for the second out.
"We were shifted over a little bit in the infield and the batter got some solid wood on the ball and I think it froze the runner at second just enough," Kenny said. "Once we got him into the rundown and got him out at third ... we [were able to] capitalize."
De La Cruz, unsure whether or not Castro would make it back, was held up between first and second. Lara ran the ball across the diamond and chased him toward second, where Morrison was waiting to slap the tag for the final out. The infielders' play stunned their pitcher, who kept a certain word in mind when describing the milestone.
"It was awesome. I knew it was going to be a good defensive night," Francis said. "The infielders were awesome, the outfielders were awesome. I didn't think it was going to be turned into a triple play, maybe a double play. It was awesome."
The play preserved a scoreless performance for the right-hander, who scattered three hits and a walk with a personal-best nine strikeouts over seven innings. It was the longest professional start and first scoreless outing this season for the Tallahassee, Florida native. Francis (2-3) lowered his ERA to 4.84 over 48 1/3 innings.
"I just worked hard this past week ... and everything kind of clicked," he said. "I started throwing a one-seamer, so that was sinking. Fortunately that was working pretty good and my slider was working good."
Corey, a 36th-round pick out of UC Santa Barbara in last year's Draft, played exclusively in Rookie-level ball last season, splitting time between the Arizona League and the Pioneer League. He batted a combined .328/.415/.446 with 21 extra-base hits and 18 RBIs but dealt with shoulder discomfort in the spring and was not assigned to Wisconsin until his debut Tuesday.
"It's been definitely a tough couple of months for me trying to get healthy," the Calfiornia native said. "I came into Spring Training hurt, knowing that I wasn't going to break with any teams, and I've been down in Arizona, just grinding out there, trying to get back onto the field. Luckily, I got the call to come up here today and definitely had a good time."
Tuesday night's triple play was not a first for Corey. He was the beneficiary of a sixth-inning triple play while on the mound for Willow Glen High School in the Central Coast Section Division II championship game against St. Ignatius on May 25, 2013. His team won 4-3 in 11 innings.
As a professional, he played four different positions over the past two years, but took the lion's share of his reps at second base and made 10 errors in 47 total games. Following the triple play, the 23-year-old led off the bottom half of the frame with a base hit to left in his first at-bat of the season.
"The training staff down there in Arizona did a great job to get me back on the field and here I am," Kenny said.
Morrison also hadn't notched much time with the Timber Rattlers this season. The 23-year-old was shut down with a broken left hand on April 10 and was recalled on May 29. In six games since returning, the Oregon State product said he's felt no ill effects and has six hits in 21 at-bats, including a single Tuesday night.
Lara, who signed the largest international bonus in Brewers history at $3.1 million out of the Dominican Republic in 2014, had his full-season debut cut short in late July by a fractured fibia. He was sent down to Rookie-level Helena after struggling at the plate in the first 67 games for the Timber Rattlers, batting .193 with three homers and 22 RBIs. The 20-year-old played in only one Pioneer League game before suffering the injury.
The return to the Midwest League has been brighter for the 6-foot-4, 198-pound infielder as he's improved to .270 with five more hits, as many homers and one less RBI in 19 fewer games this season.
Timber Rattlers backstop Payton Henry doubled and walked with an RBI on a 3-for-3 night. Demi Orimoloye drove in the other two Wisconsin runs.
Gerard Gilberto is a contributor to MiLB.com. Follow and interact with him on Twitter, @GerardGilberto4.