Gibbons helps Southern South rally to win
Angels outfielder collects four RBIs, three hits for MVP honors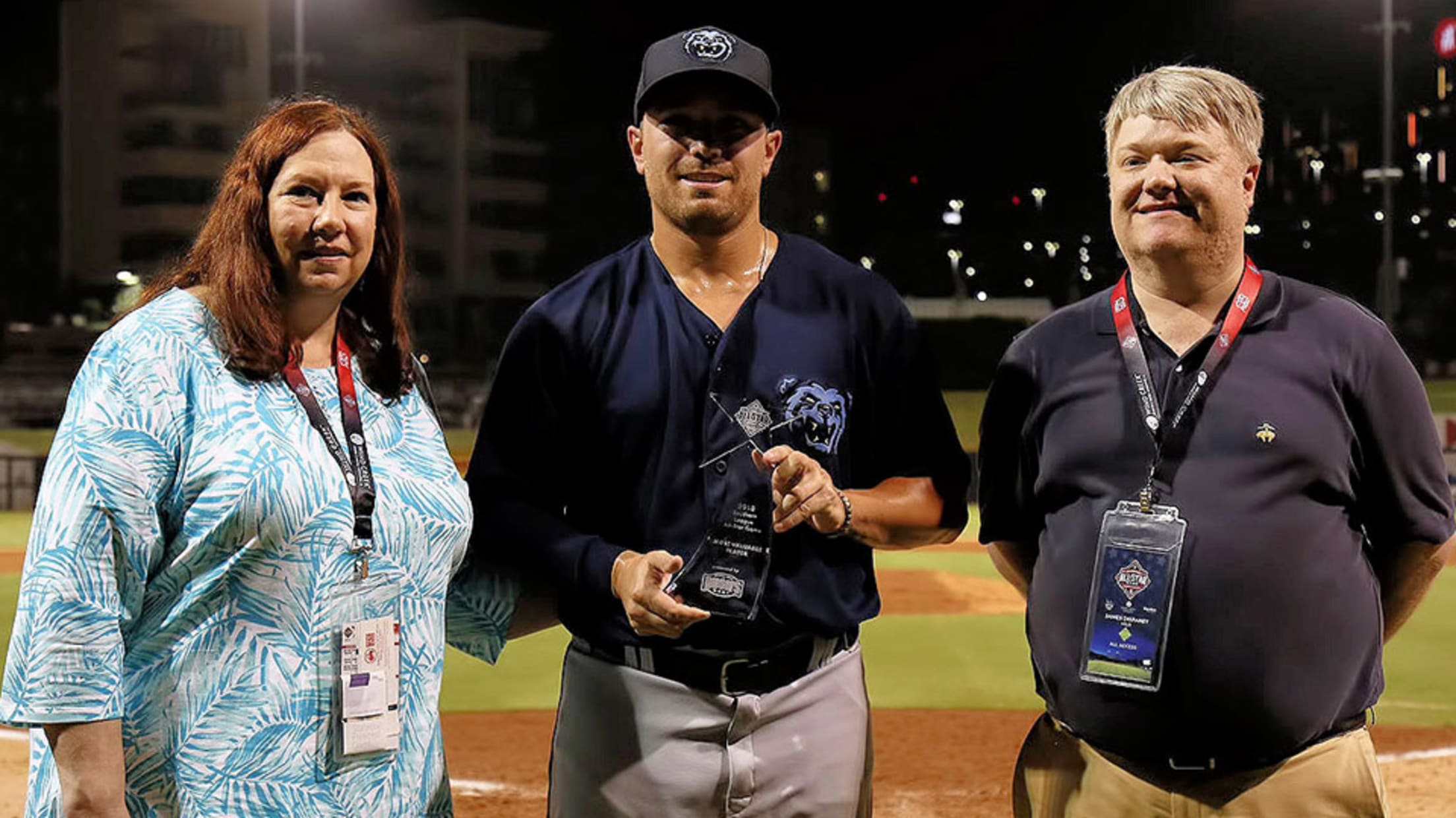 Zach Gibbons picks up the BUSH'S® Best All-Star MVP award after his momentous night. (Karen Askins/Birmingham Barons)
BIRMINGHAM, Alabama -- Tyler Marlette kept a sellout crowd of 8,500 fans from experiencing a draw in the Southern League All-Star Game on Tuesday night. But it was Zach Gibbons who stood above the flock of talent and left with BUSH'S® All-Star MVP honors.The Mississippi first baseman took the first
BIRMINGHAM, Alabama -- Tyler Marlette kept a sellout crowd of 8,500 fans from experiencing a draw in the Southern League All-Star Game on Tuesday night. But it was Zach Gibbons who stood above the flock of talent and left with BUSH'S® All-Star MVP honors.
The Mississippi first baseman took the first pitch he saw from Chattanooga's Todd Van Steensel in the top of the ninth inning of a tie game and drove it 356 feet over the right-field wall. And the Mobile outfielder capped his four-RBI game with a two-run single soon after en route to a 9-5 victory for the South Division.
"It was great. When I hit it, I didn't think it was going to stay fair, then it hit the foul pole and then I kind of blacked out," Marlette said with a laugh. "That last at-bat, I was just trying to hit it as deep as possible."
Gameday box score
It marked the 25-year-old's lone hit of the game, but he's been solid for the Braves with a .285 average, six home runs and 22 RBIs in 62 games. Coming into this game, he had hit safely in seven of his last nine games.
"I got four at-bats. Those first three I kind of struggled a little bit," Marlette said. "But I just kept telling myself to look for a fastball and put a good swing on it."
Cribbs' long road leads to Home Run Derby
Gibbons entered the contest as a defensive substitution in the sixth inning and didn't let up until the contest ended, going 3-for-3 and scoring three times. In fact, he was the first player for the South to pick up a hit, grounding a single to right field in the seventh. Fifth-ranked Reds prospect Shed Long promptly followed with a homer to right to tie the score, 2-2.
"Right when I came into the game, the guys were like, 'You need to get a hit,'" Gibbons said. "It was cool to break that up."
The 17th-round pick out of the University of Arizona lined a two-run single to right in the eighth before coming through in the clutch again with his drive to center in the ninth. The Angels prospect amassed a .280 average with 24 RBIs this season.
The North squad was led at the plate by Ryan Boldt, who went 2-for-4 with two RBIs. The Biscuits right fielder has 31 RBIs this season with a slash line of .278/.356/.449.
Starter Taylor Widener (Jackson) and Dane Dunning (Birmingham) tallied two strikeouts in a perfect inning apiece for the North. Génesis Cabrera (Montgomery), Omar Bencomo (Chattanooga), Thomas Hatch (Tennessee) and Ryne Harper (Chattanooga) each followed with a hitless frame.
Actor Dennis Quaid, star of the 2002 film The Rookie threw out the first pitch at the 44th sellout in the history of Birmingham's Regions Field. Many were rooting for Long, who had a homecoming of sorts. The Pensacola second baseman was born in Birmingham and attended Jacksonville High School about an hour east of the city.
"It's a blessing to be able to be able to play at this level in front of all my family, right at home," said Long, who also doubled in a run and walked. "It's definitely one of the most, if not the most, special moments in my career."
Mitchell Northam is a contributor to MiLB.com.