Cardenas, Biscuits Walk Off Shuckers, 5-4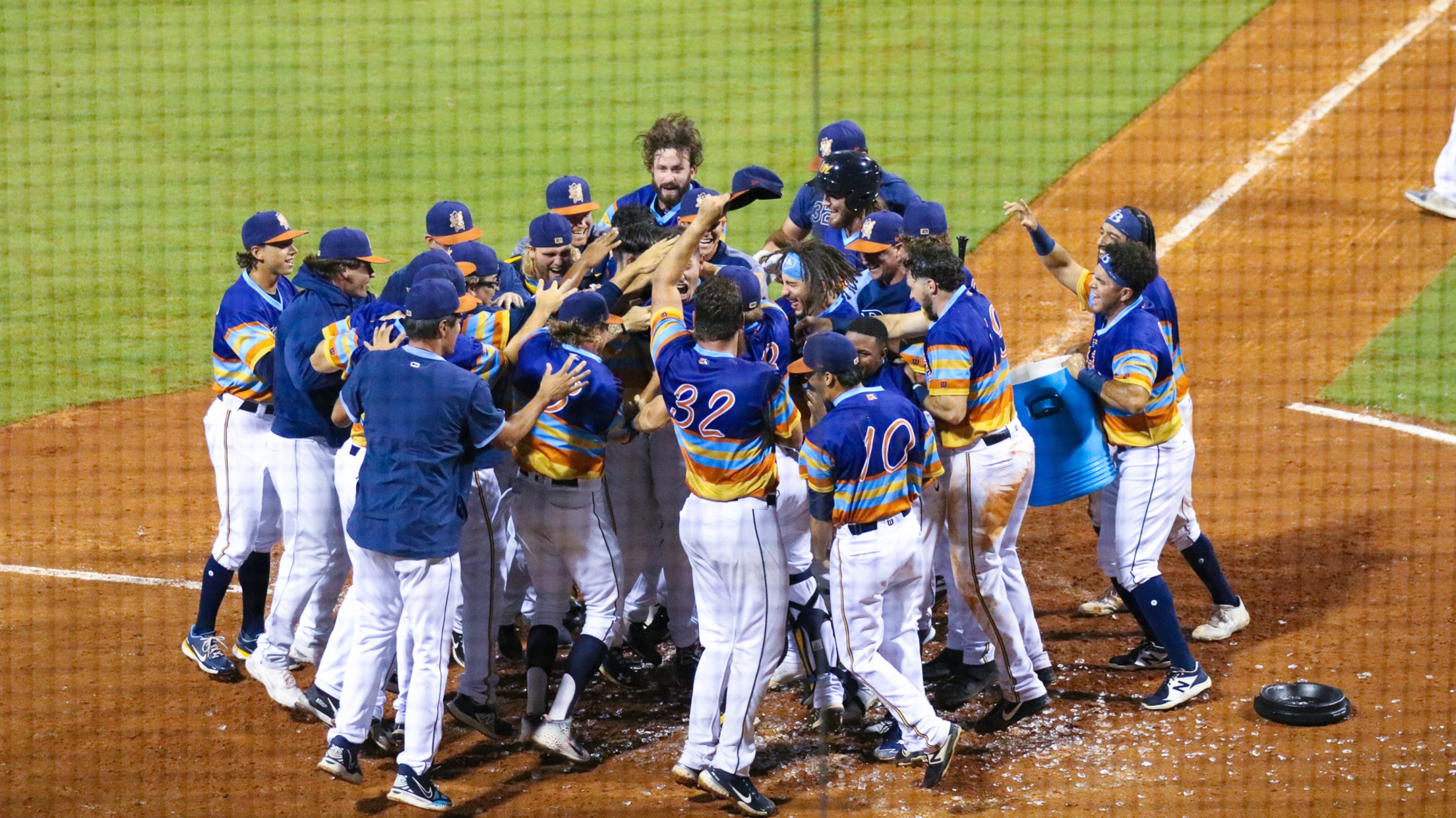 MONTGOMERY, Ala. – Ruben Cardenas' walk-off solo home run in the bottom of the ninth lifted the Biscuits (31-29) to a dramatic 5-4 win over the Biloxi Shuckers (19-43) on Thursday night at Riverwalk Stadium. The Biscuits have now won eight in a row against the Shuckers. Easton McGee started
MONTGOMERY, Ala. – Ruben Cardenas' walk-off solo home run in the bottom of the ninth lifted the Biscuits (31-29) to a dramatic 5-4 win over the Biloxi Shuckers (19-43) on Thursday night at Riverwalk Stadium. The Biscuits have now won eight in a row against the Shuckers.
Easton McGee started for the Biscuits and worked a clean top of the first, setting the Shuckers down in order. Biloxi right-hander Noah Zavolas then worked a one-two-three bottom of the first to match his counterpart.
Luis Castro led off the top of the second with a slicer of a triple to right before Mitch Longo knocked the first baseman in with an RBI-single in the next at-bat to put the Shuckers up 1-0. In the bottom of the second, after Zavolas retired the first two batters, Jim Haley put a charge into one to left-center and tied the game at one with his eighth home run of the season.
In the top of the fourth, Longo hit a one-out double into the left-center field gap before Gabriel Garcia belted a two-run homer off the scoreboard in left-center to put the Shuckers back in front, 3-1. Niko Hulsizer would pull one back for the Biscuits with a gargantuan solo homer to left in the bottom of the fourth to make it 3-2.
In the bottom of the fifth, Seaver Whalen singled and then Jake Palomaki reached on a fielder's choice before Garrett Whitley smoked a two-run double into the left-center field alley to put the Biscuits ahead, 4-3. In the bottom of the sixth, Hulsizer socked a line drive to center field, and Ryan Aguilar misplayed it. The ball rolled all the way to the wall and Hulsizer tried to turn a triple into an inside-the-park home run, but was thrown out at home.
Brice Turang socked a one-out triple off Jack Labosky in the top of the eighth, and then Alexander Palma tied the game at four with an RBI-single off Chris Muller (1-0) in the next at-bat. Muller worked a scoreless ninth, and then Cardenas came up against Braden Webb (2-5)—who struck out the side in the eighth—as the first batter in the bottom of the ninth and hammered his walk-off homer to left-center for the Biscuits' fourth walk-off win of 2021.
The Biscuits will go for the series win on Friday on Korean Heritage Night with Jersey Auction supporting A-KEEP with Kenny Rosenberg (0-1) clashing with Lucas Erceg (0-2) at 6:35 PM CT.
The rest of the series will include 2K Night with MAX Fireworks on Saturday, July 17, and a Kids Jersey Giveaway presented by Hyundai Motor Manufacturing of Alabama on Sunday, July 18.