Zimmer Temporary Inactive, Pounders to DL; Verdugo, Triggs to NWA
Pair of Transfers to fill gaps left by Propects Zimmer, Pounders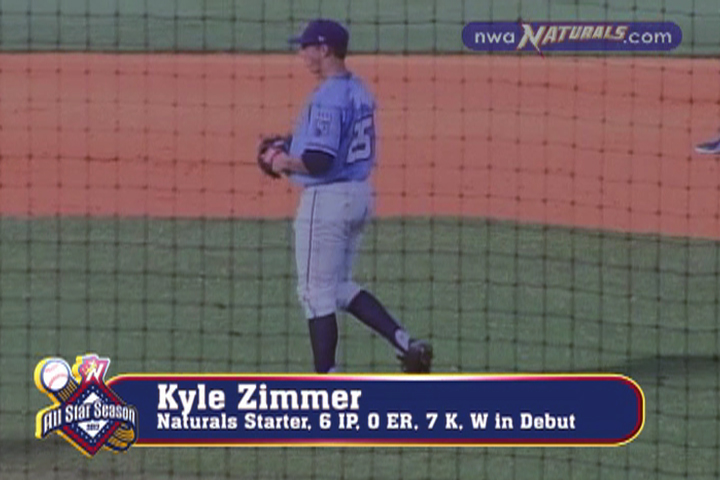 By Naturals PR Department / Northwest Arkansas Naturals | August 21, 2013 1:01 PM ET
Springdale, AR - Kyle Zimmer is headed back to school.
The 21-year-old made four starts for the Naturals after spending most of the season with HiA-Wilmington.
In total, the Royals First Round Draft pick from 2012 threw 108⅓ innings across two levels this season, pitching to a 6-9 record with a 4.32 ERA. The right-hander allowed 91 hits and 26 walks, while totaling
140 strikeouts. In his four starts for the Naturals, Zimmer was 2-1 with 1.93 ERA in 18⅔ innings, and surrendered 11 hits and five walks while striking out 27 Texas League batters. He completed two perfect innings in his last appearance for the Naturals on August 14th.
Coinciding with placing Zimmer on the Temporary Inactive List, the Kansas City Royals have announced a trio of transactions affecting the team's roster before the Naturals follow up their record setting 21-run outburst last night in Springfield. The organization has transferred RHP Andrew Triggs from HiA-Wilington and LHP Ryan Verdugo from AAA-Omaha. Kansas City has also placed RHP Brooks Pounders on the 7-Day Disabled List retroactive to August 19th.
Triggs has pitched to a 5-3 record with a 2.54 ERA in 39 relief appearances this season for the Blue Rocks. The 24 year-old has totaled 60⅓ innings surrendering 58 hits and 12 walks, striking out 63 batters in 2013. Drafted out of USC in the 19th Round of the 2012 MLB June Amatuer Draft, the right-hander owen a professional record of 6-4 with a 2.20 ERA in three minor league levels. In 15 innings across the former Trojan's last ten appearances he has allowed just two earned-run allowing 12 hits, one walk, and 11 strikeouts.
Verdugo was originally drafted in 9th Round of the 2008 MLB June Amateur Draft out of LSU. He made his way to Kansas City along with LHP Jonathan Sanchez in exchange for OF Melky Cabrera in an off-season trade in 2011. This season in Omaha the 26 year-old has compiled a 2-3 record and a 5.16 ERA across 61 innings in 14 games including 11 starts for the Storm Chasers. The southpaw allowed 67 hits and 31 walks, and recorded 43 strikeouts.
In 27 games including 19 starts this season, the 22-year-old Pounders was 5-7 with a save across 116 innings pitching to a 4.50 ERA. The burly right-hander completed a 98-pitch no-hitter without allowing a walk on June 27, 2013 against the Midland Rockhounds at Arvest Ballpark. The Southern California-native left his last start after three innings against the San Antonio Missions.
Triggs will wear uniform number 40 and Verdugo will don number 19. The Naturals roster currently sits at the Texas League limit of 25 players.
The Northwest Arkansas Naturals are the Double-A Texas League Affiliate of the Kansas City Royals and proud host of the 77th Annual Texas League All Star Game. The Naturals play at state-of-the-art Arvest Ballpark in Springdale, AR. For more information including statistics, ticket options, and more, please visit NWANaturals.com, and follow us on Twitter @NWANaturals and Facebook.com/Naturals.
This story was not subject to the approval of the National Association of Professional Baseball Leagues or its clubs.
View More