Alvarez & Mauricio Power BKLYN Past Blue Rocks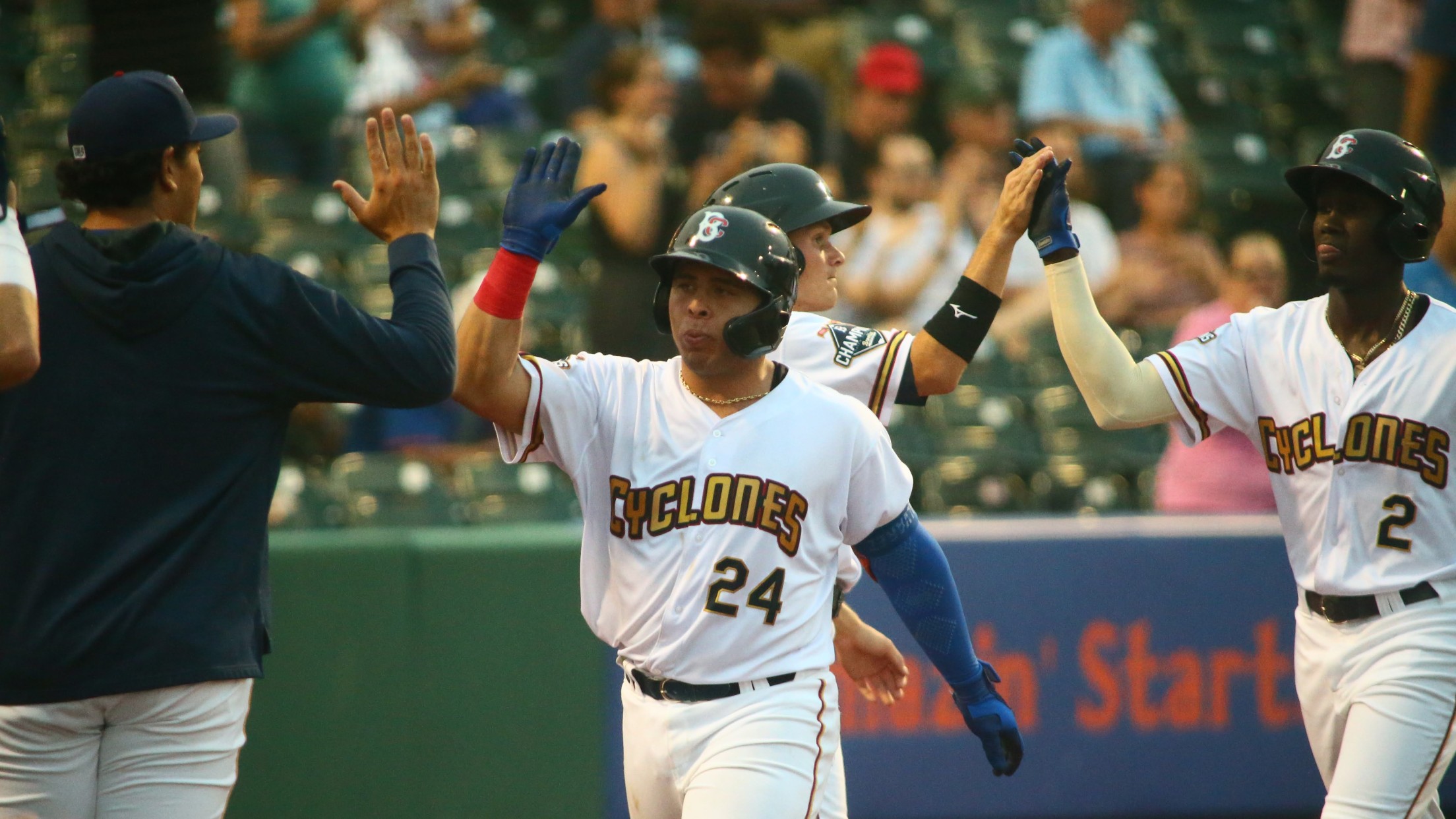 BROOKLYN, NY (July 20, 2021) –Francisco Alvarez launched a 430-foot home run to center field at Maimonides Park helping lead the Brooklyn Cyclones, the High-A affiliate of the New York Mets, to a come-from-behind 8-6 victory over the Wilmington Blue Rocks Tuesday night in the series opener. Win: Vilera (2-6)|
BROOKLYN, NY (July 20, 2021) –Francisco Alvarez launched a 430-foot home run to center field at Maimonides Park helping lead the Brooklyn Cyclones, the High-A affiliate of the New York Mets, to a come-from-behind 8-6 victory over the Wilmington Blue Rocks Tuesday night in the series opener.
Win: Vilera (2-6)| Loss: Lee (1-3) | Save: Hejka (1)
Cyclones HR: Alvarez (8)
Attn: 1,086
BIG MOMENTS
Brooklyn's Josh Hejka struck out Israel Pineda with the bases loaded in the ninth inning to clinch the victory 8-6.
The Cyclones added to their 5-4 lead, pushing across three runs in the fourth highlighted by Ronny Mauricio's two-run single to break open the game.
Trailing 4-0 into the third, the Cyclones rallied for five runs to take the lead. Francisco Alvarez capped the rally with a go-ahead three-run home run to the right of the batter's eye in center field, travelling 430 feet.
Wilmington's Justin Connell cracked a two-run single against Jaison Vilera in the first inning to give the Blue Rocks the lead, while Armond Upshaw's run-scoring triple and Cody Wilson's RBI single made it 4-0 after two.
Things that did not travel as far as this home run from Francisco Alvarez:

⛵️ - the Nina, Pinta and Santa Maria
🚀 - Blue Origin
👟- Forrest after Jenny rejects him

This 430 foot 💣 to dead center gave Brooklyn a 5-4 lead in the bottom of the 3rd. #amazinstartshere pic.twitter.com/Td3HwFBieD

— Brooklyn Cyclones (@BKCyclones) July 21, 2021
KEY CYCLONES PERFORMERS
Ronny Mauricio: 2-4, double, three RBIs, run
Francisco Alvarez: 1-4, home run, three RBIs, run
Jeremy Vasquez: 1-3, walk
Joe Suozzi: 0-1, two hit by pitches, walk, stolen base
NEWS AND NOTES
Ronny Mauricio collected two more hits against Wilmington and is now hitting .400 (12-30) against the Blue Rocks in seven games against the Nationals affiliate.
Francisco Alvarez's home run to center field snapped a 1-for-26 streak at the plate.
Wilmington starter Evan Lee exited the game in the third inning with an apparent injury after he got clipped by a sharp come-backer off of Jeremy Vasquez's bat.
Wilmington comes to Maimonides Park for the first time in franchise history.
WHAT'S NEXT
Cyclones vs. Wilmington Blue Rocks, Wednesday, 7 p.m. Maimonides Park, Coney Island, NY
Probables: LHP Cam Opp (1-6, 8.31 ERA) vs. LHP Alfonso Hernandez (2-2, 3.74 ERA)
Watch: MiLB.TV
Audio: Brooklyn Cyclones Radio Network