121 Financial Ballpark to return to full capacity on June 8
Single-game tickets for all remaining Jumbo Shrimp home games go on sale at 10 a.m. on May 26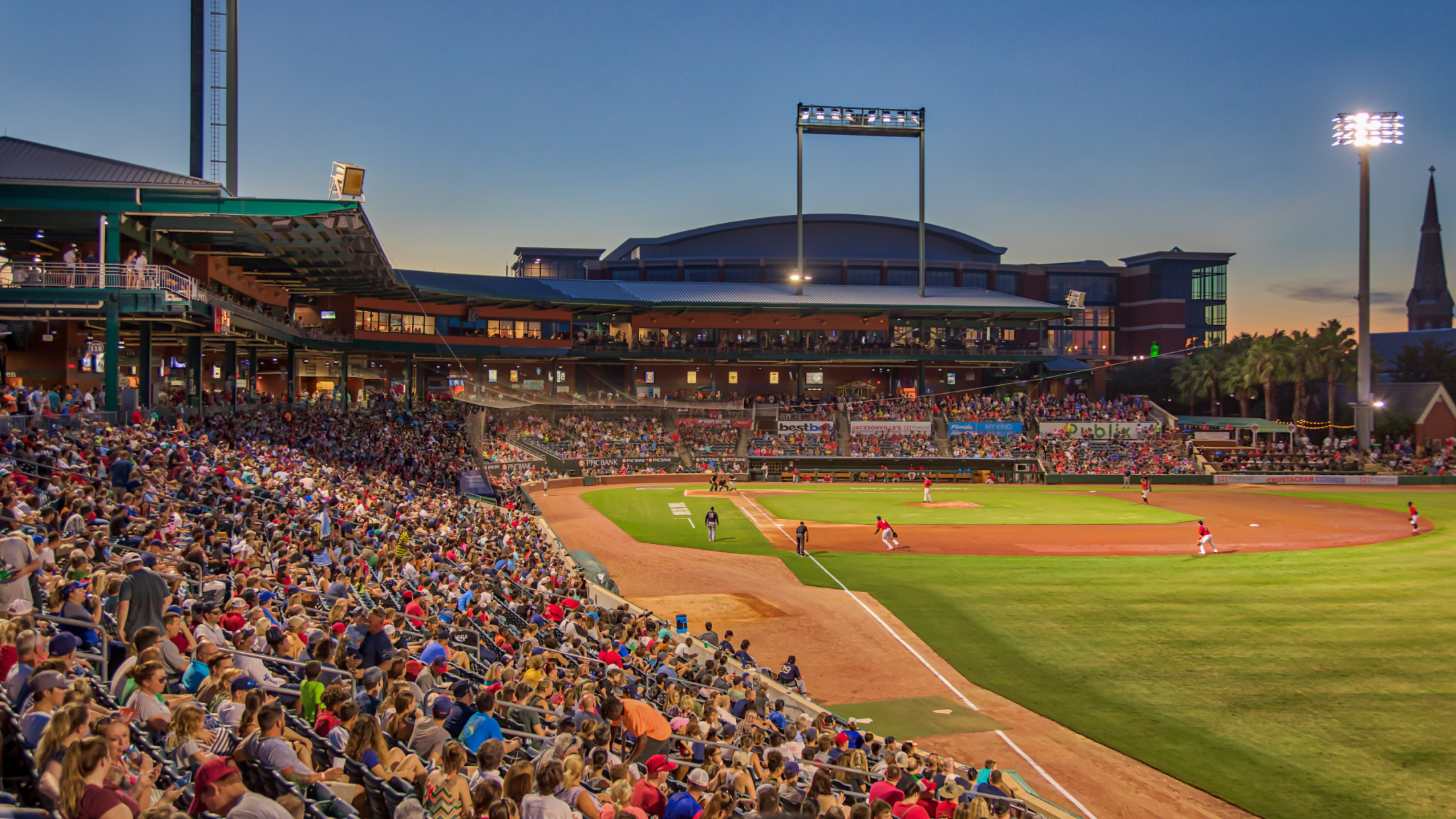 JACKSONVILLE, Fla. – In accordance with local governing parties, Major League Baseball and the Miami Marlins, the Jacksonville Jumbo Shrimp are thrilled to announce that 121 Financial Ballpark will return to full capacity beginning Tuesday, June 8, when the Jumbo Shrimp welcome the Norfolk Tides to town for a six-game
JACKSONVILLE, Fla. – In accordance with local governing parties, Major League Baseball and the Miami Marlins, the Jacksonville Jumbo Shrimp are thrilled to announce that 121 Financial Ballpark will return to full capacity beginning Tuesday, June 8, when the Jumbo Shrimp welcome the Norfolk Tides to town for a six-game series for a 7:05 p.m. first pitch. Tickets for June 8 and the remainder of the 2021 season presented by FIS will go on sale beginning at 10 a.m. on Wednesday, May 26 online at www.jaxshrimp.com, over the phone at (904) 358-2846 and at the 121 Financial Ballpark Box Office.
The Jumbo Shrimp's safe reopening plan as outlined for May home games will remain in place through the conclusion of the end of the month of May, in which ballpark capacity will be limited to 45 percent with physical distancing requirements remaining in place. However, in accordance with local government protocols and CDC guidelines, the club will no longer require face coverings while attending 121 Financial Ballpark events, effective immediately. Face coverings are still encouraged for unvaccinated fans.
Jumbo Shrimp fans can purchase single-game tickets for the remainder of the season online at www.jaxshrimp.com, over the phone at (904) 358-2846 and at the 121 Financial Ballpark Box Office.
"This news has been a long time in the making, from our safe reopening for special events throughout the last calendar year to beginning the 2021 Jumbo Shrimp season last month with our safe reopening plan. We could not be more thrilled to have all of our Jumbo Shrimp fans back here at 121 Financial Ballpark," said Jumbo Shrimp owner/CEO Ken Babby. "We express tremendous gratitude to all of the city and state officials, gameday staff and front office staff who worked tirelessly with us to keep our community safe. The atmosphere in Jacksonville has always made our games special for fans and players alike, and we are ecstatic for that to return."
The Jumbo Shrimp will continue to follow all health and safety protocols as outlined by state and local health officials, as well as the Miami Marlins' organization. Jumbo Shrimp staff members are available by phone and email to answer any questions or concerns.
"We all excited to bring this sense of normalcy back to our fans as we safely reopen 121 Financial Ballpark to full capacity," Jumbo Shrimp executive vice president/general manager Harold Craw said. "For over a year now, our staff has been hard at work to offer safe, affordable, family fun events for our fans. We are confident that 121 Financial Ballpark will continue to be a safe place for fans of all ages to enjoy a night of Jumbo Shrimp baseball, along with all of the special events we host throughout the summer."
ABOUT THE JUMBO SHRIMP: The Jacksonville Jumbo Shrimp offer affordable family fun at 121 Financial Ballpark. Their inaugural season garnered the Southern League's Don Mincher Organization of the Year, Promotional Trophy and Jimmy Bragan Executive of the Year, won by general manager Harold Craw. The club added its second Promotional Trophy in three years following the 2019 season. The 2021 season marks the return of Triple-A baseball in Jacksonville. To experience the excitement with the terrific value of ticket and group options, call the Jumbo Shrimp at (904) 358-2846 or visit www.jaxshrimp.com.