2017 Prospect Projections: AL Central
Indians outfield prospect Zimmer might help defending AL champs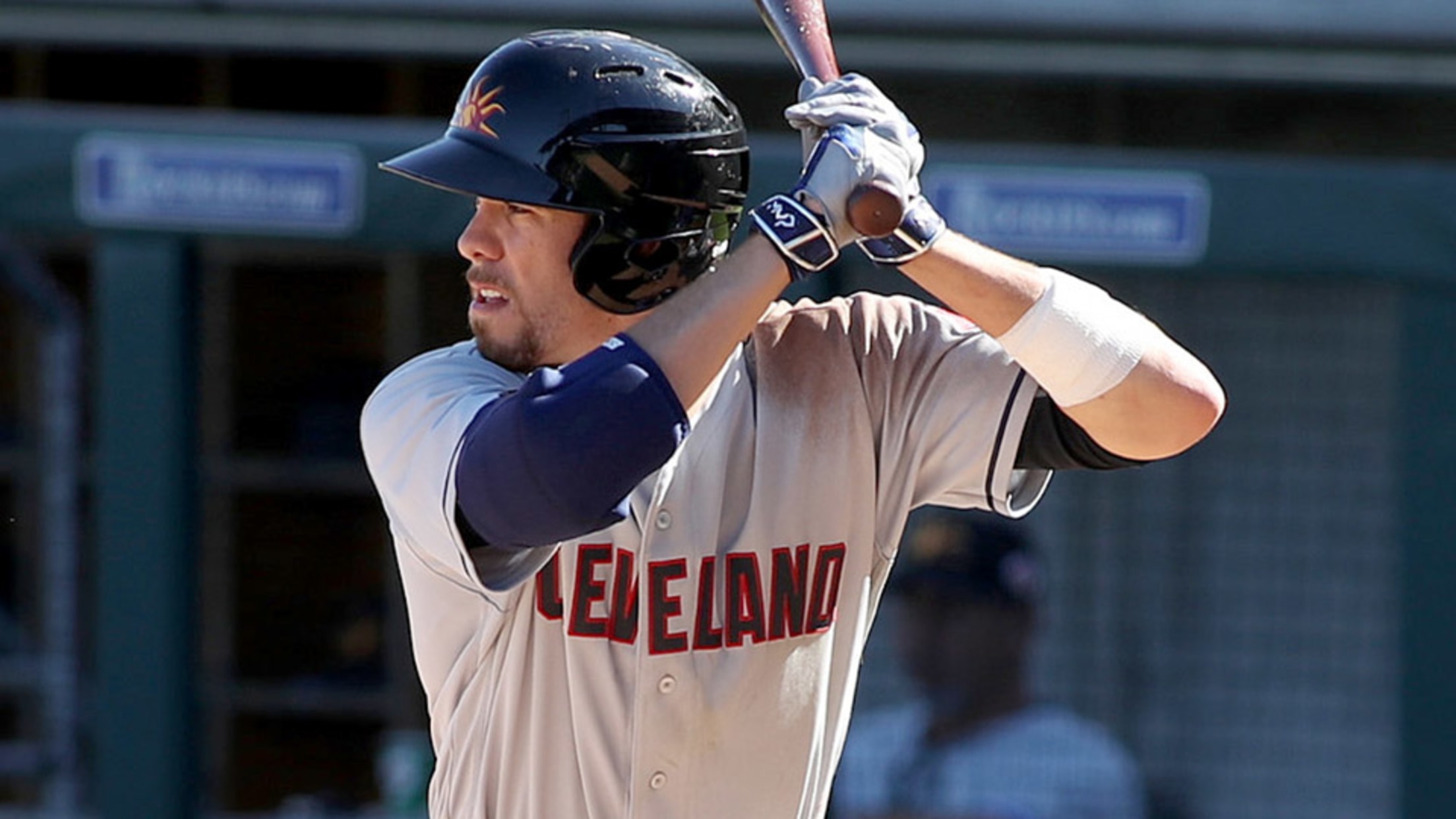 Bradley Zimmer has produced an .817 OPS over three seasons in the Minor Leagues. (Jason Wise/MLB.com)
This is the third in a six-part series that uses FanGraphs' Steamer600 projections to look at how prospects would fare over a full Major League season. The system bases its forecast on 600 plate appearances for position players, 450 plate appearances for catchers, 200 innings for starting pitchers and 65
This is the third in a six-part series that uses FanGraphs' Steamer600 projections to look at how prospects would fare over a full Major League season. The system bases its forecast on 600 plate appearances for position players, 450 plate appearances for catchers, 200 innings for starting pitchers and 65 innings for relievers -- taking into account age, past performance and previous Minor League levels, among other factors.
The Indians came as close as any team can to winning a World Series in 2016. The club's most glaring weakness, if there is one, entering the 2017 campaign is in the outfield. Bradley Zimmer, Cleveland's top prospect, just so happens to be an outfielder with pro experience in center and right. Is this a simple plug-and-play for the Tribe and MLB.com's No. 25 overall prospect?
First, let's establish Zimmer's undeniable strengths. The left-handed slugger has been on the prospect radar since going 21st overall to the Indians out of the University of San Francisco in 2014. In his first two full seasons, he's shown his most present offensive tool is his speed, having stolen 44 bases in 2015 and 38 this past campaign. And he pairs it with what could be average to above-average power
Of the 26 full-season Minor Leaguers with at least 38 steals in 2016, only two others reached Zimmer's home run output of 15 in 130 games between Double-A Akron and Triple-A Columbus. One was top overall prospect Yoan Moncada; the other was Astros breakout prospect Ramon Laureano. Yet you won't find many who doubt Zimmer's ability to break 20 homers at some point in the not-too-distant future without sacrificing any speed. It's rarified air for a prospect to have that combination of speed and power. Add the facts that he took free passes at a 13.8 percent rate at his two stops last season and can play a capable center field with an arm that's strong enough to play right, and there's a lot to be excited about when it comes to the 24-year-old.
---
But there are a few downsides.
Zimmer's selectivity leads to deeper counts, and those result in more strikeouts than typically palatable. Between his two 2016 stops, the California native fanned 171 times (12th most in the Minors) or 30.7 percent of his total plate appearances. Those contact issues were particularly exacerbated during his 37 games at Columbus, where he struck out 37.3 percent of the time. He struggled to a .242/.349/.305 line in the International League with a 95 wRC+ marking the first time that stat dipped below the average level of 100 during his career.
Zimmer particularly struggles against fellow left-handers, and that's been true no matter the level. He produced a .179/.349/.274 line with one homer (of 14 total) over 108 plate appearances against southpaws at Double-A. Those numbers dropped to .172/.314/.172 over 36 at-bats against Triple-A left-handers. Simply put, Zimmer would have to be protected as a platoon option if he were going to be in the Majors on Opening Day. For their part, the Indians said earlier this offseason they were comfortable with their top prospect hitting some bumps in the road, noting Zimmer's hairline fracture in his right foot may have limited him entering the 2016 campaign.
"He was coming off an outstanding year and had an injury that slowed up his offseason work," said Indians assistant general manager Carter Hawkins when Zimmer was named
an Organization All-Star.
"So I think getting back into the swing of things, and in just his second full season, he had some learning moments. But adversity is a great thing to deal with at Double-A or Triple-A. It's good for guys to go through that before reaching the Majors."
That's all well and good, but Steamer only projects based on numbers put into its system. Given the 2016 stats, the system pegs Zimmer for just a 0.5 WAR, sixth-best among potential Indians outfielders, and a below-average 83 wRC+. The power and the speed would still play with 15 homers and 27 steals, as would his ability to take walks with 58 over the allotted 600 plate appearances. But Steamer has little doubt that strikeouts would still be an issue with Zimmer projected to be punched out 189 times for a strikeout rate of 31.5 percent. That would have ranked third-highest among Major Leaguers in 2016 behind only Chris Davis (32.9) and Chris Carter (32.0).
But it's not a close contest between Zimmer and the five outfielders slotted to make Cleveland's Opening Day roster. Lonnie Chisenhall, likely to be penciled in as the club's starting right fielder, is one spot ahead of Zimmer's projected WAR among Indians outfielders at 1.1 WAR. Michael Brantley leads that group at 2.1 WAR, despite playing in only 11 games due to multiple shoulder surgeries that make his future value questionable. Another point in Zimmer's favor is that Steamer doesn't have data yet on his fielding, and based on the way he's performed defensively in the Minors, he'd likely add value to the Major League club in that way, regardless of possible offensive struggles.
Still, Steamer makes it clear Zimmer has work to do before he can be deemed ready for a push to a contending club. Even if there's a temptation to bring up the top prospect quickly to fill potential holes, the Indians might be best served to let Zimmer fully develop, particularly against left-handers, before throwing him into the deep end as an unfinished product.
Here are the rest of the Steamer600 projections for potential American League Central rookies in 2017:
Cleveland Indians
HITTERS
PITCHERS
Most ready: Shawn Armstrong was downright untouchable in 2016 with a 1.84 ERA, .160 average-against and 72 strikeouts in 49 innings with Triple-A Columbus and was used 10 times by the big club with most of those appearances coming down the stretch in the midst of the AL Central race. Steamer seems to believe he'd be worth a longer look, pegging him for the third-highest WAR projection among Indians relievers behind elite left-hander Andrew Miller (1.8) and closer Cody Allen (0.8). The biggest bugaboo holding Armstrong back from that potential is his control, evidenced by his career 4.6 BB/9. Elsewhere, third baseman/outfielder Yandy Diaz might have played his way into the discussion after he produced a .325/.399/.461 line in 95 games with Columbus. Unlike Armstrong, he is not on the 40-man roster.
Give it time: Zimmer. See above.
Wild card: Ryan Merritt became a bit of a folk hero in Cleveland after he got the start in Game 5 of the American League Championship Series, having previously pitched only four times for the big club. His heroics against the Rangers, featuring 4 1/3 scoreless innings, might have many wondering what a longer stint would look like from the 24-year-old left-hander. Steamer isn't a big believer, putting Merritt down as just a smidgen above replacement level. However, that's a reliever -- the role he served most in the Majors but has done so only five times in 120 Minor League appearances. With Merritt posting a 3.70 ERA and 5.8 K/9 in 143 1/3 innings at Columbus in 2016, it's not hard to see why the projection system isn't high on him. But one of the best things about the southpaw is his durability, having thrown more than 150 innings in three straight seasons. He'll be around enough to earn a few call-ups as the summer rolls along.
Top-100 talent: The Indians' four top-100 prospects outside Zimmer aren't close enough to warrant noteworthy projections. Francisco Mejia and Bobby Bradley will likely begin 2017 in Double-A Akron, while Triston McKenzie and Brady Aiken break into full-season ball for the first time in their short careers.

Chicago White Sox
HITTERS
PITCHERS
Most ready: The White Sox made the biggest and most notable farm system improvements this offseason when they acquired their new top-four prospects -- Yoan Moncada, Lucas Giolito, Michael Kopech and Reynaldo Lopez -- in deals that sent Chris Sale to Boston and Adam Eaton to Washington. At the time, Giolito was ranked as MLB.com's top pitching prospect, but that's likely to change after he fell to No. 3 among right-handed prospects in the 2017 update. The 22-year-old's reputation took a hit due to lowered velocity and rough results to the tune of a 6.75 ERA, 1.78 WHIP and 11/12 K/BB ratio in 21 1/3 innings in the Majors last season. But he was still effective in the Minors (2.97 ERA, 116 strikeouts in 115 1/3 innings), and as a result, Steamer backs him to be one of the best options in a diminished South Side rotation. His 1.3 WAR ranks fifth among potential White Sox starters and even beats out veteran James Shields's 0.9. That's not quite a strong enough projection to demand Giolito start Opening Day on the Major League roster. He'd need a projection in the 2.0 range or above to make that happen. It's more likely he irons out issues in Triple-A Charlotte before getting thrown back in the fire. A Jose Quintana trade could change things, however, given Chicago's lack of depth.
Give it time: You could make an easy case that Yoan Moncada is the most exciting prospect the White Sox acquired this offseason, and with some Major League time under his belt, you might want to see him in pale hose immediately. Steamer cautions against that, however, with a below-replacement-level projection. Moncada's struggles in the Majors (4-for-19 with 12 strikeouts) in a short stint with the Red Sox likely put a wet blanket on what could've been stronger projections based on his Minor League numbers (.294/.407/.511, 15 homers, 45 steals) alone. With Chicago clearly in rebuilding mode, they won't need to push Moncada and should allow him to develop his contact skills (as well as find a permanent position) at Triple-A Charlotte first in 2017.
Wild card: The White Sox will need to figure out what they have in Carson Fulmer. The organization took the right-hander eighth overall and used him initially as a starter in Double-A Birmingham before bringing him up to the Majors as a reliever in July. He wasn't effective at the highest level with 11 earned runs allowed in 11 12/3 innings across eight appearances and was sent back to Charlotte in August to give starting another shot. While he never quite struggled in the same way in the International League, Fulmer's high-effort delivery and struggles with control still leave many to think his future is in the bullpen. One thing's clear: he'll need to improve in one of the two roles if he's going to provide Chicago with real value in the Majors this season.
Top-100 talent: Among the three top-100 prospects left to discuss, Lopez is the one most likely to impact the Majors in 2017. Like Fulmer, he faces questions about his best big-league role in either the rotation or bullpen after working in both (to differing results) in the Majors. Steamer likes his chances in 2017 better than his right-hander counterpart, however. Further away, Kopech is looking at a late-2017 call to the Majors at best as he's slated to begin his first White Sox season in Birmingham, where he could be throwing to Zack Collins, provided the 2016 10th overall pick sticks at catcher.

Detroit Tigers
HITTERS
PITCHERS
Most ready: Dixon Machado has 32 Major League games under his belt over the last two seasons, and that's been enough for Steamer to see something the rest of us already know -- he's a really good defender at shortstop. With just a projected 77 wRC+, it's his glove and arm that provide the bulk of the value that results in a 1.4 projected WAR over a full season. As things stand, he's behind Jose Iglesias at shortstop and Andrew Romine as the bench option, so a third season in Triple-A Toledo is likely, at least to start the 2017 season. That doesn't mean Machado wouldn't be a capable replacement for those two if called upon, however.
Give it time: Christin Stewart made a lot of noise by leading the pitcher-friendly Florida State League with 24 homers and finishing with 30 total round-trippers over 128 games at Class A Advanced Lakeland and Double-A Erie in his first full season in 2016. Based on that pop (and perhaps the environmental factors of the FSL), Steamer believes the 23-year-old left fielder could be an average Major League hitter already, if given the chance. That feels a little aggressive at this time, especially with Stewart hitting just .218 with a .310 on-base percentage in 100 plate appearances in Double-A. (Note: both numbers were dragged down by a .232 BABIP at the level.) The Tigers already have a bopper in Justin Upton in left and won't need to push Stewart too quickly. Expect him to be at Erie for at least a few more months before there can be any talk of The Show.
Wild card: Joe Jimenez is about as exciting as it gets when it comes to relief prospects in the Minors. With a plus-plus fastball and a plus slider, he's got the stuff to be a potential closer, and he backed that up with a 1.51 ERA, 0.80 WHIP, .144 average-against and 78 strikeouts in 53 2/3 innings across three levels in 2016 en route to a MiLBY nomination for Best Reliever. Having signed in June 2013, the 22-year-old right-hander isn't on the 40-man roster yet, but the Tigers will give him a chance with an invite to Spring Training next month. The Major League path of an elite relief prospect can be fickle, as the Tigers learned from Bruce Rondon in recent years, so it'll be on Jimenez to show he can continue to pair results with stuff at the upper levels.
Top-100 talent: The Tigers do not have a prospect ranked among MLB.com's top 100.


Kansas City Royals
HITTERS
PITCHERS
Most ready: What is Matt Strahm? If he's a reliever, he's Major League ready, according to Steamer and anyone who knows baseball after he posted a 1.23 ERA with 30 strikeouts in 22 innings for Kansas City last season. If he's a starter, he probably belongs in the category below after posting a 3.43 ERA with 107 strikeouts in 102 1/3 innings at Double-A Northwest Arkansas. As early as last August, Royals general manager Dayton Moore told The Kansas City Star that Strahm would get a chance to start come Spring Training. If he can't quite squeeze past Chris Young for the No. 5 rotation spot, the Royals still might use the 25-year-old left-hander's value in the bullpen while they can and then slide him in for starts should anyone above him falter. There are several potential options for Strahm here, and they're all fairly promising.
Give it time: This might as well be the Kyle Zimmer Category. Prospect prognosticators love the 2012 first-rounder's potential with two plus pitches in his fastball and curve and impressive control. Steamer likes his chances in a vacuum with a 1.9 WAR projection, tied for highest among AL starting pitcher rookies and tied for sixth among potential Royals starters. Here's what doesn't like Zimmer -- his health. The 25-year-old right-hander has been limited with elbow, shoulder and lat issues in the past and missed most of 2016 due to thoracic outlet syndrome surgery. The Royals hope that last procedure will do the trick for the long-term potential of keeping Zimmer on the mound. In the shorter term, expect him to build up innings at either Northwest Arkansas or Triple-A Omaha before there's any talk of the Majors.
Wild card: Hunter Dozier looked like the 2013 No. 8 overall pick that he is last season with a .296/.366/.533 line, 23 homers and 44 doubles in 129 games between Northwest Arkansas and Omaha, and the Royals rewarded him with a Major League look in September. But after his struggles in 2014 and 2015, Steamer remains unconvinced he could be of much help in the Majors in 2017 with a below replacement-level projection. The Royals tried to carve out a role for the third baseman with time in both corner outfield spots and first base, but with Alex Gordon, Mike Moustakas, Eric Hosmer and recent addition Jorge Soler taking up those spots, it will take another impressive performance in the Pacific Coast League for Dozier to force his way back into the Majors. For now, he's a depth option.
Top-100 talent: The Royals do not have a prospect ranked among MLB.com's top 100 overall.

Minnesota Twins
HITTERS
PITCHERS
Most ready: The Twins had Byron Buxton, Jose Berrios, Max Kepler and Jorge Polanco graduate from prospect status in 2016, leaving the organization with few truly exciting prospects on the precipice of the Majors. According to Steamer, the player most equipped to help the big club might be No. 9 prospect Adalberto Mejia, who was acquired from the Giants for Eduardo Nunez before last season's trade deadline. The 23-year-old left-hander is tied with Phil Hughes for the fifth-highest projected WAR among potential Minnesota starters at 1.9. Mejia posted a 3.76 ERA with 25 strikeouts and only three walks in 26 1/3 innings and was given a 2 1/3-inning cameo for the Twins in his Major League debut on Aug. 20 before being shut down due to an innings limit. The southpaw has an outside shot to crack Minnesota's rotation this spring, and if he can continue to show impressive control during the chances he's given, he could hit his ceiling as a solid back-end starter by the summer.
Give it time: Speaking of left-handers, Stephen Gonsalves had one of the Minors' best all-around statistical seasons for a pitcher in 2016 with a 2.06 ERA, 1.02 WHIP, .179 average-against and 155 strikeouts in 140 innings between Class A Advanced Fort Myers and Double-A Chattanooga. Armed with two above-average pitches (fastball, changeup) in his four-pitch arsenal, the 22-year-old moved into the No. 10 spot of MLB.com's ranking of left-handed pitching prospects. These are all reasons to buy Gonsalves' stock, but don't equate that with a rush job to the Majors. The 2013 fourth-rounder is likely headed to Triple-A Rochester to begin 2017, and if he can put up similar numbers there, then we can talk about a push. Without a 40-man spot, though, he's too far down the depth chart to seriously talk Major League roster yet.
Wild card: The Twins might have the deepest group of relief prospects in the game right now. That's not usually a compliment, given the fact that young relievers are typically seen as pitchers who didn't have the stuff to start in the Minors. But in Minnesota's case, there's the possibility for some real impact arms here. J.T. Chargois and Nick Burdi (who missed most of 2016 with elbow issues) are two of the hardest-throwing prospects in baseball, while Pat Light, Jake Reed, Trevor Hildenberger and Mason Melotakis have impressed out of the bullpen in the past. Chargois, who pitched 23 innings in the Majors in 2016, is the most likely to help Minnesota right away, but Steamer believes the sidearming Hildenberger -- he of the 0.75 ERA and 53/6 K/BB in 48 Minor League innings last year -- would be the most productive by a hair. Based on percentages, at least one of this group is bound to latch on, and with the increased role of relievers, that could be a huge advantage for the Twins.
Top-100 talent: Outside perhaps Gonsalves, Steamer isn't high on any of the the Twins' four top-100 prospects being contributors this season. Nick Gordon is an impressive defensive shortstop but hasn't put up the offensive numbers at the lower levels that would produce impressive projections. Tyler Jay only pitched 14 innings at Double-A before a neck strain forced him on the DL in August, and Alex Kirilloff still needs to make his full-season debut, so patience is required for all three.
Sam Dykstra is a reporter for MiLB.com. Follow and interact with him on Twitter, @SamDykstraMiLB.