2017 Prospect Projections: AL East rookies
Yankees will have to wait until spring to rule on Judge/Hicks debate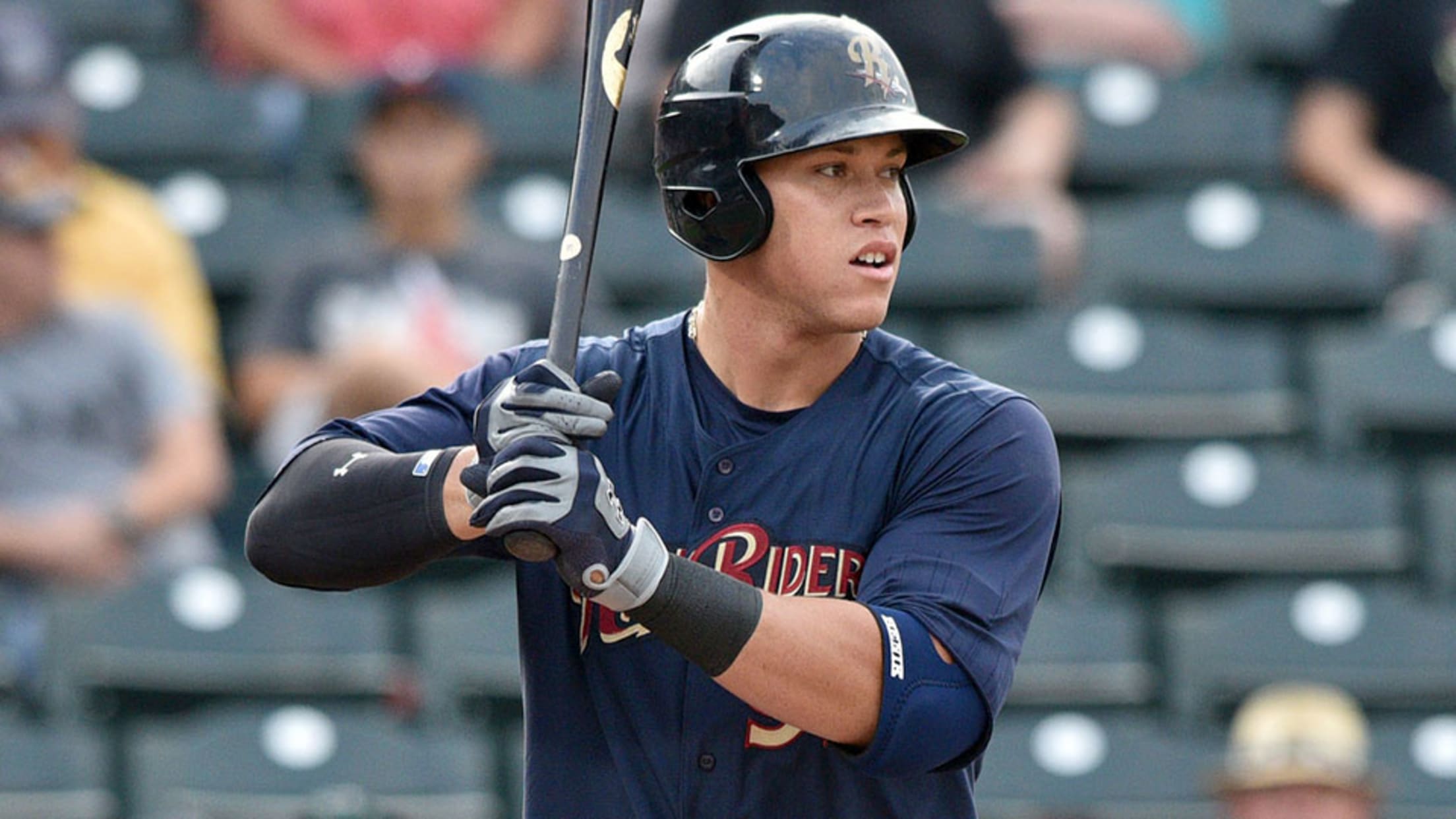 Aaron Judge has hit 56 homers in 348 games over three seasons in the Minor Leagues. (Ken Inness/MiLB.com)
Standing 6-foot-7 and weighing 255 pounds, Aaron Judge probably has a tough time fitting into most crowds. This spring, however, the 24-year-old outfielder is hoping to do just that in what could be a crowded Yankees outfield.This is the first in a six-part series using FanGraphs' Steamer600 projections to look
Standing 6-foot-7 and weighing 255 pounds, Aaron Judge probably has a tough time fitting into most crowds. This spring, however, the 24-year-old outfielder is hoping to do just that in what could be a crowded Yankees outfield.
This is the first in a six-part series using FanGraphs' Steamer600 projections to look at how hopeful rookies and other prospects would fare if given full Major League seasons in 2017. Steamer600 derives the numerical portion of its name from the allotment of 600 plate appearances it gives to position players to put them on the same sample. Catchers are given 450 plate appearances, starting pitchers 200 innings and relievers 65 innings. Projections are based on performance, age, previous levels and other factors.
That brings us back to Judge. After a difficult first half at Triple-A Scranton/Wilkes-Barre in 2015, the 2013 first-rounder caught fire toward the middle of the 2016 campaign for the RailRiders and finished with a .270/.366/.489 line, 19 homers, one triple and 18 doubles in 93 games before being promoted to New York on Aug. 13. The Yankees' fourth-ranked prospect hit .179 with 42 strikeouts in 95 plate appearances for the big club before a right oblique strain ended his season on Sept. 14. He slugged four homers in that span, showing off some of the signature power that has put him in prospect rankings since he left Fresno State.
In essence, Judge showed enough to be part of the Major League conversation entering 2017 but not enough to claim the right field job outright. General manager Brian Cashman confirmed as much at the Winter Meetings in December when he said the organization already had decided that Judge would compete in right field with Aaron Hicks, who batted .217 with a .617 OPS in 123 games in his first season with the Yankees, thus keeping New York out of the free agent market for the position.
So who has the upper hand? Or rather, who deserves the upper hand? That's where Steamer can help.

Yankees Right field CANDIDATES
By these measures, it's a fairly close race.
Judge has the clear advantage in power, giving him the overall nod in wRC+ (a stat designed to boil down most hitting stats into a single number, with 100 being average). In fact, his 27 homers -- were he to hit that many in 2017 -- would tie Trevor Story's number as the most by a rookie in 2016. Those 27 projected blasts also are second among Yankees, trailing only Greg Bird's projected total of 29. (Powerful phenom Gary Sánchez is slated by Steamer to hit 23 in 450 plate appearances.) What you don't see here is that Steamer believes Judge will continue to struggle to make contact, with 171 projected strikeouts at a rate of 28.5 percent.
Hicks' defense keeps it close. The 27-year-old played 497 1/3 innings in right last year and was above average with three Defensive Runs Saved and a 10.5 UZR/150 at the position. Steamer typically only uses defensive data from the Majors -- that's why you won't see many defensive ratings for the prospects below -- but with Judge playing 216 innings in right for New York, it projects him to be almost perfectly average there this season.
With the overall projected value between the two almost minimal, it might be easiest to send Judge back to Scranton/Wilkes-Barre and let the veteran hold down the fort while he irons out his contact issues. But as Sanchez showed last summer, trust in youth can pay off when given the chance to thrive. It may come down to who looks better this spring.
The following is a breakdown of prospects from each of the five American League East clubs. To be considered, a prospect must be ranked among the top 30 in the organization by MLB.com and must have spent a significant portion of the 2016 season at the Double-A level or above. (Exceptions were made for top 100 overall prospects, who are consistently the topics of "When are they coming up?" questions.)
New York Yankees
HITTERS
Pitchers
Most ready: Judge already has been acknowledged, so let's turn to Jordan Montgomery. The 24-year-old left-hander posted a 2.13 ERA and 1.20 WHIP with 134 strikeouts and 45 walks over 139 1/3 innings last year and was particularly impressive at Scranton/Wilkes-Barre, where he owned a 0.97 ERA and 37 strikeouts in 37 innings. His Steamer projections might not jump off the page, but he's projected to have the sixth-highest WAR among potential Yankees starters, if given 200 innings. Part of that has to do with Bryan Mitchell, Adam Warren and Chad Green -- all pitchers whom Cashman has said could slide into the rotation -- earning reliever projections from Steamer, but it's still a point in Montgomery's favor. The 6-foot-6 southpaw isn't on the 40-man roster, meaning a trip back to the International League is most likely, but with the back end of the rotation being so fickle in the Bronx, don't be surprised to see Montgomery debut in the months to come.
Give it time: There are a lot of things to like about Clint Frazier, from his bat speed to his above-average arm and run tools. His Major League readiness isn't one of those things -- yet. The 22-year-old outfielder played 30 games at the Triple-A level between the Yankees and Indians systems in 2016 and produced a .230/.271/.385 line with a 27.9 percent strikeout rate. The day may come when Frazier is forcing the issue with Judge in the New York outfield, but it's going to take at least a few more months (and perhaps the trade of Brett Gardner or Jacoby Ellsbury) before that can happen.
Wild card: It's unfortunate that Green only received a reliever projection because it would have been nice to see how he stacks up to Montgomery, Mitchell, Warren, Luis Severino and Luis Cessa as back-end rotation options. The 25-year-old right-hander was dominant at Triple-A (1.52 ERA, 0.94 WHIP, 100 strikeouts over 94 2/3 innings) and was brilliant in stretches as a spot starter/reliever in the Majors (e.g., an Aug. 15 start in which he fanned 11 over six scoreless frames) but finished with a 4.73 ERA at the highest level. With a solid spring, he could be back in the Bronx in April; a rough one, and he'll be a RailRider. That makes for a true wild card.
Top-100 talent: Following their rebuild and recent sales, the Yankees have one of game's strongest farm systems with six top-100 prospects. Two -- Judge and Frazier -- already have been discussed, and Blake Rutherford won't be an issue here as a 2016 first-round pick entering his first full season. The other three -- Gleyber Torres, Jorge Mateo and Justus Sheffield -- are likely headed to Double-A Trenton, making the Thunder one of the Minors' most interesting clubs heading into 2017. Steamer believes Sheffield is the closest to making a Major League impact, perhaps no surprise given he's the only one with Double-A experience. Torres might have some rocket fuel after earning MVP honors in the Arizona Fall League.
Baltimore Orioles
HITTERS
PITCHERS
Most ready: The Orioles let Matt Wieters walk in free agency, opting for a one-year deal (with a player option) with Welington Castillo. That may have been done with an eye on Chance Sisco taking over behind the plate sooner rather than later. The 2013 second-rounder, who turns 22 on Feb. 24, has impressed as a hitter with a career .323 average in the Minors and continued to show off with a .317/.403/.430 line in 116 games between Double-A and Triple-A last season. His biggest bugaboos are lack of power and defense. The latter doesn't typically show up in Steamer projections for players who haven't appeared in the Majors, but Sisco showed signs of growth there with a 31.1 percent caught-stealing rate last summer. As for power, well, that's not expected to jump anytime soon. Still, Sisco slips in just behind Castillo (1.9) in terms of Steamer projected WAR over 450 at-bats -- another sign he should make the jump in 2017.
Give it time: You may be excited about Trey Mancini's three homers in five games for the O's at the tail end of last season. Steamer would have you pump those brakes. With a projected 100 wRC+ and 20 homers in 600 plate appearances, Mancini would be a league average hitter, but that's not going to cut it as a first baseman/DH, thus the 0.4 projected WAR. Without an immediate replacement for free agent Mark Trumbo, Mancini remains the best option for Baltimore, however. If the organization wants him to build, a return to Triple-A Norfolk, where Mancini hit .280 with 13 homers and a .775 OPS in 125 games in 2016, seems best while the club scours the free agent market for a bigger bat.
Wild cards: The Orioles picked up two outfielders in the latest iteration of the Rule 5 Draft in Aneury Tavarez and Anthony Santander. The former hit .335 with an .886 OPS at Double-A and has played at the Triple-A level, while the latter had topped out at Class A Advanced and is considered the better long-term prospect. From Steamer's standpoint, neither has a particularly strong advantage in terms of who will stick on the Major League roster. The recent arrival of Seth Smith from Seattle basically rules that out.
Top-100 talent: The Orioles have no Top 100 prospects.

Boston Red Sox
HITTERS
PITCHERS
Most ready: There's a case to be made that Andrew Benintendi should be the featured player in this week's installment of Prospect Projections. Fresh off a season in which he hit .295/.359/.476 in a 34-game stint with Boston, the 22-year-old outfielder recently took the top spot in MLB Pipeline's poll of executives to determine baseball's No. 1 prospect. That said, there isn't as much to dig into when it comes to Benintendi's 2017 Major League prospects. The Red Sox already have him slated as the Opening Day starter in left field, and with 105 at-bats under his belt, he only needs 25 more before he's no longer considered a prospect. Most notable for our purposes is that Steamer isn't terribly high on Benintendi's ability to contribute over a full season. His projected 104 wRC+ would be his lowest at any level since being drafted seventh overall in 2015. Part of that could be that Steamer doesn't have much of a track record for Benintendi with only a season and a half of info. The other could be the system expects his .367 BABIP in the Majors to come back down to a closer-to-normal .316. No matter the projections, Benintendi enters 2017 as the favorite to win the AL Rookie of the Year award, but Steamer gives some reason to pause.
Give it time: It might be difficult to put a 26-year-old pitching prospect in this category, but Brian Johnson moves here for a few reasons. First, the Sox already have an abundance of starters with recent addition Chris Sale slotting next to Cy Young Award winner Rick Porcello, David Price, Drew Pomeranz, Eduardo Rodriguez and Steven Wright. Second, Johnson hasn't pitched more than 100 1/3 innings in either of his last two seasons. (To his credit, he missed time in 2016 to address anxiety issues.) The lefty will need to stick on a mound for significant time in 2017 before he can press the issue of another Major League look. Even if Boston did need immediate rotation help, Steamer doesn't think he'd be much more than a below-average No. 5 starter. A trip back to Triple-A Pawtucket should be beneficial for all involved.
Wild card: There was hope going into 2016 that Sam Travis was going to catapult his way into unseating a previously struggling Hanley Ramirez at first base or being the one who would make David Ortiz's pending departure easier to swallow as the first baseman of the future and transitioning Ramirez to DH. But Travis tore his ACL in late May and missed the rest of the season, putting the kibosh on those plans. With Mitch Moreland coming to Boston, he'll be back in Pawtucket in April, and Steamer believes he'd be a tick below average offensively anyway. Moreland's only under contract for 2017, however, meaning this season will be Travis' chance to show he's capable of the 2018 Opening Day gig.
Top-100 talent: Following the departures of Yoán Moncada and Michael Kopech in the Sale trade, the Red Sox have only three top-100 prospects left in Benintendi, Rafael Devers and Jason Groome. Groome has 6 2/3 innings of Minor League experience and didn't receive a Steamer projection. Devers did, and it's not particularly favorable, though what should one expect from a player who just completed his age-19 season at Class A Advanced? The left-handed-hitting third baseman is headed to Double-A Portland to start 2017, and don't be surprised to see his power pop at age 20. With Moncada out of the picture, Boston's future at the hot corner remains in Devers' hands. And if Pablo Sandoval doesn't return to form, that future could be sooner than later, should Devers continue to progress.
Tampa Bay Rays
hitters
Pitchers
Most ready: The Rays are deepest when it comes to starting pitching at the Major League level entering the 2017 season, but that won't stop us from featuring another starter in this space. Jaime Schultz led all Triple-A pitchers with 163 strikeouts while posting a 3.58 ERA over 130 2/3 innings for Durham last season and earned a spot on the 40-man roster in November. In fact, among possible Rays starters, his 9.1 K/9 ranks third behind Blake Snell (9.8) and Chris Archer (9.6). That's some heady company. The problem with the 25-year-old right-hander, as it has been throughout his career, is lack of control. Schultz averaged 4.7 BB/9 with Durham, and Steamer believes that will only get worse in the Majors with a projected 5.2 BB/9. He'll have an uphill battle in Spring Training because of those woes and the depth, but Steamer believes he could make a decent No. 4 or 5 starter should he be called upon.
Give it time: Schultz is actually second among Rays pitching prospects in terms of projected WAR behind No. 40 overall prospect Brent Honeywell. That's incredibly exciting for the Major League prospects of the 21-year-old right-hander most known for his screwball. After all, Honeywell posted a 2.34 ERA and 1.03 WHIP with 117 strikeouts and only 25 walks over 115 1/3 innings last season. The trouble is, those numbers were split between Class A Advanced Charlotte and Double-A Montgomery. As much as everyone would like to see how AL East sluggers fare against Honeywell's four-pitch mix soon, he's still a few steps away. Give it until the second half of the season to make the calls for Honeywell, and even then only do so when it's clear Tampa Bay has a rotation spot open.
Wild card: The Rays seem poised to stick with shortstop-turned-utilityman Brad Miller at first base, and that might be the solid move given Miller is projected by Steamer to be their second-best hitter with a 107 wRC+. That said, the long-term solution at the position might be one level below, if all things come together. Casey Gillaspie hit .284/.388/.479 with 18 homers and 80 walks in 132 games between Double-A and Triple-A last season. That's not an incredible amount of power for a first base prospect, and Steamer isn't particularly high on his immediate Major League impact. However, the switch-hitter, who turns 24 on Jan. 25, has the potential to be an average first baseman at the highest level with his strike-zone aptitude and potential for growth in the power department. Given he'll be just a call away at Durham to start 2017, this could be the season he reaches for that ceiling in the bigs.
Top-100 talent: Outside Honeywell, shortstop Willy Adames and outfielder/first baseman Jake Bauers make up the rest of the Tampa Bay top-100 contingent. Steamer, like most other prospect rankings and prognostications, likes Adames the most, and he has the highest potential of the group. The No. 19 overall prospect is coming off an age-20 season spent entirely at Double-A, where he held his own with a .274/.372/.430 line, 11 homers and 13 stolen bases in 132 games. The Rays don't need to rush him, with Matt Duffy holding down shortstop, but it's nice to know Adames wouldn't be a terrible option, even for his age. Steamer is not as high on Bauers, his former Biscuits teammate who split time between right and first base in 2016 but played the latter almost exclusively after Gillaspie moved up to Durham. If that's his true position, he'll battle Gillaspie for time in St. Petersburg. That's a tough call by Steamer standards.
Toronto Blue Jays
HITTERS
PITCHERS
Most ready: It's tough to place any Blue Jay in this group based solely on Steamer projections. In reality, that title goes to left-handed reliever Chad Girodo, who made 14 appearances with Toronto last season. Most of those lasted less than an inning, however, and the 25-year-old is best served as a lefty specialist, given his splits. With Triple-A Buffalo, he held left-handers to a .279 average, compared to .354 for right-handers. Don't get us wrong: Girodo isn't exactly an exciting big league option at this time. But given the current crop of Toronto prospects, he's the most likely to get the call soon.
Give it time: If we're going off WAR alone, Rowdy Tellez might have gone in the category above. For Toronto fans who look at the departure of Edwin Encarnación and think, "OK, who could be the next bopper?" that'd be welcome news. But Steamer isn't ready to say Tellez would swim if thrown in the Major League ocean -- and with good reason. He's coming off his best offensive season as a pro with a .297/.387/.530 line and career-best 23 homers in 124 games for Double-A New Hampshire. Those are all solid numbers but not quite the kind that will get you jumping out of your chair for a first-base prospect, especially one who is two levels away. If Tellez tears up the International League this spring, then the Jays might have something. For now, he's in the same category as Gillaspie and Bauers in Tampa Bay in terms of needing to prove himself at Triple-A.
Wild card: Reese McGuire may not impress with his offensive projections. Acquired from the Pirates at last year's deadline, the 21-year-old backstop owns a .253 average, .667 OPS and only four homers in 338 Minor League games. Steamer projects him to be exactly replacement-level if given 450 Major League at-bats. What makes him a wild card -- and what Steamer can't account for yet -- is his defense. McGuire is considered one of the Minors' best receivers and threw out 36.5 percent of would-be basestealers last season. The bat's too limp to unseat Russell Martin anytime soon, but without a locked-in backup for the Canada native, the Jays could eventually view McGuire as a valuable option.
Top-100 talent: The Jays have three top-100 prospects in Richard Urena, Sean Reid-Foley and Anthony Alford -- none of whom was projected with a WAR higher than 0.6 by Steamer. It wouldn't be a surprise to see all three with New Hampshire to start 2017, putting them just behind Trenton for the most exciting roster in the Eastern League.

Sam Dykstra is a reporter for MiLB.com. Follow and interact with him on Twitter, @SamDykstraMiLB.