2017 Prospect Projections: AL West rookies
Cotton should get the chance to crack Oakland's Opening Day rotation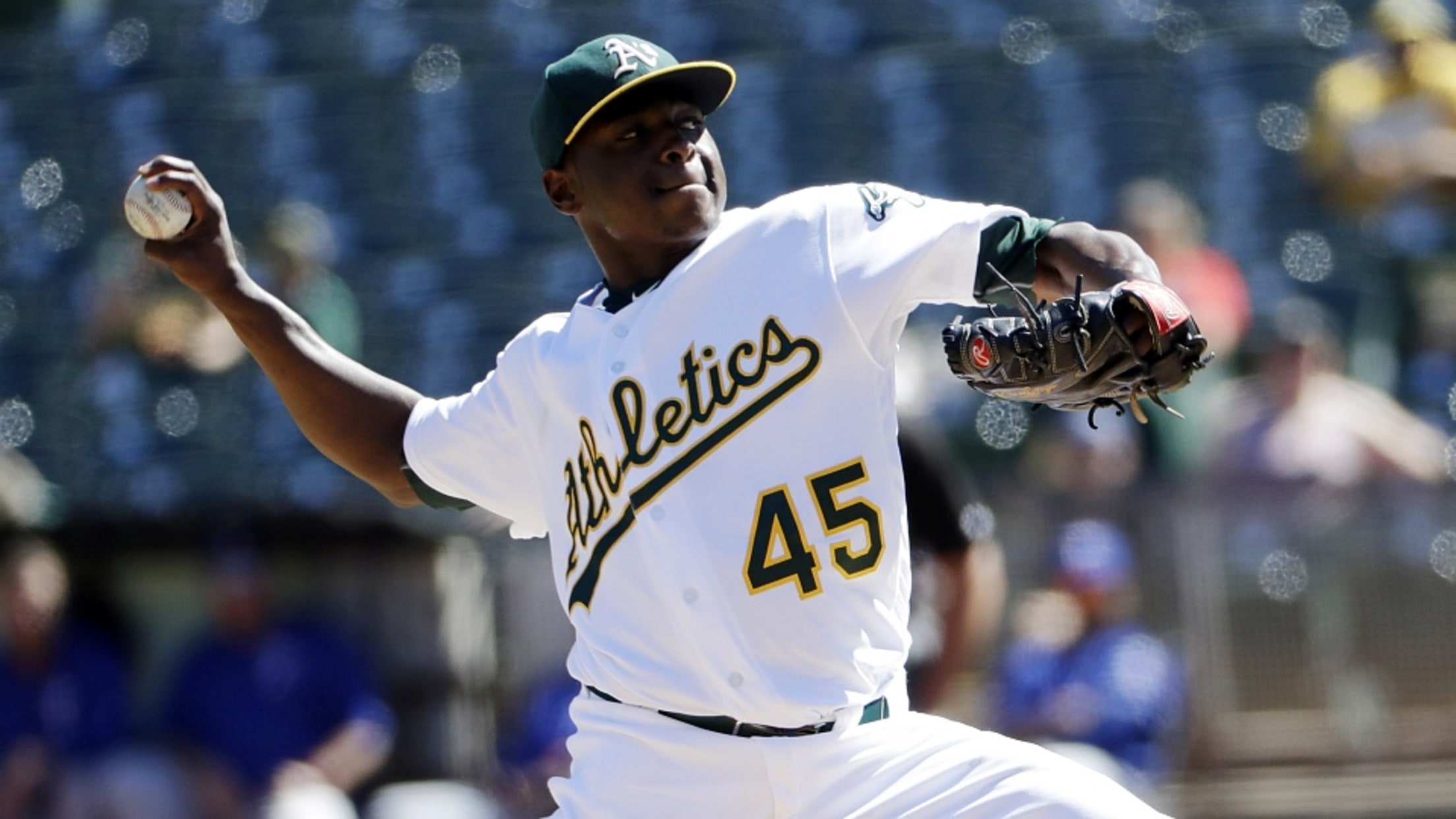 Jharel Cotton went 2-0 with a 2.15 ERA in his first five Major League starts for Oakland. (Marcio Jose Sanchez/AP)
This is the fifth in a six-part series that uses FanGraphs' Steamer600 projections to look at how prospects would fare over a full Major League season. The system bases its forecast on 600 plate appearances for position players, 450 plate appearances for catchers, 200 innings for starting pitchers and 65
This is the fifth in a six-part series that uses FanGraphs' Steamer600 projections to look at how prospects would fare over a full Major League season. The system bases its forecast on 600 plate appearances for position players, 450 plate appearances for catchers, 200 innings for starting pitchers and 65 innings for relievers -- taking into account age, past performance and previous Minor League levels, among other factors.
The prospect to most likely make a big impact on the American League West this season is a relative newcomer. If you ask him, that's no coincidence.
With a 3.3 WAR over 200 innings, A's No. 14 prospectJharel Cotton sports the highest projection among AL West rookies by far. His closest competition is Angels right-handed starter Alex Meyer at 2.2, and even then, no prospect in the tables below received a projection higher than 2.0. In fact, Steamer even pegs Cotton to be worth a higher WAR than the 3.0 Michael Fulmer notched when he was named 2016 AL Rookie of the Year this offseason.
The foundation of what makes Cotton so promising was laid before he went from the Dodgers to the A's last August in the deal that sent Rich Hill and Josh Reddick the other way. However, the structure for his potential Major League success didn't truly find its place until he settled into his new organization after the trade.
"The opportunities were there, but they weren't given to me necessarily," Cotton said of his time with the Dodgers. "Having new eyes on me, that was big because I was able to do some new things and get my confidence up. That's really what got me to the big leagues was that confidence."
Taken by the Dodgers in the 20th round of the 2012 Draft out of East Carolina, the 5-foot-11 right-hander developed a reputation as a strikeout fiend at every stop up the ladder, thanks to a low- to mid-90s fastball and a changeup considered one of the Minors' best. Over his five Minor League seasons, Cotton has averaged 10 strikeouts per nine innings. To begin 2016 at Triple-A Oklahoma City, he showed improved whiff rates with 119 strikeouts in 97 1/3 innings (11.0 K/9), but with neither his cutter nor his curveball coming close to the quality of his other two offerings, he was rather hittable as well. Pacific Coast League hitters launched 17 homers during 22 Cotton appearances, causing his ERA to balloon to 4.90 ERA before the trade.
Upon arriving to Nashville for his first A's assignment, Cotton got to work with Sounds pitching coach Rick Rodriguez on honing his arsenal.
"It was just some mechanical changes," said Cotton, a native of the U.S. Virgin Islands. "I could see the results pretty quick, and I could feel my confidence rising all the way, too. It was mostly about how I worked from the stretch. Working out of the windup was good, but from the stretch, things were flatter, especially my cutter. I had no rhythm, so I had to get some by manipulating the delivery a little. Then I had good life through the stretch and the windup. That was big."
In his second Nashville start, Cotton fell just one out short of a perfect game, striking out 12 without a walk in an eventual complete game, and from there, he was off to the races. Cotton posted a 2.82 ERA and a 0.91 WHIP with 23 strikeouts in 29 1/3 innings with the Sounds, and Oakland brought him up to the Majors for his debut on Sept. 7. Despite claiming he didn't throw a single strike in his pregame bullpen, Cotton held the visiting Angels to one earned run on two hits and two walks while fanning three in 6 1/3 innings, earning his first career win in the 4-1 victory. He finished with a 2.15 ERA, 0.82 WHIP, 23 strikeouts and only four walks in five starts (29 1/3 innings).
With impressive Major League experience under his belt and some major second-half improvements in Triple-A, Cotton is a bit of a Steamer darling with projections of a 4.08 ERA, 4.01 FIP, 1.28 WHIP and 8.4 K/9 over 200 innings. It's also a bit of a surprise to see Cotton's projected WAR as highest among all potential Oakland starters, including that of one-time ace Sonny Gray (3.0) and former Top-100 prospect Sean Manaea (2.7).
If there's something that could hold Cotton back from reaching those heights, it's his struggle at times to keep the ball in the yard. After allowing a career-high 20 homers in the hitter-friendly PCL, he served up four more during his five starts with the A's -- all but one of which came at pitcher-friendly Oakland-Alameda County Coliseum.
"I'm going to give up home runs," Cotton admitted. "I know that. Last year, I gave up the most homers of my life. But that goes back to being in the stretch. I was leaving balls up in the zone. Then in the big leagues, you have to not only make the perfect pitch, but also make it so they don't know what's coming.... That comes down to sequencing, trusting my catcher, shaking him off if I see something different, things like that. I'm going to try my hardest not to be predictable."
That work has continued this offseason with Cotton again focusing on his two lesser pitches. On the curve in particular, he said he's been talking with Tom Gordon -- a pitcher also of small build to whom Cotton is often favorably compared -- on which grips to use to tighten up the breaking pitch and make it less loopy, a trait he believes led to at least some of the dingers last season.
Projections aside, Cotton enters his first Spring Training with the A's as a strong candidate to crack the April rotation. Gray, Manaea and Kendall Graveman would appear to be the only Oakland starters written in ink, leaving Cotton to compete for one of the final two spots with Andrew Triggs, Daniel Mengden and Jesse Hahn among others. Despite the first impression he's given his second organization, Cotton isn't taking anything for granted.
"I feel like I have no spot given to me," he said. "I have to produce, and that comes down to me. It's gonna be a fight to get one of those spots, and we all know that. All I can do is go in healthy and use the confidence I've build up these last couple months."

---
---
Oakland Athletics
HITTERS
pitchers
Most ready: Cotton. See above.
Give it time: No. 52 overall prospect Franklin Barreto has been the A's middle infielder of the future since he came over from the Blue Jays in the Josh Donaldson trade in November 2014. He'll start the 2017 season as just a 21-year-old at Triple-A Nashville. That's close enough for A's fans to dream of seeing Barreto in green and gold early in the season, even if it's still not settled whether his future is at shortstop or second base. However, his Steamer projection, while OK, doesn't predict breaking down of the door, and given his age, there's plenty of time baked into his developmental track if he hits a few speed bumps in the PCL. Proximity doesn't always equal immediate readiness. Often the youngest player in any league he plays, Barreto probably needs more than to just get his feet wet at Triple-A before the calls to Oakland should come.
Wild card: The possibilities around Frankie Montas have intrigued and perhaps maddened folks in the Red Sox, White Sox and Dodgers systems. The 23-year-old right-hander, obtained with Cotton in the aforementioned Rich Hill deal, can hit triple digits and has shown an above-average slider, making him a strong candidate to be a solid reliever even if he's mostly worked in the rotation in the Minors. Montas missed most of 2016 due to rib injuries and didn't pitch in an A's uniform until the Arizona Fall League. It might be time to make the move to the bullpen full time to see just how much value he can provide his fourth organization.
Top-100 talent: Steamer isn't high on No. 100 prospectMatt Chapman's bat just yet, but what it doesn't know is that the third baseman's best assets are his glove and arm. That would add to his projected WAR had the system access to defensive data on him. Grant Holmes and A.J. Puk aren't close enough to register on Steamer's impact radar just yet, but the latter could move quickly as an advanced college left-hander in his first full season.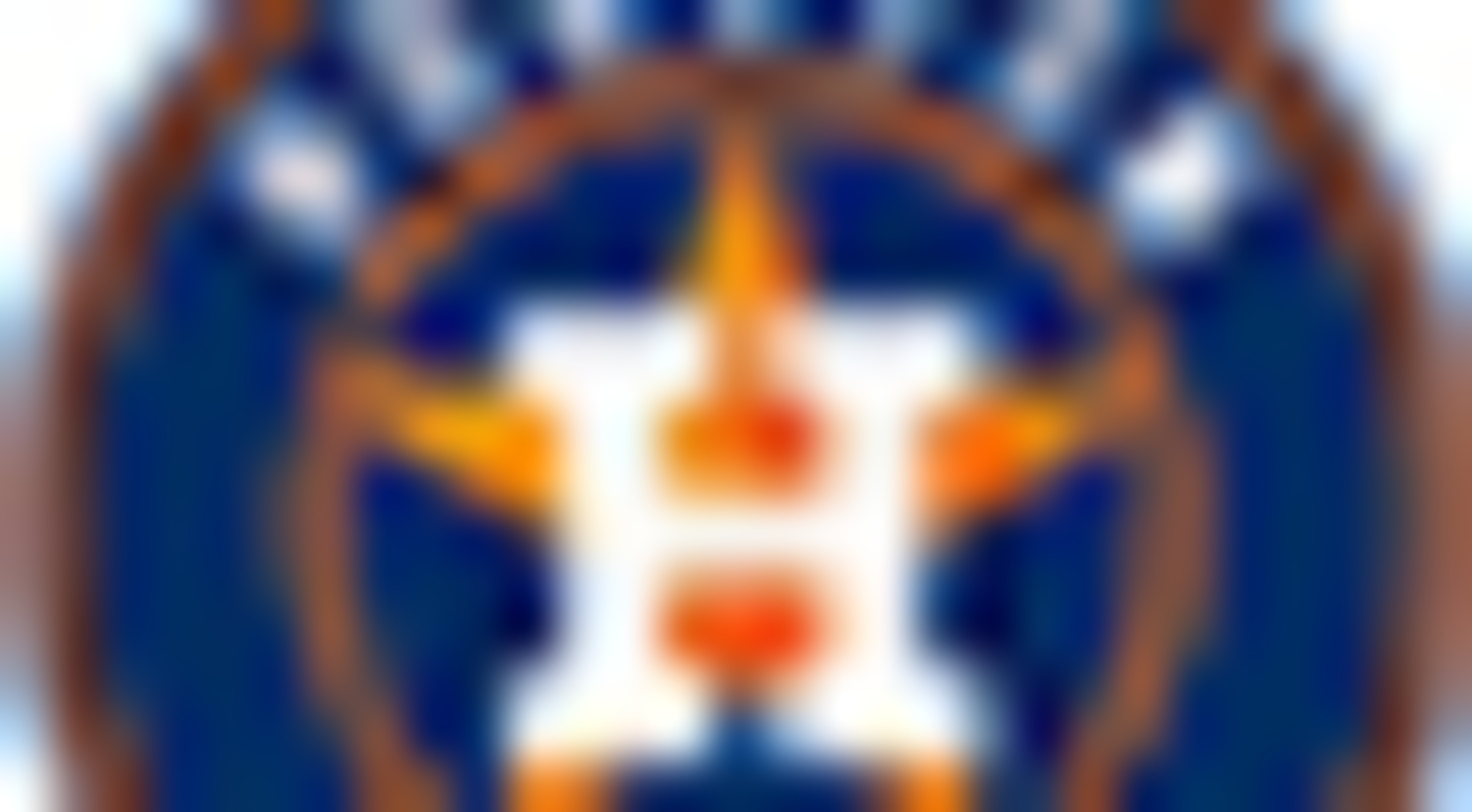 Houston Astros
HITTERS
PITCHERS
Most ready: There didn't seem to be much left for James Hoyt to prove at Triple-A after the 30-year-old right-hander posted a 1.64 ERA and a 0.87 WHIP with 93 strikeouts in 55 innings for Fresno last season, and Steamer seems to agree. Closer Ken Giles (1.1) was the only Astros reliever to receive a higher WAR projection from the system. It's not a given that Hoyt will crack the Opening Day roster, though. While he kept the strikeouts coming with an 11.5 K/9, he struggled during his 22 innings in the Majors with a 4.50 ERA and five homers allowed. He'll have to show that was a result of a smaller sample and that he can turn his impressive whiff rate into more spotless outings this spring before the Astros give him a green light in April.
Give it time: A 16th-round pick in 2014, Ramón Laureano has grown into a toolsy prospect and produced one of the more fun and potentially exciting lines in the game last season with a .319/.428/.528 slash, 15 homers and 43 steals in 116 games between Class A Advanced Lancaster and Double-A Corpus Christi. If you think that's mostly a product of the California League, consider that he hit .323/.432/.548 in 36 games at the higher level. It'd sure be fun to see how Laureano would handle himself in the Majors. Steamer thinks he'd more or less tread water. Of course, the Astros are pretty well set in the outfield with Josh Reddick, Nori Aoki and Carlos Beltran joining the organization this offseason. Let's see Laureano replicate his 2016 sucess first.
Wild card: On the topic of outfielders, Derek Fisher snuck into MLB.com's Top 100 at No. 83 because of his power and speed combination. That shows up in the Steamer projection with 16 homers and 20 steals over 600 plate appearances. By comparison, 17 Major Leaguers stole 20 or more bases last season, and of those, only 11 hit 16 or more home runs. (Astros second baseman José Altuve was one of them.) MLB.com gave Fisher below-average grades on his three other tools, however, and Steamer believes he'd only be worth a little over half a win above replacement over a full season. If he can show an improved hit tool in the PCL, there's a chance he could challenge Aoki in left field, but that's a big if.
Top-100 talent: Between the Astros' two Top-100 pitchers, David Paulino is the most likely to contribute in the Majors first in 2017 and the most likely to make the move to the bullpen full time. The 6-foot-7 right-hander made three appearances for the big club in September, producing a 2.00 ERA with 106 strikeouts in 90 innings in the Minors. But having never hit triple-digits in frames, Houston might be cautious going forward. No. 20 overall prospect Francis Martes will be just 21 this season and will likely join Paulino in the Fresno rotation, at least to start the year. But Martes is not yet on the 40-man and is buried behind more experienced names such as Joe Musgrove and Brady Rodgers at present. Kyle Tucker will likely be the star attraction at Houston's new Class A Advanced affiliate in Buies Creek.

Los Angeles Angels
HITTERS
PITCHERS
Most ready: Alex Meyer was once the pitching face of a promising Twins system, but various shoulder injuries and some control concerns made him essentially a sweetener in a deadline deal that saw the Angels and Twins swap starting pitchers Rick Nolasco and Héctor Santiago. However, the 27-year-old right-hander made five starts with the Halos and showed enough promise (namely a 3.93 FIP and 10.0 K/9) to put himself in the rotation discussion to begin 2017. If it was up to Steamer, he'd be there as the No. 4 or 5 starter with a projected WAR of 2.2. His 197 strikeout projection also stands best on the team. He has to show better control than his 6.4 BB/9 career mark in the Majors, but he's looking less of a throw-in than he did last summer.
Give it time: Keynan Middleton has some rocket fuel as a reliever after years of stalling out as a starter at the lower end of the Minors. The 23-year-old right-hander started the 2016 season at Class A Advanced Inland Empire and finished at Triple-A Salt Lake, posting a 3.41 ERA with 88 strikeouts and a .196 average-against over 66 innings. Middleton has the plus-plus fastball to compete at the Major League level right now, and the Angels added him to the 40-man roster last fall, giving that possibility extra intrigue. Steamer isn't a big buyer yet with a projection right at replacement level, but that probably is brought down by his pre-2016 lack of production as a starter. See how Middleton does back in the PCL to start 2017 before assessing his true value.
Wild card: There's a world out there in which Manny Bañuelos, who ranked as high as No. 13 overall entering the 2012 season, is one of the game's most promising young arms. Unfortunately, it's not this one. The 25-year-old left-hander hasn't thrown more than 100 innings since 2011. Tommy John surgery and other elbow issues have limited him over the years, and the Mexico native just wasn't effective (5.33 ERA, 44 strikeouts, 32 walks in 50 2/3 innings) across three levels last season before being released by the Braves in August. The Angels picked him up on a Minor League deal, and he represents a low-risk, large-reward player in a down system. After all, Banuelos is just one year removed from a trip to the Triple-A All-Star Game. Steamer, for its part, sides with the Braves.
Top-100 talent: The Angels do not have a prospect who ranks among MLB.com's Top 100.

Seattle Mariners
HITTERS
PITCHERS
Most ready: The Mariners have been so active this offseason that the pickup of Mitch Haniger in the deal that also brought Jean Segura and Zac Curtis to Seattle and sent Taijuan Walker and Ketel Marte to the D-backs might be overlooked. Haniger is coming off his best offensive season in the Minors, one in which he dominated over a half season at Triple-A Reno with a .341/.428/.670 line and 20 homers in 74 games. That success didn't quite carry to the Majors (.229/.309/.404 in 34 games), but a well-below-average .256 BABIP might have played a role. Steamer likes his chances to be Seattle's Opening Day right fielder with a league-average bat and some solid defense, projecting him to have the second-highest WAR among Mariners outfielders behind Jarrod Dyson (1.9). That's not jump-out-of-your-seat exciting, but such a player could be useful to a team in pursuit of its first postseason trip since 2001.
Give it time: Between Haniger and Dyson, the Mariners outfield will have a new feel. With that in mind, it's natural to ask when 2016 breakout star Tyler O'Neill -- with a .293/.374/.508 line and 24 homers at Double-A Jackson -- will be ready. Steamer doesn't think the 21-year-old is that far off with a WAR projection that sits fifth among potential Seattle outfielders. (Nelson Cruz is not counted among that group as a primary DH.) But MLB.com's No. 36 overall prospect still has some growing to do at Triple-A Tacoma before he can knock down the door. Perhaps his biggest goal is to keep cutting down strikeouts from 32.9 percent in 2014 to 30.5 percent in 2015 to 26.1 percent in 2016.
Wild card: Daniel Vogelbach came out from under Anthony Rizzo's shadow with his move from the Cubs to the Mariners last July and finished up his Triple-A season with a .292/.417/.505 line and 23 homers in 133 games between Iowa and Tacoma. The Mariners gave him a taste of the big leagues with 13 plate appearances in September, six of which he struck out in. Still, the left-handed slugger looks like he'll be with the big club on Opening Day. A .259 hitter against Triple-A southpaws last season, Vogelbach is expected to platoon with the right-handed Danny Valencia at first base. But if either one is going to take on the role full time in 2016, Steamer likes Vogelbach's chances with a 1.1 WAR projection over Valencia at 0.5.
Top-100 talent: O'Neill and 2016 No. 11 overall pick Kyle Lewis were Seatte's two representatives on MLB.com's updated Top-100 list. Lewis played 30 games for Class A Short Season Everett last season, but didn't receive a Steamer projection. That's probably for the best as we don't quite know what he'll be capable of after a torn ACL and meniscus ended his 2016 campaign prematurely. He isn't expected back in 2017 until midseason.

Texas Rangers
HITTERS
PITCHERS
Most ready: The Rangers got their catcher for this season in Jonathan Lucroy at last year's deadline and had to clear out a good bit of the farm system to do it. (That's partly why the above tables are some of the leaner in terms of prospect quantity.) Robinson Chirinos also seems well settled as Lucroy's second-in-command, but No. 22 prospect Brett Nicholas looks aptly prepared to take over in case of injury. The 28-year-old is coming off his third and best Triple-A season yet (.288/.351/.458 in 101 games) and actually performed better (.275/.356/.550) over 45 Major League plate appearances. With Lucroy one of the most dependable catchers this decade, Texas doesn't need Nicholas to be more than solid depth, and Steamer believes he's capable of that right now should Chirinos falter.
Give it time: This is where Steamer can disappoint a bit when it comes to starting vs. relieving projections. Yohander Méndez got the start in 21 of his 24 appearances in the Minors during a breakout 2016 season in which he climbed four levels, but he came out of the bullpen in his two games in the Majors, making Steamer give him a relief role in its system. The 22-year-old lefty is looking at a spot in the Triple-A Round Rock rotation to begin 2016, and the big thing might be seeing whether he can cross the 100-inning threshold for just the second time professionally.
Wild card: Eight of Andrew Faulkner's first 14 appearances last season came in the Majors. Only one of his next 35 did the same, on Sept. 25. The 24-year-old left-hander showed a few signs in the PCL that he needed to be back up with a 3.97 ERA, 39 strikeouts and 20 walks in 45 1/3 innings at Triple-A. As such, Steamer doesn't project him to be of much value if given a full season in the bigs. The good news is that Texas is short-handed when it comes to left-handed relief with Alex Claudio the only southpaw likely to break camp with the Major League club. Faulkner is just effective enough against same-side bats that he could carve out a LOOGY role, but he'll have to prove himself in a third year at the Minors' highest level.
Top-100 talent: Leody Taveras jumped up to No. 55 in MLB.com's Top 100 -- one spot ahead of Mendez -- after a 2016 season in which he climbed from the Dominican Summer League to Class A Short Season Spokane. The 18-year-old outfielder received a tame Steamer projection. Expect the discussion to increase after he sticks stateside for a full campaign.

Sam Dykstra is a reporter for MiLB.com. Follow and interact with him on Twitter, @SamDykstraMiLB.