2017 Prospect Projections: NL Central
Despite walks, Glasnow forecasts as key piece in Pirates rotation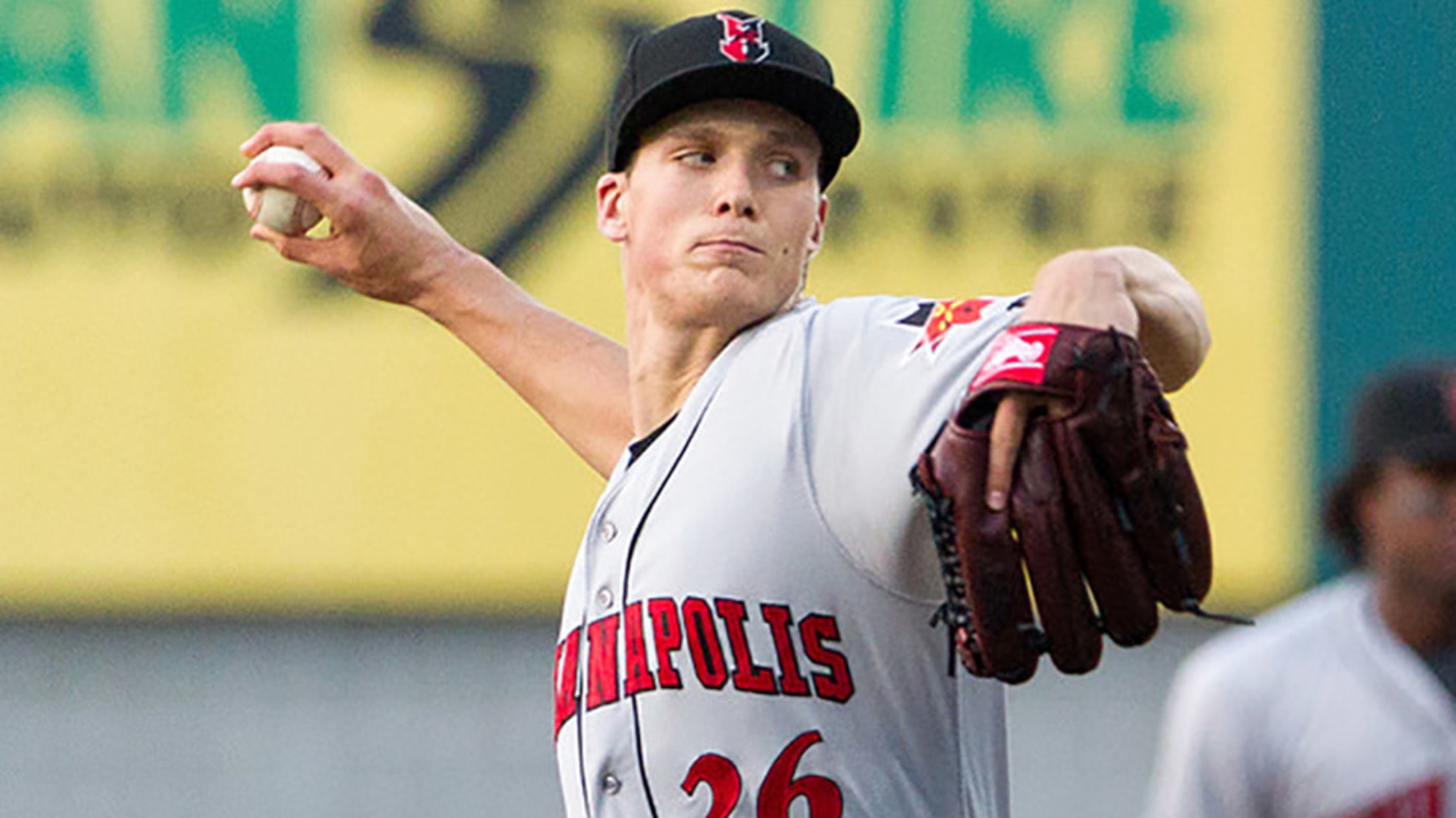 With a 4.4 BB/9 in the Minors, Tyler Glasnow's control issues have held him back from a rotation spot. (Ken Jancef/MiLB.com)
This is the fourth in a six-part series that uses FanGraphs' Steamer600 projections to look at how prospects would fare over a full Major League season. The system bases its forecast on 600 plate appearances for position players, 450 plate appearances for catchers, 200 innings for starting pitchers and 65
This is the fourth in a six-part series that uses FanGraphs' Steamer600 projections to look at how prospects would fare over a full Major League season. The system bases its forecast on 600 plate appearances for position players, 450 plate appearances for catchers, 200 innings for starting pitchers and 65 innings for relievers -- taking into account age, past performance and previous Minor League levels, among other factors.
For the second year in a row,Tyler Glasnow is the focus of the National League Central Prospect Projections, and that's no mistake. The 2016 season was expected to be the one in which the 6-foot-8 right-hander broke out big on the Major League scene. He did indeed make that much-anticipated debut but struggled in the process. As a result, he's still considered a prospect and eligible to appear here.
But Steamer still believes in Glasnow -- even more than before.
The story on MLB.com's No. 9 overall prospect has been the same since his selection in the fifth round of the 2011 Draft. With a 70-grade fastball and plus curve, Glasnow has killer stuff, and as one of the taller pitchers in the game, he can be downright overbearing, reaching out closer to opposing batters with the Majors' longest stride. (FanGraphs documented Glasnow's stride advantage last week.) But with those positives come control issues -- major control issues. He has averaged 4.4 BB/9 over 500 career Minor League innings.
That was all on display during the 2016 campaign. As he has almost everywhere else, Glasnow dominated during his time with Triple-A Indianapolis with a 1.93 ERA, .176 average-against and 144 strikeouts in 116 2/3 innings. Among Triple-A pitchers with at least 110 frames, he was tops in ERA and average-against and second in FIP (2.92) and K/9 (10.8). He also posted the second-highest walk rate with a 5.0 BB/9. Glasnow was called up for two spot starts with the Pirates in July and returned to the big club in September, following a disabled list trip due to a shoulder injury after his second Major League start, but never quite clicked at the game's highest level. He finished with a 4.24 ERA, 4.26 FIP, 24 strikeouts and 13 walks in 23 1/3 innings over seven appearances (four of which were starts).
The fact that the 23-year-old never quite stuck the landing would seemingly hurt his chances with Steamer. However, that hasn't been the case. Glasnow's WAR projection for a full season entering 2016 was 2.7. Entering 2017, that's up to 3.1. The difference appears to be Glasnow's time in the International League, which has convinced the system that he could be elite at missing bats with a projected 222 strikeouts in his allotted 200 innings. That's ninth-highest among all starting pitchers, beating out noted aces such as Corey Kluber (209), Madison Bumgarner (209), Chris Sale (208) and Justin Verlander (205).
Of course, the walks are in the projection, too. Of the 137 pitchers to receive a WAR projection of 3.0 or above, Glasnow is the only one projected to hit triple digits in free passes at 105 in 200 innings. Speaking to MiLB.com's Alex Kraft earlier this month, the California native expressed his belief that he might have worked out his control woes late in the 2016 campaign.
"I think my biggest advantage and my biggest problem is my length," he said. "Even looking back at the stats, my extension rate was 8 inches higher than everyone else. It didn't used to be like that. I like having a good extension rate, but part of the problem with that is it is so much harder to control because I'm letting it go so much farther. I looked back at video and everything was so long and I wasn't bringing my foot back to get a front side. I wasn't stable. I was going heel, to rolling over, to foot, and I said, 'This is weird,' but it wasn't something I could just change. Then I remember my throwing program the day before our last game and I kind of [got a feel for it] in practice and thought, 'Hey, that felt nice.' That last game it still felt kind of long, but as I kept throwing after the season and started to have that feel for it, I started to get that stable front-side feeling. It's a simple adjustment, but it was huge for me."
Even with the walks, Glasnow has the chance to be a solid piece in the Pirates rotation in 2017. His WAR projection is third-highest among potential Pittsburgh starters behind only Jameson Taillon (4.1) and Gerrit Cole (4.0). If those three hit their marks, the Bucs could be well on their way to a return to form after a rough 78-83 record in 2016. But even then, Glasnow's control woes, if they remain, would be holding back a hurler who otherwise was expected to be closer to ace material by this summer.
Here are projections for other Top-30 prospects in NL Central rankings. (Note: MLB.com has updated its Top-100 overall prospect ranking but has not done the same yet with its team lists. Overall rankings included below are from the 2017 list, while team rankings are from the 2016 lists.)

---
---
Pittsburgh Pirates
HITTERS
PITCHERS
Most ready: After Glasnow, Josh Bell leads this category for the Pirates, and for good reason. Slated as Pittsburgh's Opening Day first baseman, MLB.com's No. 27 prospect showed he doesn't have much to prove offensively at Triple-A with a .295/.382/.468 line and 14 homers in 114 games and held his own with a .273/.368/.406 line in 45 contests in the Majors. Steamer sees him improving those percentages over a full season, but limited defensive ability holds him to a 1.3 WAR, highest among potential Pirates first basemen.
Give it time: There might not be a more complete hitter in the Pirates system than Kevin Newman. That was evident when he hit .320/.389/.426 with a 36/43 K/BB ratio in 102 games at Double-A Altoona and Class A Advanced Bradenton. Steamer believes he'd be Pittsburgh's best shortstop option from the first day of the 2017 season, beating out Jordy Mercer's 1.3 WAR projection. It's fun to think about, especially with Newman receiving a non-roster invitation to Spring Training. What's most likely is that he'll head back to Altoona or Indianapolis, where he'll work to show he can stick at shortstop defensively.
Wild card: Beyond Glasnow, the Pirates have two more starting pitchers who received WAR projections above 2.0 -- a rare sight for prospects -- in Steven Brault and Nick Kingham. The left-handed Brault should be in the rotation discussion this spring after making seven starts for the Bucs in 2016, during which he posted a 4.86 ERA in 33 1/3 innings. Kingham is still working his way back from 2015 Tommy John, but Steamer still likes the 25-year-old right-hander's chances to contribute, though a lot of that comes from pre-surgery results.
Top-100 talent: The biggest news of the Pirates' offseason was something they didn't do -- trade center fielder Andrew McCutchen. His return means No. 10 overall prospect Austin Meadows should get more time to develop at Triple-A Indianapolis, and Steamer believes he'll need it. A better-rounded Meadows with his four plus grades (hit, power, run and fielding tools) should scare the rest of the NL Central. No. 48 overall prospect Mitch Keller broke out with impressive control but just barely cracked Class A Advanced, making him on track for a 2018 debut rather than one this coming season.

Chicago Cubs
HITTERS
PITCHERS
Most ready: Albert Almora Jr. is clinging to prospect status by only 18 MLB at-bats, making him an easy selection here. The offseason departures of Dexter Fowler and Jorge Soler should make the road to a Major League role a little clearer for him, but he's still expected to compete or form a platoon in center with free-agent addition Jon Jay. Steamer doesn't believe Almora would be of much offensive value, but Chicago fans know he's in the lineup for his work in the field. With the rest of that batting order on the North Side, the Cubs won't need him for his bat anyway.
Give it time: Jeimer Candelario is in a pickle. He plays two positions -- third base and first -- and he's behind MVP candidates in both spots. That's about as blocked as blocked gets. Steamer thinks MLB.com's No. 96 overall prospect, who hit .333/.417/.532 with nine homers in 76 games for Triple-A Iowa, could benefit from a return to the Pacific Coast League, so don't feel too bad for him yet. But at this point, a best-case scenario for all involved is that Candelario improves his stock enough to become a quality trade piece toward the deadline.
Wild card: Ryan Williams is the type of pitcher who can get lost in the shuffle. His fastball is his only plus pitch with a curve, slider and changeup that all grade out slightly below-average. But what he can do well is throw strikes. The 25-year-old right-hander issued only 18 walks in 141 2/3 innings back in 2015 and allowed 12 free passes in 44 innings last season for Iowa before shoulder issues knocked him out in May. Steamer likes his chances to help the Cubs staff in 2017, and he'll get an opportunity to show his stuff and his health with a Spring Training invite.
Top-100 talent: Second baseman Ian Happ, outfielder Eloy Jimenez and right-hander Dylan Cease make up the rest of the Cubs' Top-100 contingent. Happ's the only one of the group who has played significant time at or above Class A Advanced, and as a result, he's the only one with an above-replacement-level projection. But with the Cubs pretty well covered, his best chance to see Chicago might be as a super utilityman a la Ben Zobrist. The problem is the Cubs already have the genuine article.

Cincinnati Reds
HITTERS
PITCHERS
Most ready: The Reds made an already thin rotation even thinner when they dealt Dan Straily to the Marlins, and that may be what it takes to get Robert Stephenson a spot on the season-opening staff. The 23-year-old right-hander was so-so at Triple-A Louisville in 2016 with a 4.41 ERA, 120 strikeouts and 71 walks in 136 2/3 innings and struggled in the Majors with a 6.08 ERA in eight starts (37 innings). But MLB.com's No. 87 prospect has always received raves for his three-pitch mix, and Steamer thinks he'd have just enough control to be of some value to the big club, if given a full season. Stephenson will likely compete with Cody Reed, Tim Adleman and others for the final spot in Cincinnati's rotation. (Tyler Mahle would've gotten the nod here based on his projections, but the 22-year-old right-hander is not on the Reds' 40-man roster.)
Give it time: Which Jesse Winker will show up in 2017? Before a wrist injury knocked him out in mid-June, he was batting .286/.381/.367 with two homers in 55 games for Triple-A Louisville. After returning to the Bats on July 14, he hit .320/.415/.403 with one homer in 51 games. That's not a lot of power, but the average and OBP led the Reds to give Winker a 40-man spot in November. Steamer isn't quite convinced the 23-year-old outfielder is going to bang down the door, though. He'll be given time with a return to the IL, and a return to double-digit power while maintaining his plate discipline could go a long way toward punching his ticket for Cincinnati.
Wild card: These analyses are supposed to be based on projections alone, and Nick Senzel's aren't particularly rosy for 2017. Of course, they're based on a 68-game sample at Rookie-level Billings and Class A Dayton. But the 2016 second overall pick deserves more than a passing mention here, given how quickly he could climb. Senzel was seen as the safest player in the 2016 Draft, and it didn't take long to show why with a .329/.415/.567 with 33 extra-base hits and 15 steals in 58 games with Dayton. The Reds don't have anyone who could get in the way of Senzel at the hot corner at any level, including in the Majors, and that could lead to an ascent similar to 2015 second overall pick Alex Bregman.
Top-100 talent: Amir Garrett has been on the Reds' 40-man roster since November 2014, and 2017 represents his best chance to reach Cincinnati. Having yet to debut, the 24-year-old left-hander is likely behind Stephenson in the pecking order, but at No. 66 in MLB.com's ranking, he's the better prospect and projects to be of similar value over a full season.

Milwaukee Brewers
HITTERS
PITCHERS
Most ready: The debate on Josh Hader's future role as reliever or starter will go on as long as he's a prospect, but Steamer has a pretty strong opinion -- he's a starter. In fact, the projection system believes the 22-year-old left-hander is the Brewers' best starting option right now with a 3.3 projected WAR. (Zach Davies and Junior Guerra are tied for second at 2.8.) That says as much about the state of Brewers pitching as it does about Hader's readiness, but it's worth something that Steamer gives him credit for his Double-A dominance (0.95 ERA, 11.5 K/9 in 57 innings) and Triple-A peripherals (3.81 FIP, 11.5 K/9 in 69 innings). If Hader can work on his control and put up a solid ERA back with Colorado Springs, expect a Super Two promotion in the season's first half.
Give it time: Milwaukee might have started salivating when Lewis Brinson hit .382/.387/.618 with 13 extra-base hits in 23 games for Colorado Springs after coming over from the Rangers. Steamer's projections are a good reminder that those numbers came over a small sample and that Brinson actually struggled at Double-A Frisco (.237/.280/.431 in 77 games) before the deadline deal. Chances are his plus defense in center would give him a shot at beating his 0.9 WAR projection, but he'll have to show 2016's late surge was sustainable before he gets a chance to play next to Ryan Braun.
Wild card: Brandon Woodruff was one of the breakout stars of 2016 with a Minors-best 173 strikeouts in 158 innings at Double-A Biloxi and Class A Advanced Brevard County. A 2014 11th-round pick, Woodruff has become a legitimate prospect thanks to his above-average fastball and slider and a solid changeup, and Steamer believes he can be more than just that, placing him fourth among potential Brewers starters in projected WAR despite not making his Triple-A debut yet. The onus will be on the 23-year-old right-hander to show 2016 wasn't a fluke, but he's setting himself up to be a major win for Brewers player development as early as this season.
Top-100 talent: Beside Hader and Brinson, outfielder Corey Ray, middle infielder Isan Díaz and right-hander Luis Ortiz took spots in MLB.com's updated Top-100 rankings, but Steamer isn't high on their ability to help the Major League roster in 2017. Don't pay too much attention to Ray's low projection, however, as it comes off a short 60-game Minor League career in which he struggled after a full slate at Louisville in the spring.

St. Louis Cardinals
HITTERS
PITCHERS
Most ready: Surprise, surprise. The Cardinals look like they're developing more top pitching. No. 68 overall prospect Luke Weaver received the rosiest projection of the bunch after posting a 1.30 ERA with 92 strikeouts and 12 walks in 83 innings at Double-A Springfield and Triple-A Memphis. The fact he got smacked around with a 5.70 ERA and seven homers in 36 1/3 innings in the Majors portends a return to the Pacific Coast League to start 2017, but Steamer still likes his favorable peripherals (11.2 K/9, 3.8 K/BB) in the Majors. On a similar note, it's a shame Steamer puts top Cardinals prospect Alex Reyes down as a reliever, even if that's to be expected with seven of his 12 Major League appearances coming out of the bullpen in 2016. The 22-year-old right-hander, who posted a 1.57 ERA with 52 strikeouts in 46 innings for the Cards, is expected to compete with Michael Wacha for the fifth spot in the St. Louis rotation. If he can secure that role, MLB.com's No. 6 prospect should compete with Dansby Swanson for NL Rookie of the Year honors, especially if he can improve his control.
Give it time: The Cardinals have Yadier Molina the beginning and end of St. Louis' catching discussion over the past decade. Now they also have Carson Kelly, who was named MLB.com's top catching prospect this offseason. The 22-year-old broke out with a .289/.343/.395 line and six homers in 96 games between Springfield and Memphis last season. But Steamer doesn't see those numbers translating, at least offensively. The good news is Kelly, a former third baseman, is probably better defensively than the projections give him credit for, and that would add to his WAR some. It's not enough of a projection to unseat Molina yet, and while Kelly is the only other catcher on the 40-man roster, the Cardinals did bring in 31-year-old Eric Fryer on a Minor League contract with a Spring Training invite. Whether Kelly starts 2017 as a Major League backup under the tutelage of Molina or a starter with regular playing time in Memphis, Kelly should look like a solid everyday option in time.
Wild card: Marco Gonzales is the ultimate wild card: No one truly knows what to expect from him until he officially returns from Tommy John surgery, which he underwent last April. The St. Louis Post-Dispatch reported the left-hander is throwing from 90 feet and he's hopeful to be pitching in games, likely with Triple-A Memphis, come the start of the Minor League season. Steamer thinks he's the Cardinals' sixth-best starting option (not counting Reyes) with a projected 2.1 WAR, but he'll have to establish long-term health and production for the Redbirds before the Majors can enter the discussion.
Top-100 talent: Delvin Perez, St. Louis' first-round pick in 2016, is the only Top-100 prospect not discussed above, but the 18-year-old shortstop did not receive a Steamer projection after playing 43 games in the Rookie-level Gulf Coast League last summer.

Sam Dykstra is a reporter for MiLB.com. Follow and interact with him on Twitter, @SamDykstraMiLB.