2017 Prospect Projections: NL West rookies
Rockies' Hoffman has reasons for hope despite early MLB struggles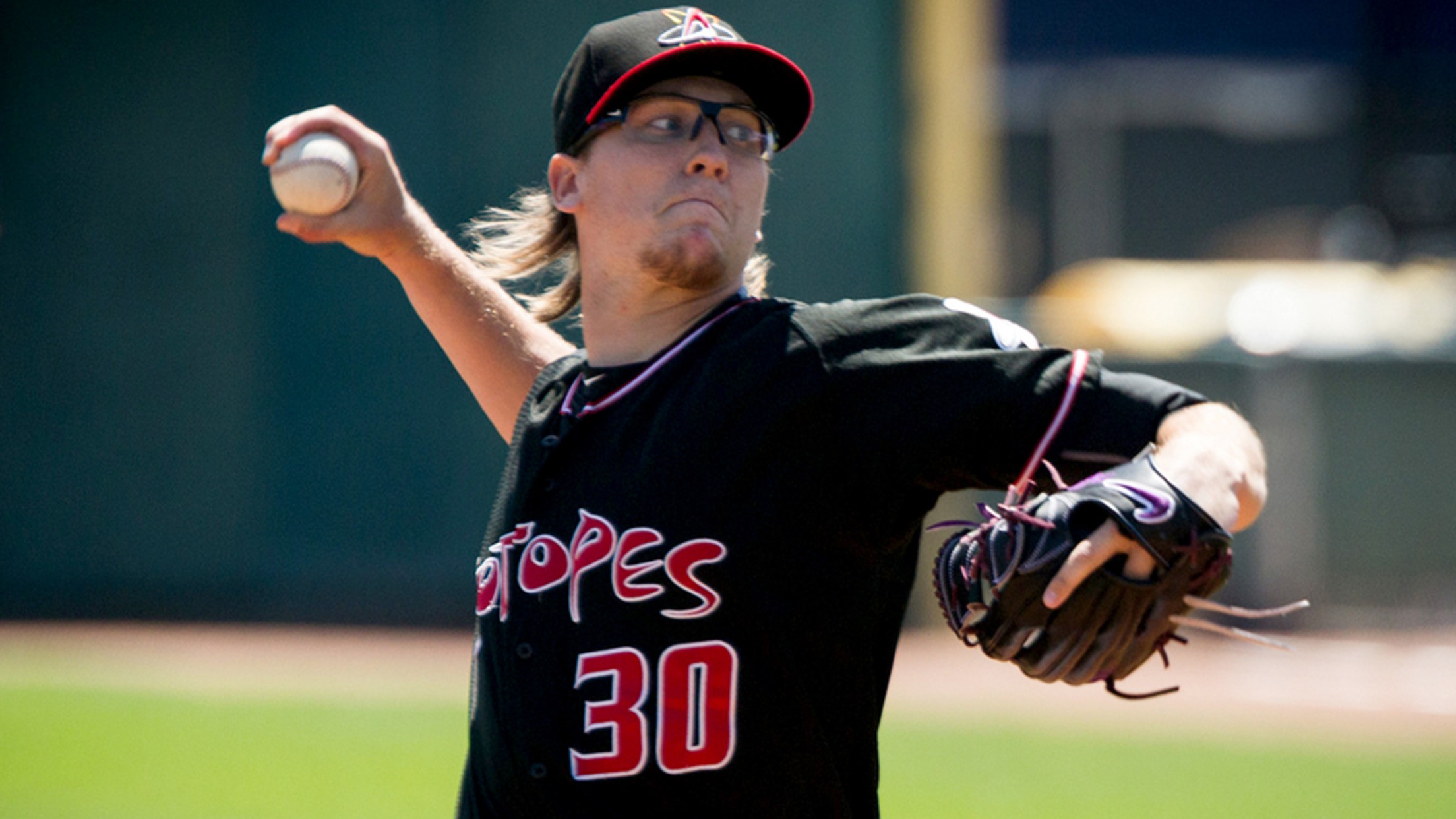 Jeff Hoffman ranked second in the Pacific Coast League with 124 strikeouts last season. (Bobby Stevens/MiLB.com)
This is the final installment of a six-part series that uses FanGraphs' Steamer600 projections to look at how prospects would fare over a full Major League season. The system bases its forecast on 600 plate appearances for position players, 450 plate appearances for catchers, 200 innings for starting pitchers and 65 innings
This is the final installment of a six-part series that uses FanGraphs' Steamer600 projections to look at how prospects would fare over a full Major League season. The system bases its forecast on 600 plate appearances for position players, 450 plate appearances for catchers, 200 innings for starting pitchers and 65 innings for relievers -- taking into account age, past performance and previous Minor League levels, among other factors.
It's become an eternal question: Can talented pitching thrive in the thin air of Colorado? Jon Gray showed glimpses last season, and Jeff Hoffman could be in line to do the same in 2017.
No one doubts that Hoffman, MLB.com's No. 44 overall prospect, has the weapons to succeed on the game's biggest stage. The 24-year-old right-hander received a 55 grade or higher on the 20-80 scouting scale for all four of his pitches in MLB.com's latest update with his fastball (which averaged 94 mph in the Majors) and curve earning plus 60 grades. That mix is typically enough to earn a pitcher a long look in the Majors, and that came for Hoffman at season's end. The trouble was the results never truly did.
Pitching in his second full season back from 2014 Tommy John surgery, Hoffman ranked 12th out of 32 qualified Pacific Coast League pitchers with a 4.02 ERA and 11th with a 4.13 FIP over 118 2/3 innings for Triple-A Albuquerque. Though none of those numbers cry for a call-up, Hoffman was missing bats with a career-best 9.4 K/9 that ranked second in the circuit.
In need of rotation help, the Rockies brought up their No. 2 prospect for his debut on Aug.20 and kept him around to make eight appearances (six starts) over the remainder of the season. Only one of those appearances earned the title of "quality start," however, and he finished his first MLB stint with a 4.88 ERA, 6.27 FIP, 6.3 K/9, 4.9 BB/9 and seven homers allowed in 31 1/3 innings -- nothing that would command Hoffman begin 2017 back in Colorado.
Enter Steamer and the optimistic tale of Gray.
Looking back at 2016 Prospect Projections, Gray was slated to be worth a 2.8 WAR with a 4.20 ERA, 4.09 FIP, 1.34 WHIP and 8.3 K/9 over a full season of 200 innings. That's pretty solid for any pitcher who still owns rookie eligibility, but especially for a pitcher like Gray who had struggled during his first taste of the Majors a season earlier. The right-hander's 5.53 ERA over 40 2/3 innings had some observers worried, but Steamer's optimism was rewarded when Gray posted a 3.60 FIP and averaged 9.9 K/9 (sixth-best in the National League) over 168 innings, while his 3.7 WAR was 11th-highest among senior circuit pitchers.
Hoffman's projections for 2017 aren't quite as rosy as Gray's were for 2016 -- he's slated to be worth 2.5 WAR with a 4.61 ERA, 4.43 FIP and 7.8 K/9 over the allotted 200 innings. But like Gray, that's still a significant improvement over his initial Major League numbers.
In particular, Steamer doesn't see Hoffman averaging 2.0 HR/9 again -- for what it's worth, five of his seven Major League homers allowed came away from Coors Field in 2017 -- and his abnormally low 56.6 percent left-on-base percentage should rise closer to the average of 70 percent. What's more, Steamer believes Hoffman would be the Rockies' fifth-best starting pitcher option behind Gray (3.8 WAR), Tyler Anderson (3.4), Tyler Chatwood (2.6) and Chad Bettis (2.6), putting him in line for a Major League gig come Opening Day.
Throw in the continued development of Hoffman's four pitches, and there's reason to believe he too could actually beat his projections over the coming season, Coors Field or not. If that happens, the Rockies could have two homegrown cornerstones in their rotation.

---
---
Colorado Rockies
HITTERS
PITCHERS
Most ready: Along with Hoffman, it's also worth noting that Tom Murphy, fresh off an OPS above 1.000 between Triple-A and the Majors, earned the highest WAR projection among Rockies catchers. He's likely to back up Tony Wolters to begin 2017 but could eventually wrestle the job away.
Give it time: After making a splash to sign Ian Desmond, the Rockies could've traded Charlie Blackmon to clear up some of their outfield logjam (and sign a slugger to play first base). Instead, the logjam remains, and Raimel Tapia will likely be on the outside looking in. Steamer is OK with that for now, projecting the 23-year-old to be worth less than half a win over a full season. He'll have to show a little more power and patience in Albuquerque before he can bust through the clutter.
Wild card: German Marquez is expected to be right there with Hoffman for the final spot in the rotation after posting a 3.13 ERA with 155 strikeouts in 166 2/3 innings between Albuquerque and Double-A Hartford. Like Hoffman, however, he struggled with a 5.23 ERA in six appearances (three starts) for the big club. As much as we'd like to use Steamer as a tiebreaker, the system gave Marquez a reliever projection based on his Major League experience. Without similar stuff to Hoffman, MLB.com's No. 73 prospect is the more likely of the two to head back to the PCL to begin 2017, but he'll be worth a long look should anyone falter or get injured in the Majors.
Top-100 talent: Brendan Rodgers remains a fun offensive prospect up the middle, especially given his future home park. The 20-year-old remains far away from the above categories, however, having only completed one full season. Check back in 2018 when he could be a wild card, if everything plays his way over the summer.

Arizona Diamondbacks
HITTERS
PITCHERS
Most ready: The loss of luster in the D-backs' system is a well-worn topic, but there's some light for new GM Mike Hazen in the form of top prospect Anthony Banda. With an above-average fastball and plus curve, the 23-year-old lefty helped his stock with a 2.12 ERA and 84 strikeouts over 76 1/3 innings at Double-A Mobile last season and then held his own at Triple-A Reno with a 3.67 ERA and 68 strikeouts in 73 2/3 frames. If it were up to Steamer, Banda, who was added to the 40-man roster in November, would crack Arizona's rotation as the projected fifth-best starter on the roster as his 2.5 WAR projection beats out Shelby Miller (2.3) and former top prospect Braden Shipley (1.1). It's much more likely that Banda heads back to the PCL to begin the season, but don't rule out a first-half promotion if he continues his development at the Minors' highest level.
Give it time: Any member of the position player group could go here. All five are projected to be below replacement level in the Majors right now. We'll highlight Dawel Lugo, who hit .311 with just an 11 percent strikeout rate in 127 games between Class A Advanced Visalia and Mobile. He also hit a career-high 17 homers, though 13 of those came in the California League. Lugo will be 22 for the entire 2017 season, and with a bit of a logjam in the Arizona infield, the third baseman should take the time to work on his walk rate (just 3.7 percent in 2016) and adding even more pop.
Wild card: Jared Miller proved to be one of the standout pitchers in Arizona Fall League in 2016. He didn't allow an earned run over 18 1/3 innings with Salt River while striking out 30, walking four and holding opposing batters to a .103 average. Steamer is more focused on his regular-season production, which saw him post a 2.64 ERA with 80 strikeouts in 61 1/3 innings at all four full-season levels in 2016. Most of that damage came at the upper levels -- he posted a 4.13 ERA in 32 2/3 innings between Reno and Mobile -- but by all accounts, Miller was showing a fastball-curve mix that could play rather quickly in the Majors. A non-roster invitee to Spring Training, he should be one to watch in the coming weeks.
Top-100 talent: The D-backs have no top-100 prospects.

Los Angeles Dodgers
HITTERS
PITCHERS
Most ready: Andrew Toles proved to be one of the more interesting prospect stories of 2016. Released by the Rays in March 2015 having never played above Class A Advanced, Toles signed with the Dodgers in September of that year and climbed three levels from Rancho Cucamonga to Los Angeles in his first season with the club. That alone would be inspiring, but he also thrived with a .314/.365/.505 line in 48 games for the Dodgers. Steamer doesn't expect the 24-year-old outfielder to be quite that good upon his return to the Majors, but his 1.7 WAR projection is third-best among LA outfielders and makes him the leading candidate to start in left on Opening Day.
Give it time: Cody Bellinger looks set to be the next prospect to make it big in Los Angeles -- he can hit, he has power, he can field first base extraordinarily well and he can play a capable outfield when called upon. (And he could be called upon with Adrián González signed through 2018.) Steamer, though, cautions that he still needs some seasoning. The 21-year-old has only three games (plus some playoff experience) under his belt with Triple-A Oklahoma City. Bellinger will likely be banging down the door by the All-Star break, if not earlier, but with the Dodgers' depth, there's no need to speed up his timeline.
Wild card: Toles wasn't the only breakout star of the Dodgers' system in 2016. Brock Stewart followed the same track with stops in Rancho, Tulsa and Oklahoma City before his Major League debut on June 29,winning the Starting Pitcher MiLBY with a 1.79 ERA, 0.88 WHIP, 129 strikeouts and 19 walks in 121 innings. The 25-year-old right-hander didn't quite find the same level of success in the Majors with a 5.79 ERA in 28 frames, and he should enter 2017 down the pecking order in a crowded Dodgers rotation. Steamer gave Stewart a reliever projection, but he's more likely to serve as rotation help at Oklahoma City to begin 2017. If he can make the most of his chances when they come, the 2014 sixth-rounder has the opportunity to elbow his way into the conversation.
Top-100 talent: Second baseman Willie Calhoun and outfielder Alex Verdugo are likely to join Stewart and Bellinger in Oklahoma City on what should be one of the Minors' most exciting rosters. Steamer likes Calhoun's chances better to make the jump to the Majors successfully right now, if needed, but that got a little more complicated with the acquisition of Logan Forsythe from the Rays. There are some who believe 20-year-old right-hander Yadier Alvarez has already grown into the organization's top prospect after making his stateside debut last season, but he's at least two years away from joining the Major League conversation.

San Diego Padres
HITTERS
PITCHERS
Most ready: The Padres will continue their rebuild in 2017 with a young Major League squad. The most notable youngster to contribute will likely be outfielder Manuel Margot. MLB.com's No. 23 overall prospect spent the entire 2016 campaign at Triple-A El Paso, where he hit .304/.351/.426 with a PCL-best 12 triples and 30 stolen bases in 124 games. The 22-year-old got 10 games in the Majors at the end of the season and went 9-for-37 (.243). The Padres seem ready to let the right-handed Margot contend with left-handed Travis Jankowski for the starting spot in center, or at least let the two speedsters play in a left-right platoon at the outset. Steamer thinks it'd be a draw right now with 1.0 WAR projections for both. But the system might be underrating Margot's plus-plus defensive abilities in center, and it might be his ability to play with a more well-rounded toolset that could tip him past Jankowski come April.
Give it time: Sticking in the outfield, Hunter Renfroe appears to be penciled in as the club's Opening Day right fielder. However, Steamer isn't a big believer that Renfroe's .306/.336/.557 line with 30 homers at El Paso in 2016 will translate. Namely, his .288 OBP and 32.2 percent strikeout rate projections would hold the 25-year-old from even being league-average at the plate. Renfroe's power is very real, and there's a good chance he slugs his way to value in 2017, but don't be surprised if he gets off to a rough start. With San Diego in no mode to contend, the Padres can afford to be patient, and they may have to be.
Wild card: The Padres made three Rule 5 picks back in December in right-hander Miguel Diaz, catcher Luis Torrens and shortstop Allen Cordoba. Among that group, Steamer believes Torrens is most likely to stick as the only one projected to be above replacement level in 2017. San Diego is expected to be thin behind the plate with Austin Hedges set to take over full-time duty and Christian Bethancourt looking at a role as a catcher/outfielder/pitcher. By their projections, Diaz and Cordoba have their work cut out for them to stick for a full season, but the Padres are likely to take risks to keep valuable young pieces in the organization.
Top-100 talent: Anderson Espinoza and Cal Quantrill, both of whom were added to the system in 2016, bring lots of intrigue to San Diego's future plans, but neither has pitched above Class A and won't contribute to the Majors this season. Quantrill has the best chance as a college pitcher who could move quickly, but the 2017 season will be his first full campaign since undergoing Tommy John surgery in 2015.

San Francisco Giants
HITTERS
PITCHERS
Most ready: As a 6-foot-7 right-hander with a good fastball and some control issues, Joan Gregorio is a classic "stay as starter or move to the bullpen" question mark. Steamer projects him out as a starter, where he spent all of 2016, and the results were favorable. His 3.78 ERA, 3.91 FIP and 2.6 WAR projections were all fifth-best among potential San Francisco starters. That might seem befuddling after Gregorio posted a 5.28 ERA in 107 1/3 innings at Triple-A Sacramento last season, but his peripherals help (4.34 FIP, 10.2 K/9, an abnormally high .343 BABIP). With so many starting options in the system (see below), the 25-year-old still might have a brighter future in relief, but this projection shows he deserves a longer look as a starter.
Give it time: Entering his fifth Minor League season, Christian Arroyo will still only be 21 on Opening Day. He is likely ticketed for Triple-A after coming off a season in which he hit .274/.316/.373 with three homers, a triple and 36 doubles in 119 games for Double-A Richmond, where he was three years younger than the average Eastern Leaguer. Arroyo still has plenty of time to develop into an impressive hitter before he moves up, and Steamer believes that's the right move with an exact replacement-level projection right now. The other hurdle will be finding a position. Brandon Crawford and Joe Panik seem to have the middle infield locked up, leaving third base for Arroyo, who has played 49 career games there.
Wild card: Unfortunately, here's another example of a starting pitcher prospect receiving a reliever projection. Ty Blach was a PCL end-of-season All-Star last year after posting a 3.43 ERA and finishing third with a 1.14 WHIP over 162 2/3 innings. The Giants gave the 26-year-old left-hander four appearances in the season's final month (split between the rotation and the bullpen), and he was dominant with a 1.06 ERA in 17 innings, topped by eight scoreless frames on Oct. 1. Blach has earned the right to be in the rotation conversation with Matt Cain, Albert Suárez and others. As far as we'd like to get a peak at that possibility, Steamer isn't playing along here. Keep an eye on him anyway.
Top-100 talent: Tyler Beede is perhaps the prospect Giants would most like to see force his way to AT&T Park in 2017. MLB.com's No. 88 prospect regained his velocity at Double-A in 2016, and it showed with a 2.81 ERA with 135 strikeouts in 147 1/3 innings. On the podcast last week, the 6-foot-3 right-hander said his return to form gave him the confidence that a Major League debut at some point this summer should be well within his sights. That'll get tested with Sacramento, at least initially. With Beede up for the Rule 5 Draft this offseason, a second-half call-up wouldn't surprise if he can show he's worthy of cutting through the Giants' pitching depth.

Sam Dykstra is a reporter for MiLB.com. Follow and interact with him on Twitter, @SamDykstraMiLB.