Southern League playoff preview
Lookouts ready for Biscuits; Wahoos hope for healthy Senzel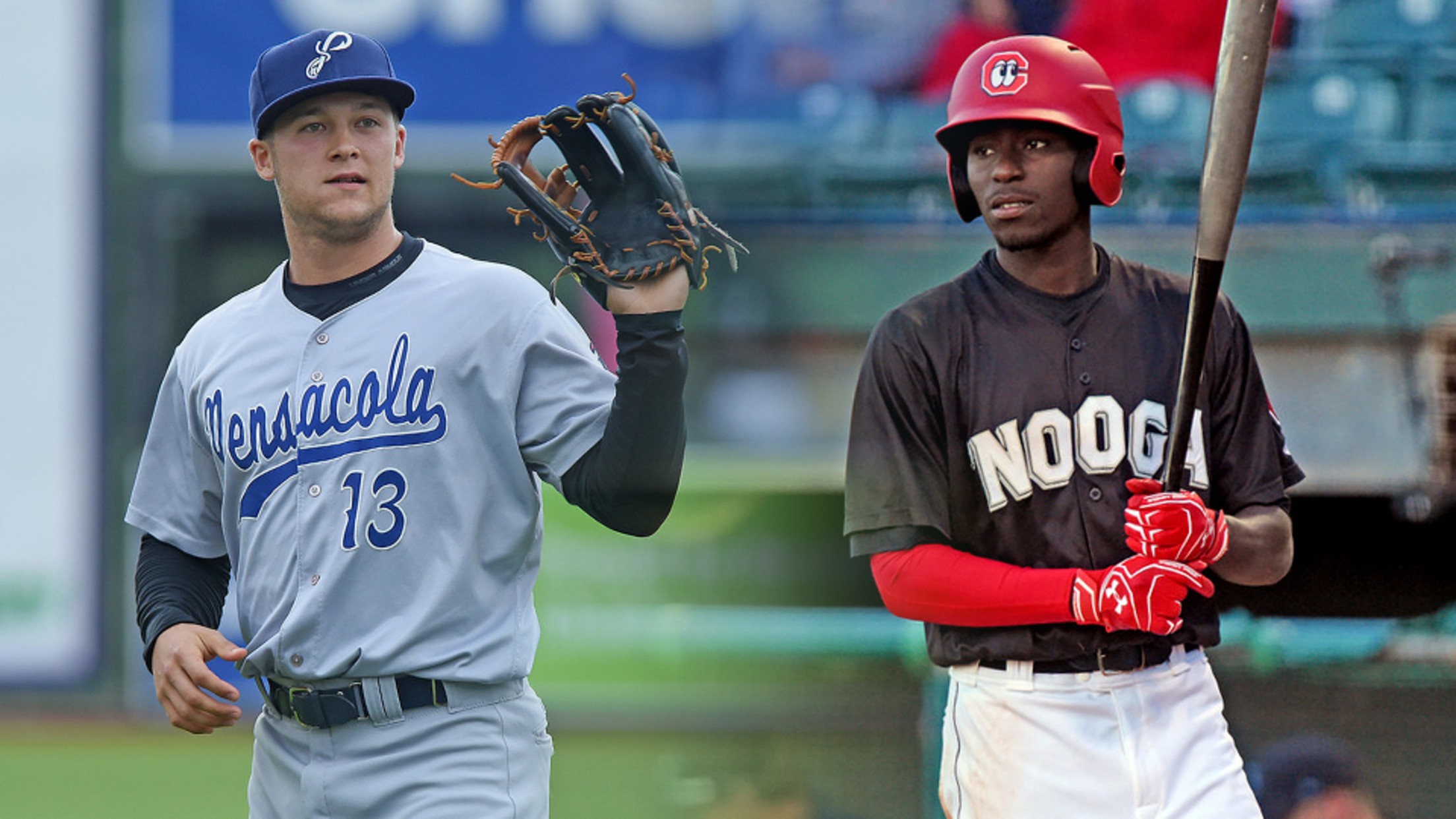 Pensacola will hope for a healthy Nick Senzel while Chattanooga looks to Nick Gordon's offense. (Brian McLeod/MiLB.com)
There will be no need for teams to pore over scouting reports in preparation for the Southern League Playoffs.The best-of-5 semifinals that begin Wednesday match teams that just concluded series a day earlier to end the regular season. The Chattanooga Lookouts, who won both halves in the North Division, will
There will be no need for teams to pore over scouting reports in preparation for the Southern League Playoffs.
The best-of-5 semifinals that begin Wednesday match teams that just concluded series a day earlier to end the regular season. The Chattanooga Lookouts, who won both halves in the North Division, will play North Wild Card Montgomery while the South Division first-half winner Pensacola Blue Wahoos will meet South second-half winner Jacksonville.
Chattanooga, a Twins affiliate, finished with the best Southern League record in 25 years and will try to become the second team in two years to win the title after finishing at the top overall in the regular season. The Jackson Generals, a Mariners affiliate, did it last year, breaking a four-year streak of upset winners. That title was just the third for a team from the North Division in 12 years, but second in a row. Chattanooga won in 2015.
Chattanooga Lookouts (91-49, North Division first and second half champion) vs.
Montgomery Biscuits (76-64, North Division Wild Card)
Chattanooga won the season series, 20-5
Game 1 at Chattanooga, Sept. 6 at 7:15 p.m. ET
Game 2 at Chattanooga, Sept. 7 at 7:15 p.m. ET
Game 3 at Montgomery, Sept. 8 at 7:35 p.m. ET

Game 4 at Chattanooga (if necessary), Sept. 9 at 7:15 p.m. ET
Game 5 at Chattanooga (if necessary), Sept. 10 at 6:15 p.m. ET
Chattanooga placed three position players on the Southern League All-Star team, led by MLB.com No. 34 prospect shortstop Nick Gordon. But as good as the Lookouts' offense might have been, it wasn't the key to the team's success.
"Pitching is the main reason for where we're at," manager Jake Mauer said. "The starting pitching has been outstanding and the bullpen has been right behind them. You get pitching, whether it is starting or bullpen, you're in a pretty good spot."
The rotation most of the season included Twins pitching prospects Stephen Gonsalves, Fernando Romero, Felix Jorge and Kohl Stewart. Romero finished on the disabled list and Gonsalves and Jorge are in Triple-A, but the Lookouts are still strong on the mound thanks to a couple of Twins trade acquisitions.
Zack Littell, obtained from the New York Yankees in exchange for veteran left-hander Jaime García, was 5-0 with Chattanooga and led the Minors with a 19-1 record.
"He was a nice addition," Mauer said of the right-hander. "He's a polished pitcher and you know what you're going to get each start."
Gabriel Moya, acquired by Minnesota from Arizona in exchange for catcher John Ryan Murphy, was a Southern League All-Star reliever, going 6-1 with a 0.77 ERA and 24 saves in as many opportunities with Jackson and Chattanooga.
"He was great against us and he's been great for us," Mauer said of the left-hander, who had 87 strikeouts to 15 walks in 58 1/3 innings.
Mauer, the older brother of Twins standout Joe Mauer, was named Southern League Manager of the Year in his first season with the Lookouts. He spent the previous four season leading Class A Cedar Rapids.
"I had most the players when they were younger and it's been fun to see how far they've come. See how they've developed," he said. "It's been a really good year."
The Lookouts' win total is a modern Chattanooga record and the most in the Southern League since Birmingham won 92 games in 2009.
Although Montgomery didn't win either half in the North and struggled mightily against Chattanooga, the Biscuits had the second-best overall record in the league.
Pensacola Blue Wahoos (74-66, South Division first half champion) vs.
Jacksonville Jumbo Shrimp (69-71, South Division second half champion)
Pensacola won the season series, 13-7
Game 1 at Pensacola, Sept. 6 at 7:35 p.m. ET

Game 2 at Pensacola, Sept. 7 at 7:35 p.m. ET

Game 3 at Jacksonville, Sept. 8 at 7:05 p.m. ET

Game 4 at Jacksonville (if necessary), Sept. 9 at 6:05 p.m. ET

Game 5 at Jacksonville (if necessary), Sept. 10 at 6:35 p.m. ET

Southern League pitchers couldn't stop Pensacola third baseman Nick Senzel, but an inner-ear issue did.
The Cincinnati Reds' top prospect had to leave a game against Jackson on Aug. 24 because of dizziness and his availability against Jacksonville will play a big role in the Blue Wahoos' chances against the Jumbo Shrimp. Senzel, ranked No. 11 among MLB.com's top 100 prospects, was hitting .340 with 10 homers and 34 RBIs in 57 games for Pensacola before landing on the disabled list.
"I'm sure there are a few things [he can improve on]. We can all get better," Pensacola manager Pat Kelly said of Senzel's easy adaptation to Double-A. "But he sure swings the bat extremely well."
Although Senzel's health is in question, that isn't the case with Pensacola's Austin Ross, who spent a month on the disabled list because of shoulder tightness. Ross won his last two starts, including a victory over Jacksonville, to finish 9-0 with a 1.87 ERA in 18 games for the Blue Wahoos.
"I've never been shut down during the year," said the 29-year-old right-hander. "It was frustrating, but at the same time it was the right thing to do."
Ross, who was 2-2 with a 4.91 ERA for Triple-A Louisville during a mid-season promotion, pitched just 14 2/3 innings in his first four starts off the DL before going 5 2/3 and six innings while allowing just three runs in his final two starts.
Jacksonville, in its first season as the Jumbo Shrimp, went from last in the first half to first in the second thanks to a 25-9 home record.
Right-hander Matt Tomshaw (13-6) was 7-2 with a 3.31 ERA in the second half and 9-2 with a 3.30 ERA overall at home.
Outfielder John Norwood was also key to the second-half turnaround and home success. He hit .306 after the All-Star break and belted 12 of his 19 overall homers in Jacksonville.

In Brief
Home run repeat:
Jackson first baseman
Kevin Cron
, voted Southern League MVP despite the Generals missing the playoffs, was the first player to repeat as home run champion since Jim Obradovich of Orlando in the mid-1970s. Cron, 24, smashed 25 homers and also led the league with 91 RBIs while improving his batting average from .222 last year to .284 this season. The right-handed hitter had 26 homers and 88 RBIs in 2016 when Arizona had its Double-A team in Mobile.
Big bat moves up:
Chattanooga lost its top slugger for the postseason when veteran first baseman
Jonathan Rodriguez
was promoted to Triple-A Rochester. He posted a .309/.414/.525 line for the Lookouts and was also near the top of the league with 21 homers and 76 RBIs. Rodriguez, 28, was at his best against Montgomery, Chattanooga's first-round opponent, hitting .349 with 13 RBIs in 16 games.
People will come, Ray:
Jacksonville's Opening Night sellout of 10,477 was the largest crowd at a Southern League game at the ballpark since July 3, 2012, and Jacksonville's largest opening crowd since a stadium record of 12,943 attended the ballpark's first-ever game on April 11, 2003.
Productive finish:
Montgomery outfielder
Justin Williams
had eight homers and 28 RBIs in 25 games during August and went into the playoffs as one of the league's most dangerous hitters after missing most of May with a knee injury. Tampa Bay's No. 10 prospect drove in nearly a run per game in the second half, getting 52 RBIs in 58 games. Williams, 22, had 11 of his 14 homers after the All-Star break and was batting .304 for the season.
Still on top:
Birmingham topped the Southern League in attendance for the fifth straight season since moving downtown to Regions Field, but four rainouts prevented the team from going over 400,000 for the fourth straight year. The Barons drew 391,725 in 66 dates, an average of 5,935. Jacksonville finished second in attendance, also drawing more than 5,000 per date, and Tennessee was close behind.
Guy Curtright is a contributor to MiLB.com.