Eastern League playoff preview
Biggio, Bichette lead Cats vs. Thunder; Ducks take on Curve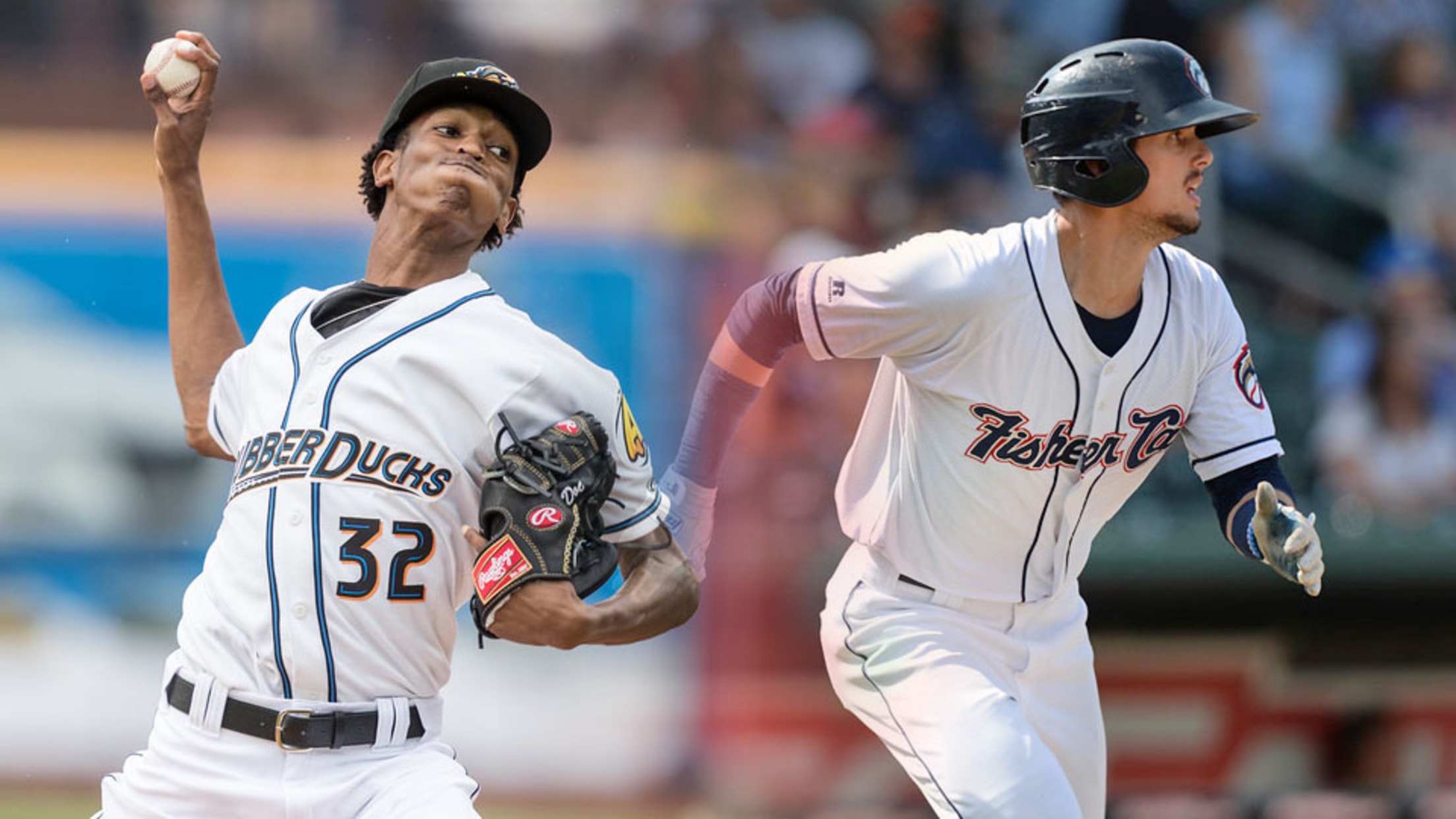 Triston McKenzie (left) will lead Akron against Altoona while Cavan Biggio and New Hampshire take on Trenton (David Monseur, Kevin Pataky)
No stranger to the postseason, Trenton has made the most of its trips by reaching the Eastern League Finals in seven of the last 11 seasons. In capturing the Eastern Division for the second straight year, they are three wins away from yet another appearance.Looking to thwart the charging Thunder
No stranger to the postseason, Trenton has made the most of its trips by reaching the Eastern League Finals in seven of the last 11 seasons. In capturing the Eastern Division for the second straight year, they are three wins away from yet another appearance.
Looking to thwart the charging Thunder are the New Hampshire Fisher Cats, a Blue Jays affiliate making its first postseason trip since winning it all in 2011.
No two teams may be more willing to take on the Thunder in the Finals than the Western Division pairing of Akron and Altoona. The Curve, who have beaten the Thunder to win league titles in 2010 and 2017, captured the Western Division regular season.
Akron, which took out the Yankees' Double-A affiliate for league crowns in 2012 and 2016, can start thinking about doing that again if it beats Altoona in the divisional series.
Trenton Thunder (79-61, Eastern Division champion) vs.
New Hampshire Fisher Cats (76-62, Eastern Division runner-up)
Trenton won the season series, 10-8
Game 1 at New Hampshire, Sept. 5 at 6:35 p.m. ET

Game 2 at New Hampshire, Sept. 6 at 6:35 p.m. ET

Game 3 at Trenton, Sept. 7 at 7:00 p.m. ET

Game 4 at Trenton (if necessary), Sept. 8 at 7:00 p.m. ET

Game 5 at Trenton (if necessary), Sept 9 at 1:00 p.m. ET

While all teams in the same division have ample opportunities to get familiar with each other, the acquaintances made between Trenton and New Hampshire began to take shape a year ago. With many familiar faces on both rosters, players and coaches alike went toe-to-toe for the Florida State League title last season, with the Blue Jays gaining the upper hand when Dunedin defeated Tampa, 2-1, to win a share of the championship title.
After watching Trenton sprint past them to the finish line -- and being very familiar with what they will offer in their best-of-5 series -- the Fisher Cats know they need to be at their best to move on.
"It's a lot of the same guys we saw in Tampa last year. Same manager in Jay [Bell], who I respect quite a bit," said New Hampshire skipper John Schneider, who was named Eastern League Manager of the Year in his inaugural season. "They don't hurt themselves. They take care of the ball.
• Complete postseason coverage »
"We're very evenly matched in a lot of ways. I think if we make pitches and take care of the baseball, we should be OK. It's always a good challenge for our offense to go against their pitching, because they can do some good things on the mound."
Trenton's staff boasted a league-best 3.25 ERA this season, while the Fisher Cats bats paced the field with a .272 batting average and 706 runs scored.
One of New Hampshire's biggest offensive factors was Cavan Biggio, who enjoyed a breakout season en route to being named league MVP and Rookie of the Year.
"We've had a lot of good games against the Yankees in general. Trenton this year and Tampa last year, who we ended up beating in the championship," said the Blue Jays' No. 9 prospect.
Biggio, who led the league with 26 home runs and 100 walks this year, knows things won't come easy against the Thunder, but he also knows capturing another crown with this group could go a long way up the ladder.
"Winning is a great thing, whether in the big leagues or Minor Leagues," he said. "For us to have the opportunity to win again like we did last year with the same group of guys, it goes to show how well we play together. It's a lot of fun to look forward to the future where we can hopefully bring that up to Toronto."
Altoona Curve (78-60, Western Division champion) vs.
Akron RubberDucks (78-62, Western Division runner-up)
Altoona won the season series, 12-10
Game 1 at Akron, Sept. 5 at 6:35 p.m. ET

Game 2 at Akron, Sept. 6 at 6:35 p.m. ET

Game 3 at Altoona, Sept. 7 at 6:00 p.m. ET

Game 4 at Altoona (if necessary), Sept. 8 at 4:00 p.m. ET

Game 5 at Altoona (if necessary), Sept 9 at 2:00 p.m. ET

The last two Eastern League champions will face off again.
As the two teams battled down to the final weekend for the Western crown, defending champions Altoona got a nice push to their second straight divisional title by the bat of Ke'Bryan Hayes, who had back-to-back four-hit efforts over Bowie in the clinching efforts.
"Finish strong and ultimately win another championship with our team," Hayes said about a month ago in regard to the Curve's end goal. "I feel like we have a really good team. A lot of us have been playing together for a few years, so everyone gets along well."
Since the start of May, Pittsburgh's No. 2 prospect has been one of the most consistent pieces to Altoona's success, hitting .311 over 67 games after starting out his season hitting .234 over 21 April games.
Altoona will need their entire lineup to be as consistent when they open their best-of-5 series in Akron on Wednesday.
The RubberDucks' staff boasted a 3.59 ERA for the season, second best in the league, and are led by a pair of right-handed hurlers in Indians top prospect Triston McKenzie and No. 16 prospect Aaron Civale.
The last time that these familiar foes battled in the postseason was 2016, with Akron winning in four games before going on to sweep Trenton in the championship series, the same manner in which the Curve captured their 2017 title over the Thunder.

In brief
The beat:
Altoona first baseman
Will Craig
walked away with the RBI title, driving in 102. He is the first player to have triple-digit RBIs since the Reading duo of
Dylan Cozens
(125) and
Rhys Hoskins
(116) eclipsed the mark in 2016. In his second full season, the Pirates' No. 16 prospect set personal bests in nearly all major offensive categories, including home runs (20) and runs (73), earning him the Curve's Most Valuable Player honors.
Save it for later:
The Yard Goats have the saves game on lockdown. Hartford has now seen one of their pitchers lay claim to the saves crown in each of their three years of existence. This year's league leader is
Matt Pierpont
, who closed out 32 Yard Goats victories, following in the footsteps of
Shane Broyles
(21 saves in 2017) and
Matt Carasiti
(29 in 2016). Pierpont's 32 saves are the most since Binghamton's Jeff Walters posted 38 in 2013.
Steppin' out:
Not only can the Fisher Cats hit, they can make teams pay on the base paths as well. The Fisher Cats led the league with 153 steals, their first time atop that leaderboard since 2012. Four New Hampshire players finished in the top eight in steals this season, with No. 2 prospect
Bo Bichette
finishing second with 32 and Biggio collecting 20. In all, the Cats had six players with double-digits steals.
Every day I write the book:
One year after finishing second in attendance in their inaugural season at Dunkin' Donuts Park, the Hartford Yard Goats took the title, seeing 408,942 fans through their gates this season. The club announced a whopping 47 sellouts, including 19 in a row to conclude their run at home and 22 capacity crowds in total. The Goats are the first professional baseball club in Connecticut to break the 400,000 mark in a season.
Craig Forde is a contributor to MiLB.com.