Pacific Coast League playoff preview
Tucker, Grizzlies take on Chihuahuas; Redbirds battle Dodgers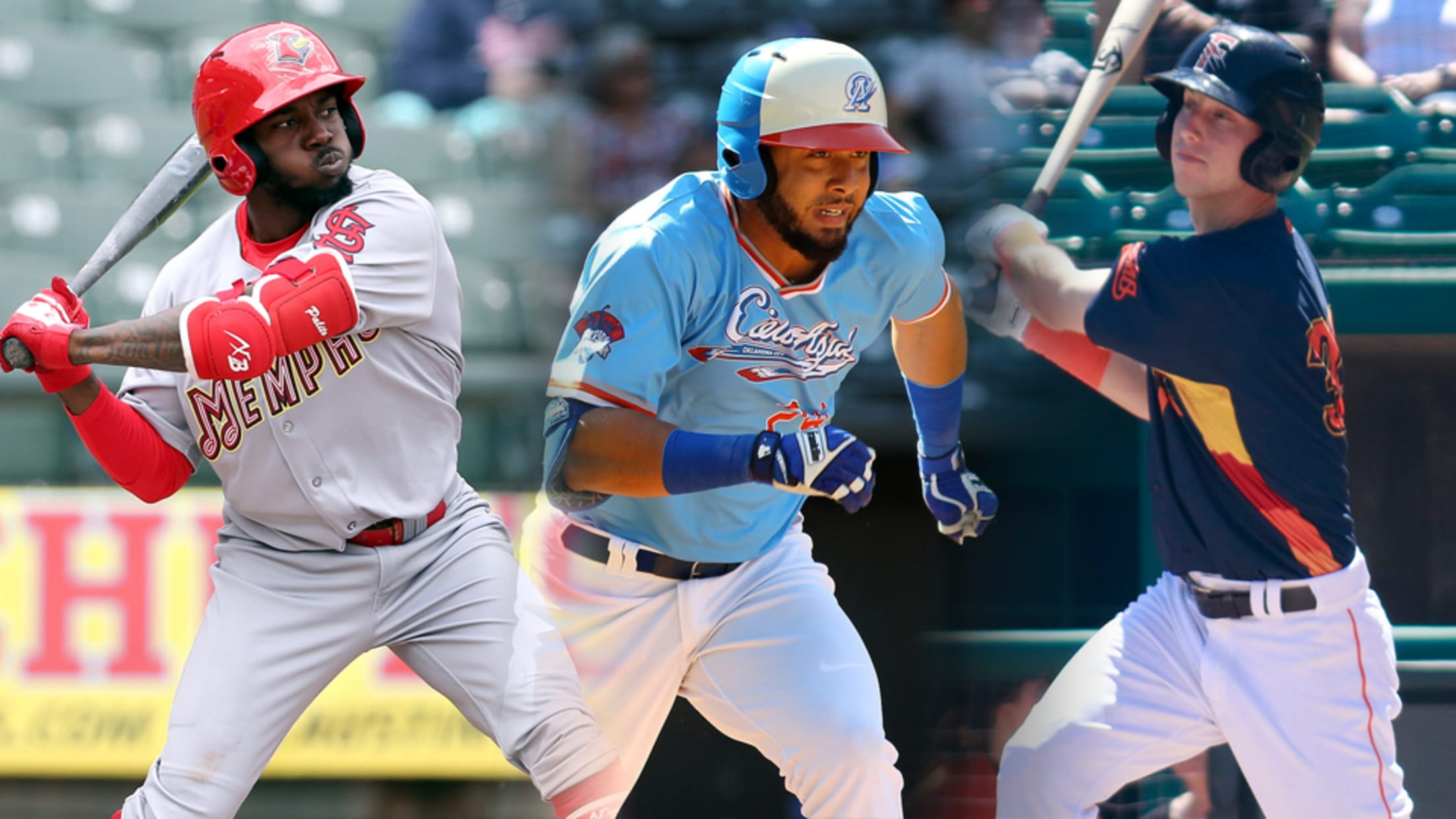 Randy Arozarena, Edwin Rios and Kyle Tucker bring potent bats into the playoffs. (Jamie Harms/Ben Sandstrom/Jesus Sepulveda)
The Pacific Coast League playoffs feature two repeat champions facing new challengers. A year after leading the circuit with 91 wins and capturing the crown, the Memphis Redbirds won 83 contests to claim the American Southern Division title for the second year in a row.Memphis will take on Oklahoma City
The Pacific Coast League playoffs feature two repeat champions facing new challengers. A year after leading the circuit with 91 wins and capturing the crown, the Memphis Redbirds won 83 contests to claim the American Southern Division title for the second year in a row.
Memphis will take on Oklahoma City after the Dodgers won four straight from the Sky Sox to finish the season and clinch the American Northern title.
On the other side of the bracket, the El Paso Chihuahuas cruised to a fourth straight Pacific Southern title. They will try for their second championship in three seasons, but a powerful Fresno Grizzlies squad awaits them in the best-of-5 series.
Memphis Redbirds (83-57, American Southern Division champion) vs.
Oklahoma City Dodgers (75-65, American Northern Division champion)
Memphis won the season series, 10-6
Game 1 at Oklahoma City, Sept. 5 at 8:05 p.m. ET

Game 2 at Oklahoma City, Sept. 6 at 8:05 p.m. ET

Game 3 at Memphis, Sept. 7 at 8:05 p.m. ET

Game 4 at Memphis (if necessary), Sept. 8 at 7:35 p.m. ET

Game 5 at Memphis (if necessary), Sept. 9 at 3:05 p.m. ET

The Dodgers look to carry the momentum of winning four straight elimination games into their matchup with the defending champions.
Oklahoma City's pitching staff is led by veteran lefty Manny Bañuelos (9-7, 3.73 ERA, 127 strikeouts in 108 2/3 innings). Right-hander Daniel Corcino (4-3, 3.40 ERA, 102 strikeouts in 103 1/3 innings) is another strong candidate to start.
The Dodgers bullpen is deep, anchored by right-handers Brian Schlitter (7-2, 3.36 ERA, 21 saves) and Joe Broussard (5-4, 3.12 ERA, 10 saves).
• Complete postseason coverage »
The team doesn't rely on power offensively, as just five players cracked double digits in home runs, with three of them hitting 10 apiece. Outfielder Kyle Garlick (.253/.287/.478) led the team with 17 long balls.
Other hitters of note include infielders Donovan Solano (.318/.353/.430, 43 RBIs) and No. 13 Dodgers prospect Edwin Ríos (.304/.355/.482, 10 HR, 58 RBIs). Third-ranked Will Smith was promoted from Double-A Tulsa late in the year, but has struggled at the plate (.138/.206/.218 in 25 games).
Memphis, however, is loaded with prospects. The Redbirds have 10 of the Cardinals' top 30 on the roster.
Leading the way are No. 5 Andrew Knizner, No. 6 Randy Arozarena and No. 8 Justin Williams.
Knizner has amassed a slash line of .315/.383/.407 in 17 games since being promoted from Double-A Springfield. Arozarena has been up longer, batting .232/.328/.348 with five home runs and 17 stolen bases in 89 games. Williams, who was acquired in the Tommy Pham trade with Tampa Bay, has hit just .217/.276/.391 with three home runs in 21 games.
Among those who have been with the Redbirds for most of the season, right-hander Kevin Herget (9-11, 4.61 ERA) was the workhorse of the rotation, leading the team with 138 2/3 innings. First baseman Rangel Ravelo (.308/.392/.487, 13 HR, 67 RBIs) is the top hitter.
El Paso Chihuahuas (82-57, Pacific Southern Division champion) vs.
Fresno Grizzlies (82-57, Pacific Northern Division champion)
Fresno won the season series, 9-7
Game 1 at El Paso, Sept. 5 at 9:05 p.m. ET

Game 2 at El Paso, Sept. 6 at 9:05 p.m. ET

Game 3 at Fresno, Sept. 7 at 10:05 p.m. ET

Game 4 at Fresno (if necessary), Sept. 8 at 10:05 p.m. ET

Game 5 at Fresno (if necessary), Sept. 9 at 8:05 p.m. ET

In the eyes of Fresno manager Rodney Linares, this matchup is going to come down to the strengths of the two teams.
"They've got a pretty good bullpen, we've got a pretty good offense," he said. "We'll see what happens."
The Grizzlies have been crushing the ball all season, led by Astros No. 2 prospectKyle Tucker. The outfielder compiled a slash line of .332/.400/.590 with 24 home runs, 93 RBIs and 20 stolen bases.
"It's fun to go to the park every day with the lineup we have," Linares said. "My decisions are who's not going to play every day. We just got back Drew Ferguson. He came in and hit a homer, got a couple knocks. You're talking about a set outfield of [Derek Fisher, Myles Straw] and Tucker. Yordan Alvarez will be the DH. It's just filling in the blanks. You've got J.D. Davis hitting (.342). It's a fun group."
Davis has added 17 home runs and 81 RBIs, while posting a .988 OPS. Another big bat belongs to first baseman AJ Reed (.255/.344/.506, 28 HR, 108 RBIs).
Linares said his pitching staff will be led by right-handers Rogelio Armenteros (8-1, 3.74 ERA, 134 strikeouts in 118 innings) and Trent Thornton (9-8, 4.42, 122 strikeouts in 124 1/3 innings). Cy Sneed (10-6, 3.83) also figures to start. Brendan McCurry (6-7, 3.69 ERA, 14 saves) leads the Fresno bullpen.
El Paso will not be intimidated, though, after winning three straight division titles.
"Oh, absolutely, we have nothing but confidence," said Chihuahuas outfielder and leadoff hitter Forrestt Allday. "We are confident in our pitching, hitting, defense, bullpen."
Linares' bullpen is led by right-hander Colten Brewer (3-4, 3.75, three saves, 63 strikeouts in 48 innings) and lefty Kyle McGrath (7-3, 2.75 ERA). The El Paso rotation recently got a boost from the arrival of two top prospects from Double-A San Antonio.No. 10 Padres prospectCal Quantrill (3-1, 3.48 ERA) and No. 8 Logan Allen (4-0, 1.63 ERA) have already made positive impacts.

In brief
Title drought:
Memphis (2017), El Paso (2016) and Fresno (2015) have won the last three championships. That leaves Oklahoma City, which has not taken home the title since 1965, as the team with the longest drought. The Dodgers, then known as the 89ers, did win American Association titles in 1992 and 1996, before that league was partly absorbed into the PCL.
All-Stars on the rise
: Only two players from the All-PCL Team made it to the postseason -- Fresno's Reed and Oklahoma City's Banuelos. Others could have participated, but the Padres called up El Paso's
Luis Urías
, the Dodgers recalled top prospect
Alex Verdugo
, and the Cardinals promoted
Tyler O'Neill
and right-handed starter
Dakota Hudson
.
Called up:
A few other notable performers were called up by their Major League affiliates this past weekend. The Astros promoted hard-throwing pitcher
Josh James
, who would have started Game 3 of the series with El Paso, Linares said. Four Redbirds headed to the Cardinals -- right-hander Daniel Poncedeleon, relievers
John Brebbia
and
Tyler Webb
and catcher
Carson Kelly
. The Dodgers recalled catchers
Kyle Farmer
and
Rocky Gale
as well as outfielders
Tim Locastro
,
Andrew Toles
and Verdugo.
Chris Jackson is a contributor to MiLB.com.