2019 Isotopes Players' Choice Awards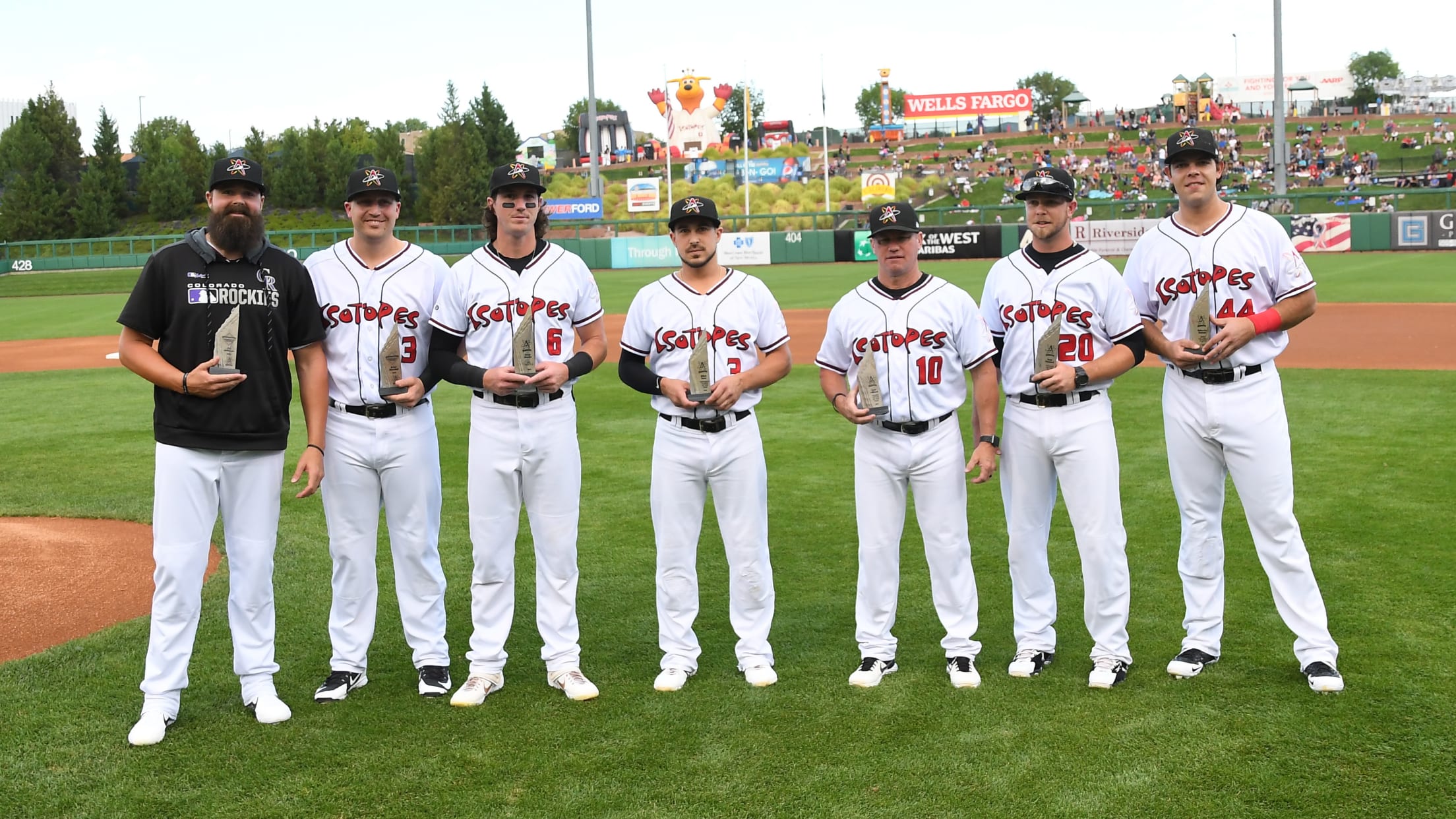 JENNIFER RIORDAN COMMUNITY AWARD:  In April of 2018, tragedy befell Albuquerque when an accident aboard a Southwest Airlines flight took the life of Jennifer Riordan. Jennifer was a fixture in the Albuquerque community and was a long-time supporter of the Isotopes, both as a corporate partner and as a mother of
JENNIFER RIORDAN COMMUNITY AWARD: In April of 2018, tragedy befell Albuquerque when an accident aboard a Southwest Airlines flight took the life of Jennifer Riordan. Jennifer was a fixture in the Albuquerque community and was a long-time supporter of the Isotopes, both as a corporate partner and as a mother of a baseball family who loved coming to games at Isotopes Park. Last season, the Isotopes Most Community-Minded Award was renamed the Jennifer Riordan Community Award as a show of love and respect to Jennifer. Like Jennifer was, the Isotopes are very much a part of the Albuquerque community and players often make several appearances at hospitals, schools, libraries, and other special events throughout the year. This season, DJ Johnson and Brian Mundell were voted by the Isotopes Front Office as the recipient of the Jennifer Riordan Community Award for their contributions to the community throughout the season.

MR. HUSTLE: The 2019 Mr. Hustle Award goes to Drew Weeks . The 26-year-old spent the entire 2019 season with the Isotopes. Weeks ranks third on the Isotopes with 120 games played, splitting time between left and right field for Albuquerque. Weeks is hitting .355 with eight home runs and 26 RBI in August.

PITCHER OF THE YEAR: A consistent arm out of the bullpen, Sam Howard was one of the most relied upon relievers this season for Albuquerque. The southpaw has compiled a 3.91 ERA (22er/50.2ip) in 42 games for the Isotopes.

DEFENSIVE PLAYER OF THE YEAR: With quick reaction times, a dazzling glove and a strong arm, Elliot Soto was as solid as they come defensively for the Isotopes all around the infield. The 30-year-old committed just 11 errors in 108 games, good for a .967 fielding percentage. For these reasons, he was voted by his teammates as the Defensive Player of the Year.

FAN FAVORITE & POWER HITTER OF THE YEAR: In his first year in Triple-A, Sam Hilliard had a record-setting campaign with the Isotopes. The 25-year-old set the Isotopes single-season record for runs scored (109) and extra-base hits (71) to go along with his 35 home runs and 101 RBI. Hilliard's performance resonated with the fans and his 2019 season will go down as one of the best in Isotopes history.
MOST VALUABLE PLAYER: Hitting .313/.403/.578 with 28 home runs and 101 RBI, Isotopes first baseman Roberto Ramos was named the team's MVP by his fellow teammates. Ramos was a PCL All-Star and Home Run Derby participant in 2019, representing the Isotopes at the festivities in El Paso.