2020 Way Too Early M-Braves Roster Projection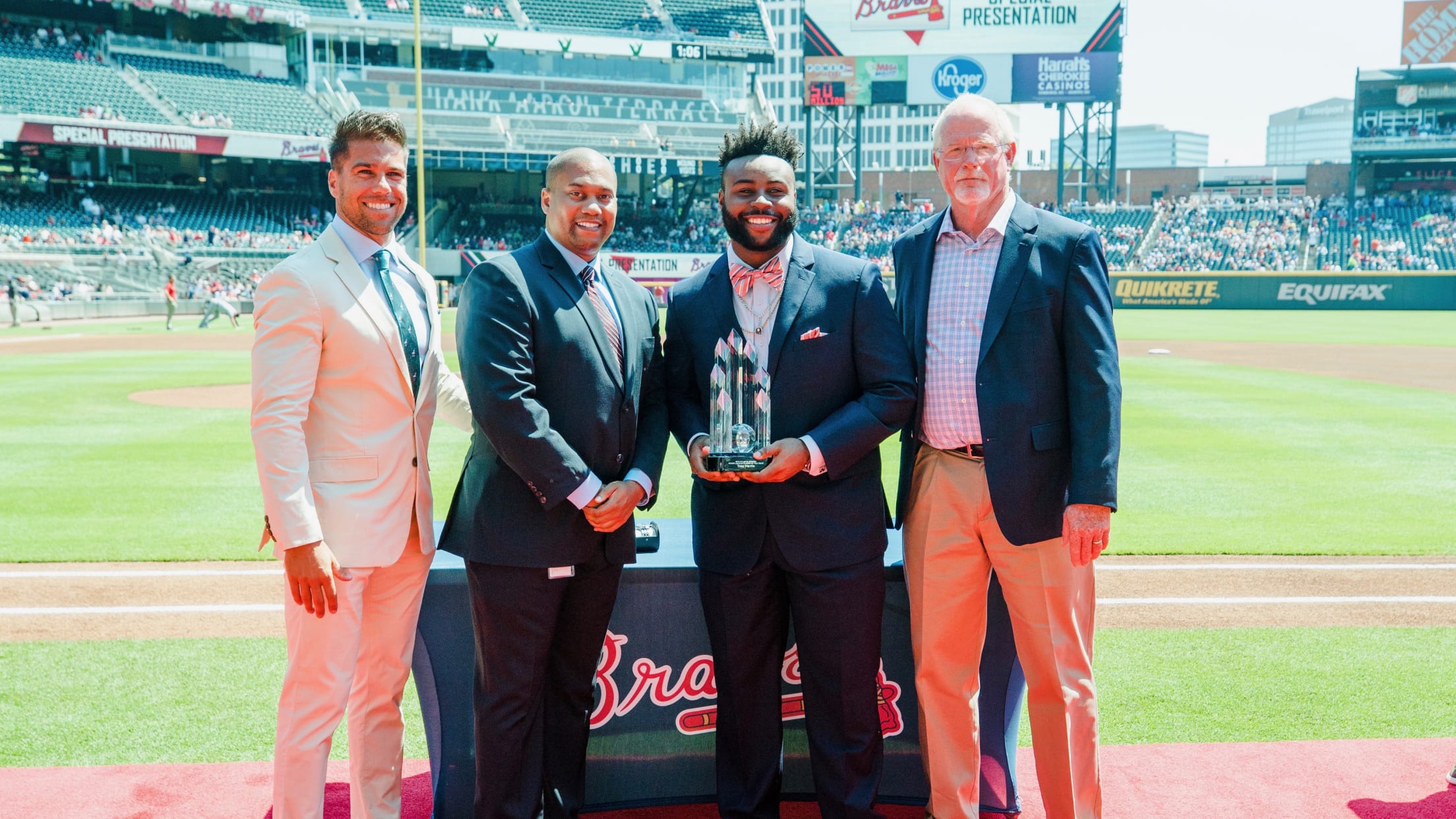 Trey Harris is awarded the 2019 Minor League Player of the Year award for the Atlanta Braves (Atlanta Braves)
It's the minor league baseball offseason, and we're not yet to MLB playoff baseball, so why not make a "Way Too Early" Mississippi Braves roster projection. First and foremost, this roster projection is my opinion only and not rooted in any organizational information. 
It's the minor league baseball offseason, and we're not yet to MLB playoff baseball, so why not make a "Way Too Early" Mississippi Braves roster projection. First and foremost, this roster projection is my opinion only and not rooted in any organizational information.
The last three seasons, the M-Braves roster has been driven by pitching. Even with the combination of Cristian Pache and Southern League MVP Drew Waters, the M-Braves pitching staff was the focal point in 2019 with a rotation that featured Ian Anderson, Kyle Muller, Joey Wentz, Patrick WeigelJasseel De La Cruz, and Tucker Davidson. The pitching staff led the Southern League with a 3.22 ERA in 2019 despite going through ten different starting pitchers in August because of the promotions of Davidson and Anderson, trade of Wentz to the Tigers and calf injury to Muller. The 2018 rotation starred Kyle Wright, Bryse Wilson, Touki Toussaint and later Muller and Anderson. In 2017 it was Mike Soroka, Max Fried, Kolby Allard, Luiz Gohara, Toussaint and Wes Parsons. That club posted a 3.56 ERA.
The 2020 club will probably be a more experienced group than 2019. There is a log jam of pitchers in Triple-A, and someone will likely be part of an offseason trade, shift to the bullpen, or come back to Double-A for some time. With that said, here is a potential 2020 M-Braves opening day rotation.
RHP Jasseel De La Cruz
LHP Kyle Muller
RHP Nolan Kingham
LHP Hayden Deal
RHP Freddy Tarnak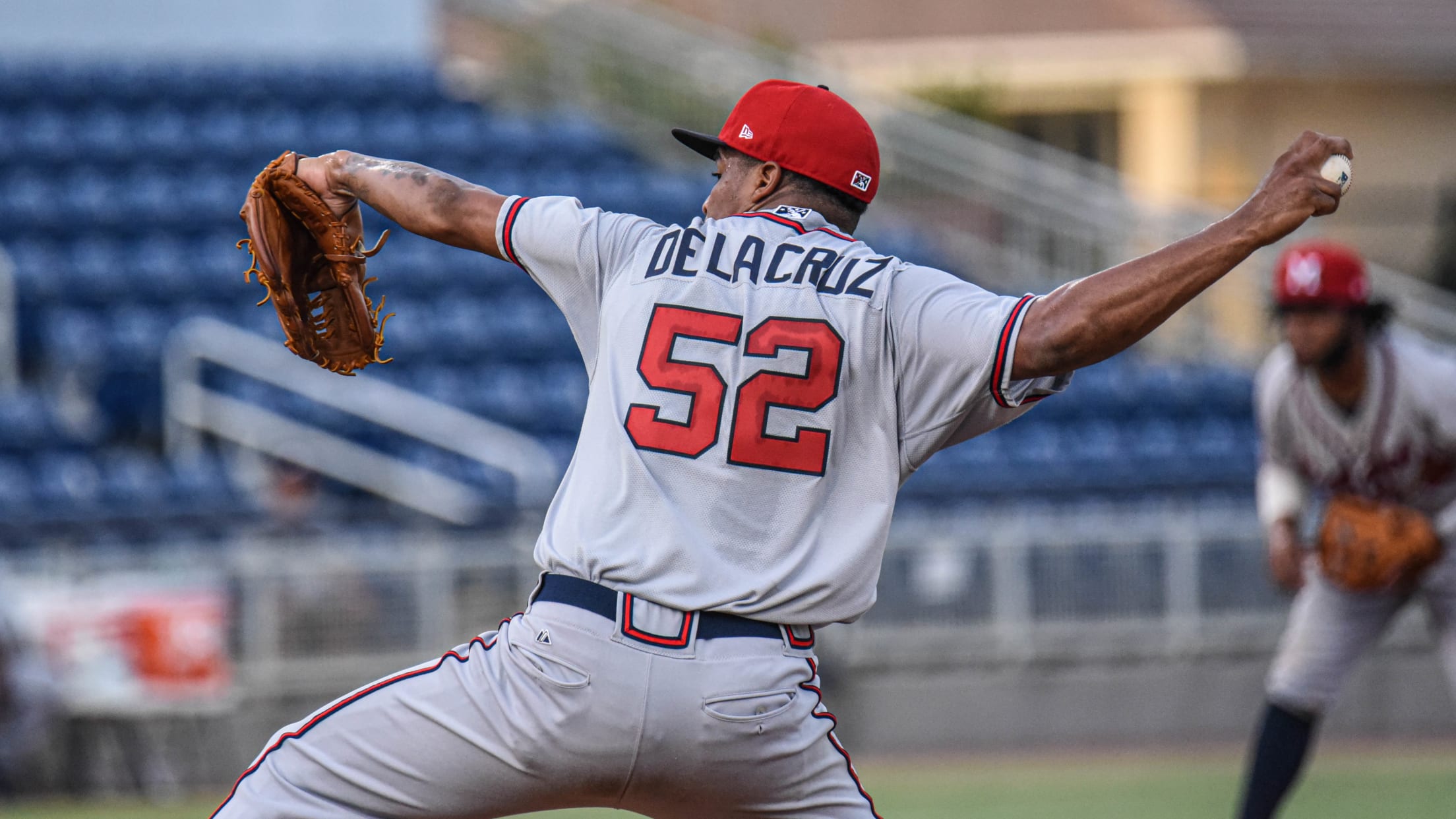 De La Cruz posted an impressive 3.83 ERA in his first season in the Southern League and while limited by pitch count, had a 2.86 ERA in August. De La Cruz's raw talent and ability to throw in the upper 90's has made him a valuable piece to the organization. At times he was dominant, and as he matures and continues to master his secondary pitches, the sky is the limit.
Muller's stellar 2019 season was cut short due to a calf injury suffered on August 2. Had that not occurred the 6-7 left-hander would have likely been part of the promotions to Triple-A. Muller could very well likely begin 2020 in the Gwinnett rotation, but a solid month in Mississippi wouldn't hurt.
Kingham led minor league baseball with four nine-inning complete games in 2019 and three of those were shutouts. The former Texas Longhorn represents something that has not been seen a lot lately, and that is going deep into games consistently. Kingham experienced success and failure during the final month of 2019 in Mississippi, but Kingham could be the anchor of the 2020 rotation with his sinking fastball and innings-eater mentality.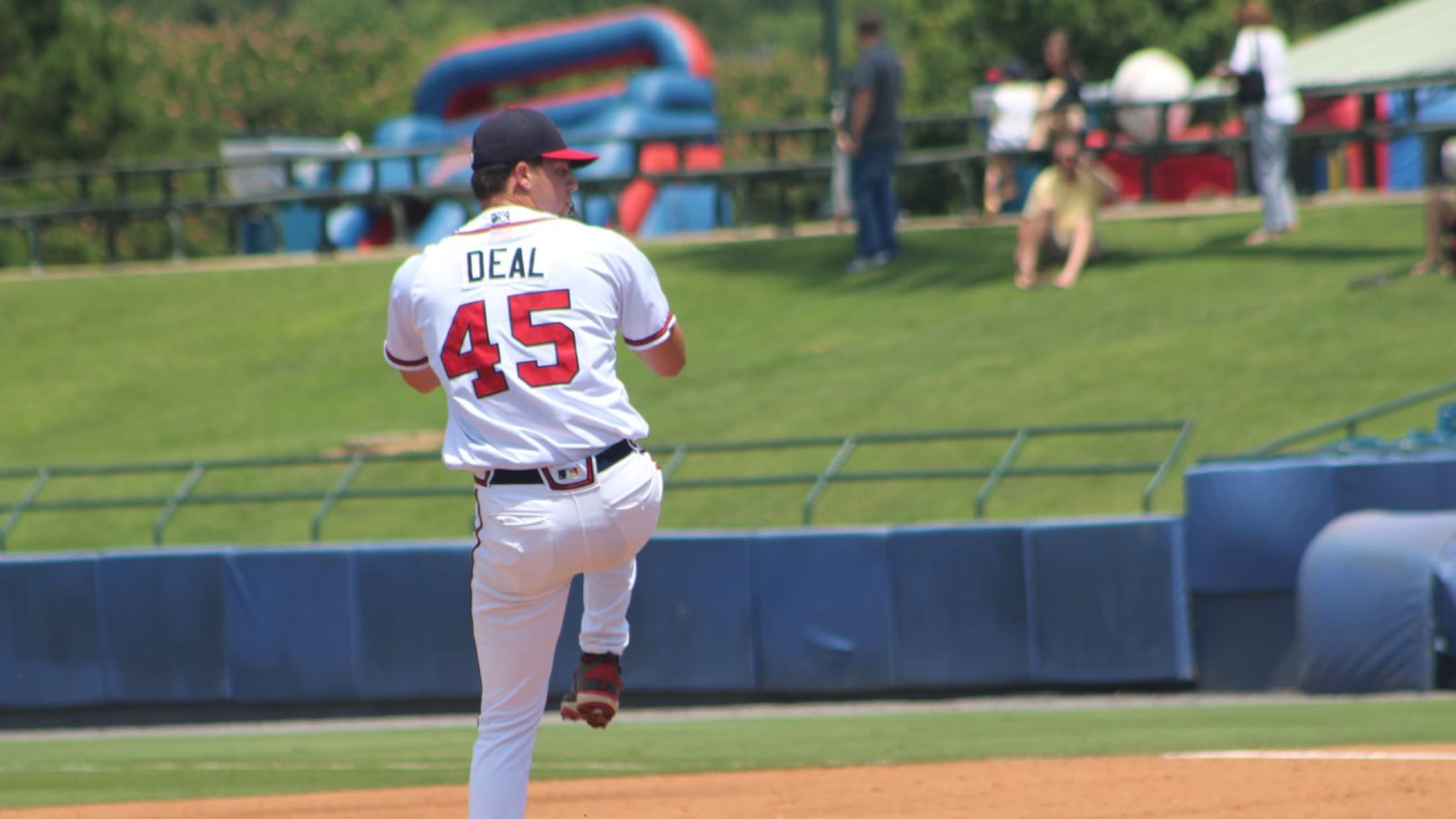 Deal was a pitcher last season that made a strong case to be promoted to Double-A along with Kingham. The 2019 Florida State League All-Star posted a 3.24 ERA in 22 starts for the Fire Frogs and walked just 32 batters in 119.1 innings. Over his career, the undrafted free agent out of Presbyterian has walked only 58 batters in 228.2 innings with 208 strikeouts. Deal added a cutter to his repertoire this season, and much like Davidson, this lefty has experienced success since moving from the bullpen to rotation. That might not be the only comparison between the two, because Deal is poised to break out next season. He's not currently ranked in the Braves' top 30 prospect lists, but most consider him a prospect to watch.
Tarnok signed for $1.445 million after being Atlanta's third-round selection in 2017 out of high school. The right-hander will turn 21 this November, but he's still not pitched more than 106 innings during a pro season. What's also crazy about the No. 15 prospect for the Braves according to MLB Pipeline is that he didn't start pitching until his junior year at Riverview (FL) High School. Tarnok was 3-7 with a 4.87 ERA in High-A this past season with 82 strikeouts and a 1.37 WHIP. You could make a clear case for Tarnok to return to Florida to begin 2020, but an aggressive approach could have him in Mississippi.
Others to consider: RHP Connor Johnstone, RHP Huascar Ynoa, RHP Trey Riley, RHP Matt Withrow, RHP Jose Olague, RHP Odalvi Javier.
The bullpen is a bit tougher to predict, but if you rated all facets of the organization, bullpen arms would make a strong case to be at the top of the list. You really shouldn't put stock in whether someone is a starter or reliever until they reach the higher levels of the minors. With that said, the M-Braves bullpen should have some talented arms in 2020.
RHP Claudio Custodio
RHP Josh Graham
RHP Daysbel Hernandez
RHP Kurt Hoekstra
RHP Sean McLaughlin
RHP Bradley Roney
RHP Brandon White
RHP Brooks Wilson
I am going with eight bullpen arms to make a 13 man pitching staff. It's doubtful that they won't have a left-handed pitcher in the bullpen, but I added Custodio just because he's so dang fun. He will likely go to Triple-A if re-signed, which is unfortunate, because Custodio hit close to .400, stole two bases and was the anchor of the bullpen all season. Did I mention he had two bunt singles as well? Custodio was also a tremendous clubhouse presence and was a leader.
Graham would be coming back to Double-A for a fourth season, and he will be entering his free-agent sixth season. The Oregon product has been extremely close to being promoted to Triple-A, but injuries and depth have kept him in Double-A. If Graham can get off to a hot start, he could be moved quickly, especially if his outstanding changeup is on point.
Hernandez is one of the more exciting bullpen arms in the minors. Hernandez was part of the Braves 2017-2018 international signing class, their last until 2021 because of penalties. The Cuban defector can reach the upper 90's with his fastball and has a solid slider to go along with it. He's already 23 years old and went 5-2 with a 1.71 ERA in 2019 for Florida with 70 strikeouts in 23 walks in 52.2 innings pitched and seven saves. Hernandez is rated as the No. 20 prospect for the Braves according to MLB Pipeline.
Hoekstra, a converted position player, pitched well in his first full season as a hurler. The Western Michigan product posted a 0.89 ERA in 11 appearances for Mississippi and should be poised to have a bigger role in 2020.
Like Graham, McLaughlin is entering his sixth year with the organization, and he's coming off a solid campaign in 2019. He had a 2.96 ERA in 35 games and collected four saves.
Roney missed nearly two full seasons due to injury, but the Southern Miss product returned to the mound in 2019. After beginning the season once again on the M-Braves Injured List, Roney started his campaign in Florida by not giving up a run before being transferred to the M-Braves roster on June 20. In eight appearances for the Fire Frogs, beginning on May 19, he posted no record, but allowed no runs over 14.1 innings with three walks and 18 strikeouts, holding the opposition to a .149 batting average. Roney returned to the M-Braves and went 1-0 with a 2.96 ERA, three saves, 42 strikeouts, 11 walks, 1.13 WHIP and .204 opponent's batting average. Roney allowed just three earned runs over last 14 appearances and 19.2 IP (1.41 ERA), six walks and 32 strikeouts since Jul. 21.
White got his feet wet at the Double-A level in 2019 with one appearance, and it was a bit surprising he didn't stick longer. The 10th round selection in 2016 had a 1.35 ERA with 61 strikeouts, 27 walks in 53.1 innings. The Braves thought enough of White to send him to the AFL, and he could be a breakout candidate in 2020.
Wilson was a seventh-round selection in 2018 out of Stetson, and the right-hander made 24 appearances, including 11 starts for Florida, going 4-3 with a 2.47 ERA. After moving to the rotation in the second half, Wilson posted a 2.60 ERA after logging a 2.16 ERA as a reliever. His versatility could place him in a long-relief role, or even a rotation spot at some point during the season.
Others to consider: LHP Thomas Burrows, LHP Jordan Harrison, RHP Troy Bacon, RHP Huascar Ynoa, RHP Victor Vodnik, LHP Kasey Kalich.
The Braves used their first pick in the 2019 draft to take a catcher in Shea Langeliers out of Baylor. After a slow start, the Braves No. 5 overall prospect according to MLB Pipeline finished his rookie campaign batting .255 with two homers, 13 doubles, and 34 RBI in 54 games. A position that had no depth all of a sudden has four inside the top 30 prospect list, including two in the top eight.
C William Contreras
C Logan Brown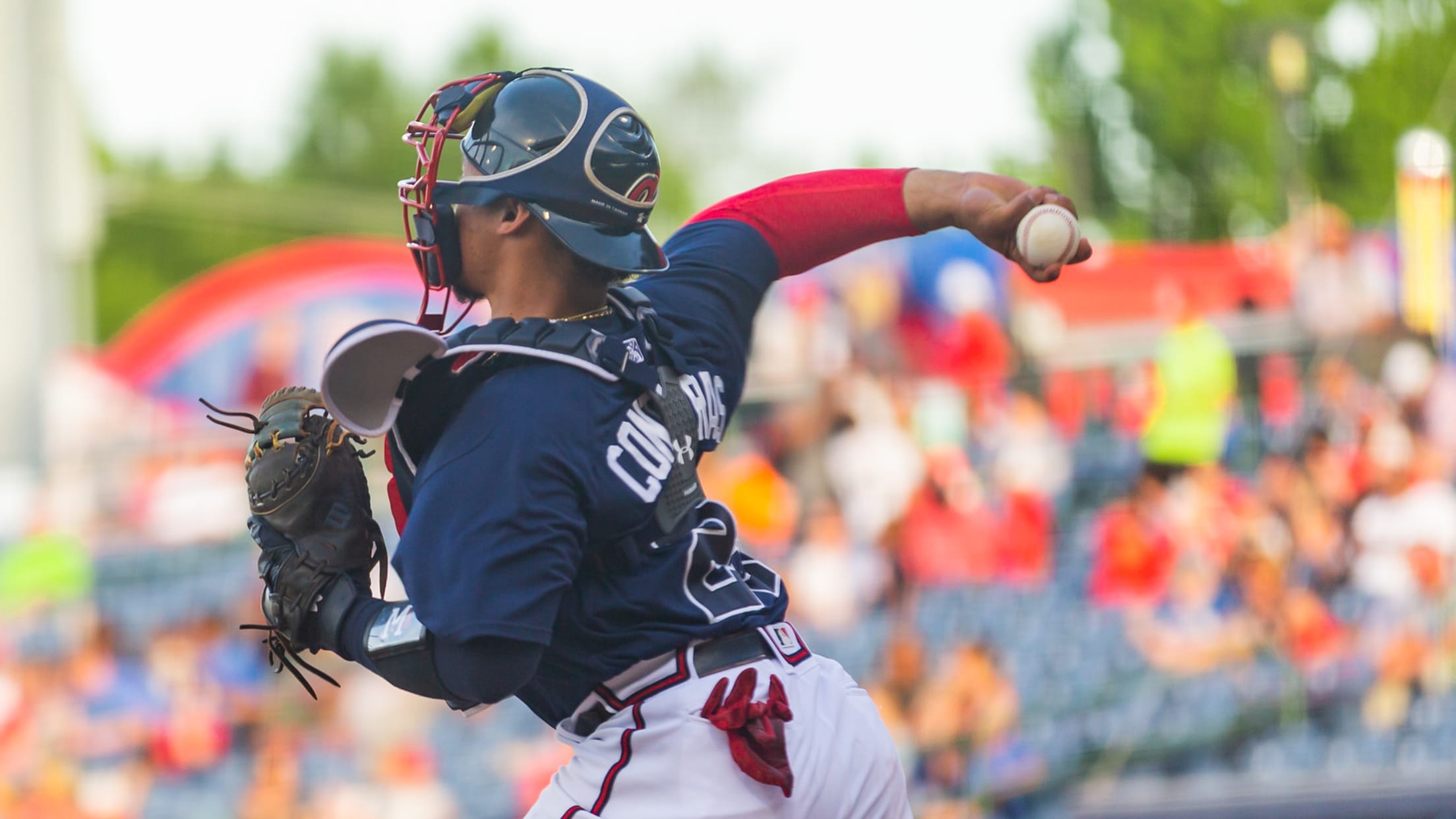 Contreras, the 21-year-old brother of Cubs catcher Wilson Contreras, has all the tools to be a star. After his promotion to Mississippi, the No. 8 prospect for the Braves posted a .647 OPS in 60 games. He hit three home runs and drove in 17 runs, logging nine doubles. If he puts in work this offseason and has a strong start to 2020, the Braves will have some tough decisions to make on who their longterm catcher will be - not a bad problem to have though.
The son of former big-league catcher Kevin Brown, the 23-year-old Brown attended the University of Southern Indiana, starting for two years behind the plate. The Braves selected him with their 35th round selection in 2018. Like their 32nd round pick in 2018, Trey Harris, Brown has jumped into the organization's top 30 prospects at No. 26, according to MLB Pipeline. Brown hit .301 in 51 games at Rome before earning a promotion to High-A Florida. He hit .240 in over the final 48 games with the Fire Frogs. Brown is an elite defensive catcher and could be a nice compliment to Contreras until Contreras earns a promotion and Langeliers moves up inevitably. Then more fun.
The infield for Mississippi should be a talented group that really hasn't logged many games at the Double-A level. These guys have the potential to be a real strength for the club throughout the season. 2019 was a transitional year with veteran Ryan Casteel leading the way with 21 home runs and carrying the load offensively. The 2020 class will feature a few guys coming off injuries, that could use a big season.
3B C.J. Alexander
1B Braxton Davidson
SS/2B Riley Delgado
2B Kevin Josephina
SS Braden Shewmake
2B/SS/3B Riley Unroe
Alexander was the breakout player from the 2018 draft class posting a .352 batting average and reaching High-A Florida. After playing just 52 pro games, the State College of Florida and Ball State product was promoted to Double-A to begin 2019. Alexander was shut down in April and had surgery to remove a bone spur in his right elbow. He returned in August and after playing in 13 games, took a scary fall over the third-base side wall but just came away with a thumb sprain. His numbers were not good, but a free pass is logical because of his injuries. Alexander has a high ceiling and when healthy, can be a middle of the order run producer.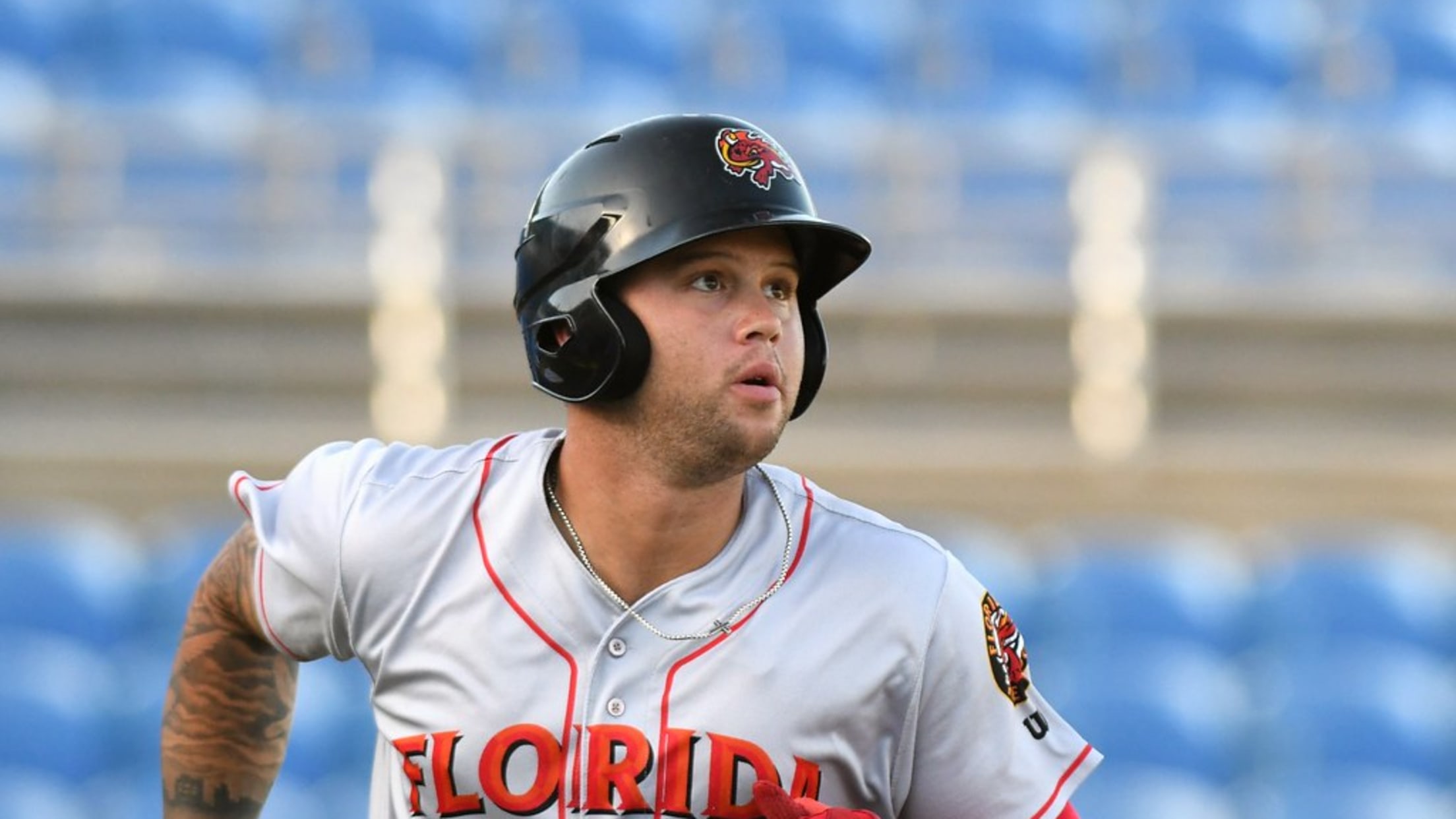 Speaking of snakebit by injuries, the 23-year-old Davidson missed all of 2019 with a foot injury suffered last year in the Arizona Fall League that has required two surgeries. Davidson was the 32nd overall pick in the 2014 draft and led the Braves farm system with 20 home runs in 2018, his third-straight in High-A. 2020 is FINALLY the time for Braxton to make his Double-A debut, and with the rumored MLB baseballs being used next season, he should provide some power.
I have had my eye on Riley Delgado since calling some of his college games while at MTSU. Delgado is a gamer and was the ninth-round pick for the Braves in 2017. All Delgado did in college was hit .369 over two seasons, and he's been outstanding in pro ball, now the No. 24 prospect in the organization according to MLB Pipeline. Delgado was primarily a shortstop but can play second and third base. He hit .282 for the Fire Frogs in 2019, playing in a team-high 131 games.
Josephina is probably someone Braves fans aren't too familiar with, but he ranked fifth on Florida's club in games played with 117. He posted 20 doubles, batting .258 with two homers, four triples, and 34 RBI. Most of his time in 2019 was spent at third base, but the 22-year-old switch hitter from Curecau could be a nice utility player on the club.
Shewmake surprised everyone by getting bumped to Double-A after 51 games at Low-A Rome after being the 21st overall selection out of Texas A&M. Over 14 games, the Braves No. 9 overall prospect according to MLB Pipeline hit .217 with seven runs, one RBI and four walks. Defensively, Shewmake was sharp, and even though he was the first 2019 draft pick to reach Double-A, he looked like he belonged. On and off the field, he checked all the boxes. That experience was huge for Shewmake heading into 2020 where he'll likely play in several big league spring games and enter the season with a ton of confidence.
History tells us this last infield spot will likely go to a minor league free agent or Rule 5 pick up, but for now, we'll go with Unroe. It would make sense to have a veteran. The 24-year-old belongs in Triple-A, but an assignment to Mississippi is entirely possible. 2020 will be Unroe's first experience since 2017 playing for the same organization two years in a row, having been a Rule 5 selection by the Angels and Braves in back-to-back seasons. Unroe was placed in High-A Florida to begin the season, and it was no surprise that he dominated the Florida State League. The natural shortstop played second, short and third for the M-Braves and is a plus defender. He had a .750 OPS in 77 games, and outside of Casteel, Pache, and Waters, he was the most consistent bat on the roster.
Others to consider: Jordan Rodgers, Alejandro Salazar, Drew Lugbauer, Ray-Patrick Didder, Brett Langhorne, AJ Graffanino, Ryan Casteel.
CF Justin Dean
RF Trey Harris
LF Greyson Jenista
RF/LF Garrison Schwartz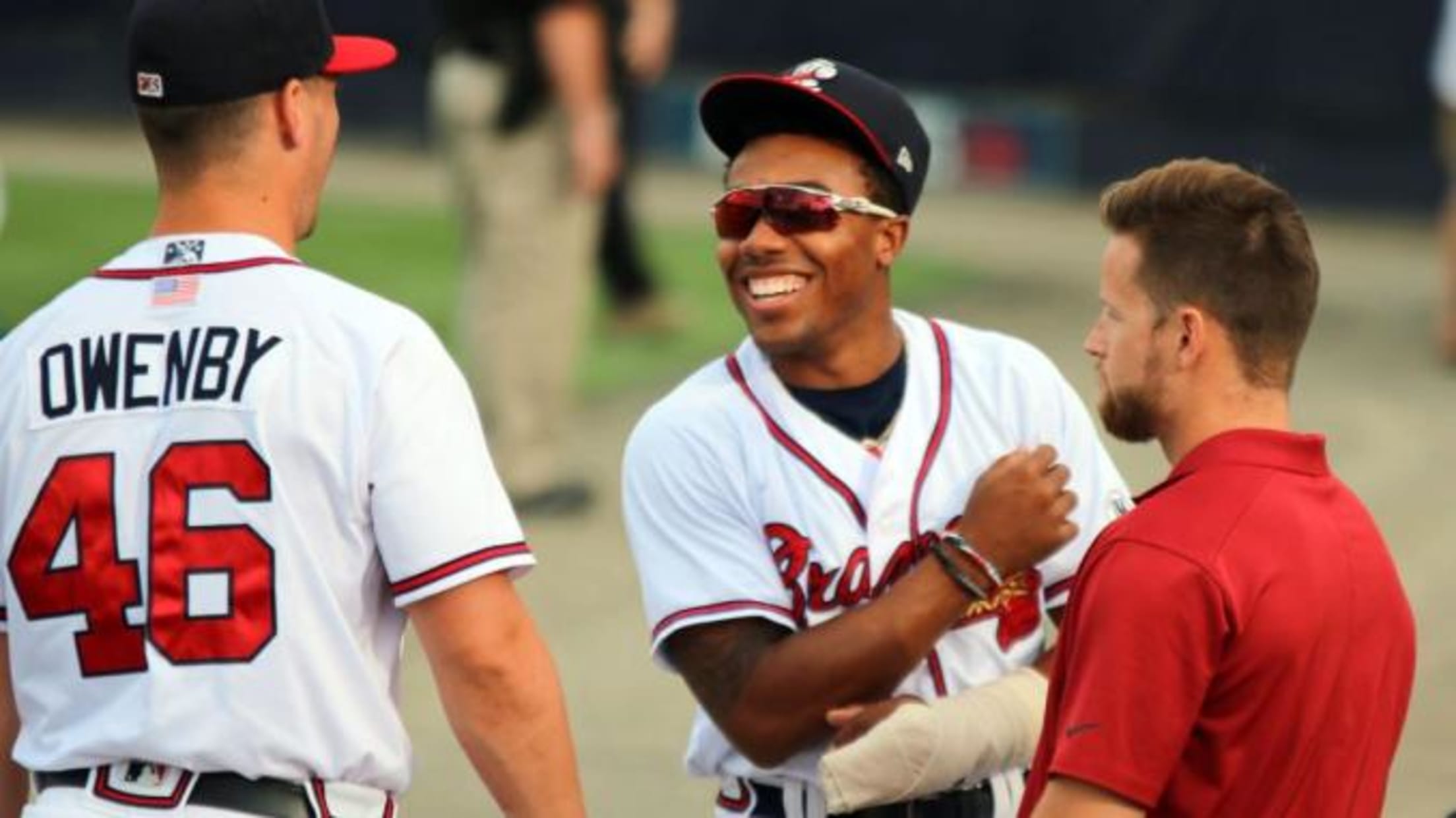 If you haven't heard of 5-foot-8 Justin Dean, then shame on you. He stole 47 bases in 2019 and is currently the primary leadoff hitter for Scottsdale in the Arizona Fall League. Those 47 bags led the Braves farm system and placed him seventh in all of minor league baseball. He had a .817 OPS in 2019...Yes, the 5-foot-8 dude had a .817 OPS. Over 109 games, having missed almost a month with one stint on the injured list, Dean slashed .284/.386/.431 with nine triples, nine home runs, 46 RBI and 62 walks. On his MLB Pipeline profile, in which he is the No. 23 Braves prospect, some scouts have listed his speed at 80! Like Harris, Jenista, and Alexander, Dean was taken in the 2018 draft out of Lenoir-Rhyne University in Hickory, North Carolina - a small Division II school that has yet to produce a big-league player.
Harris was the Braves' breakout prospect in 2019, earning Minor League Player of the Year honors. The Mizzou product was drafted in the 32nd round in 2018, and it's hard to believe that he fell that far. It's early, but the 2018 draft class could be one of the most impressive in terms of depth and finding diamonds in the lower rounds. Harris went from off the radar to the No. 18 prospect in the organization in just six months. The McEachern (GA) High School product hit .323 with 26 doubles, seven triples, 14 home runs, and 73 RBI over three stops in the system. Harris puts the ball in play, gets on base (.389 OBP) and posted a .887 OPS in 2019. Harris will be one of the leaders on the 2020 club.
Another 2018 draft pick in Greyson Jenista is poised to have a big season in 2020. Speaking of the possibility of MLB baseballs being used in Double, Jenista has raw power and could benefit greatly. He only had nine home runs in 2019, but the 6-foot-4 Jenista had countless fly balls hit the wall, or be caught on the warning track. After getting off to a slow start, Jenista had a monster month of July, hitting .333 over his first full month at the Double-A level with three doubles, three home runs, 12 RBI, ten runs, nine walks, two stolen bases, and a .402 OBP.
Schwartz began the 2019 season with the M-Braves but played primarily for the High-A Fire Frogs. The 16th rounder in 2017 spent nearly two months on the injured list and in 55 games, hit .216 with seven doubles, two home runs, and 16 RBI. Schwartz was tabbed by the Braves to go to the Arizona Fall League. This last spot came down to a few players and quite honestly could be another minor league free agent.
Others to consider: Ray-Patrick Didder, Tyler Neslony, Jefrey Ramos, Shean Michel,
Pick for 2020 Breakout Prospect (not in top 30 prospect list)? LHP Hayden Deal