2021 Gwinnett Stripers: Year in Review
Gwinnett places third in Southeast Division, reaches the 70-win mark for the fourth-straight season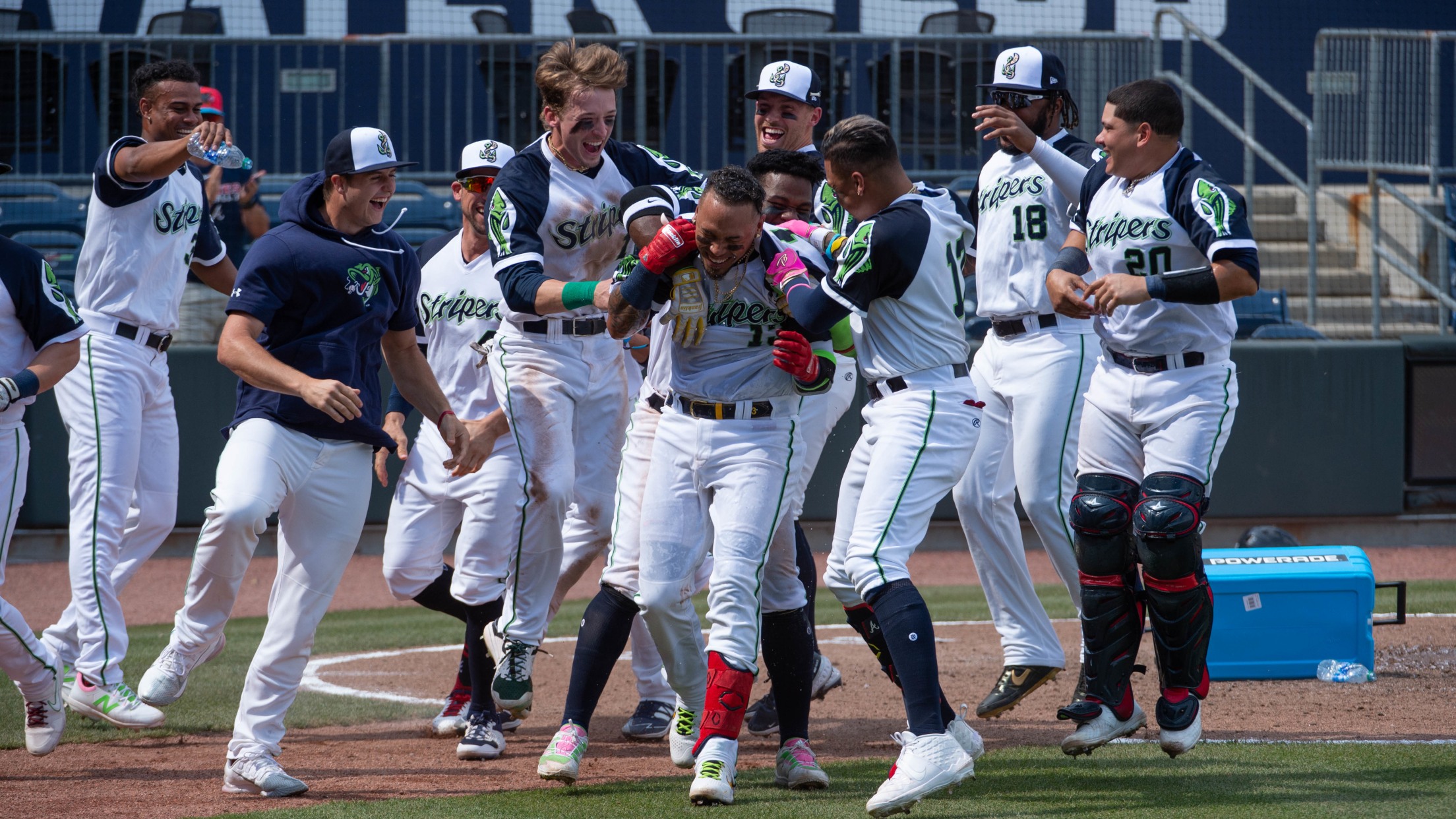 Orlando Arcia is mobbed by teammates after hitting a walk-off homer vs. Louisville on May 16 in Gwinnett's 5-4 victory. (Bernie Connelly/Gwinnett Stripers)
The Gwinnett Stripers' 2021 season was one to remember. It marked the triumphant return of Triple-A baseball after last year's lost season due to the COVID-19 pandemic. It was a return to normalcy for the thousands of fans that made their way into Coolray Field to take in the nation's
The Gwinnett Stripers' 2021 season was one to remember. It marked the triumphant return of Triple-A baseball after last year's lost season due to the COVID-19 pandemic. It was a return to normalcy for the thousands of fans that made their way into Coolray Field to take in the nation's pastime in person. And for those fans, the Stripers put on a show. After some early struggles through the first two months of the season, they bounced back to finish a Triple-A-best 45-19 through their final 64 regular-season games. Whether it was Kyle Wright pitching a "Maddux", Orlando Arcia hitting a walk-off homer, or The Fridge blasting past his opponents on the warning track, a plethora of memories were made in Gwinnett.
Season Recap
The Stripers began the 2021 campaign as one of the hottest hitting squads in Triple-A, blasting 15 home runs while winning five out of their first six games. One of those wins was a lopsided 19-1 triumph over Charlotte on May 7, setting the Gwinnett record for margin of victory and tying the team's record for most runs scored in a game. That record-breaking offensive output continued through the rest of May, as the Stripers went 14-10 with three series wins.
"It's a lot of fun playing with teams like this," said Stripers outfielder Travis Demeritte in a May interview. "Where you know you don't have to do everything, the guy behind you (in this lineup) is going to do it. And have that faith and confidence in each other."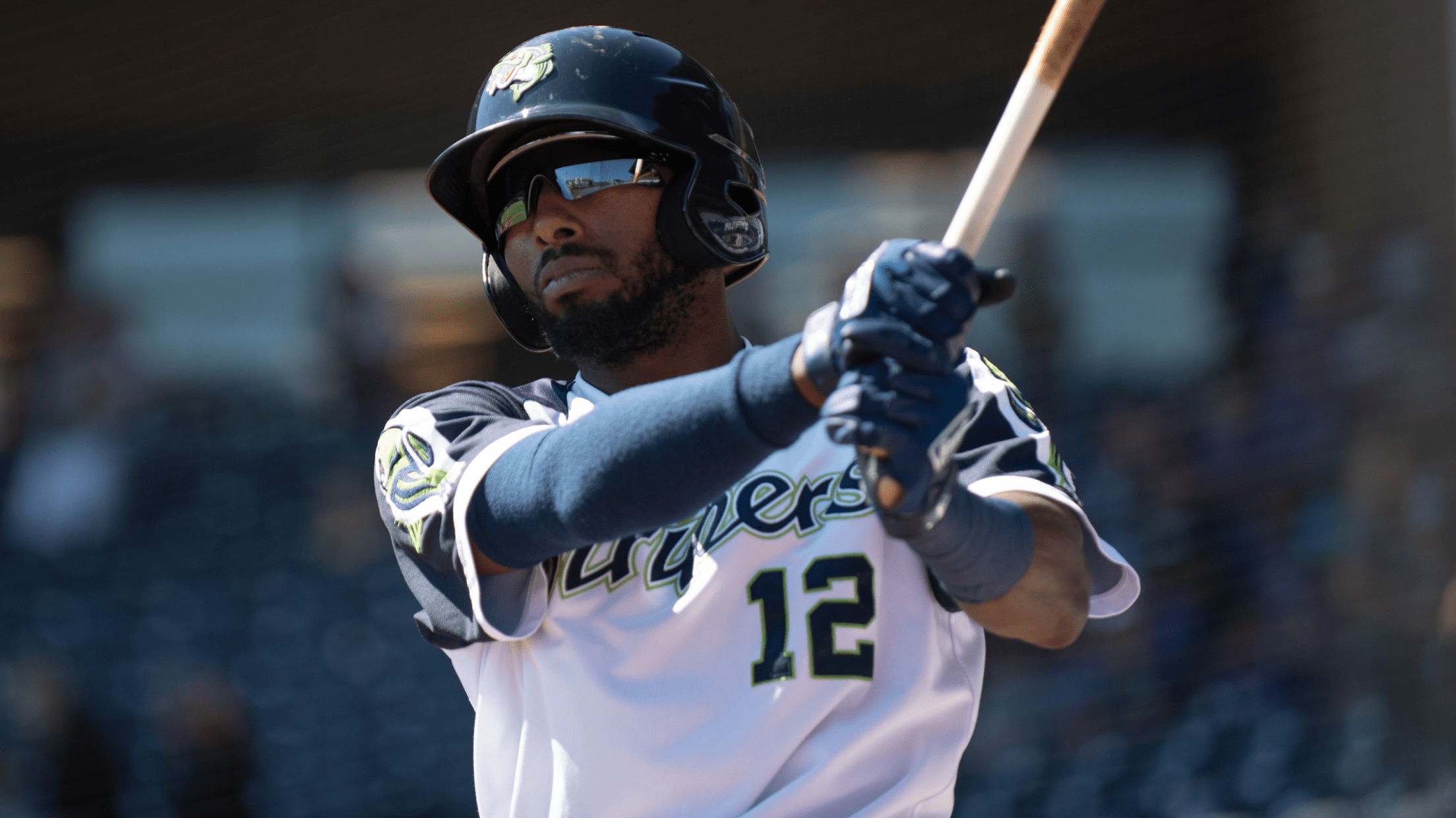 As June rolled into early July, however, Gwinnett saw their winning record disappear. They fell below .500 for the first time on June 23 and dropped to 23-30 on July 4 following a 2-10 road trip to Norfolk and Durham. Some of the struggles were due to several key contributors getting promoted to Atlanta, like pitchers Kyle Muller, Bryse Wilson, and Jesse Chavez, and shortstop Arcia. The Stripers lost another big bat when Demeritte was placed on the injured list on June 10 and missed over a month.
"We were not getting too frustrated," said Gwinnett Stripers manager Matt Tuiasosopo. "Understand that there's going to be moments in seasons where things happen. And knowing that it's going to be okay. It's a long season. You've just got to keep fighting. You've just got to keep believing. We just knew that what's in the past is in the past. We know the group that we have and the players that we have. We just have to breathe, relax, and play our game."
Then, one day seemingly turned the entire season around.
The Stripers swept a doubleheader against new division rival Nashville on July 8, winning 7-2 and 6-0. The twin-bill featured a combined 20 hits for Gwinnett and a seven-inning gem tossed by Wright in game two, his first career shutout at any level.
Gwinnett rattled off six-straight series wins, including a six-game sweep of Charlotte from July 13-18. The finale of that series was the Stripers' biggest comeback win of the year, a stunning 10-run rally over the final three innings to swing a 11-3 deficit to a 13-12 victory. Johan Camargo blasted a two-out, game-tying three-run homer in the ninth, and William Contreras capped the six-run inning with a decisive RBI double.
After series wins over Norfolk, Memphis, and Charlotte again, the Stripers took four of six games from Southeast Division-leading Durham from August 11-15.
The Stripers' 45-19 mark from July 8 through September 21 turned their overall record from 23-32 to 68-51. They also went from fifth place in the Triple-A East Southeast Division to third place, going from 15 games back to just 8.5 entering the Triple-A "Final Stretch". Demeritte returned from his injury on July 13 and proceeded to provide a spark to the lineup, hitting .299 with 13 homers, 29 runs, 35 RBIs, and a .977 OPS from July 13 to September 10.
"That was awesome (having a great second half)," said Demeritte. "After being out for about a month and a half, that was the first time I've dealt with a significant injury like that, missing a significant amount of time. So, to come back and get off to the start that I had, I just picked up where I left off. We just continued our winning ways; it was a lot of fun. It was an awesome time."
Top Performers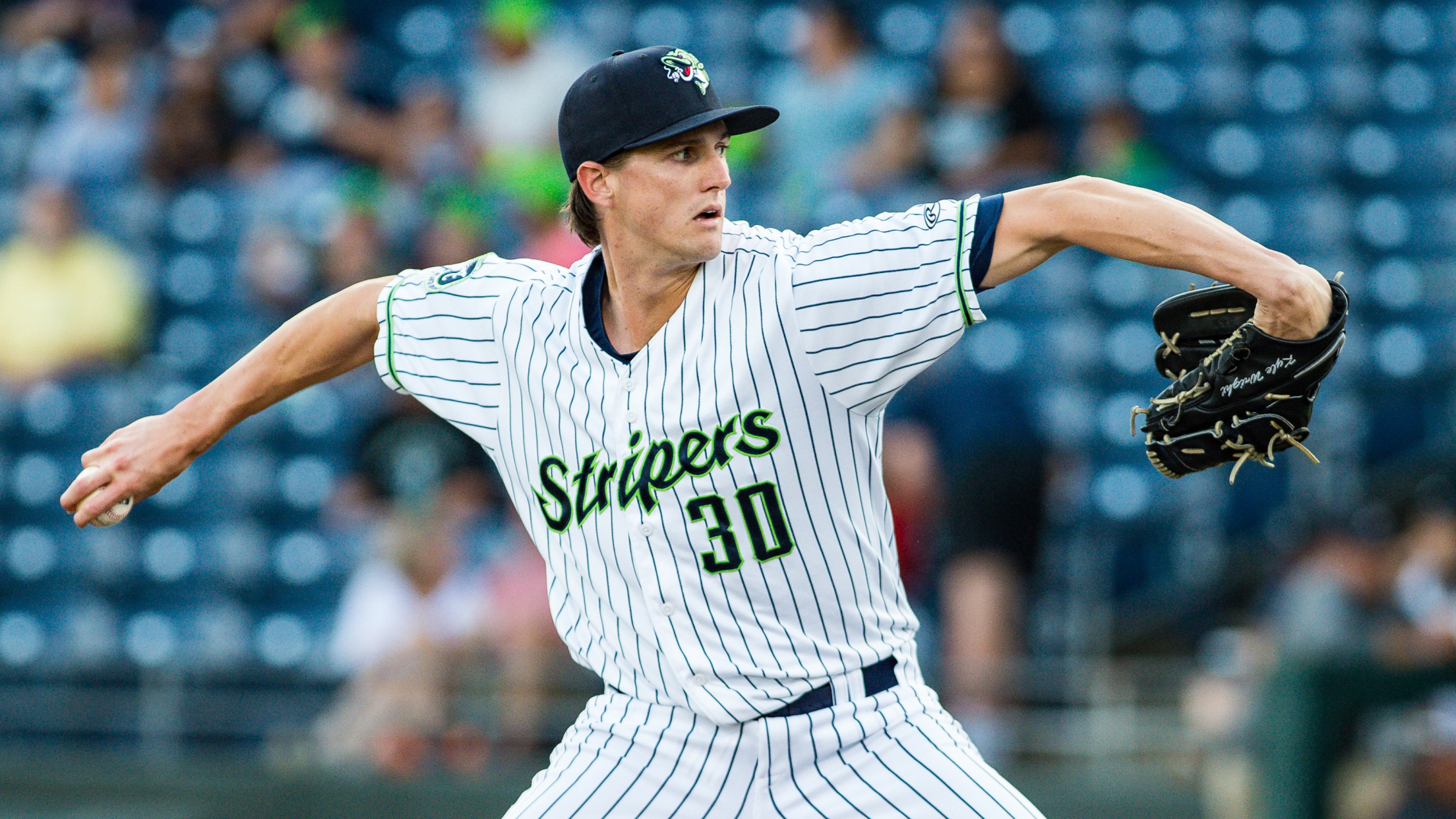 On the mound, Gwinnett's staff ace was Wright. The Vanderbilt product went 10-5 with a 3.02 ERA in 24 starts in his second full season with the Stripers, earning Gwinnett's Most Outstanding Pitcher Award. Wright posted an 8-1 record with a 2.11 ERA over his final 12 starts from July 27 to October 2, including his 9.0-inning shutout on September 19 vs. Nashville when he carried a perfect game through 6.1 innings.
"I've never had a nine-inning complete game shutout, and I really wanted one of those bad," said Wright. "To finally get one was pretty special. It was just a fun game all around. I was throwing a lot of strikes. Ryan Casteel was calling a great game behind the plate. We made a lot of great plays in the outfield and made some good plays on ground balls in the infield as well. Hit the ball too. For me, it was very memorable. Not just because I pitched well but because it was just an enjoyable game."
Wright finished the season as the Triple-A East ERA champion (3.02). He also led the league with 137 strikeouts and 137.0 innings pitched. Among qualified pitchers, he ranked in the top five in the league for WHIP (3rd, 1.18), wins (T-3rd, 10), and BAA (4th, .228).
Gwinnett's Most Valuable Player was Camargo, who posted the second-best batting average in Triple-A East (.326). The switch-hitting infielder also ranked among the league's top five in hits (T-2nd, 126), on-base percentage (3rd, .401), OPS (3rd, .958), runs (T-4th, 70), total bases (T-4th, 215), and slugging percentage (5th, .557), totaling 47 extra-base hits in 104 games.
Camargo also finished the year with one of the hottest streaks in Triple-A, hitting .413 with 14 extra-base hits, 19 RBIs, and a 1.234 OPS over his final 22 games after September 1. He recorded a season-best 12-game hitting streak through the final game of the year.
"They've been swinging the bat extremely well," said Demeritte about the team's offensive success. "Camargo's been a staple in our lineup all season. We had some other contributors who aren't with us right now, like Arcia and Abraham Almonte. We had a very deep lineup. We're very fortunate. I was fortunate enough to be around some great hitters and we would just rally off each other. The camaraderie we had out here was outstanding."
Future Stars Shining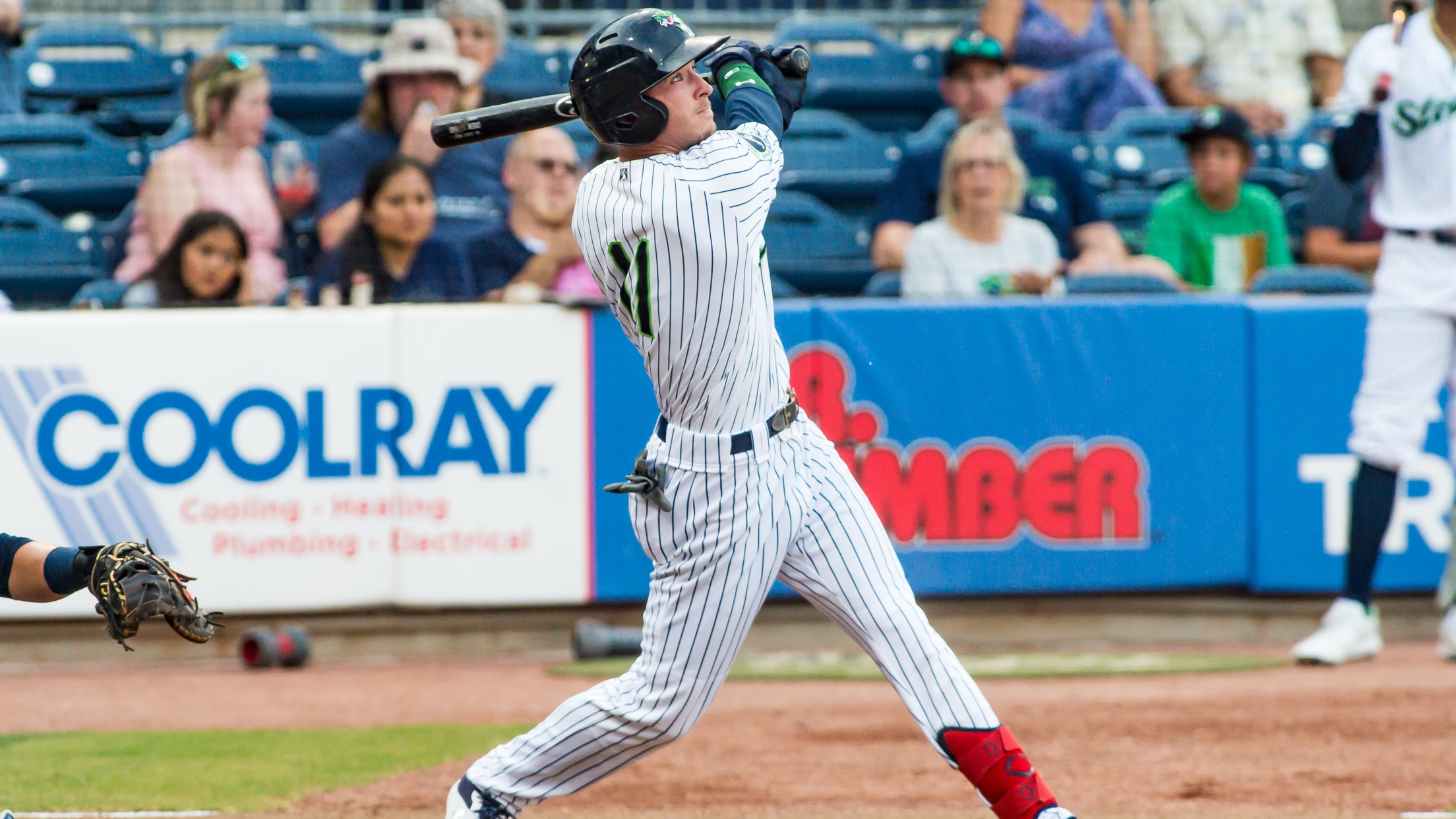 Gwinnett's Opening Night roster included several big-name prospects, including then No. 2 prospect Drew Waters, No. 5 prospect Muller, No. 8 prospect Tucker Davidson, and No. 9 prospect Jasseel De La Cruz. Each player had their moments of greatness throughout the campaign, but none so much so than the Braves' No. 1 prospect Cristian Pache.
After beginning the year battling injuries and struggles at the plate with Atlanta, Pache was optioned by the Braves on June 2 and spent the rest of the season with the Stripers. Inconsistent initially, Pache regained composure at the same time as Gwinnett's mid-season rebound. His turnaround began in August, when he batted .320 with six doubles, three homers, 11 RBIs, and a .906 OPS in 10 games. Over his final 44 games, the 22-year-old hit .296 with a .438 slugging percentage and .787 OPS.
While Waters didn't have a breakout year by his standards, he did enjoy a pair of hot stretches. The 22-year-old switch-hitter led all of Triple-A East in extra-base hits in July with 17, batting .301 with 23 runs, 17 RBIs, and a .924 OPS in 24 games during the month. Over his final 18 games after September 8, he hit .280 with seven-extra-base hits, 11 runs, and six RBIs. Waters finished the season ranking among Triple-A East leaders in runs (T-4th, 70) and stolen bases (5th, 28).
"Obviously, he (Pache) was back down here most of the year to get right with his swing," said Tuiasosopo. "I Thought he made some great strides offensively, especially in the second half and put together a great finish to his year. It was a good learning year for Drew Waters. He battled all year and tried to make adjustments every game and throughout the season. He's a great player. He can do a lot of special things in all areas of the game. On the offensive side, he had his moments. I was proud of the way he kept battling through those tough times. It's been a trying season for him. I just liked the way that he battled every day. He picked the brains of the veterans every day, trying to learn and grow as a player."
Stripers fans also got a glimpse of a few players who could be staples on the 2022 Gwinnett roster. No. 11 prospect and Atlanta's Minor League Pitcher of the Year Bryce Elder was promoted from Double-A Mississippi on August 17 and made seven starts with the Stripers, going 2-3 with a 2.21 ERA. Atlanta's No. 10 prospect, Spencer Strider, also made a 1.0-inning appearance on September 29 before renditioning in the Majors with the Atlanta Braves to end the season. The Braves' 2021 Minor League Player of the Year, Shea Langeliers, also played in the final series for Gwinnett after his strong season with Double-A Mississippi.
In the Clubhouse
Off the field, several members of this Gwinnett club will tell you that this season was one of the most fun they've had in professional baseball. Maybe it was the number of veterans on the club, a group that included several former Major League standouts like Jason Kipnis, Ryan Goins, Yolmer Sanchez, Travis Snider, and Tanner Roark. Maybe it was the culture created by the Gwinnett coaching staff, including first-year manager Tuiasosopo, pitching coach Mike Maroth, hitting coach Carlos Mendez, and coach Wiggy Nevarez.
Whatever it was, this team just seemed to mesh in the clubhouse once the season started.
"We have great teammates here, we really do," said Wright. "A lot of them are my best friends now. It's hard to pick one moment because everyone here wants you to do well all the time. It's one of the good things the Braves do well as a whole, getting good people in the organization. We've had a lot of great memories and have enjoyed the entire year."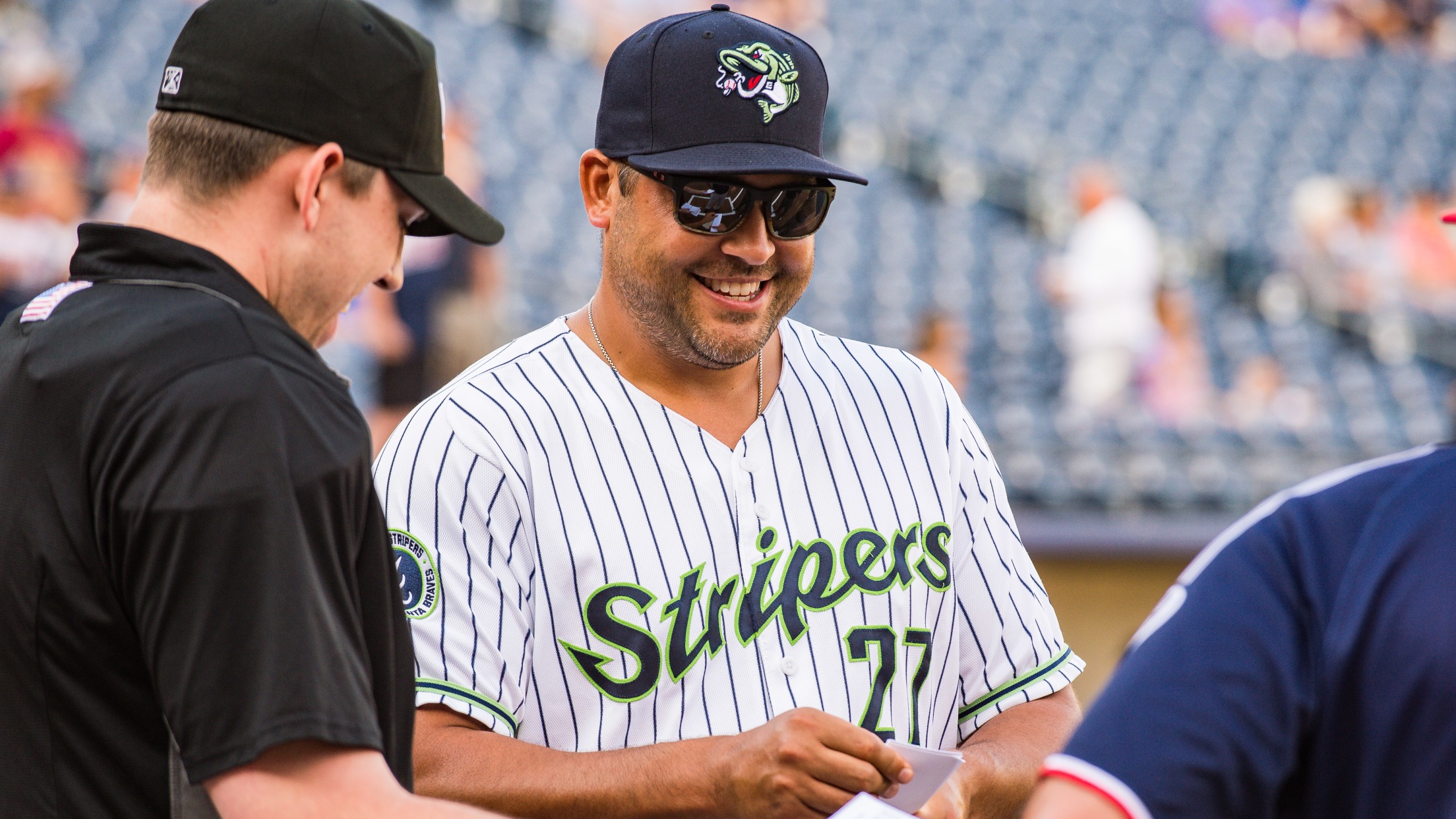 For Tuiasosopo, this season was special in several ways. After managing with Single-A Rome in 2019, he spent 2020 at the Alternate Training Site in Gwinnett. This year was the first time managing some of the on-the-brink type talent, guys on the verge of making it into the Majors.
"It's all about the players and we're grateful to be here at this level where the guys have a chance to mix it up there and have an impact at the big-league level," said Tuiasosopo. "Just proud of those guys when their number was called. I was able to tell a couple guys that they will be going to the big leagues for the first time. That's a really good feeling to tell players that and to go through that experience with them. Every time those guys got the call and made the trek over to Atlanta, we were watching here in Gwinnett. We were just super proud of them."
Gwinnett's players enjoyed the leadership that Tuiasosopo offered as a manager, himself not far removed from his playing days. Wright said that his consistency in the clubhouse is what made the season much more enjoyable for the players.
"He's the leader of our team and I feel like he sets the standard," Wright said. "He wants us to have fun. He wants us to enjoy this. Baseball is hard enough as it is. I feel like if everyone is up tight and strict, you can't just be yourself. It becomes even harder. He's really good letting guys being themselves and making this as enjoyable of a year as possible. He's always here if you need to talk, whatever it may be. He's been a lot of fun to play for."
Next year's Gwinnett Stripers season is set to begin on April 5, 2022, at Memphis. The Stripers' home opener will be on April 12 as the club hosts the Nashville Sounds.