Travs Bow to Tulsa in Pitcher's Duel
Arkansas has lost 5 straight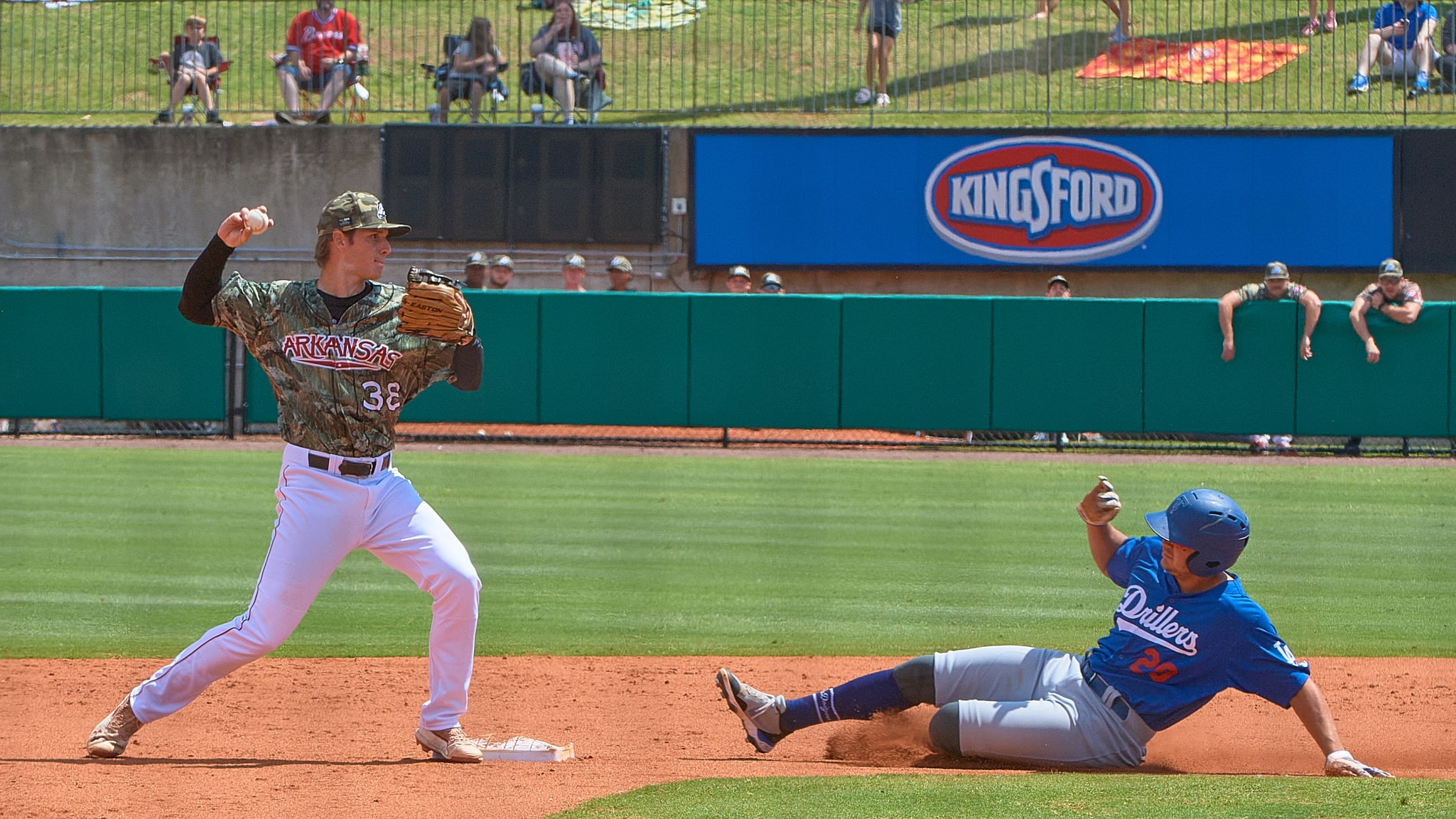 (Mark Wagner)
North Little Rock, AR—The Tulsa Drillers handed the Arkansas Travelers their fifth straight loss a 2-1 final score on Sunday afternoon at Dickey-Stephens Park in front of a crowd of 4,562. The decisive blow in the pitcher's duel was dealt by Tulsa's ninth place hitter Juan Zabala on a tiebreaking
North Little Rock, AR—The Tulsa Drillers handed the Arkansas Travelers their fifth straight loss a 2-1 final score on Sunday afternoon at Dickey-Stephens Park in front of a crowd of 4,562. The decisive blow in the pitcher's duel was dealt by Tulsa's ninth place hitter Juan Zabala on a tiebreaking solo homer in the 7th inning. Travs starter Tyler Herb delivered another quality start going a season high seven innings and giving up just two runs on six hits with two walks and five strikeouts. The offense came up with just four hits and went 0-12 with runners in scoring position continuing their recent struggles to get key hits.
Moments That Mattered
* Jake Scheiner tied the score with a solo homer to left field in the sixth inning. The next batter Joe Rizzo just missed a homer, driving a ball to the warning track in centerfield.
* Zabala's go-ahead home run in the seventh came on a 3-1 pitch after Herb missed the strike zone on the first three pitches of the at-bat.
Notable Travs Performances
* RF Stephen Wrenn: 0-2, 2 BB, 2 SB
* RHP Tyler Herb: L, 7 IP, 6 H, 2 R, 2 BB, 5 K, HR
News and Notes
* Arkansas stole a season high four bases. Stephen Wrenn swiped two and Jordan Cowan and Joe Rizzo stole one each.
* The Travs went 2-69 with runners in scoring position over the six game series.
Up Next
The Travs will take Monday off before beginning a two week road trip with the first of six games at Wichita on Tuesday night. Right-hander Alejandro Requena (2-0, 4.79) makes the start against a yet to be announced opponent for the Wind Surge. The game will be broadcast on AM 920 the Sports Animal, the First Pitch App and milb.tv.