Thrown off routine, Alexy shines for Loons
Dodgers No. 28 prospect turns in longest start, posts six zeros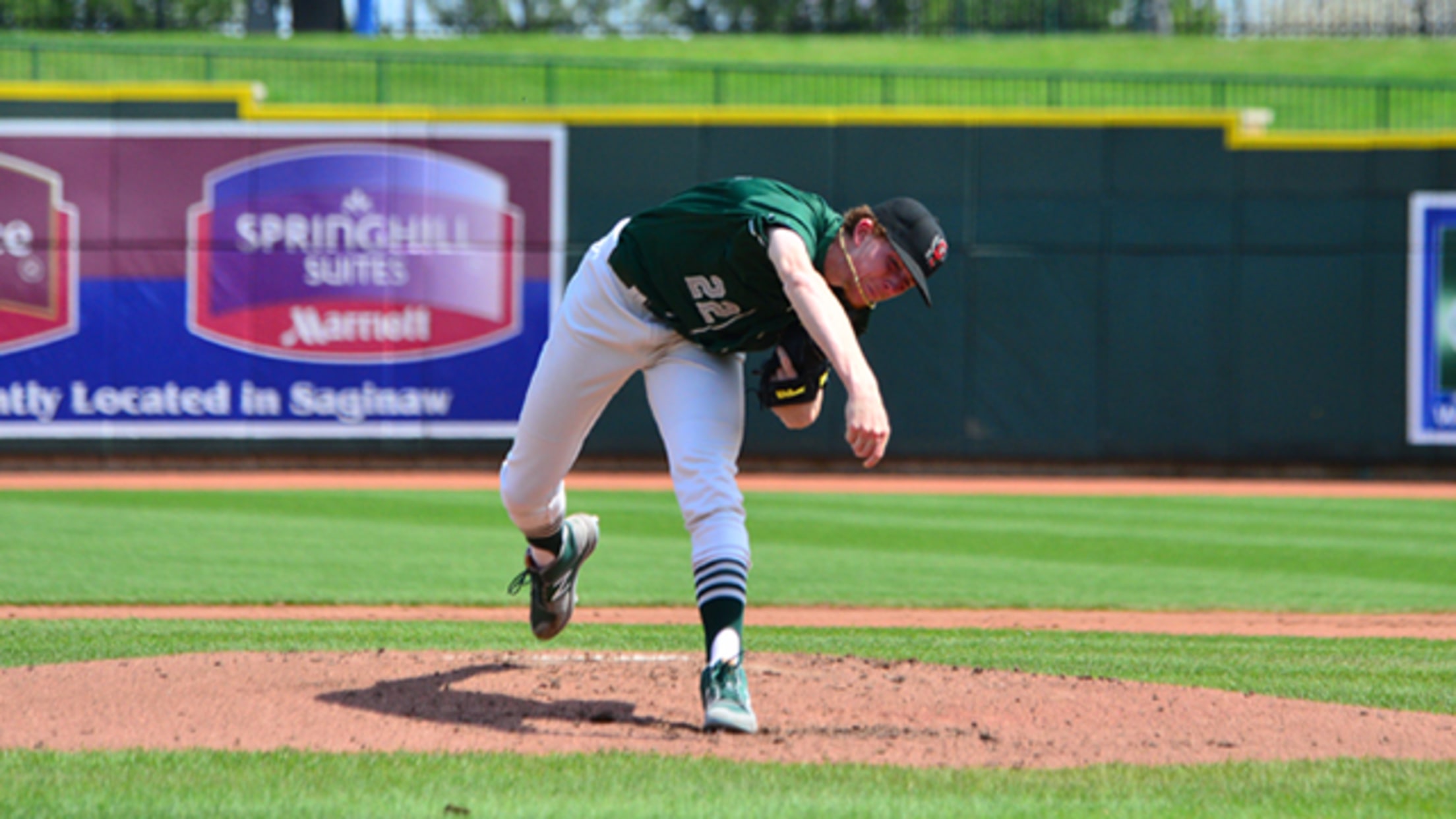 A.J. Alexy has given up two runs or fewer in each of his last five Midwest League starts. (Great Lakes Loons)
For most people in most jobs, a five-minute adjustment in their work schedule is a chance to grab another cup of coffee before heading into a meeting. Starting pitchers are anything but "most people."A.J. Alexy unexpectedly sped up his pregame preparation and rode it to the longest start of his
For most people in most jobs, a five-minute adjustment in their work schedule is a chance to grab another cup of coffee before heading into a meeting. Starting pitchers are anything but "most people."
A.J. Alexy unexpectedly sped up his pregame preparation and rode it to the longest start of his professional career Tuesday, allowing two hits over six scoreless innings, as Class A Great Lakes beat Dayton, 3-1, in the opener of Tuesday's doubleheader.
"I just recently made a routine for myself [before starts], and I was told the game was at 6:05," Alexy said. "I go to the game, go out in the bullpen and people tell me it starts at 6, so I'm out there rushing. I'm feeling like a reliever at this point. I was like, 'Man, I would hate to do this,' so I definitely made sure I went a couple more innings than I was supposed to."
Gameday box score
Initially thrown off by his hectic pregame, Alexy used the ripple in routine as fuel to save his bullpen a heavy workload in Game 1 of the twinbill.
"It was kind of more of a mental thing going into the game," the Dodgers' No. 28 prospect said. "Usually, there's a really kind of 'screw you' attitude to most of my games. Today, I made sure I was calm and collected and ready to get after it.
"My first-pitch strikes were not what I wanted them to be in previous games. I made sure today that I was getting ahead in counts and controlling the game instead of going through the motions."
That attitude pushed Alexy to his most efficient day as a professional, despite an inauspicious start. Reds No. 15 prospectT.J. Friedl poked a leadoff single to center field to open the first.
"I know Friedl is an amazing hitter and I definitely wanted to get a first out on him," Alexy said. "But It was kind of a hitter's count. I left a fastball up and he took advantage of it. It's one of those things where, when the first guy steps up to the plate, I want them to be in and then out."
It didn't work that way with Friedl, nor with Michael Beltre, who singled to center leading off the sixth. But Alexy stranded both and didn't allow a Dragon past second through six innings.
"When I have runners on, I try to control my running game as best as possible, mixing up looks, throwing over every once in a while," he said. "I have had a lot of pickoffs this season, so I'm definitely known for holding runners on well. Once a runner gets on, they should be pretty scared."
Alexy's previous longest start was May 7 when he allowed one hit over five shutout innings against Peoria. The 2016 11th-round pick struck out six with two walks in his first win of the year on Tuesday and threw 49 of 73 pitches for strikes.
"It was definitely an awesome feeling," he said. "Pro ball is an unreal talent level, and being able to throw that many innings on such a short pitch count for me, being so young, was kind of surreal. I definitely made sure I enjoyed every moment of it."
Friedl drew one of the Dragons' two walks in the opener. Bruce Yari went 3-for-3 with two doubles and an RBI in the nightcap as Dayton came back with a 4-2 win.
Tyler Maun is a contributor to MiLB.com. Follow him on Twitter @TylerMaun.