RockHounds' Puk ties career high with 13 K's
Missions' Lauer hurls seven one-hit innings on other side of duel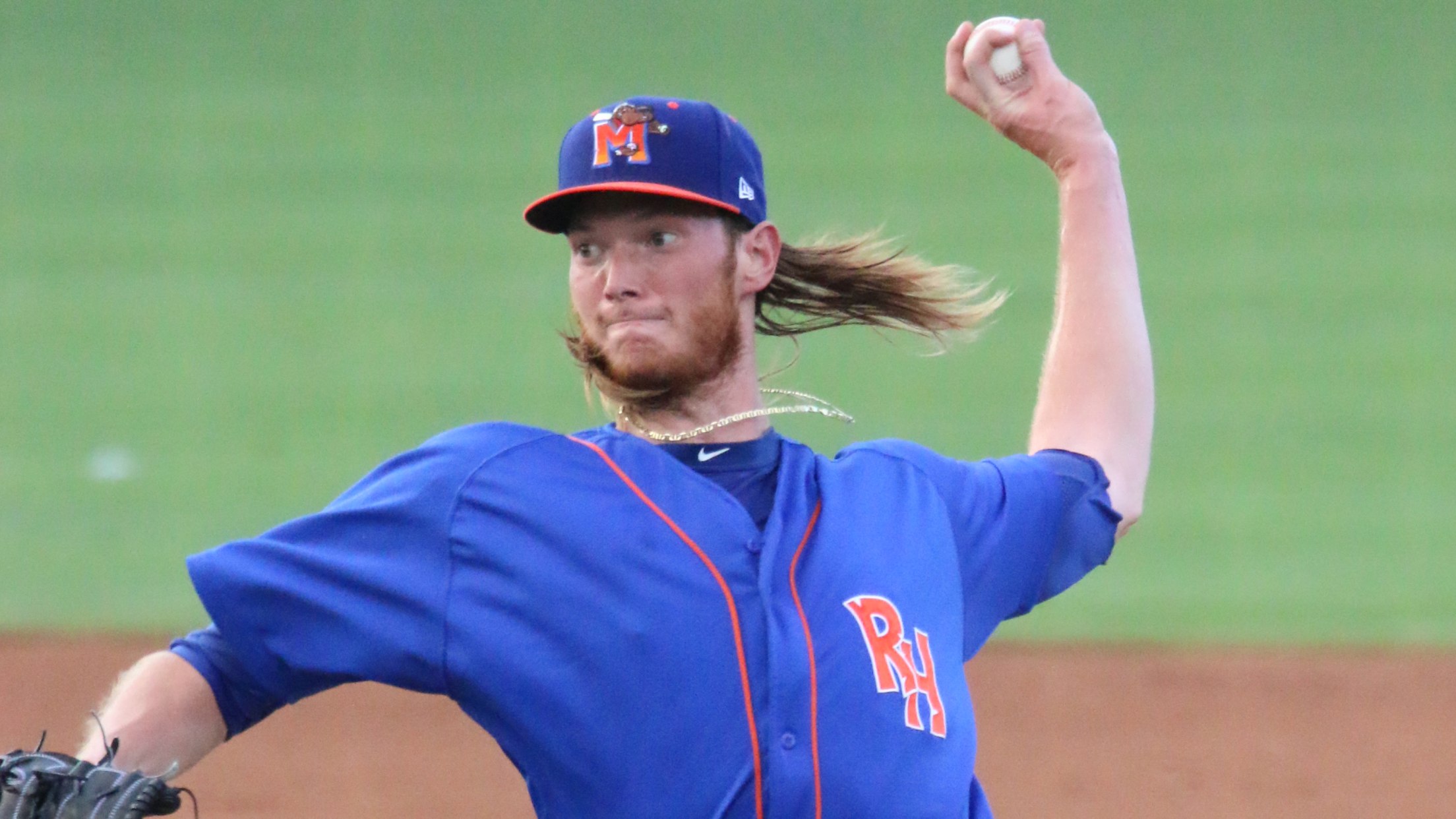 A.J. Puk recorded a 3.03 ERA with 53 strikeouts over six Texas League starts in August. (Joshua Tjiong/MiLB.com)
Throughout August, A.J. Puk has felt everything come together on the mound for Double-A Midland. But Oakland's No. 2 prospect might have saved his best performance for last. Puk (2-5) matched a career high with 13 strikeouts, allowing two unearned runs on seven hits in six innings, but the RockHounds fell
Throughout August, A.J. Puk has felt everything come together on the mound for Double-A Midland. But Oakland's No. 2 prospect might have saved his best performance for last.
Puk (2-5) matched a career high with 13 strikeouts, allowing two unearned runs on seven hits in six innings, but the RockHounds fell to the Missions, 5-0. On the other side of the pitching duel, San Antonio's Eric Lauer carried a perfect-game bid into the sixth before allowing one hit and striking out nine in seven frames.
"He was throwing a no-hitter for almost six innings there," Puk said of the No. 8 Padres prospect. "I just try to go out there after seeing a pitcher do that well and he's throwing up zeros, and I want to go out there and match him and put up zeros too."
In five starts in July, the Midland southpaw amassed a 5.14 ERA and a 1.57 WHIP in 21 innings in his first full month in the Texas League. As he integrated a two-seam fastball more into his repertoire, Puk saw better results in August, sporting a 3.03 ERA with 53 strikeouts over 35 2/3 frames.
"I thought I had pretty good command of my fastball today," he said. "That helps a lot because that sets up all of my pitches. I felt that anytime, wherever I needed to put the ball, I was able to put it there."
Gameday box score
Despite allowing a two-out double by 10th-ranked Padres prospect Josh Naylor in the first inning, Puk recorded three punchouts in the opening stanza. The 2016 first-round pick added two more in the second before Nick Schulz reached on a throwing error by shortstop Jorge Mateo, Oakland's No. 4 prospect, before Stephen McGee singled to right. Unfazed, Puk weaved out of danger by fanning Javier Guerra for his sixth strikeout through two frames.
"It's just a matter of executing pitches and getting ahead of hitters," Puk said. "It's about keeping them on the defense, and then you can do what you want with them. ... Everything was kind of just clicking. I've been like that through the month of August. I was able to get ahead of those hitters and all my pitches felt good from the start. That helps a lot."
The 22-year-old pitched a clean third before working out of trouble in the fourth when Schulz bounced into an inning-ending double play.
After Puk collected two more strikeouts in the fifth, the Missions struck for two runs to pull ahead. Fourth-ranked Padres prospect Fernando Tatis Jr. ripped a single and reached second on a fielding error by left fielder Jordan Tarsovich. Auston Bousfield drove in the first run with another knock to left, eventually scoring on the play when Tarsovich mishandled the line drive.
The University of Florida product avoided further damage, retiring four of the last five batters he faced.
"That's a big thing that I've been working on this whole year, it's keeping my emotions in check," Puk said. "Being able to slow the game down, I think I've done that a lot and that's really come together. I'm really happy with my mental approach and how I bring it to the games."
Puk began the year with Class A Advanced Stockton, where he posted a 4-5 record with a 3.69 ERA and 1.10 WHIP over 14 outings -- 11 starts -- in the hitter-friendly California League. Across the two levels this year, the Iowa native has amassed a 4.12 ERA and the third-most strikeouts in the Minor Leagues at 179.
Reflecting on the year, Puk is pleased with the progress he's made.
• Get tickets to a RockHounds game »
"I think in [Stockton], I had a pitching coach in [Steve Connelly], he worked with me a lot, and got me ready for Double-A," Puk said. "And the pitching coach here, [Don Schulze], he's done great. I've been really working on the two-seam with him and get a little run-and-sink on the ball and get some early contact."
Meanwhile, Lauer kept the RockHounds out of the hit column until there were two outs in the sixth and Sean Murphy dunked a single into right. The southpaw didn't allow any other baserunners while finishing off his longest start since July 2.
T.J. Weir entered in the eighth and scattered three hits over two scoreless frames to preserve San Antonio's 12th shutout of the year.
Andrew Battifarano is a contributor to MiLB.com. Follow him on Twitter, @AndrewAtBatt.