Civale spins seven zeros for RubberDucks
Indians righty faces two over minimum, lowering ERA to 2.35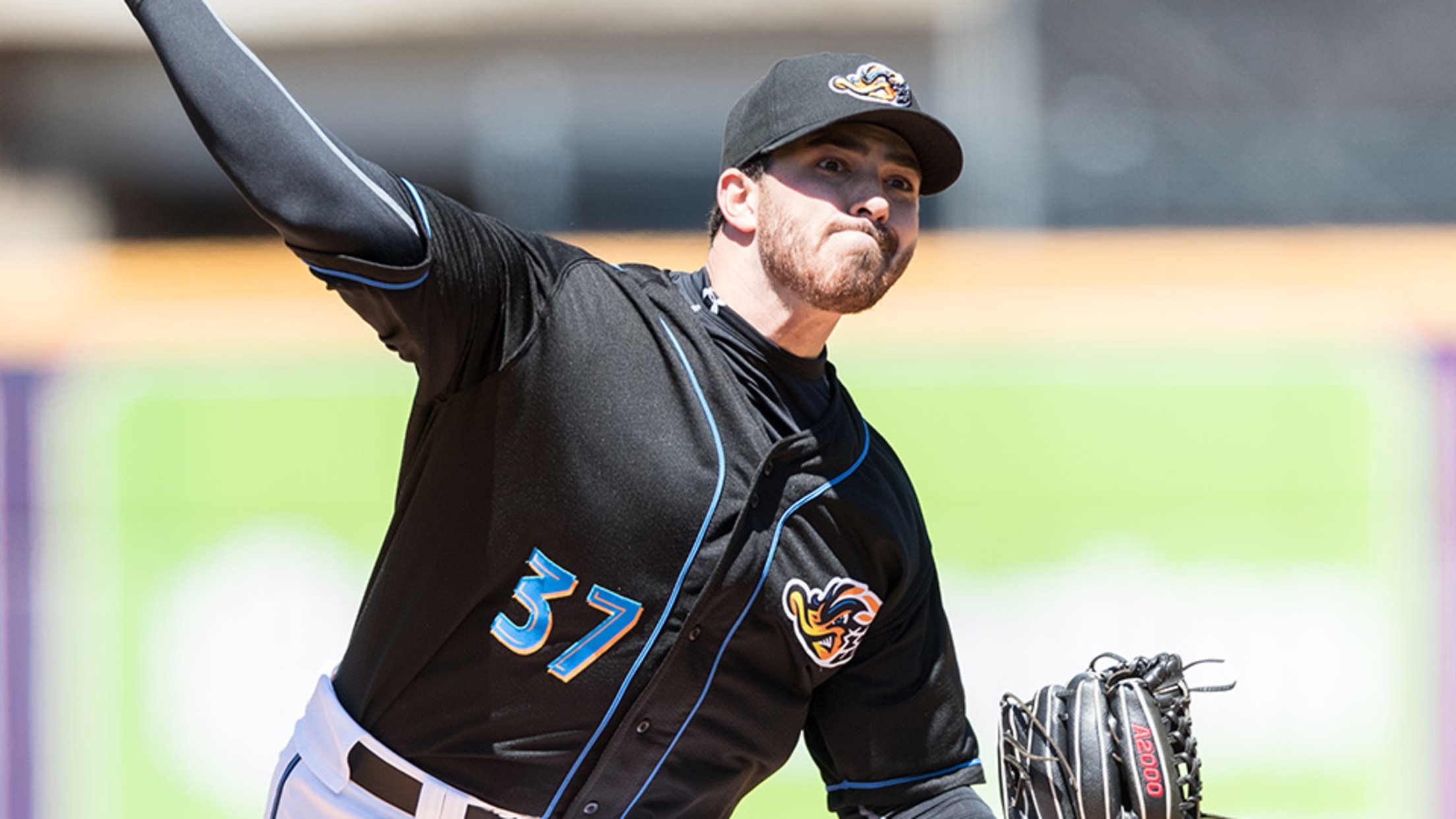 Aaron Civale has recorded 14 starts of at least seven innings over the past two seasons. (David Monseur/MiLB.com)
When Aaron Civale has taken the ball this season, he's proven to be one of the most consistent arms in the Eastern League. Back on the hill Wednesday, he turned in another gem.The ninth-ranked Indians prospect allowed just one hit and one walk while whiffing four over seven innings as
When Aaron Civale has taken the ball this season, he's proven to be one of the most consistent arms in the Eastern League. Back on the hill Wednesday, he turned in another gem.
The ninth-ranked Indians prospect allowed just one hit and one walk while whiffing four over seven innings as Double-A Akron blanked Richmond, 8-0, at The Diamond. It matched his longest start of the year as Civale also posted seven zeros against Bowie on April 29.
Pitching in front of 9,810 at the park during the holiday celebration gave the game a little extra juice, according to Civale (5-2).
"It was a large crowd, Fourth of July, obviously," he said. "It was a really cool atmosphere to pitch in front of. The stadium out here in Richmond gets pretty loud. It's almost like a half soccer field-type stadium where it's a little bit higher back and the noise comes toward the field. It's really cool."
Pitching to contact for most of the game, the 23-year-old right-hander threw 59 of his 90 pitches for strikes and faced two over the minimum. Civale kept the ball down effectively, recording 11 groundouts and five flyouts. Seeing eye-to-eye with catcher Sicnarf Loopstok, the two developed a gameplan that kept Richmond off balance all game.
Gameday box score
"It was attacking hitters, pretty much throughout the game, I was pretty aggressive every pitch thrown in there," Civale said. "I just went from there and trusted the defense behind me and let them make plays when [the Flying Squirrels] put the ball behind me."
The hurler had never faced Richmond and had very little familiarity with the lineup, so working off scouting reports and Loopstok's intuition helped out immensely.
"It's a lineup I had never seen before, and the last two times we played them, I was on the DL," Civale said. "And it has been a while since we have played them, so they have different faces in the lineup. The only name I had come across before was [Luigi Rodriguez] because he was with us [in the Indians organization] the past few years. I kind of stuck with my strengths and our gameplan going in."
He ran into some trouble in the first inning when Caleb Gindl smacked a one-out double to right field. But the 2016 third-round pick yielded no further damage in the frame, fanning Jerry Sands and getting Rodriguez to ground out back to the mound.
Civale retired eight in a row before Gindl drew a leadoff walk in the fourth. The Northeastern University product kept the Flying Squirrels in check by inducing consecutive groundouts from Sands and Rodriguez before a flyout by Dylan Davis.
He settled in the rest of the way, retiring the final 12 batters he faced.
"I kind of stayed aggressive and mixed it in and out," Civale said. "I just mixed in off-speed pitches and left everything up for guessing, I guess. Kept them off balance, I did a good job of going in and out and up and down. I kind of filled up the zone all around the zone. ... As the game goes on, something I usually -- where I build up a bit -- is take that first time through the lineup and either change or stay with that gameplan in the second or third time."
Despite missing over a month with soreness in his throwing shoulder, Civale sports a 2.35 ERA -- which would rank second in the Eastern League if he qualified -- through 65 innings. In 12 starts this year, the Connecticut native has fanned 49 and issued 10 walks.
Civale feels healthy and is pleased with his production on the mound since his return in early June.
"Being on the DL, obviously no one wants to do that," he said. "But it gave me some time to figure things out. What works for my arm, what doesn't and some new routines in the weight room and training room. But everything is good right now and trying to move forward and take everything that happened and trying to avoid that moving forward."
Rob Kaminsky and Mitch Brown pitched a scoreless frame apiece in relief to finish off the one-hitter.
On the offensive side, No. 6 Indians prospect Willi Castro finished 3-for-5 with a homer, three RBIs and two runs scored and Loopstok added three hits and two RBIs for the RubberDucks.
Andrew Battifarano is a contributor to MiLB.com. Follow him on Twitter, @AndrewAtBatt.