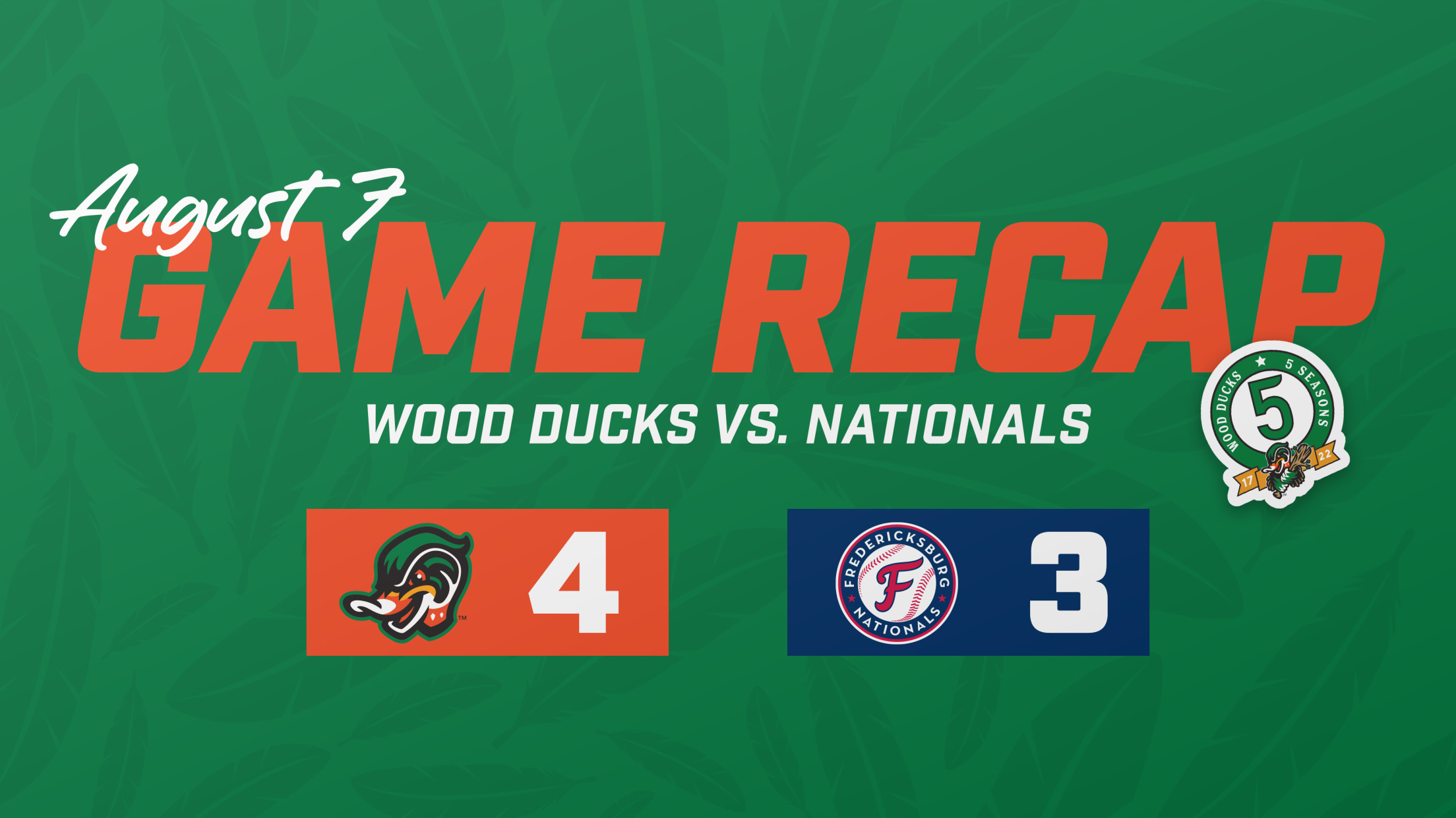 8/7/22 Game Recap by Jackson Pass Both teams offensively got off to a good start in the first inning in game six of the series between the Fredericksburg Nationals and the Down East Wood Ducks. In the top of the first, Will Frizzell had a single that went into right
8/7/22 Game Recap
by Jackson Pass
Both teams offensively got off to a good start in the first inning in game six of the series between the Fredericksburg Nationals and the Down East Wood Ducks. In the top of the first, Will Frizzell had a single that went into right field that scored Jacob Young to take the lead early. The Woodies retaliated, on Nationals starter, Andry Lara, in their next at bat and put up one of their own with a Daniel Mateo reaching on a single to center and the centerfielder bobbled the ball, allowing him to move up to second. Cam Cauley then stepped up for an identical play that scored Mateo for an RBI single.
Ryan Garcia, pitching for the Woodies, started cruising in the next three innings, allowing one runner to reach base in the fourth on a walk, and retired nine out of ten batters. The Woodies gave additional run support to Garcia in the bottom of the fourth with a Miguel Villarroel single and moved to third on a Moller double, before being brought in on a throwing error by the third baseman on a grounder by Yenci Pena. The Woodies were now up 2-1 and that run helped as the Nationals tied it up in the fifth on a sac fly to center by Viandel Pena, making it 2-2.
Garcia was relieved by Josh Gessner to start the fifth, ending Garcia's day with 5.0 innings, 2 hits, 4 strikeouts and 2 earned runs. Gessner was taken deep by his first batter Will Frizzell and then settled in to end up throwing 4.0 innings to complete the game. Two pitchers were in relief for the Nationals, with A.J. Candelario throwing 1.2 innings and Brendan Collins throwing 1.1 innings, having his day cut short in the bottom of the ninth as Ian Moller singled, moved up to second on a pinch hit Liam Hicks groundout, and Abi Ortiz stepped up to the plate in a pinch hit roll and delivered a WOODIES TWO RUN BLAST, to walk off the game in a 4-3 win for the Wood Ducks, Ortiz's third walk off home run of the year.
The Wood Ducks (50-51) and Fredericksburg Nationals (57-44) end their series tied 3-3, as the Woodies hit the road to face the Fayetteville Woodpeckers, before returning home to face the Myrtle Beach Pelicans on Tuesday, August 16th, with the first pitch is set for 7:00 p.m. in Kinston, NC at Grainger Stadium.
Fans can purchase tickets on woodducksbaseball.com, by calling the Wood Ducks Team Offices at (252) 686-5164 or in the Wood Ducks Team Offices located at Grainger Stadium (Mon-Fri – 9am - 4pm). Make sure to follow your Down East Wood Ducks on Instagram, Twitter, TikTok and Facebook so you don't miss anything!