Acceleration Point: Wesneski's Fast Climb
2019 sixth-rounder Hayden Wesneski is making leaps and strides while bounding his way up to the Majors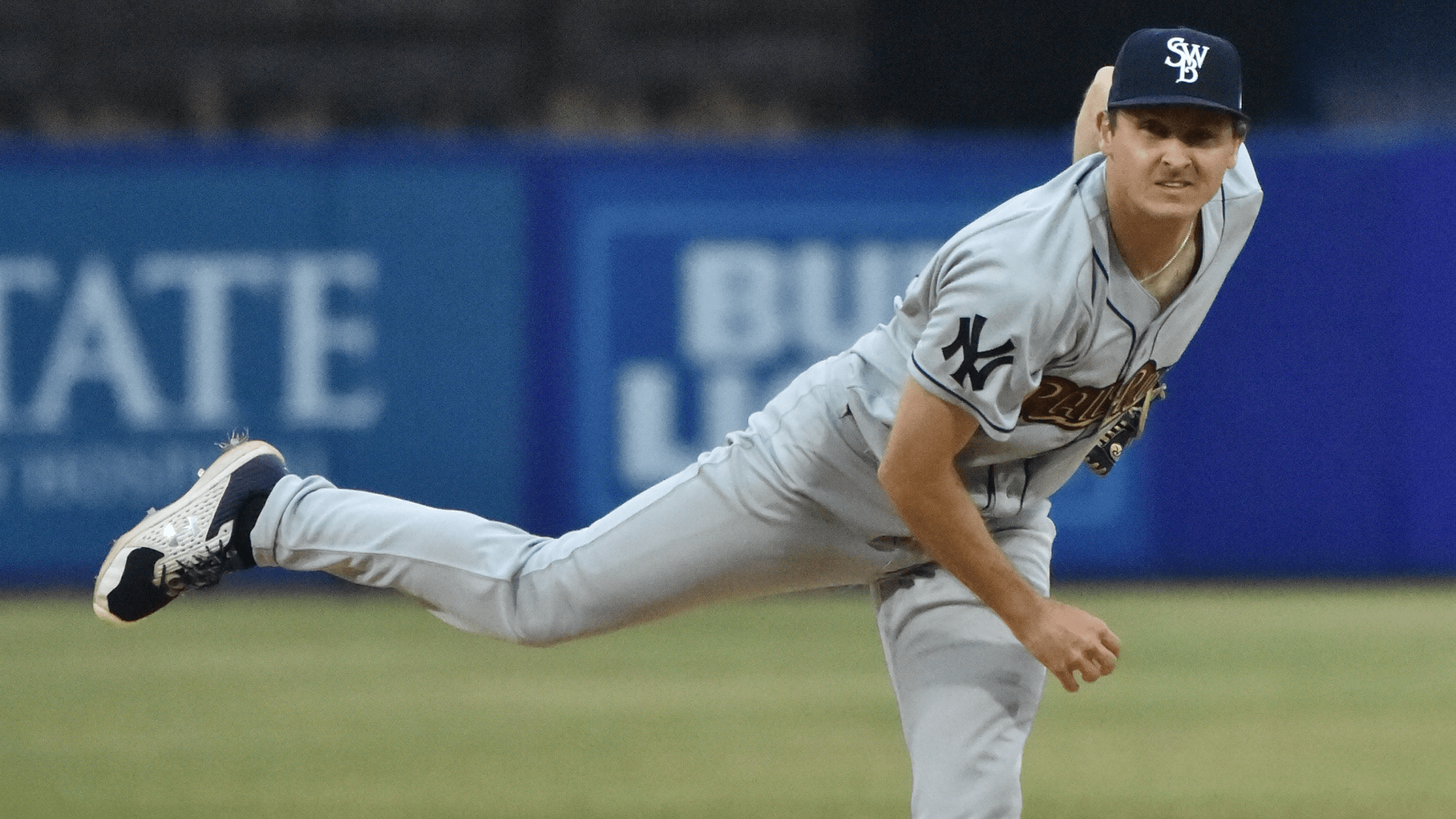 (James Farrance)
One of the stories of the 2021 Minor League season in the New York Yankees organization was the meteoric rise of starting pitcher Hayden Wesneski. Entering the season, the young right-hander had thrown just 28.1 professional innings and was largely unknown. By the end of the year, Wesneski had pitched
One of the stories of the 2021 Minor League season in the New York Yankees organization was the meteoric rise of starting pitcher Hayden Wesneski. Entering the season, the young right-hander had thrown just 28.1 professional innings and was largely unknown. By the end of the year, Wesneski had pitched at three different levels and he entered 2022 as Baseball America's #6 prospect in the Yankees system.
When the now 24-year-old Wesneski talks about his developmental leap, there's a sense of humility, as well as gratitude for the organization.
"The Yankees development on the pitching side and hitting side is very good," Wesneski said. "I think we're very underrated when it comes to the whole Minor League side of our development. I think our Minor League side is the best out of all the organizations."
Wesneski was drafted by the Yankees in the sixth round of the 2019 MLB Draft out of Sam Houston State. He made his professional debut that same season with the now-defunct Pulaski Yankees of the Appalachian League (Rookie Advanced).
"I didn't see it coming," Wesneski said of being drafted by the Yankees. "I thought there were other teams that were more interested in me as a baseball player. I'm very glad the Yankees did draft me. I only had a 45-minute conversation with the area scout Brian Reese…that was the only time I had contact with a Yankees guy. Looking back on it, it's the best thing that could've happened."
Then, like so many other players, Wesneski had a wrench thrown in his development when the 2020 Minor League season was canceled due to the COVID-19 pandemic. However, Wesneski didn't allow that to stop him from improving as a pitcher, and he ultimately benefitted from that experience.
"Every day, I was working on something," Wesneski said. "We had a really good environment in Houston where I was working out. I got stronger, leaner, I started throwing harder, and it made me better as a pitcher."
The results of that time in Houston were obvious throughout the 2021 season. Wesneski began the campaign with the Hudson Valley Renegades (High-A) and quickly proved he was more advanced than what that level offered. In 36.1 innings with the Renegades, Wesneski had a 1.49 ERA and 0.91 WHIP with 47 strikeouts. He was promoted to Double-A Somerset on June 15 having logged just 64.2 professional innings. Wesneski succeeded there as well and earned himself a late-season call-up to Triple-A Scranton/Wilkes-Barre, where he has been ever since.
"I didn't think it was going to happen," Wesneski said. "If you would have told me last year that I was going to make it to Triple-A or even Double-A, I would have told you that you're joking. I would've been super pumped about it."
While he spent just two weeks in Triple-A last year, Wesneski had major takeaways from his short time with the RailRiders last season, and it was an experience that helped prepare him for 2022.
"It was a big help coming up here in the prior season," Wesneski said. "I know where everything's at. I know what the locker room looks like, I know the coaches, I know some of the guys already. So, I walk in day one and I'm not lost. I understand what it looks like to be a RailRider."
As already mentioned, Wesneski largely credits the organization's player development team for his quick ascension through the minors. He speaks glowingly of the pitching coaches he's worked with at his different Minor League stops, whether that be Gerardo Casadiego in Hudson Valley, Daniel Moskos in Somerset or Graham Johnson with Scranton/Wilkes-Barre. Wesneski also emphasizes what New York Yankees Director of Pitching Sam Briend brings to the table.
"We have a very good relationship," Wesneski said of Briend. "He pushes me the right way. He's really intelligent, he knows what he's doing. He doesn't make it very cookie-cutter, which is a thing that's common when it comes to mechanics and pitch development and pitch design. He does a very good job of saying, 'Hey listen, this works for him, but not for you, so don't try to do what he does.'
Briend, who was hired after the 2019 season, has been with the Yankees for nearly all of Wesneski's career. The two are constantly working together. When Briend talks about the different arms on the RailRiders roster, you get a sense of how much talent is on the staff, and Wesneski is among his most praised pitchers.
"Hayden's awesome," Briend explained. "You love the pitch package. He's got a four-seam, he's got a two-seam, a slider, a changeup, a cutter. He has weapons all over the place and he pounds the zone. He's always throwing strikes, he's always ahead of guys. He's super competitive, he's super precise and he's a perfectionist in his craft. So he doesn't waste any throws and I think that's the big differentiator for that guy and why he's been able to matriculate up the system so fast."
As Briend mentioned, Wesneski is rare in that he features a deep repertoire of five pitches. With that, it gives him options start-to-start to change how he wants to attack hitters. While some pitchers who use three or four pitches have to stick to roughly the same plan each game, Wesneski has an ever-evolving strategy.
"I have a few pitches for each side of the plate," Wesneski explained. "I don't throw a whole lot of changeups to righties, I don't throw a whole lot of sinkers to lefties. So that kind of narrows it down to each side. During the game, I kind of just feel my way out. Whatever I'm feeling that day, we'll probably go to that more. The bullpen has a little bit to do with it, but I would say more the scouting report and how I feel on the mound."
Another advantage Wesneski has going for him are the three catchers the New York Yankees have put on their Triple-A roster. David Freitas (33 years old), Rob Brantly (32) and Max McDowell (28) are three veterans who have all been in professional baseball for at least seven years. Their presence is invaluable to a young pitcher like Wesneski.
"I talk to each one of them all the time," Wesneski said. "They're good people, they know what they're doing. They've been around the game a lot longer than I have. They understand the whole hitting side and the pitching side. And they do a really good job calling games, they've caught big-time guys. You just try to pick their brains and sometimes you just go with what they call and don't overthink it."
Now in his first full season in Triple-A, Wesneski has already noticed differences from lower levels of pro ball. Even in the short time he's been here, being around this specific group has helped Wesneski grow as both a player and person.
"It's a grown man locker room," Wesneski explained. "This may not seem weird to most people, but there are guys with kids here. In past locker rooms I've been in, I don't know people that have kids. It's a different feel to things, it's more relaxed. It's more professional, it's what I pictured pro ball would be."
So far this season, Wesneski has been one of the top pitchers in the International League. Entering play this week, the young righty ranked 10th among qualified pitchers in ERA (2.63), and third in WHIP (0.83). He has also been extremely consistent, allowing no more than three runs in any start. Wesneski has likely worked his way onto the New York Yankees radar if they need another starting pitcher or long reliever at some point this season, but he's not letting his mind go there just yet.
"We'll see," Wesneski said of potentially getting called up. "Just keep pitching one at a time and we'll go from there. Enjoy your stay. Not a whole lot of people get to do this."