Adams Shines In 3-0 Win
Spencer Adams blanks Lookouts over eight innings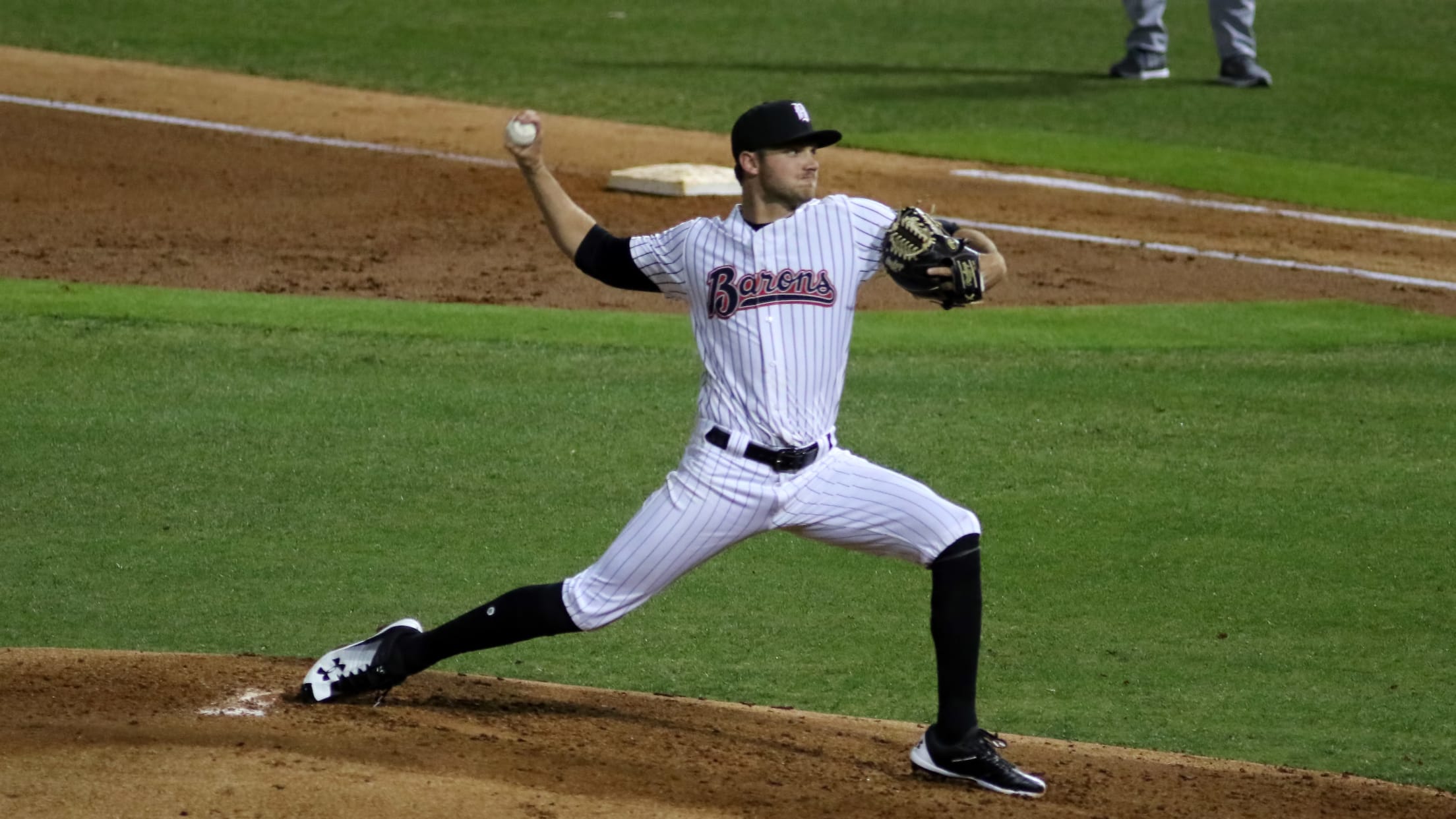 Spencer Adams kept the Lookouts out of the run column, allowing just two hits against while fanning six and walking none in 8.0 innings of work. (Michael Wade)
Eloy Jiménez 's three-run homer in the first inning was more than enough run support to back Spencer Adams' performance on the mound as the Birmingham Barons (24-28) defeated the Chattanooga Lookouts (31-21), 3-0 Thursday night at Regions Field. Turning Point: After Danny Mendick singled and Zack Collins walked to open the game, Jimenez muscled a three-run
Eloy Jiménez 's three-run homer in the first inning was more than enough run support to back Spencer Adams' performance on the mound as the Birmingham Barons (24-28) defeated the Chattanooga Lookouts (31-21), 3-0 Thursday night at Regions Field.

Turning Point:

After Danny Mendick singled and Zack Collins walked to open the game, Jimenez muscled a three-run homer over left field on a pitch that left his bat at 109 mph, rocketing the Barons out to a 3-0 lead.

Moments That Mattered:

On the mound, Adams (W, 3-6) tossed eight complete scoreless frames, striking out six and walking none with just two hits against in his strongest pitching performance on the season.

He Said It:

"I worked ahead in the count a lot tonight," said Adams. "The couple of times I fell behind, I worked the fastball in the zone and got some pop-ups. I just felt comfortable with all my pitches and tried to control the game as much as I could."

Facts and Figures:

Birmingham's pitching has fared well against Chattanooga thus far on the season, recording a 1.46 ERA against the Lookouts through eight games. Over the three games this series, Chattanooga has scored two runs and one earned while the Barons have plated 10 runs, nine earned.

Quotable:

"Pitching can be contagious," said Adams about his team's performance against the Lookouts in the series. "Tomshaw and Dunning both went out there and threw a heck of a game. You don't want to one-up the guys in front of you, but you want to work off the energy and keep it going."

By the Numbers:

Jimenez's first-inning homer is his tenth of the season, placing him in a tie with teammate Seby Zavala and Biloxi's Jake Gatewood for the Southern League lead. The three-RBI hit also marks the Birmingham slugger's 10th straight game with a hit. With three walks on the night, Collins is now the outright leader in the category across all of Minor League Baseball with 52 free bases.

Up Next:

The two sides will face off again in the fourth game of the series on Friday with first pitch scheduled for 6:30 p.m. Southpaw Jordan Guerrero (1-5, 6.46 ERA) will deal for the Barons while left-handed counterpart Anthony Marzi (0-2, 6.41 ERA) will toe the rubber for the Lookouts. Curt Bloom will have the call on 960 WERC News Radio and the iHeart Radio app.