RUTSCHMAN BOBBLE HEAD PICK UP INFORMATION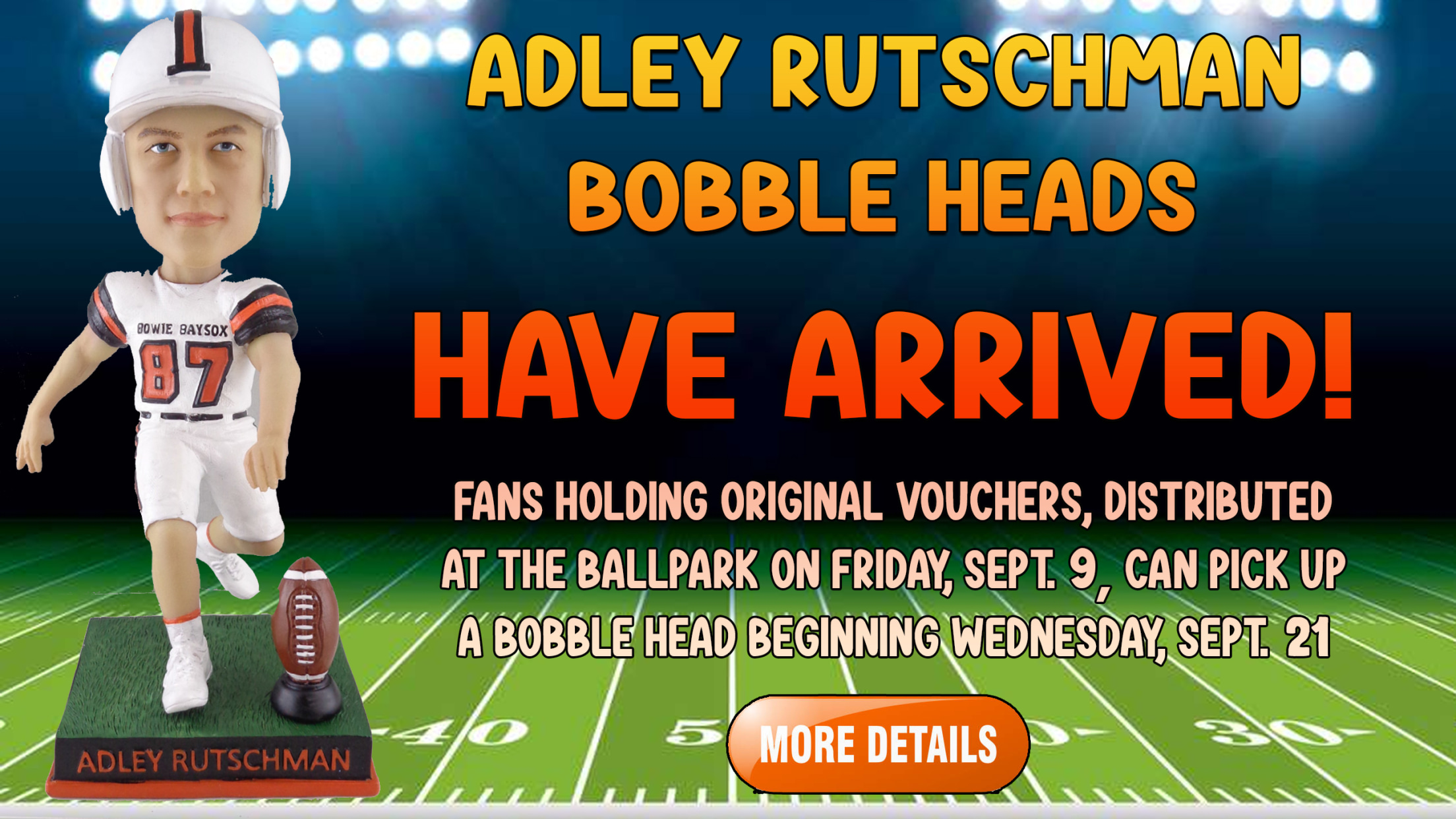 The Adley Rutschman Football Bobble Heads, scheduled to be given away as part of the Baysox "Football Kickoff Night" on Friday, September 9, 2022, have arrived at the stadium and are ready to be picked up by the fans who received a voucher that evening. Bobble Head pickup will begin
The Adley Rutschman Football Bobble Heads, scheduled to be given away as part of the Baysox "Football Kickoff Night" on Friday, September 9, 2022, have arrived at the stadium and are ready to be picked up by the fans who received a voucher that evening. *Bobble Head pickup will begin at 9:00 am on WEDNESDAY, SEPTEMBER 21. *
Please read the information below regarding how to redeem your voucher and times available to pick up bobble heads at the ballpark.
Voucher Redemption Information:
Fans holding a voucher will be able to come to the ballpark and pick up their bobble head during regular business hours: Monday - Friday from 9:00 am - 5:00 pm. Office times may change in the off-season, so feel free to call or contact the Baysox prior to coming to redeem your voucher.

Fans can also pick up their bobble head during the Baysox "Fall Festival" Event scheduled for Saturday, October 15 between 10 am - 3 pm.

Original vouchers must be redeemed in person. Shipping bobble heads cannot be accommodated.

No print or digital copies of the voucher will be accepted.

The Baysox are not responsible for lost or misplaced vouchers.

Lost or misplaced vouchers cannot be replaced.

Vouchers must be redeemed by November 1, 2022.
The information posted above is the same information that was posted on our website announcing the shipping delay and also the same information that was distributed to all fans receiving the voucher as they entered the ballpark on Friday, September 9.
Should you have any questions, please feel free to e-mail us at [email protected].