Adolfo homers again in win at Delmarva
Flores continues to impress with six win, fifth on the road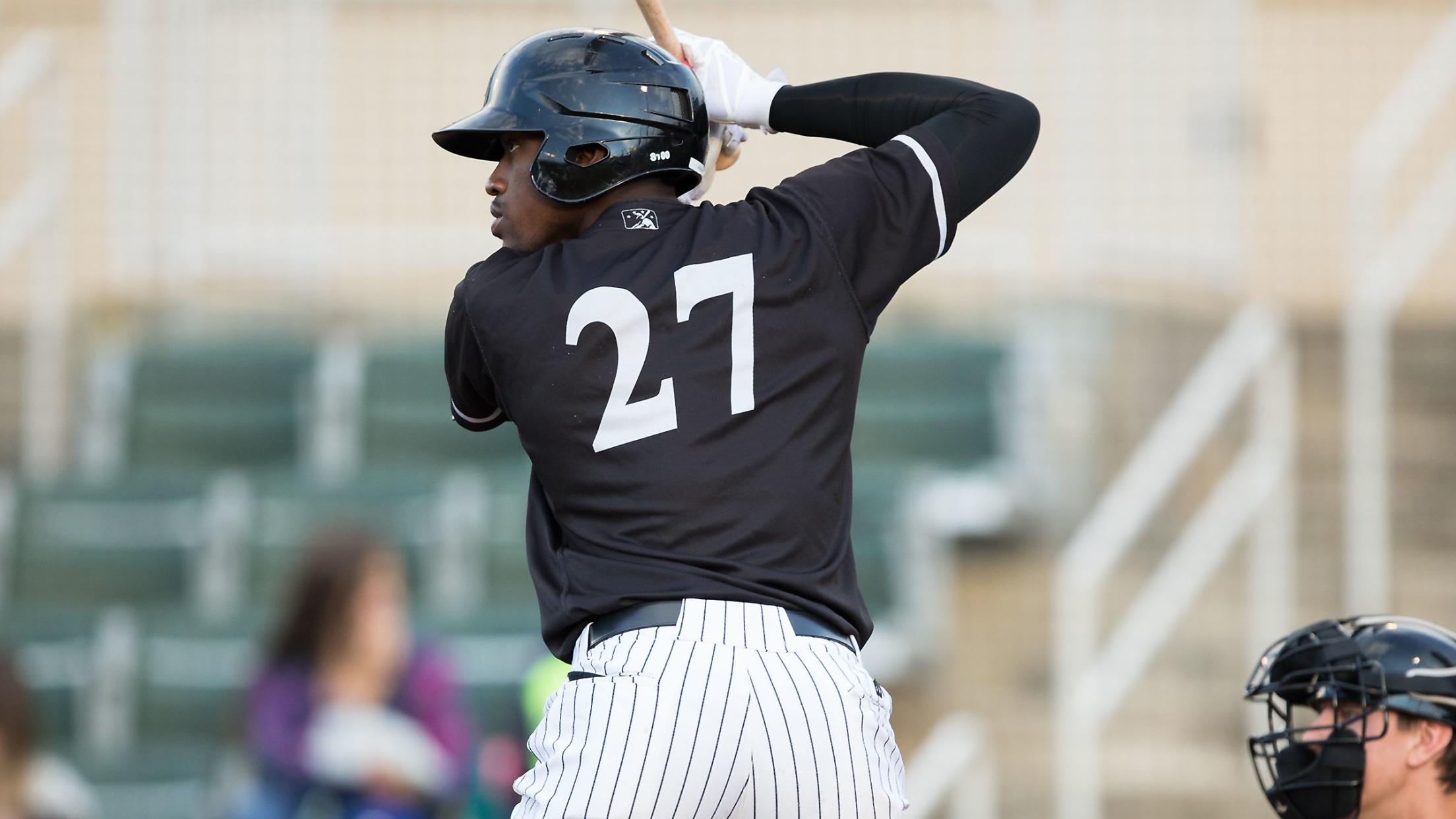 Micker Adolfo hit his fourth home run in nine games in the month of June as Kannapolis topped Delmarva, 6-2, on June 11, 2017. (photo by Brian Westerholt/Four Seam Images)
SALISBURY, Md. (June 11, 2017) - Micker Adolfo mashed his fourth home run in nine games as the Intimidators marched to a 6-2 win over the Shorebirds on Sunday afternoon at Arthur W. Perdue Stadium. Kannapolis (33-27) scored its second straight win as Adolfo finished 2-for-3 with a pair of
SALISBURY, Md. (June 11, 2017) - Micker Adolfo mashed his fourth home run in nine games as the Intimidators marched to a 6-2 win over the Shorebirds on Sunday afternoon at Arthur W. Perdue Stadium. Kannapolis (33-27) scored its second straight win as Adolfo finished 2-for-3 with a pair of walks, an RBI, and a run scored.
The Intimidators staked themselves to a 3-0 lead in the second inning, and the Shorebirds never recovered. Mitch Roman, who was added to the South Atlantic League All-Star team earlier in the day, led off the inning with a double to left field and moved to third on a Zach Remillard groundout. After Casey Schroeder walked, Grant Massey followed with a 2-run triple. Joel Booker added a sac-fly to cash Massey for the 3-0 advantage.
Schroeder homered (1) in the fourth, and Adolfo blasted a solo home run (6) with two outs in the fifth for a 5-0 lead. Delmarva took two runs back in the home half of the sixth, but Shorebirds second baseman Frank Crinella committed an error in the seventh that allowed Jameson Fisher to score for a 6-2 lead.
Bernardo Flores (6-4) earned the win, his team-lead-tying sixth and fifth on the road, by limiting Delmarva to two runs on four hits over 5 and 1/3 innings, striking out three. In seven road starts, Flores is now 5-1 with a 1.50 ERA for Kannapolis. Relievers Danny Dopico and Kyle Kubat combined for 3 and 2/3 scoreless innings to close the game. Delmarva starting pitcher Jhon Peluffo (3-2) took the loss, allowing five runs on six hits including two home runs, walking three and striking out three.
Kannapolis wraps this 4-game series and 7-game road trip on Monday at 7:05 p.m. in Salisbury, Md., as RHP Blake Hickman (0-0, 2.19 ERA) takes the mound for the Intimidators against Shorebirds LHP Alex Wells (4-3, 1.99 ERA). The Intimidators return to Kannapolis to wrap up the First Half starting on Tuesday at 7:05 p.m. against Hagerstown. The home stand features the second annual Disney Vacation Giveaway Night on Saturday, June 17, where one lucky fan will win a $2,500 vacation to the Magic Kingdom. Tickets are available by calling the F&M Bank Box Office at 704-932-3267 or by visiting IntimidatorsBaseball.com.