Adolfo homers twice to overpower Hoppers
Kannapolis matches season's best stretch with fifth straight win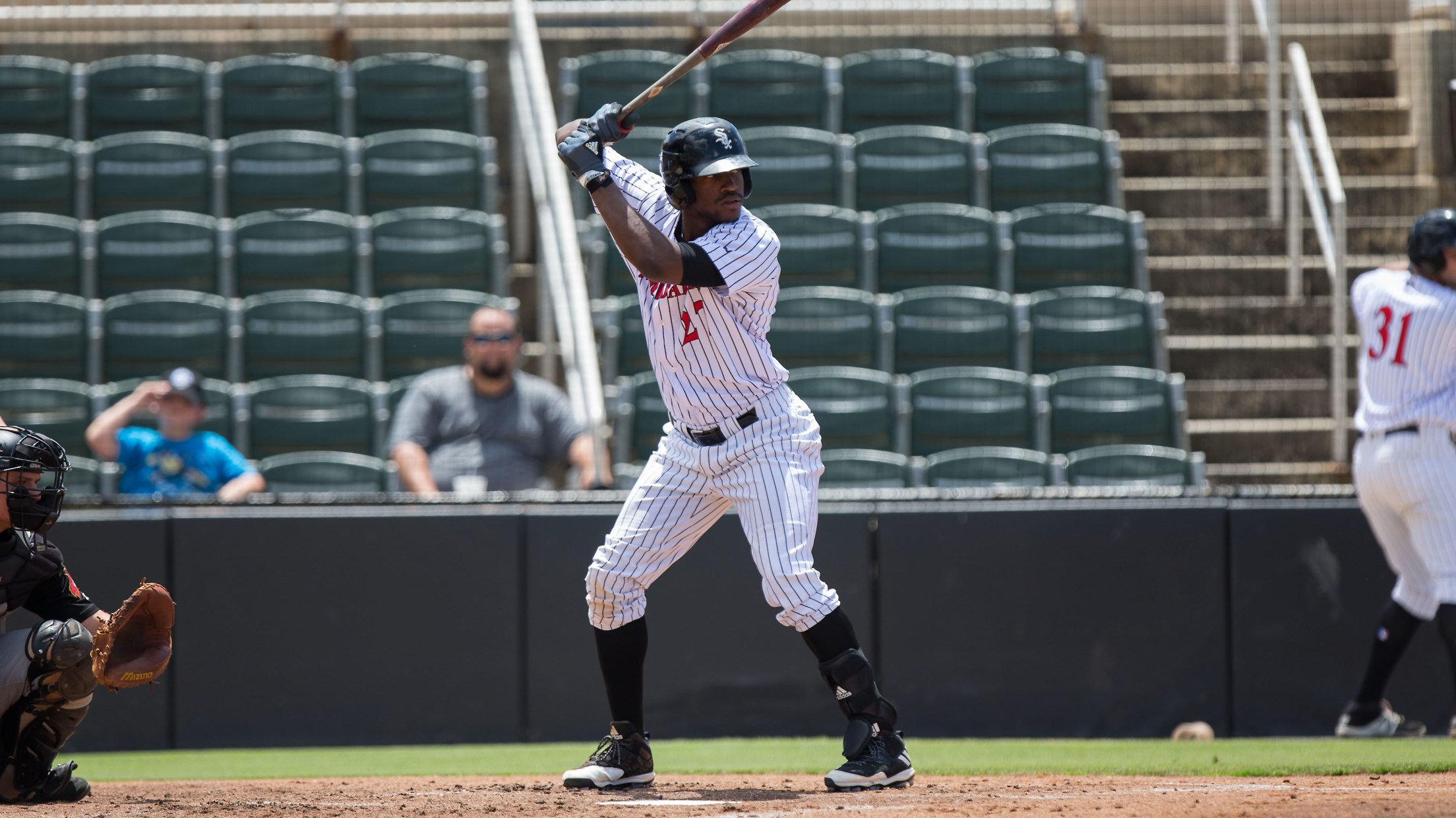 Micker Adolfo hit two home runs -- his first career multi-HR game -- to power Kannapolis past Greensboro on Aug. 3, 2017. (photo by Brian Westerholt/Four Seam Images)
KANNAPOLIS, N.C. (Aug. 3, 2017) - Micker Adolfo mashed two home runs in a game for the first time in his career to power the Intimidators to a 7-5 win over the Grasshoppers, 7-5, on Thursday night at First National Bank Field in Greensboro. Kannapolis (19-21 Second Half, 58-50) won
KANNAPOLIS, N.C. (Aug. 3, 2017) - Micker Adolfo mashed two home runs in a game for the first time in his career to power the Intimidators to a 7-5 win over the Grasshoppers, 7-5, on Thursday night at First National Bank Field in Greensboro. Kannapolis (19-21 Second Half, 58-50) won its fifth straight game to match its longest winning streak of the season.
Adolfo finished 2-for-4 with a pair of solo home runs giving him 14 on the season.

After Greensboro took a quick 1-0 lead in the first inning on a James Nelson RBI-double, Kannapolis wasted little time in responding. Adolfo led off the top of the second inning with a home run (13) over the berm in left field and out of the stadium to tie the game, 1-1. Gavin Sheets followed with a double, and Zach Remillard drove him in with an RBI-single for a 2-1 lead. Casey Schroeder followed with a 2-run home run (2) to right field to cap the 4-run frame.
Greensboro bounced back with a pair of runs in the bottom of the second. Walker Olis tripled, and J.C. Millan doubled to bring him in. Millan later scored on a Brian Miller ground ball to pull the Hoppers within a run, 4-3.
Adolfo stepped to the plate with two outs in the third and extended the Intimidators lead to 5-3 with a solo home run that cleared the batters eye in center field, measuring 445-feet on the blast.
Nelson kept Greensboro close, finishing 4-for-5 with three doubles, two RBI, and a run scored. With the Hoppers down 5-4 in the seventh, Nelson's third double of the night scored Aaron Knapp to tie the game.
Kannapolis rallied for a pair of runs in the ninth inning to pull away. Mitch Roman singled with one out, and Luis González followed with a 12-pitch at-bat that resulted in a single to left field, allowing Roman to go first-to-third. Remillard followed with a ground ball to the shortstop that Rony Cabrera bobbled, limiting the Grasshoppers to one out on the play instead of two, allowing Roman to score the go-ahead run. Two batters later, Alex Call singled to cash Remillard for a 7-5 lead.
Lane Hobbs (4-1) earned the win, working 3.0 innings and allowing a run on three hits with four strikeouts and no walks. Danny Dopico struck out three in the ninth for the save (3). Greensboro's Nestor Bautista (0-2) took the loss.
Starting pitcher Blake Hickman worked 5.0 innings for Kannapolis, allowing four runs on nine hits, striking out one and walking one.
The Intimidators continue this 4-game series against the Grasshoppers on Friday at 7:00 p.m. as RHP Dylan Cease (0-3, 3.68 ERA) takes the mound for Kannapolis against Greensboro's RHP Michael King (8-6, 3.14 ERA). The Intimidators return home on Monday, Aug. 7, to begin a 7-game home stand, and tickets are available by calling the F&M Bank Box Office at 704-932-3267, or by visiting IntimidatorsBaseball.com.