Adolfo powers Intimidators past Crawdads
White Sox prospect blasts 10th home run, 22nd double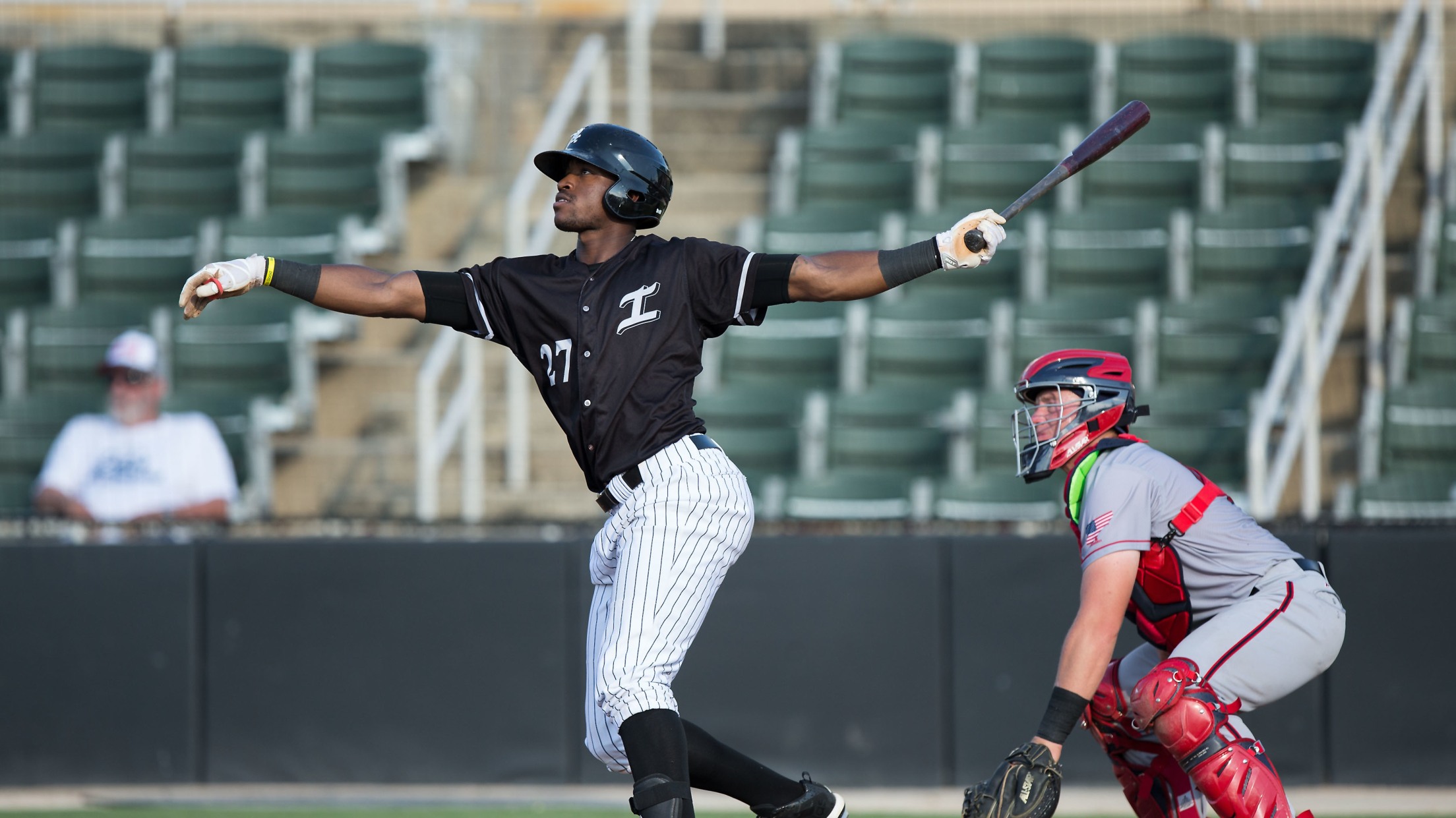 Micker Adolfo paced Kannapolis at the plate, going 2-for-3 with a home run, a double, three RBI, and a run scored in a 4-1 win over Hickory on June 26, 2017. (photo by Brian Westerholt/Four Seam Images)
KANNAPOLIS, N.C. (June 26, 2017) - Micker Adolfo drove in three runs, including two on his 10th home run of the season, as the Intimidators topped the Hickory Crawdads, 4-1, on Monday night at Intimidators Stadium supported by Carolinas HealthCare System. Kannapolis (4-1 Second Half, 43-30) continued its hot start
KANNAPOLIS, N.C. (June 26, 2017) - Micker Adolfo drove in three runs, including two on his 10th home run of the season, as the Intimidators topped the Hickory Crawdads, 4-1, on Monday night at Intimidators Stadium supported by Carolinas HealthCare System. Kannapolis (4-1 Second Half, 43-30) continued its hot start to the Second Half of the season after finishing the First Half as Northern Division champions.
HEAR THE HIGHLIGHT: Micker Adolfo blasts 10th home run
Adolfo finished 2-for-3 with a home run, a double, three RBI, a walk, and a run scored to lead an Intimidators offense that collected 10 hits on the night.
Intimidators starting pitcher Luis Martinez (2-0) bounced back after allowing a run in the first to keep the Crawdads off the board over his final five innings of work. The right-hander limited Hickory to one base runner from the end of the first inning into the sixth as 15 straight Crawdads failed to reach base safely - Leody Taveras reached on an error. Martinez finished with 6.0 innings of work, allowing a run on three hits with two walks and five strikeouts to earn the win
Hickory struck for a quick 1-0 lead in the top of the first as Alex Kowalczyk doubled to bring home Leody Taveras, but the lead didn't last long.
In the home half of the first, Adolfo catapulted Kannapolis ahead with a 2-run home run (10) to the opposite field, launching a 360-foot bomb to right field, scoring Aaron Schnurbusch for a 2-1 advantage.
Grant Massey led off the bottom of the second with a base hit and moved to third on a Daniel Gonzalez double. Massey scored on a Sam Dexter groundout for a 3-1 lead. Adolfo added an RBI-double - his 22nd double of the season, one shy of the South Atlantic League lead - in the fifth inning for a 4-1 lead.
Victor Diaz, who was reinstated off the Disabled List earlier in the day, worked a scoreless seventh inning, touching 98 m.p.h. with his fastball. Danny Dopico tossed a scoreless eighth and ninth for the 6-out save (2).
HIckory's Sal Mendez (4-4) took the loss, allowing four runs (two earned) on seven hits over 5.0 innings. Jairo Beras - a former Texas Rangers outfield prospect - made his pitching debut for Hickory with a scoreless eighth inning, throwing only fastballs and sitting between 95-98 m.p.h.
The Intimidators continue this series against the Crawdads on Tuesday at 7:05 p.m. as RHP Yosmer Solorzano (2-5, 5.51 ERA) takes the mound for Kannapolis against Hickory's RHP Kyle Cody (2-6, 3.92 ERA) . Tuesday's game is BINGO Night where fans can play BINGO between innings to win Intimidators prizes. Tickets are available by calling the F&M Bank Box Office at 704-932-3267 or by visiting IntimidatorsBaseball.com.