Aggressiveness fueling Humphreys' breakout
Mets No. 29 prospect among SAL leaders in multiple categories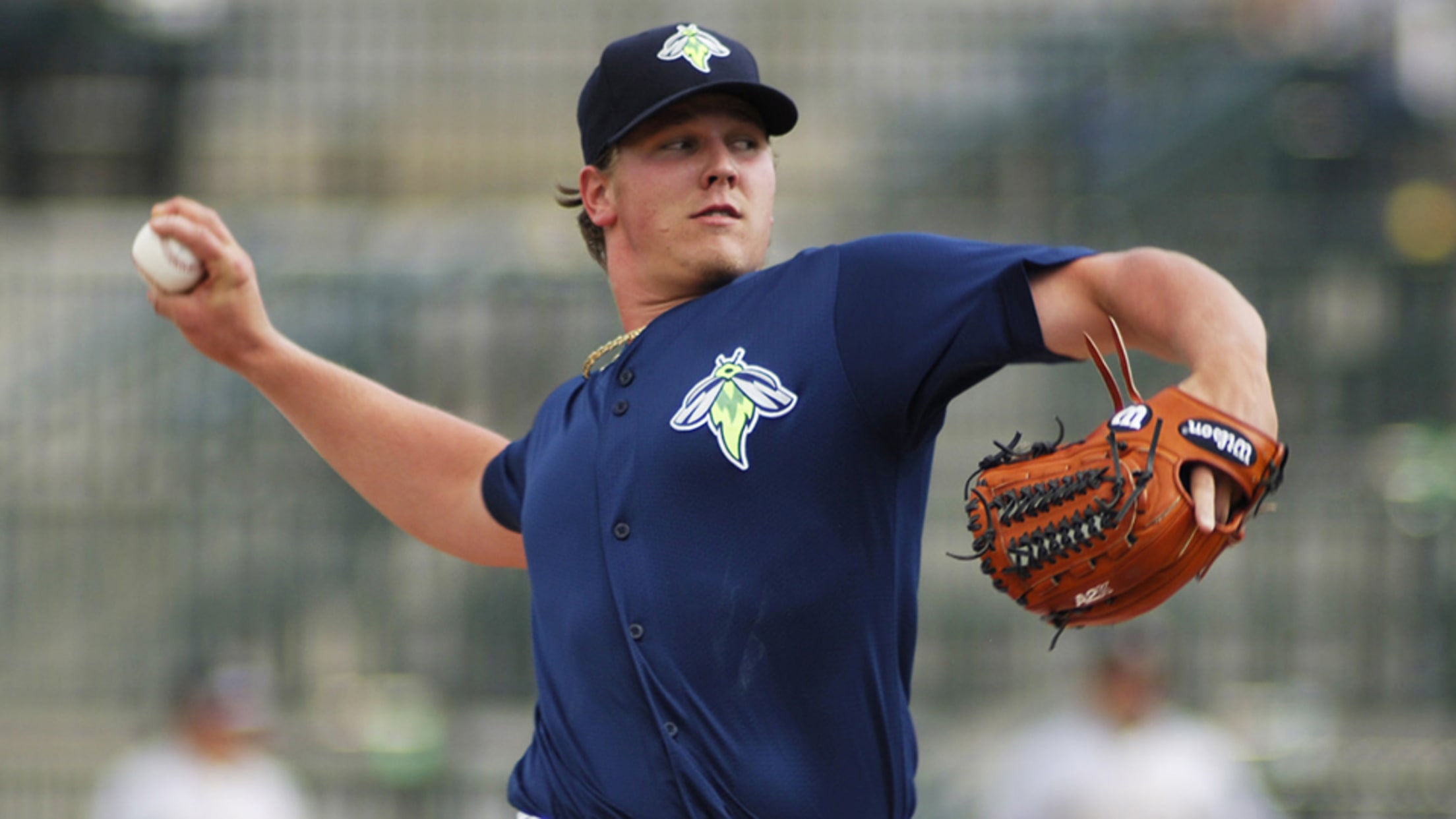 Jordan Humphreys has triumphed in 10 of 11 starts this year after winning three of 13 in 2016. (Lianna Holub/Columbia Fireflies)
COLUMBIA, South Carolina -- When a prospect makes that first big leap in his development, fans and scouts look for a jumping-off point or event that turned the tide for that player. It could be a new pitch, a tweak in a swing or adopting a better in-game approach.No. 29
COLUMBIA, South Carolina -- When a prospect makes that first big leap in his development, fans and scouts look for a jumping-off point or event that turned the tide for that player. It could be a new pitch, a tweak in a swing or adopting a better in-game approach.
No. 29 Mets prospectJordan Humphreys has taken a slightly different path, he just needed to put in some time on the mound. Another year of experience was all the Fireflies right-hander needed to become a dominant force and earn a spot on the Southern Division team for Tuesday's 58th annual South Atlantic League All-Star Game.
Humphreys, an 18th-round selection by New York in 2015, had a fairly nondescript 2016 with Rookie-level Kingsport and Class A Short Season Brooklyn -- going 3-6 with a 3.58 ERA and a 1.17 WHIP. Nothing to suggest his emergence during his first foray in a full-season circuit.
"I took last year pretty seriously and I took Spring Training pretty seriously," the Crystal City, Florida native said prior to the midsummer classic. "Last year, I made a couple adjustments with my delivery and it's helped out. I'm more aggressive with every pitch I throw."
Fireflies' Winningham rules at rain-shortened game
That's been evident at the top of the Sally League pitching leaderboards, with Humphreys pacing the circuit in wins (10), ERA (1.42), WHIP (0.72) and shutouts (one) while his 80 strikeouts rank third. What sets the baby-faced 21-year-old apart from his peers is unparalleled command, he's issued only nine walks and allowed just two home runs.
The aggression isn't evident from watching Humphreys on the mound. He doesn't display much, if any, emotion in his body language, and his delivery seems to lull the hitter to sleep before a low-90s fastball, curveball or changeup jumps out of his hand. Each pitch and even the pacing tries to match the one before it, an integral part of Humphreys' change.
"Having a good tempo makes your curveball and changeup a lot better," he said. "I knew it was working when I kept getting outs and having quick innings."
Quick innings have been another factor in Humphreys' success this season. He's completed at least six frames in all but one of his 11 starts and thrown less than 100 pitches in both of his double-digit strikeout games.
Humphreys did not play in Tuesday's game after going six innings on June 16 during a 4-1 win over the Charleston RiverDogs.
Shifting on Mother Nature: The Columbia grounds crew had its work more than cut out for it prior to the All-Star Game. It rained steadily throughout the day with no extended break in the precipitation. As late as 6:10 p.m. ET, the tarp covered the infield and there was no action anywhere on the field.
Within 50 minutes, the Fireflies grounds crew -- led by head groundskeeper Danny Losito -- removed the tarp, dumped and raked dozens of quick-dry bags into the infield clay and had the lines drawn in time for a 7:15 p.m. first pitch.
Rain continued to fall during the entire game, ultimately resulting in the contest being called in the eighth inning. The outfielders maintained their footing while the grounds crew made regular trips to the infield, mound and home-plate areas to apply more quick-dry mix.
Michael Echan is a contributor to MiLB.com.