Aguiar Mashes Mussels Past Threshers 9-5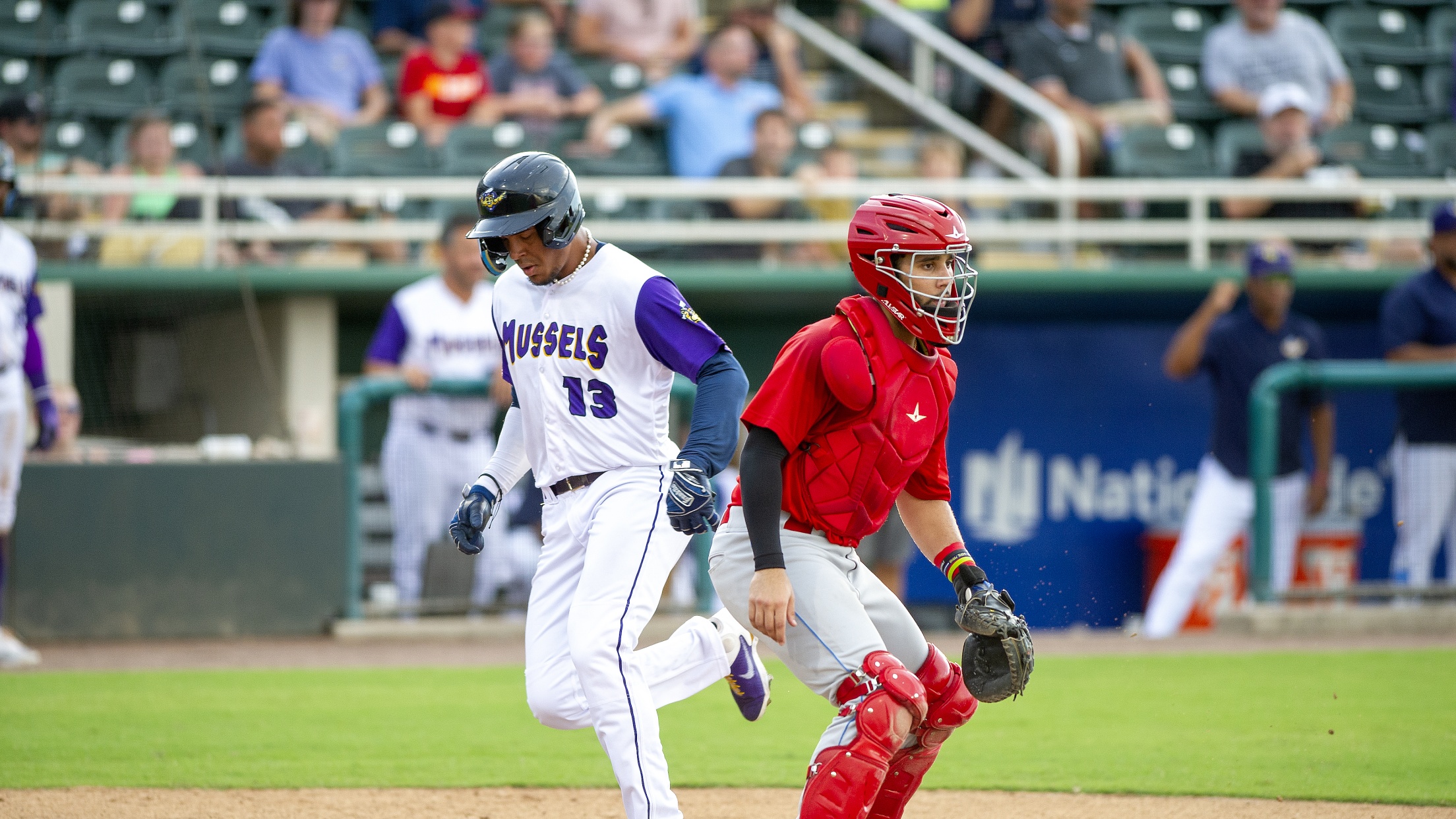 FORT MYERS, Fla. (July 12, 2022) – Carlos Aguiar dominated at the plate all night for the Mighty Mussels Tuesday, leading Fort Myers to a 9-5 win over the Clearwater Threshers at Hammond Stadium. Aguiar went a perfect 4-for-4 with a double, home run and 3 RBI. Dating back to
FORT MYERS, Fla. (July 12, 2022) – Carlos Aguiar dominated at the plate all night for the Mighty Mussels Tuesday, leading Fort Myers to a 9-5 win over the Clearwater Threshers at Hammond Stadium.
Aguiar went a perfect 4-for-4 with a double, home run and 3 RBI. Dating back to his game on Saturday in Tampa, the Venezuela native is 7-for-8 with three home runs and six RBI.
Kala'i Rosario also delivered a home run in Tuesday's win, a long solo shot to center field in the third. Rosario has hit five home runs in his last 17 games.
Mussels' (45-32, 4-9) left-hander Jordan Carr (1-0) tossed three shutout innings in relief to earn the win. The Maryland native allowed just one baserunner to close out the victory.
After falling behind 1-0, Fort Myers got a leadoff single from Misael Urbina in the bottom of the first. After a Noah Miller walk, the duo completed a double steal. Rosario then plated Urbina with a groundout before Mikey Perez cranked an RBI double off the left field wall to give the Mussels a 2-1 lead.
Clearwater (40-41, 5-11) battled back for a run in the top of the second, but Aguiar responded with a one-out single in the bottom. The next batter was Nelson Roberto, who smoked an RBI triple down the right field line to put the Mussels back in front 3-2. Urbina followed with a sacrifice fly to plate Roberto and make it 4-2.
Once more, the Threshers plated a singular run in the top of the third to make it 4-3. Rosario quickly responded with his homer to make it 5-3. Two batters later, Noah Cardenas singled to center before Rubel Cespedes advanced him to third on a pop fly double. Aguiar followed by ripping a double into the right field corner to score both runners and cap the inning at 7-3.
In the top of the fifth, Andrick Nava lifted a two-run homer to left to cut the deficit in half and make it 7-5.
However, Aguiar once again provided the answer by pulling a solo homer to right to make it 8-5. The Mussels tacked on one more the sixth when Urbina reached on an error and scored on a wild pitch.
The Mighty Mussels and Threshers will play a 12 p.m. matinee on Wednesday. LHP Jaylen Nowlin (3-3, 4.78) is slated to start for Fort Myers against RHP Eiberson Castellano (1-2, 2.83) of Clearwater. Coverage begins at 11:45 a.m. on the Mighty Mussels Baseball Network.