Ahoy! Grizzlies go deep six times again, cruise past Ports 13-6
Warming Bernabel: 2 HR (2nd straight game with feat); Yanquiel Fernandez: 5-for-6, HR, 4 R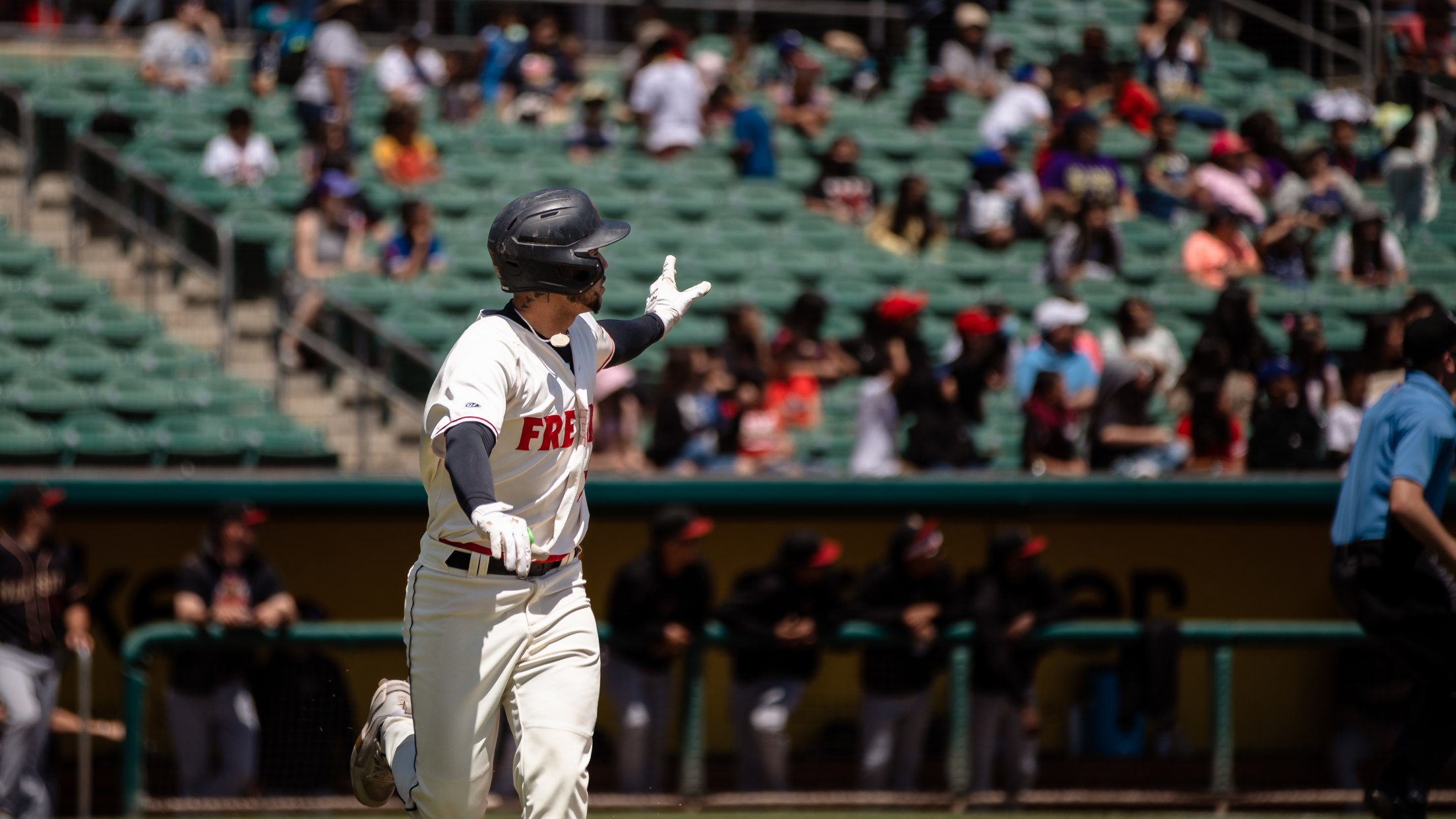 Stockton, CA (Wednesday, June 29) – The Fresno Grizzlies (43-28, 2-3) rumbled past the Stockton Ports (25-46, 0-5) 13-6 Wednesday evening from Banner Island Ballpark. With the triumph, the Grizzlies improved to 15-2 (+83 run differential, 148-65) against the Ports this year, 32-9 against Stockton over the past two seasons
Stockton, CA (Wednesday, June 29) – The Fresno Grizzlies (43-28, 2-3) rumbled past the Stockton Ports (25-46, 0-5) 13-6 Wednesday evening from Banner Island Ballpark. With the triumph, the Grizzlies improved to 15-2 (+83 run differential, 148-65) against the Ports this year, 32-9 against Stockton over the past two seasons and 19-1 at Banner Island Ballpark (8-0, 85-24 run differential this year).
After scoring 22 runs on 20 hits with six homers Tuesday, the Grizzlies offense decided to add to their series totals with another double-digit effort. Fresno powered 13 runs on 16 hits with another six longballs. The 12 clouts over two contests are the most hit by the Grizzlies in a two-game span since July 17-18, 2017 at Las Vegas. For the second straight night, Warming Bernabel blasted a pair of two-run shots, giving him four in the series. Bernabel drove in five runs (10 total in series) for the second consecutive contest and scored three times, extending his hit streak to nine games.
Yanquiel Fernandez, Zach Kokoska, EJ Andrews Jr. and Aiverson Rodriguez all chipped in with solo bombs to help the Grizzlies earn the win. Fernandez collected five hits, the most by a Fresno batter since Andrew Stevenson and Matt Reynolds on June 23, 2019 at Salt Lake. He scored four times and ended his evening a triple shy of the cycle for the second straight game. Kokoska lengthened his hit streak to seven games, joining Bernabel and Fernandez on going deep in back-to-back affairs. Andrews Jr. ripped three hits and drove in a pair of runs while Rodriguez notched his third round tripper of 2022.
The offensive outburst helped Grizzlies starter Case Williams (6-2) relish the victory. Williams tossed five innings, striking out seven. He gave way to three relievers, who combined to hurl four scoreless frames. The trio of arms fanned four for Fresno. Ports righty Luke Anderson (4-5) suffered the setback after four-plus innings of work. He allowed nine runs on nine hits and three walks.
Despite the loss, Stockton scattered 12 hits with three batters notching multi-hit affairs. Alexander Campos reached base five times, spanking four singles and scoring twice. Junior Perez provided a double among his three hits and plated a pair of Ports' runners. Marcos Brito swatted a two-run tank and mustered three RBI for Stockton. The clubs are back in action tomorrow night from Banner Island Ballpark.
Top Performers: Fresno Grizzlies (Colorado Rockies)
• 3B Warming Bernabel (3-5, 2 HR, 5 RBI, 3 R, BB, SB)
• RF Yanquiel Fernandez (5-6, HR, 2B, 2 RBI, 4 R)
• CF EJ Andrews Jr. (3-5, HR, 2 RBI, 2 R)
Top Performers: Stockton Ports (Oakland Athletics)
• CF Junior Perez (3-5, 2B, 2 RBI, R, SB)
• 3B Alexander Campos (4-4, 2 R, BB)
• RF Marcos Brito (1-4, HR, 3 RBI, R, BB)
On Deck:
Thursday, June 30 @ Stockton Ports, Fresno RHP McCade Brown (0-3, 5.45) vs. Stockton RHP Dheygler Gimenez (0-0, 6.00), 7:05 pm PT
ON THAT FRES-NOTE:
Fresno has mashed 43 homers over their 17 affairs against Stockton this season, with four contests of five taters or more. On the other side of the ball, the Grizzlies' pitching staff has struck out 149 batters over the past 13 contests against the Ports.