Akron duo, Dahl highlight Eastern All-Stars
Top Indians prospects Zimmer, Frazier selected to play for home fans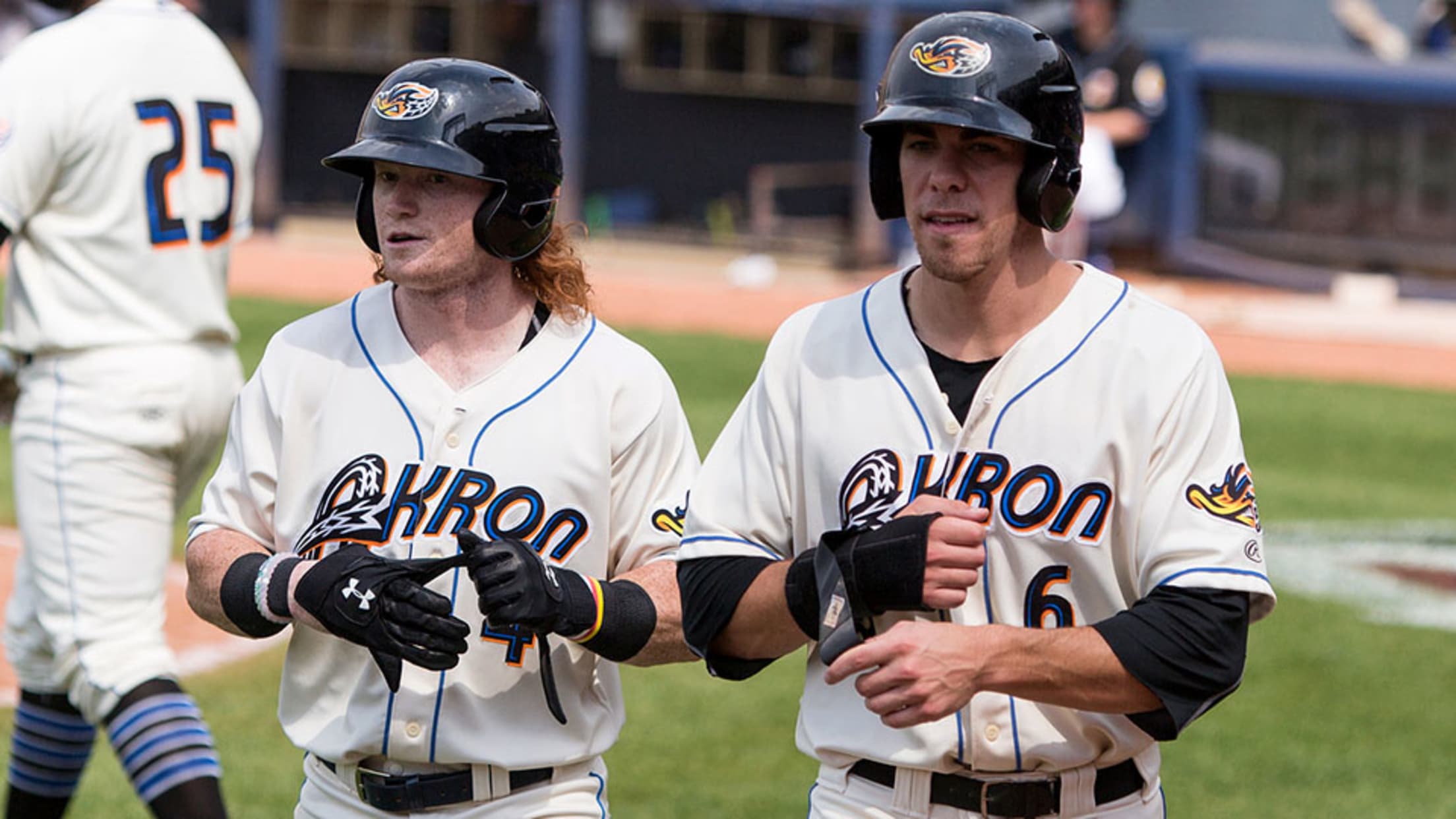 Clint Frazier (left) and Bradley Zimmer were first-round picks in 2013 and 2014, respectively. (David Monseur/MiLB.com)
Akron fans have had a chance to see many impressive performances from RubberDucks outfielders Clint Frazier and Bradley Zimmer through the first half of the season. Now they'll get to see the pair honored for their play at this year's Eastern League All-Star Game on July 13 at Akron's Canal
Akron fans have had a chance to see many impressive performances from RubberDucks outfielders Clint Frazier and Bradley Zimmer through the first half of the season. Now they'll get to see the pair honored for their play at this year's Eastern League All-Star Game on July 13 at Akron's Canal Park.
The Indians' top two prospects were named to the Western Division All-Star team Thursday and headline a group of five MLB.com top-100 prospects set to participate in this year's Eastern League midsummer classic. The rest of that group includes Hartford outfielder David Dahl and Reading catcher Jorge Alfaro on the Eastern Division squad and Richmond shortstop Christian Arroyo on the Western side.
Playing in his first season at the Double-A level, Frazier -- MLB.com's No. 23 overall prospect -- will likely start in center field for the Western Division hosts. The 21-year-old has put together a .286/.371/.474 line with nine homers, one triple, 21 doubles and nine steals in his first 69 games with Akron. Zimmer, likely a reserve, doesn't have the average of his fellow RubberDucks outfielder, hitting .237 in 73 games, but earned his spot by showing a nice mix of power and speed with 12 homers and 27 stolen bases.
The pair will be joined by Arroyo on the Western team as the Giants' top prospect has performed well in his first season with Richmond. The 21-year-old shortstop has a .276/.318/.385 line with two homers, a triple and a league-best 22 doubles over 70 games with the Flying Squirrels.
The Eastern Division will have some firepower of its own in Dahl and Alfaro, both of whom will likely start after winning the fan portion of the voting for their positions.
Dahl, the Rockies' No. 2 prospect, returned to the Eastern League following a 2015 campaign in which he played only 73 games due to a ruptured spleen and has thrived with a .286/.377/.518 line with 13 homers, two triples, 21 doubles and 16 steals for Hartford, which has played the entire first half of the season on the road due to stadium issues. Playing in his first full season in the Phillies system after coming over from the Rangers in last year's Cole Hamels deal, Alfaro has done some damage himself with a .301 average, .820 OPS and nine homers in 51 games for Reading.
Speaking of the Fightin Phils, Philadelphia's Double-A affiliate will provide plenty of power to the Eastern Division side with co-Minor League home run leaders Dylan Cozens and Rhys Hoskins, who have each gone deep 21 times for Reading, slated to come off the bench in Akron.
The most interesting pitcher named to either All-Star team, from a prospect standpoint, is Giants No. 2 prospect Tyler Beede, who made headlines Wednesday by taking a perfect game into the sixth inning for Richmond. The 23-year-old right-hander is 5-4 with a 2.71 ERA, 1.23 WHIP and 69 strikeouts in 86 1/3 innings with the Flying Squirrels this season and was one of six pitchers voted onto the Western Division staff.
Eastern League ERA leader Dietrich Enns (1.93) highlights the Eastern Division arms.
The complete Eastern League Eastern Division and Western Division All-Star rosters can be found at those links. (For mobile users, go to www.milb.com/asg for info.)
Sam Dykstra is a reporter for MiLB.com. Follow and interact with him on Twitter, @SamDykstraMiLB.