'Ducks go back-to-back twice in one inning
Paulino, Bradley, Papi, Haase belt homers in eight-run seventh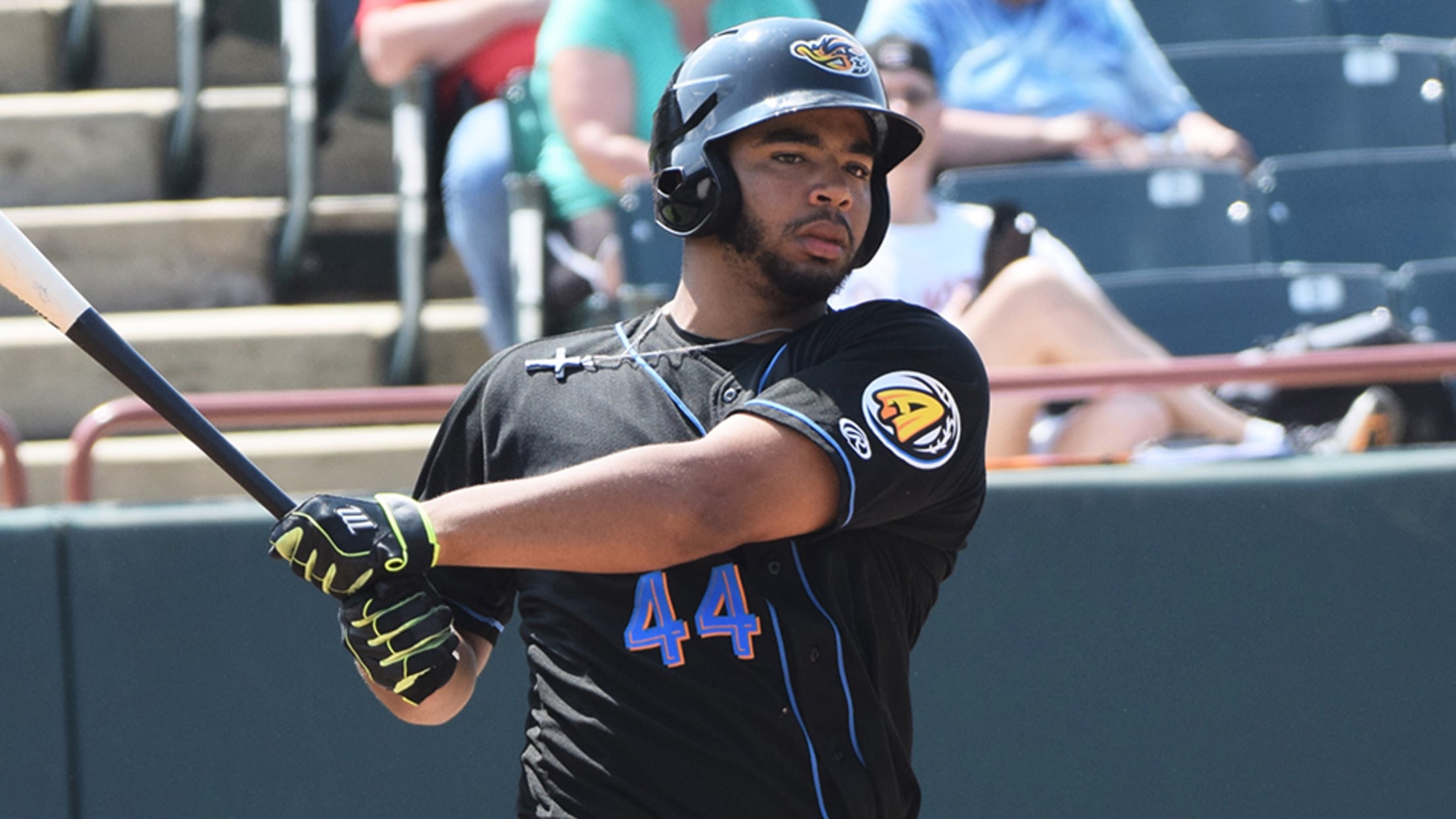 Bobby Bradley has two homers and three RBIs in his last three games for Akron. (Patrick Cavey/MiLB.com)
With his team trailing Double-A Akron by two runs on Sunday afternoon, Bowie reliever Jesus Liranzo opened the seventh inning by striking out Joe Sever. But it was all downhill from there.The RubberDucks sent 11 batters to the plate, hit four homers in the eight-run inning and rolled to an
With his team trailing Double-A Akron by two runs on Sunday afternoon, Bowie reliever Jesus Liranzo opened the seventh inning by striking out Joe Sever. But it was all downhill from there.
The RubberDucks sent 11 batters to the plate, hit four homers in the eight-run inning and rolled to an 11-2 victory over the Baysox at Prince George's Stadium. Akron was the beneficiary of two sets of back-to-back homers in the frame.
"I was out coaching third so I wasn't in the dugout, but I just felt like that inning we got some good pitches to hit and we put some good swings on the ball," Akron manager Mark Budzinski said. "It's good to see those guys continue to focus and have a good approach, so we just got good swings on the ball."
Box score
After Sever struck out, Liranzo plunked Indians No. 9 prospect Greg Allen and allowed a double to 18th-ranked prospect Tyler Krieger before Dorssys Paulino smacked a three-run shot to push the 'Ducks' lead to 6-1.
No. 4 prospect Bobby Bradley worked the count full and followed Paulino's homer with a solo shot, his fifth, to chase Liranzo.
"Guys were focused and not giving at-bats away today," Budzinski said. "Just staying through the middle of the field and putting good swings on the ball."
Liranzo's replacement, Jed Bradley, issued a four-pitch walk to Indians No. 11 prospect Yu-Cheng Chang and gave up a two-run homer to Mike Papi, who went 6-for-11 with a pair of long balls in the three-game series.
"[Papi has] been much more aggressive at the plate here these last four or five games, and he's showing it," Budzinski said. "He's starting to drive the ball and he's using the whole field and I really like where he's at now, being aggressive in the zone and ready to do some damage, and he's been swinging the bat well."
Not to be outdone, Eric Haase sent Bradley's second pitch over the left-center field fence for his second homer of the season. Haase struck out in his previous at-bat in the sixth against rehabbing Orioles left-hander Zach Britton. Three of the RubberDucks who faced Britton -- Bradley, Papi and Haase -- homered in the seventh. Papi singled off the All-Star closer, while Chang bounced out.
"[Britton] certainly is one of the better pitchers in the big leagues right now. We did face him two nights ago as well, so I think a couple of those guys got a look at him at some point," Budzinski said. "We got a team of guys that come ready to play every day and stay focused and they're trying to get good at-bats, no matter who they face.
"But certainly Britton threw the ball well today and he was efficient with his pitches."
Chang walked twice and chipped in a homer, his sixth, in the second, while Krieger doubled and reached on an error twice, both times allowing the 'Ducks to plate a run.
Gerard Gilberto is a contributor to MiLB.com. Follow and interact with him on Twitter, @GerardGilberto4.