Isotopes' Howard dazzles for eight innings
Rockies No. 14 prospect fans 10 in longest start of season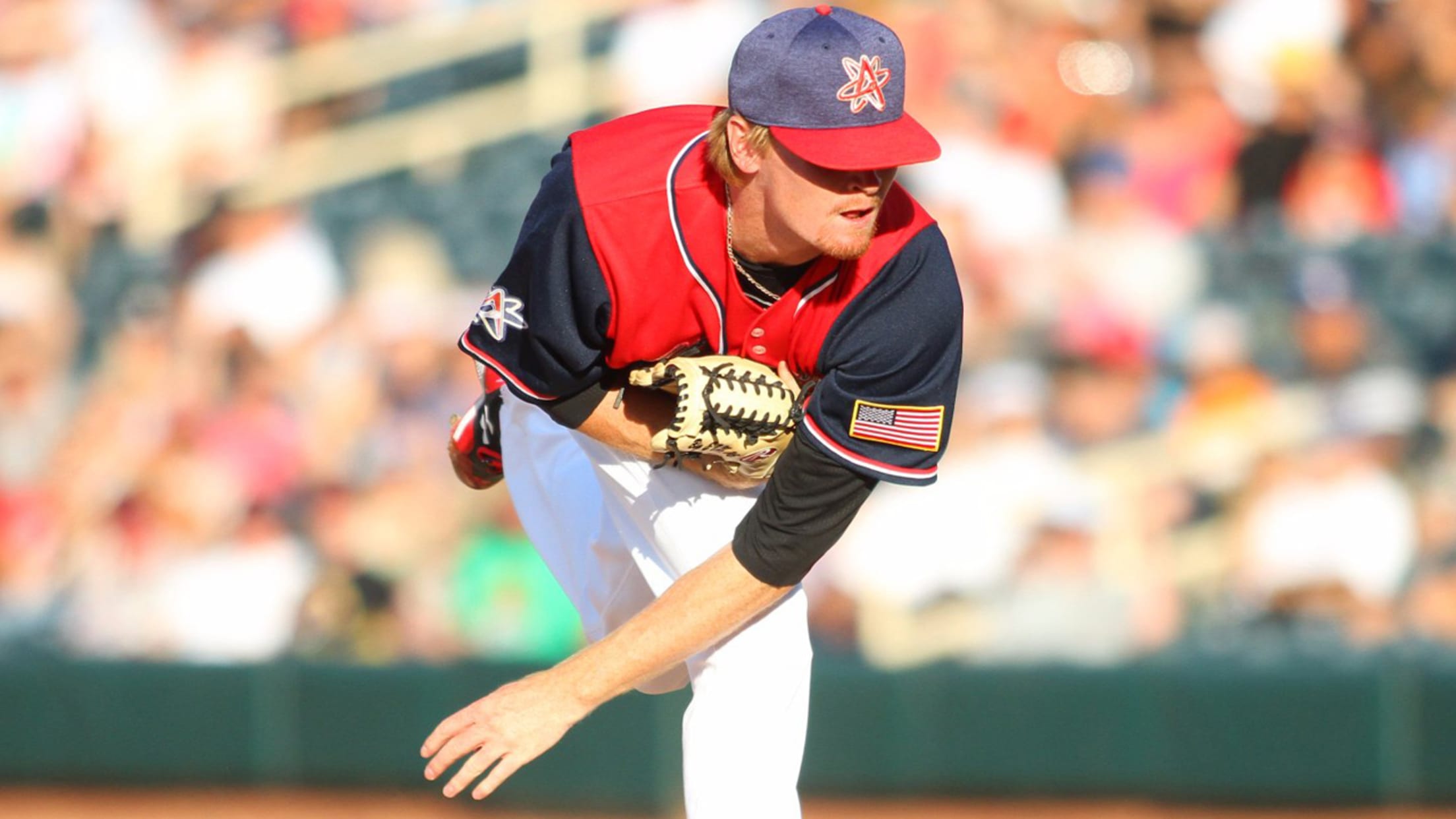 Sam Howard dropped his Triple-A ERA from 5.12 to 3.62 with Tuesday's outing, his fifth at the level. (Albuquerque Isotopes)
For the last five days, Sam Howard was thrilled to get the ball for his team on the Fourth of July. When his start arrived, he got another exciting component that helped him produce a dominant night.Working with catcher Tom Murphy for the first time, the Rockies' No. 14 prospect spun
For the last five days, Sam Howard was thrilled to get the ball for his team on the Fourth of July. When his start arrived, he got another exciting component that helped him produce a dominant night.
Working with catcher Tom Murphy for the first time, the Rockies' No. 14 prospect spun his best start of the year, matching a career high with 10 strikeouts and allowing three hits over eight innings as Triple-A Albuquerque blanked Sacramento, 2-0, at Isotopes Park.
"I got to throw to him a little bit in big league camp this year, but I've never gotten to play with him, so tonight working with 'Murph' was awesome," Howard said. "He called a great game. He kept all the hitters off-balance and guessing. He had me guessing on the mound. He called an extremely good game. It's easy to work fast and get ahead when your catcher's doing that."
Gameday box score
Murphy was in the Isotopes' lineup for only the second time since returning to Triple-A from a Major League stint. Despite their unfamiliarity with each other in game action, the Rockies' No. 7 prospect gave his pitcher confidence even before the two took the field.
"When I knew that Murph was catching me today and we went over our little game plan with [pitching coach Mark] Brewer before I went out for my routine, I just felt confident that Murph was going to take control of the game," Howard said. "I wasn't going to have to worry about a lot of things tonight other than just executing my pitches."
The battery established a rhythm early. Howard faced two batters over the minimum all night and allowed one runner past first base on Justin Ruggiano's one-out double in the second. The left-hander struck out at least one batter in his first seven innings, didn't issue a walk and, in addition to silencing an opposing lineup, picked up lessons from his new backstop.
"That explains a lot of how tonight went," Howard said. "He had me guessing on the mound because I know how I normally pitch, so I would try to have a good idea of what I was going to throw before I got on the rubber with each pitch. A lot of times, he'd call something else, but I just went with it. It was interesting. I'd ask him after the inning, 'Hey, why did you throw this pitch in this count?' It was good to hear what he had to say from watching the hitter a couple of pitches before and all that. It helps me learn."
It helped that Howard's entire repertoire was on point in front of a sellout holiday crowd.
"My fastball, my changeup, my slider, they were all working for me tonight," he said. "I was throwing them for strikes and then when I was trying not to throw them for strikes to see if they'd chase when I was ahead, I was having success with that."
Howard had little margin for error with Sacramento starter Jose Flores limiting the Isotopes to one hit over seven innings while matching him with 10 strikeouts.
"It makes the game more fun when you've got a good pitchers' duel going on," Albuquerque's starter said. "You've got to stay focused and it's easier to stay focused, I guess you'd say, because you've got to keep your team in the game. If you're throwing a shutout and your team is up by a good bit of runs, it's easy to lose focus and get relaxed in the dugout between innings. That guy was throwing really well tonight, and I was just trying to stand my ground and keep my team in the game."
Flores exited and Howard retired the side in order in the eighth. After his coaches explained that would be the end of his night, he watched as Murphy came through to get him into the win column. The catcher powered a leadoff homer to left field off reliever Tyler Rogers to break the stalemate.
"I was still sitting on the bench, just trying to catch my breath and stuff," Howard said. "When he hit that ball, I jumped up. I was really excited. It's a great feeling. I had a lot of fun throwing to Murph tonight, and then for him to do that after they told me I was done, it was just icing on the cake."
Tuesday's crowd of 15,664 was the fifth-largest in Isotopes Park history and provided an additional boost of energy for Howard.
"Last start, when I saw that I was getting the July 4th game, from then on I was excited," he said. "It's an extra adrenaline rush going into tonight. I don't know exactly how many people were at the game, but guys were talking about 14,000 or 15,000 in the dugout. It was a great crowd. Everybody was into the game. I like the big games. It makes it more fun."
Rockies outfielder Gerardo Parra went 0-for-2 with a strikeout as he rehabs a strained right quad suffered on June 6.
Tyler Maun is a contributor to MiLB.com. Follow him on Twitter @TylerMaun.