Mills spins six perfect frames for Iowa
Right-hander strikes out four as Cubs carry bid into eighth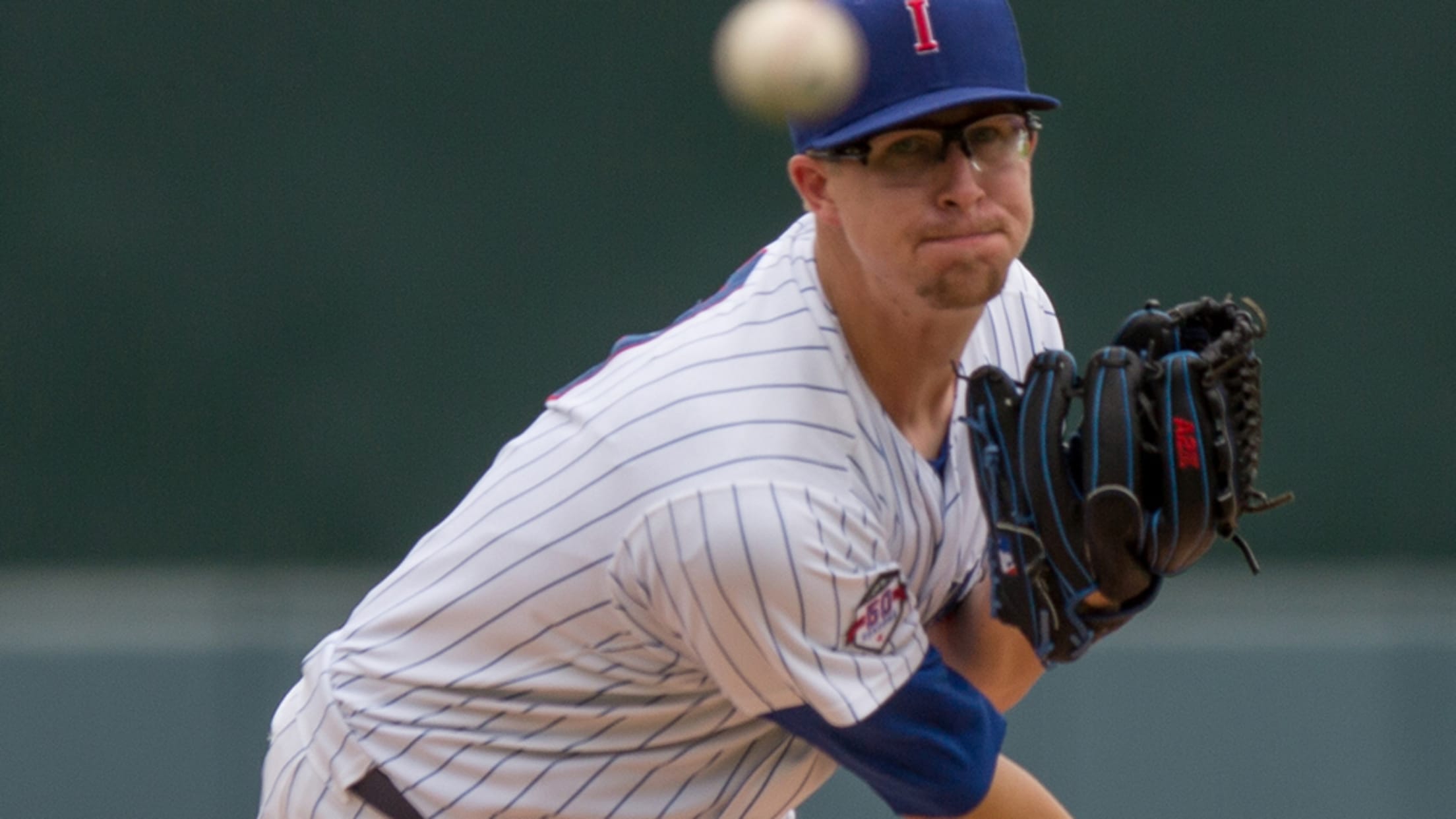 Alec Mills pitched two perfect innings in his Chicago Cubs debut on July 27 at Busch Stadium. (Dylan Heuer/Iowa Cubs)
It had been more than a year since Cubs right-hander Alec Mills posted a scoreless outing in the Minors. He entered the season with 3 1/3 Major League innings under his belt, but was perfect in his lone appearance with the big club this year.The 26-year-old took things a little
It had been more than a year since Cubs right-hander Alec Mills posted a scoreless outing in the Minors. He entered the season with 3 1/3 Major League innings under his belt, but was perfect in his lone appearance with the big club this year.
The 26-year-old took things a little further Wednesday night for Triple-A Iowa.
Mills set down all 18 batters he faced and Rob Zastryzny carried the torch for four more outs as the I-Cubs beat Salt Lake, 6-0, at Principal Park.
"It was a lot of fun up there," Mills said. "I just tried to go out there today and throw a lot of strikes and it worked."
Bees left fielder Jared Walsh snuck a base hit through the right side with one out in the eighth against Zastryzny to spoil the bid for perfection.
"I had the utmost confidence in whoever came in," Mills said. "I think he made a good pitch and the guy just made a good swing. ... I know he wanted it just as bad as I did."
A seven-year veteran, Mills (5-10) fanned four while lowering his ERA to 4.53 in 20 Pacific Coast League starts. The 22nd-round pick of the Royals in 2012 said he benefited from some Salt Lake batters hitting right to the defense early in the contest and complete control of his four-pitch mix.
"The outing definitely could have gone a lot differently," he said. "It was one of those things where I just tried to throw a lot of strikes and they jumped on them, but thankfully they were right at people and then I just settled in."
Gameday box score
Mills has not pitched for Iowa in more than two weeks since a two-inning stint for Chicago on Friday. The native of Clarksville, Tennessee, made his Major League debut for Kansas City in 2016 but first appeared for his childhood favorite Cubs against the arch-rival Cardinals and finished off a 5-2 loss at Busch Stadium.
"It was a lot of fun. I think I read somewhere that it was the largest crowd of the year there," he said. "Just one of those opportunities where you gotta relish it."
The call to the Majors came after one of his stronger starts of the season. On July 22 against New Orleans, Mills yielded a run on five hits and two walks while striking out three over 6 2/3 innings. It was a well-needed closing act after he posted a 6.28 ERA in three prior July starts.
"It's kind of been one of those things where I'm able to command one side of the zone in a night, but not necessarily two," Mills gleaned from his previous struggles. "Or, I've had it for a couple innings but I haven't been able to maintain it."
Mills had eclipsed 100 pitches in five starts this season, but the layoff limited him to a predetermined range of 75 to 80 pitches Wednesday night. After he'd thrown 53 of 75 offerings for strikes through six innings, any efforts to talk his way into finishing the gem became futile.
"It was one of those things where I kind of just said, 'Don't do it.' But [I-Cubs manager Marty Peevey] said he had to," Mills said. "But he was just as upset as I was. It's one of those things where it was his job and actually my job too. I'm thankful for it, but it's just one of those things in baseball."
Zastryzny was lifted after allowing the hit, which followed the I-Cubs' long four-run seventh and a strange strikeout to begin the eighth.
"I think [the delay] didn't help. It was one of those things where, it's baseball. Stuff happens," Mills said.
The left-hander came in on Jose Miguel Fernandez with a 1-1 pitch that appeared to hit the Bees second baseman on the hand, but it was ruled a foul ball by plate umpire Paul Clemons. Salt Lake manager Keith Johnson protested, Fernandez exited the game with an injury and Dustin Ackley pinch-hit with a 1-2 count. The big league veteran offered at a pitch in the dirt and was called out on a check swing.
Dakota Mekkes recorded the last five outs, allowing a single to Bo Way and striking out one while lowering his ERA to 1.57.
Catcher Taylor Davis belted his third homer and plated three runs for Iowa. Cubs No. 25 prospectMark Zagunis and 29th-ranked Jason Vosler contributed RBI doubles.
Gerard Gilberto is a contributor to MiLB.com. Follow and interact with him on Twitter, @GerardGilberto4.