Fagalde posts eight zeros in Double-A debut
St. Louis righty allows two hits, a walk in first start for Springfield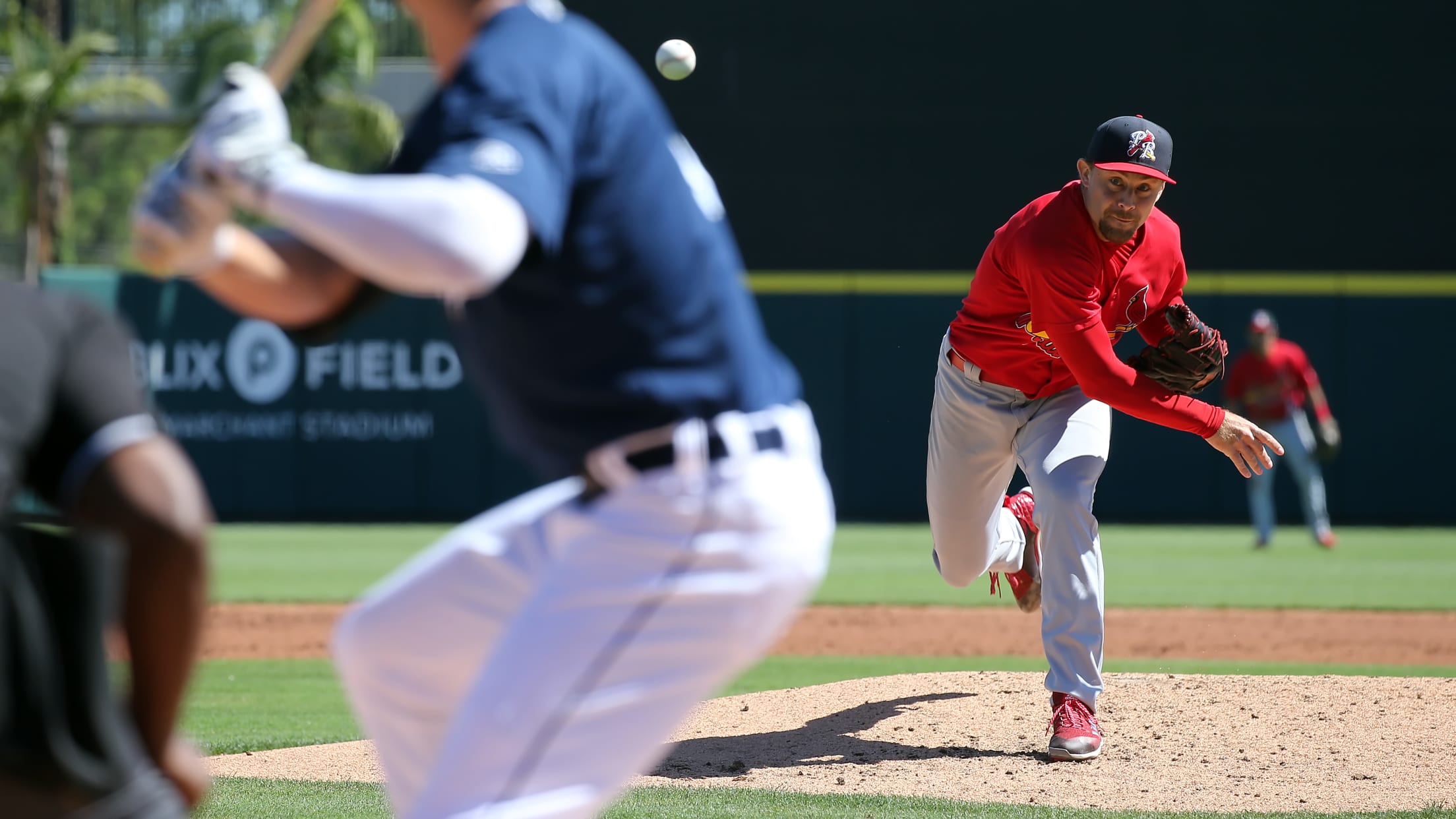 Alex Fagalde sported a 1.99 ERA for Palm Beach this season in the Florida State League. (Cliff Welch/MiLB.com)
Alex Fagalde had no trouble finding success in his first Double-A start Monday. It was getting to it that was the hard part.The right-handed St. Louis prospect made the longest start of his career in his first appearance with Springfield, allowing two hits and a walk while striking out four
Alex Fagalde had no trouble finding success in his first Double-A start Monday. It was getting to it that was the hard part.
The right-handed St. Louis prospect made the longest start of his career in his first appearance with Springfield, allowing two hits and a walk while striking out four over eight innings in a 3-0 win over Midland.
Fagalde was called up from Class A Advanced Palm Beach less than 48 hours before he took the hill at Security Bank Ballpark, and by the time he'd arrived, he'd been through the ringer. Flying from Palm Beach to Dallas to Midland, he experienced multiple flight cancellations and delays as a result of the weather. He spent a total of 12 hours in the airport and over five in the air.
Once the hurler arrived in town, he got just a few hours of much-needed sleep. Then upon returning to the airport in the morning to retrieve his luggage, there was heart-dropping news -- the airline had lost one of his bags. The lone silver lining was that it wasn't the one carrying the gear he needed to play later that day.
Finally putting all the travel concerns finally behind him, Fagalde took the one bag he did have and headed to the stadium to begin the next chapter of his career. Taking the hill hours later, he felt physically and mentally wiped out, with the perhaps expected case of nerves that comes with such a momentous moment.
Gameday box score
That only aided Fagalde's cause apparently.
"Definitely had some jitters at the beginning of the game, but I think it helped me out a little bit," Fagalde said. "Had a tough travel day yesterday, so I think the nerves kind of leveled me out a little bit."
Once the game started, the 25-year-old was nothing short of dominant. He faced the minimum the first time through, then surrendered a single to left field to Athletics No. 13 prospect Luis Barrera to open the fourth and a walk to No. 20 Tyler Ramirez two batters later. Neither would score, however, as Barrera was caught stealing and Ramirez was stranded on a flyout from No. 30 Dairon Blanco, who later delivered the only other hit allowed by Fagalde in the seventh.
The recipe for success for the UC Riverside grad was thriving early in counts. He threw 80 total pitches, as he was able to quickly sit down many of the RockHounds he faced. Of the 23 outs he recorded, 10 came within his first two offerings.
"I threw a lot of strikes," Fagalde said. "I was in the zone a lot, and they're an aggressive team. They were swinging early in the counts. I was just trying to keep them from hitting it too hard. They definitely got pitches to hit there in the strike zone and just missed the barrels a lot."
The 2017 30th-round pick premiered with Springfield after going 6-3 with a 1.99 ERA with Class A Advanced Palm Beach to open the season. Over 13 starts, he held opponents to a .188 batting average. In 2018, he finished the season 10-5 with a 2.16 ERA between Palm Beach and Class A Peoria.
Over that time, he crossed paths with many of the Springfield teammates he joined Monday. The fact he already had some friends and familiar faces to celebrate with made his performance that much more memorable.
"I know a lot of these guys, and obviously, I've gotten to play with them before," he said. "So they were excited to see me, I was excited to see them. ... By the end of the game, yeah, it was cool to see them react. They kind of flipped out in the clubhouse and were making some jokes when I got back in. So we had a lot of fun today at the ballpark."
So after all the disruptive delays, lost luggage and scarcity of sleep, Fagalde was just happy to have arrived in the Texas League -- not to mention that it happened in such impressive fashion.
"I made it," he said. "I made it here, so happy to say that much."
Jordan Wolf is a contributor to MiLB.com. Follow him on Twitter @byjordanwolf.