Lange still putting up zeros for Pelicans
Cubs righty adds six more frames to tally, scoreless over past 19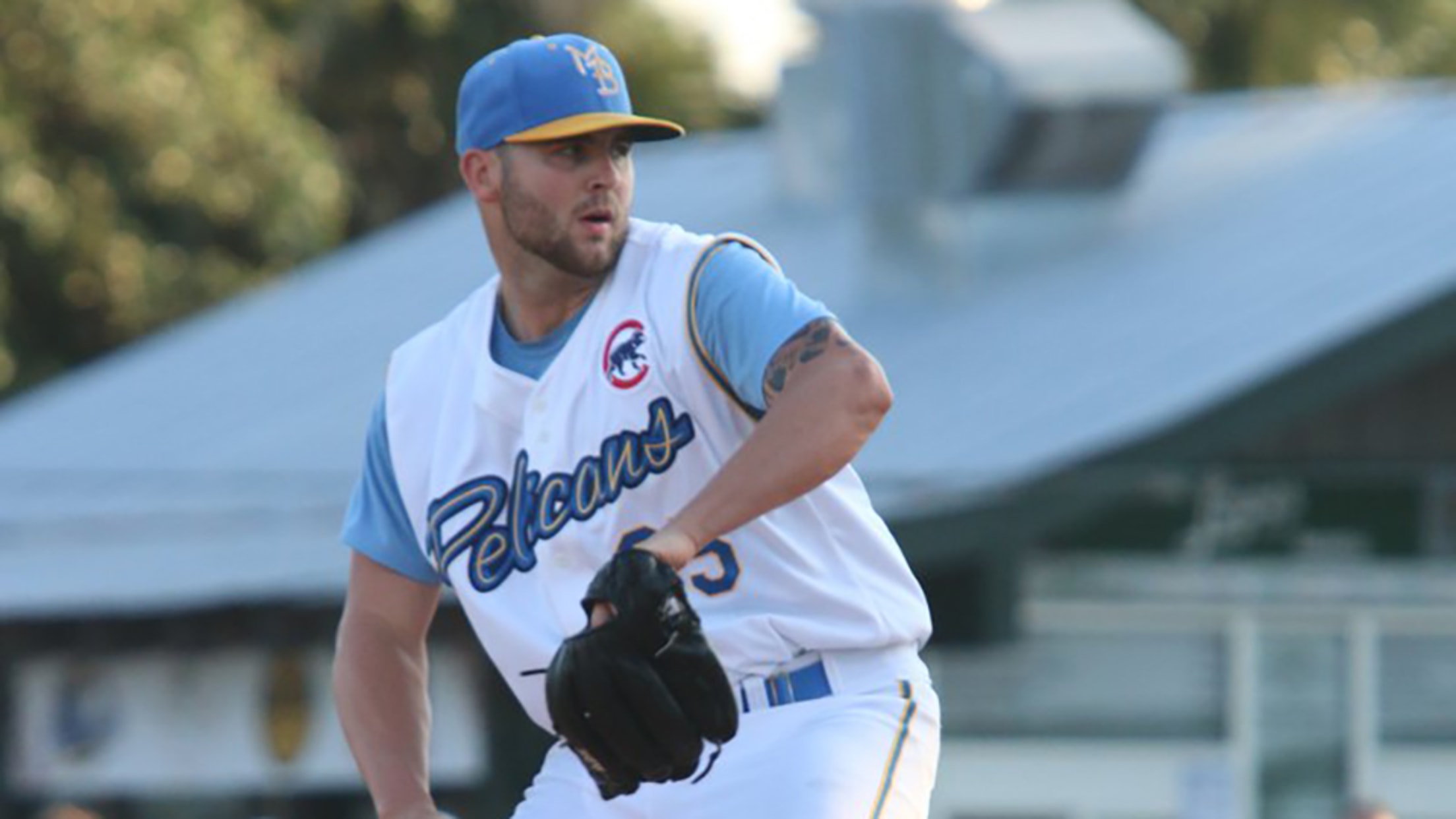 Alex Lange lowered his Carolina League ERA from 4.65 on May 17 to 2.89. (Myrtle Beach Pelicans)
A year ago, Alex Lange had just been taken by the Cubs with the 30th overall pick in the First-Year Player's Draft and was waiting to pitch for Louisiana State in the College World Series.A year later, he was back on a college field under far different circumstances. The Cubs
A year ago, Alex Lange had just been taken by the Cubs with the 30th overall pick in the First-Year Player's Draft and was waiting to pitch for Louisiana State in the College World Series.
A year later, he was back on a college field under far different circumstances. The Cubs No. 5 prospect delivered six shutout innings -- extending his scoreless streak to 19 innings -- as Class A Advanced Myrtle Beach blanked Buies Creek, 4-3, on Wednesday at Jim Perry Stadium, home of the Campbell University Camels.
Gameday box score
"[I] loved being back on a college field," Lange said. "You know what they say about college ... the best three years of your life."
These days, any field has been fine for the 22-year-old. By allowing just one run over his past 22 innings, he lowered his ERA from 4.65 on May 17 to 2.89.
The key, Lange said, has been mixing his pitches.
"I feel like these hitters are more disciplined and they're looking for that one pitch," he said. "They are aggressive early here, but they don't chase as much. But I love taking on the challenge and I'm learning to pitch with different stuff. Fastball, changeup, curve, sinker, it's always fun to take on a new challenge."
Lange (4-2) began his roll that day with five innings of one-run ball against Wilmington, then fanned 10 over six shutout frames against Lynchburg on May 23 and then went five innings against Winston-Salem on May 30.
Over that span, the right-hander allowed 13 hits and two walks while striking out 17. On Wednesday, he gave up two hits and a walk while fanning four. For the season, the Riverside, California native has whiffed 48 while walking 10 in 53 innings.
Lange stood out at LSU, going 30-9 with a 2.91 ERA and 403 strikeouts, the second-most in the school history. While not as dominant as a junior as in his freshman year, Chicago still grabbed him in the first round.
Scouts say Lange's curveball is his out pitch, with downward break that allows him to land it for strikes or make batters chase. His fastball sat 90 to 93 mph as a junior and his changeup was in development, but he says he's made great strides.
"[Velocity] is actually down a little bit, but first-year guys say that happens," Lange said. "I'm not worried about it, not that concerned. I'm working both sides of the plate, using my breaking ball.
"I'm pitching with [the changeup]. I use it when I need to use it, ahead in the count, when I need a strike. I really have confidence to throw it in any count. I feel like I'm able to use it to put away guys. I'm known for my put-away breaking ball, but the changeup has become a pitch for me. ... I'm picking spots with [the curveball], but hiding it away a bit. [Catchers] Jhonny Pereda has been calling great games and P.J. Higgins too."
The Pelicans' offense was led by No. 25 prospect Wladimir Galindo. He doubled to center field in the fourth and crossed the plate on a single by Kevonte Mitchell, and then belted a two-run homer to center that scored No. 2 prospect Aramis Ademan and Andruw Monasterio.
Right-hander Brandon Bailey (1-6) took the hard-luck loss after giving up a run on four hits in five innings for Buies Creek.
But Wednesday was about Bailey's counterpart. Last June he was on his way to Omaha. He couldn't help but take notice this week as the Draft unfolded and seven LSU teammates were taken, including right-hander Zach Hess, who went to the Braves in the 34th round.
"That's when all your dreams come true," he said. "It was an opportunity to fulfill your dream.We had just clinched the super regional [to reach the College World Series] that day at 3 in the morning the day of the Draft, so that day went by fast. My family was in town, so it was a great opportunity and I feel like Major League Baseball does a great job with that event."
Vince Lara-Cinisomo is a contributor to MiLB.com. Follow him on Twitter @vincelara.