Young flirts with no-hitter for Generals
D-backs No. 23 prospect allows one single over six innings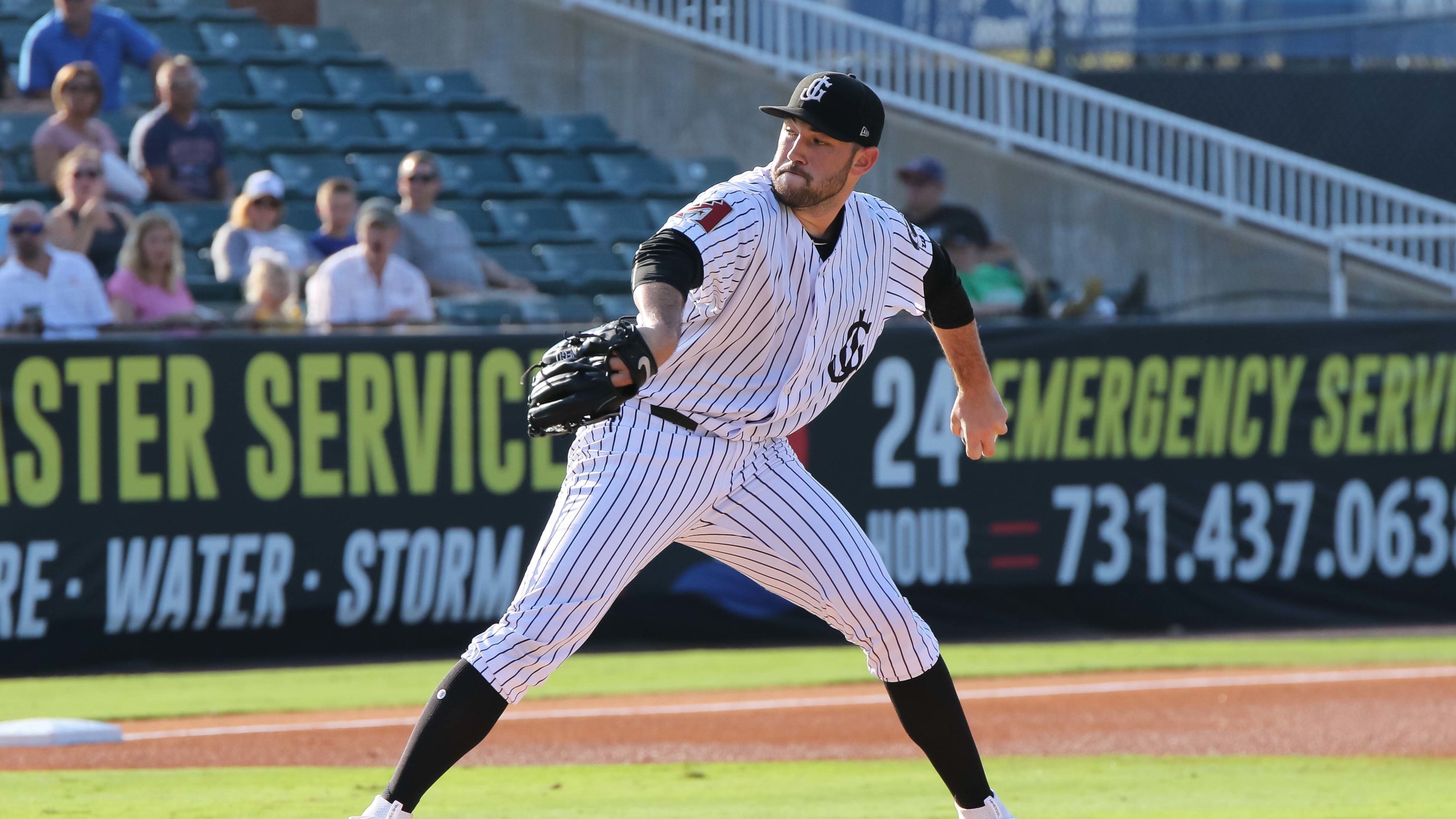 Alex Young has amassed 224 strikeouts and walked 100 while posting a 3.55 ERA over 283 2/3 innings. (Jackson Generals)
Back at the Double-A level for a second straight season, Alex Young made a statement Monday night, coming within four outs of a seven-inning no-hitter.Arizona's No. 23 prospect permitted one single over six frames, piling up eight strikeouts and walking one en route to the win in Double-A Jackson's 7-0
Back at the Double-A level for a second straight season, Alex Young made a statement Monday night, coming within four outs of a seven-inning no-hitter.
Arizona's No. 23 prospect permitted one single over six frames, piling up eight strikeouts and walking one en route to the win in Double-A Jackson's 7-0 shutout of visiting Chattanooga in the opening game of a doubleheader at The Ballpark.
Gameday box score
The gem marked the third time Young (3-0) has gone six or more innings while holding the opposition to one hit, and the first time he's done so at the Double-A level. Last time out, on April 14, he surrendered eight hits -- the most he's given up since Aug. 19 -- and walked two, allowing four runs over five innings against Birmingham in the only one of the year he didn't win.
"The biggest thing last time was leaving curveballs over the plate," the 24-year-old left-hander said. "That was the biggest problem for me. I had a bunch of guys in counts that I wanted and I gave up a bunch of two-strike hits. ... Today, I wanted to throw the curveball, [and] I changed it to a cutter to have that pitch down in the zone as a swing-and-miss pitch."
After walking 13th-ranked Twins prospectLaMonte Wade Jr to start the game, he retired five in a row.
A throwing error by third baseman Juniel Querecuto put Brian Navarreto aboard to open the third, but Young sat down 11 more in succession. Wade broke the string with a grounder through the right side in the sixth, but the 2015 second-rounder whiffed the next hitter to end the frame.
"I had everything working," Young said. "I was throwing mostly first-pitch strikes, and a lot were on curveballs. I was able to use my cutter, but just establishing all my pitches for strikes really helped me for six innings."
Of his 68 pitches, 50 were strikes, and he dipped his 2018 ERA to 3.43. His eight punchouts matched a career high set on June 23, 2016 with Class A Kane County and tied about five weeks later with Class A Advanced Visalia. The Illinois native has fanned 22 and walked four over 21 innings this year.
"A lot of my pitches that were swing-and-misses are changeups," Young said. "That's kind of my bread-and-butter pitch. I can throw that whenever I want. My two-seamers to righties away have been really good. It looks like a fastball outside, then comes in. My cutter is also a pitch that has been on for me. In two-strike counts, I can throw it inside to righties and get swings."
In his first crack at Double-A, the Texas Christian University product went 9-9 with a 3.68 ERA, seventh in the D-backs system, while whiffing 103 batters and walking 58 over 137 innings across 27 games -- 24 starts.
"This year, it's more of the same guys from last year, and new guys and having approaches against them," Young said. "I want to pitch to my strengths. I want to be a smarter pitcher on the mound and have a gameplan instead of getting out there and going inning by inning."
Yoan López, Arizona's No. 26 prospect, took over in the seventh and allowed one hit -- a double to No. 81 overall prospectNick Gordon -- and recorded a strikeout.
Kevin Medrano went 3-for-3 with two doubles, two RBIs and two runs while Jamie Westbrook hit a two-run homer for Jackson.
The Generals also took the nightcap, 7-6, as fourth-ranked D-backs prospect Taylor Widener struck out nine and allowed one run on two hits over five innings. Gordon went 3-for-4 with an RBI, a run and a stolen base for the Lookouts.
Marisa Ingemi is a contributor to MiLB.com. Follow her on Twitter @Marisa_Ingemi.