Gutierrez fans 11 as Whitecaps win 80th
Tigers prospect sets career high for second time in four starts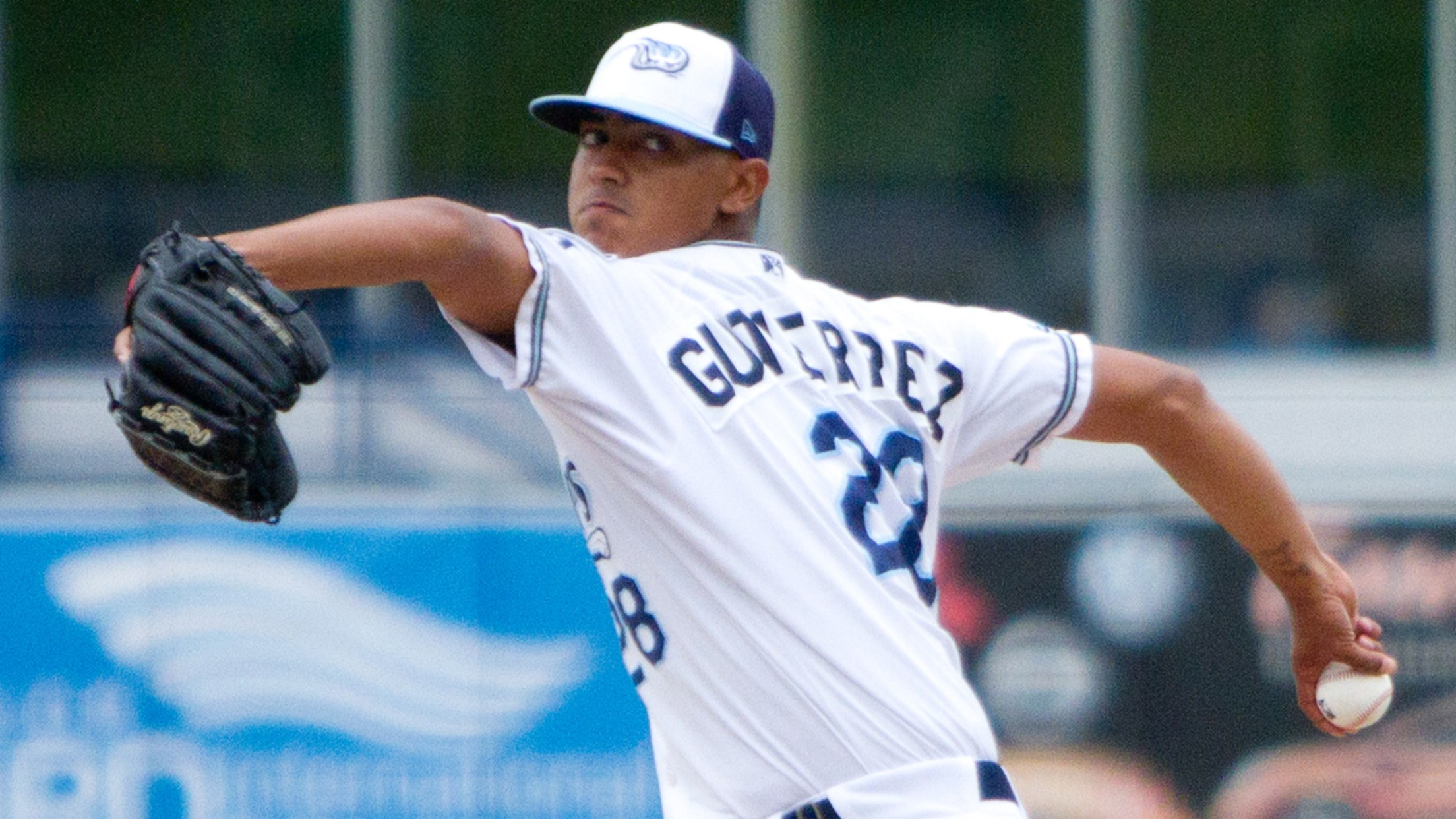 Alfred Gutierrez ranks second in the Midwest League with a 0.96 WHIP and fourth with 114 strikeouts. (Emily Jones/MiLB.com)
Looking to become the first team to 80 wins in the Minor Leagues this season, Class A West Michigan got there swiftly behind one of its most methodical arms.Tigers prospect Alfred Gutierrez recorded a career-high 11 strikeouts while allowing three hits over seven scoreless innings Sunday as the Whitecaps took
Looking to become the first team to 80 wins in the Minor Leagues this season, Class A West Michigan got there swiftly behind one of its most methodical arms.
Tigers prospect Alfred Gutierrez recorded a career-high 11 strikeouts while allowing three hits over seven scoreless innings Sunday as the Whitecaps took over the Minors' wins lead by beating Great Lakes, 6-1, at Fifth Third Ballpark.
"He's a great day game pitcher," West Michigan manager Mike Rabelo said. "He works extremely fast. When runners do reach base, I don't have to put any throw-over signs on because he's so quick to the plate. We don't have to slide-step. When he gets the ball back from the catcher and the umpire, his right foot's on the rubber and he's ready to go. That's why we catch the ball when he pitches because it's quick. It's a good tempo. Everybody wants that. He works fast and he throws strikes. That's the recipe. Every infielder and outfielder is going to like that, especially the catcher."
Gutierrez, who walked two, established a brisk pace early and introduced a new wrinkle against the initial man he faced.
"The first hitter of the game, he threw an 0-2 changeup for a swing and a miss," Rabelo said after Gutierrez fanned No. 4 Dodgers prospectJeren Kendall. "Generally, you don't see many 0-2 changeups to begin with, but now it's like, 'Whoa, wait a second.' Now if he can just put reasonable doubt in hitters' heads -- because they know what he throws -- now if he starts peppering in a changeup to complement his slider with his fastball command, that's when you're going to see strikeouts really piling up."
Gameday box score
That strikeout was a sign of things to come. Gutierrez faced one batter over the minimum through three innings, striking out the side in the second and fanning at least one batter in six of his seven frames. The Venezula native ended his afternoon by punching out Nick Yarnall, establishing a career best in strikeouts for the second time in four starts -- he whiffed 10 against Fort Wayne on July 27.
"His fastball, he throws it over the plate and commands it, and that's why he doesn't walk anybody," Rabelo said. "When he's out there, you know [the game's] going to be moving fast. Coming into today's game, he had 16 walks in 105 innings. That's amazing. And now he's starting to pepper in his changeup -- it's improving -- and his slider.
"What makes him really good is the fastball he commands, and he can move it around in the zone including up in the zone. That's why he gets his strikeouts, as well."
The Whitecaps handed their starter a lead in the bottom of the first when 10th-ranked Tigers prospectDerek Hill worked a leadoff walk, stole second, took third on a passed ball by Steve Berman and scored on a groundout by Cole Bauml.
Courtesy of its first-half Eastern Division title, West Michigan is headed to the playoffs and may get there by sweeping both halves. When the Whitecaps begin postseason play next month, days like Sunday will provide lessons for players like Gutierrez, Rabelo said.
"It's funny because at this level you want guys to be able to throw the fastball over the plate to get ahead. He does that. He already has that," the manager added. "That's his strength, without a doubt. Now he's starting to pepper in his changeups and his sliders more and more, and they're better pitches."
The win was the Whitecaps sixth in seven games and followed Saturday's setback. They haven't lost more than two games in a row since a three-game skid from April 18-20.
"It's been a blast. I don't think you'll find any manager that wouldn't say that. It's been great," Rabelo said. "We kind of have this model, next man up. We've promoted a bunch of players to the Florida State League, which was well-deserved. Now, when guys come up from extended [spring training] or [Class A Short Season] Connecticut or the [Gulf Coast League], next man up. We just plug them right in."
Entering Sunday, West Michigan's 79-35 record was 12 games better than the next-best team in the Midwest League (Quad Cities, 68-48) and 14 1/2 clear of the best team in the other Class A circuit, Hagerstown (65-50) of the South Atlantic League. Only Triple-A Memphis (79-41) had as many wins.
• Get tickets to a Whitecaps game »
"It's a real, real relaxed environment," Rabelo said. "It's a loud clubhouse. These guys play fast. I've been asked the question a million times, 'How do you do this?' I say, 'Well, first of all, it's not me, it's the players. These players have done everything. I'm just the chaperone, I guess. We throw the ball over the plate. That's easy to talk about, not easy to do. We catch the ball. We don't throw the ball to the wrong base and [we have] timely hitting. That's the way it's been all year, every single game."
Tyler Maun is a contributor to MiLB.com. Follow him on Twitter @TylerMaun.