All-Star Jalen Miller stays even-keel in first Double-A season
How a toy bat from SeaWorld sparked Miller's love for baseball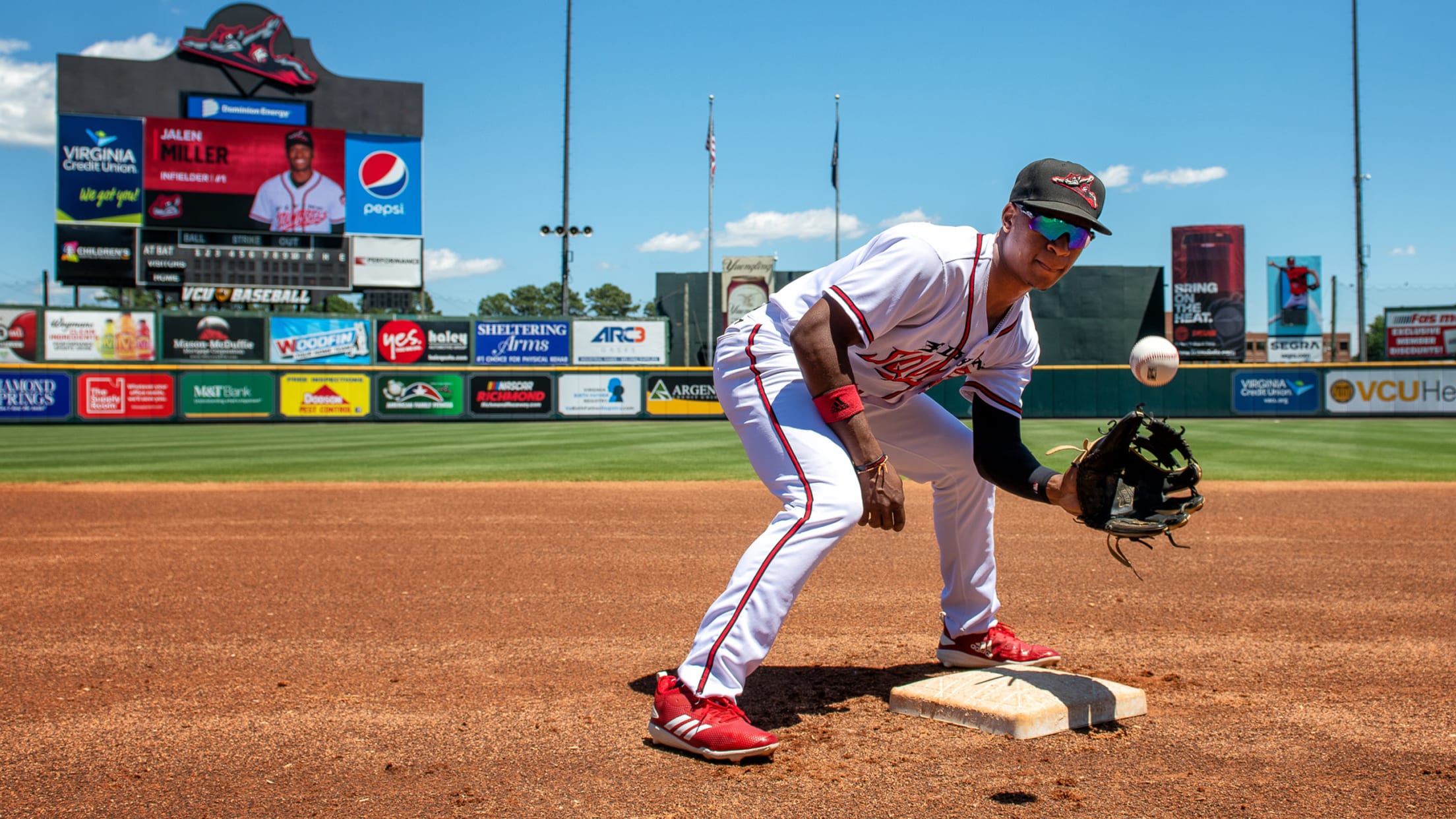 Jalen Miller, 22, is the youngest member of the 2019 Flying Squirrels and was named an Eastern League Mid-Season All-Star in his first year at the Double-A level. (James H Loving)
Originally published in Issue No. 7 of The NutshellThe first bat Jalen Miller ever swung came from SeaWorld.It was red, yellow and blue - hard on the inside but cushioned on the outside - and featured an animated Shamu jumping out of the water. The bat quickly became his favorite toy,
Originally published in Issue No. 7 of The Nutshell
The first bat Jalen Miller ever swung came from SeaWorld.
It was red, yellow and blue - hard on the inside but cushioned on the outside - and featured an animated Shamu jumping out of the water. The bat quickly became his favorite toy, according to his mom Kim Miller, and launched 19 straight year of swinging.
"He took that bat everywhere," Kim said. "We would clear the room and let him swing away…and he would swing it hard."
Fast forward almost two decades and Miller is fulfilling a professional baseball dream he said his parents knew about before he did.
Miller's baseball dreams took shape early on when he would regularly go to Atlanta Braves games at Turner Field, not too far from where he grew up in Atlanta. His family had season tickets, giving Miller ample opportunities to watch Hall of Famers such as former Richmond Brave Chipper Jones and All-Stars such as Andruw Jones and Rafael Furcal. Since Miller was selected by the San Francisco Giants in the third round of the 2015 MLB draft, he's quickly become an eyecatching prospect by displaying some of the skills he saw in those Braves greats as a kid.
His dad Danny Miller fondly remembers hitting groundballs and throwing batting practice to Jalen and his younger brother Jason at a local park every Sunday before or after church. Even then, Danny recognized what doesn't show up in a box score - Jalen's always-steady demeanor.
"(He's) low-key, very humble, always even-keeled," Danny said. "Unless Jalen is really upset, you have no idea he's upset. Which is perfect for a baseball player. You can't be too emotional in the sport. We tried to instill that mindset in him at a very early age."
That even-keel mindset has stayed with him throughout his career, something that Flying Squirrels manager Willie Harris has been impressed with in watching the 22-year-old Miller, the youngest player on the team. "I've never seen him high or low," Harris said. "He's the same guy every day. And I think that's going to be very important throughout the rest of his career. He's going to have a long, successful career."
While his mom says his relaxed personality comes from her, parts of it also come from a diverse athletic background. He played more sports than are countable on one hand as a kid. In addition to playing baseball, one was as likely to find Miller on the football or soccer field, basketball or tennis court, golf course, or even in the dojo practicing Taekwondo (he's a black belt).
"I really didn't take myself too seriously when I did things, and that probably came from playing a lot of sports," Miller said. "I've lost a lot of tournaments, missed a lot of shots in basketball, missed a lot of goals in soccer. Failure comes with sports. It's what happens."
Like many professional players, though, Miller didn't meet much failure on the diamond until after high school. After graduating high school, Miller decided to forgo a potential college career at Clemson and sign with the Giants at just 18 years old, a decision Kim said was completely left to her son. His first three seasons in the minors were an on-the-field struggle. Miller hit below .230 in all three seasons and spent two of his first three seasons playing three time zones away.
"He was on the West Coast three hours behind us, so I would stay up late and wait for him to call me after games," Danny said. "We would talk through big-picture things. I was just there to encourage him."
Those phone calls and Miller's unwaveringly positive attitude worked. He broke through with the Advanced-A San Jose Giants in 2018, setting career bests in batting average (.276), home runs (1f) and RBIs (62), all en route to being named a California League Postseason All-Star. He earned his second career All-Star selection this year when he was named an Eastern League Mid-Season All-Star.
Miller's manager in San Jose and current Flying Squirrels fundamentals coach, Lipso Nava, had a front-row seat for Miller's breakthrough.
"Last year, the more I saw him play every day, the more he impressed me," Nava said. "He was the same even when he was going good or bad. He kept the same composure and demeanor. He failed but then he grew up as a man, as a player."
Nowadays, Miller swings a much different bat than the Shamu bat from nearly two decades ago. But the souvenir bat that started it all remains, duct-taped and all, at his home in Atlanta.
"I still have it today," Kim said. "It was his favorite toy, but he also loved the game so I knew if he ever made it one day, we'd want to have it. This is where it all began, with a Shamu bat from SeaWorld. Who would've thought?"