Maitan, Lavigne highlight Pioneer All-Stars
Idaho Falls' undefeated Cloney to start vs. Northwest squad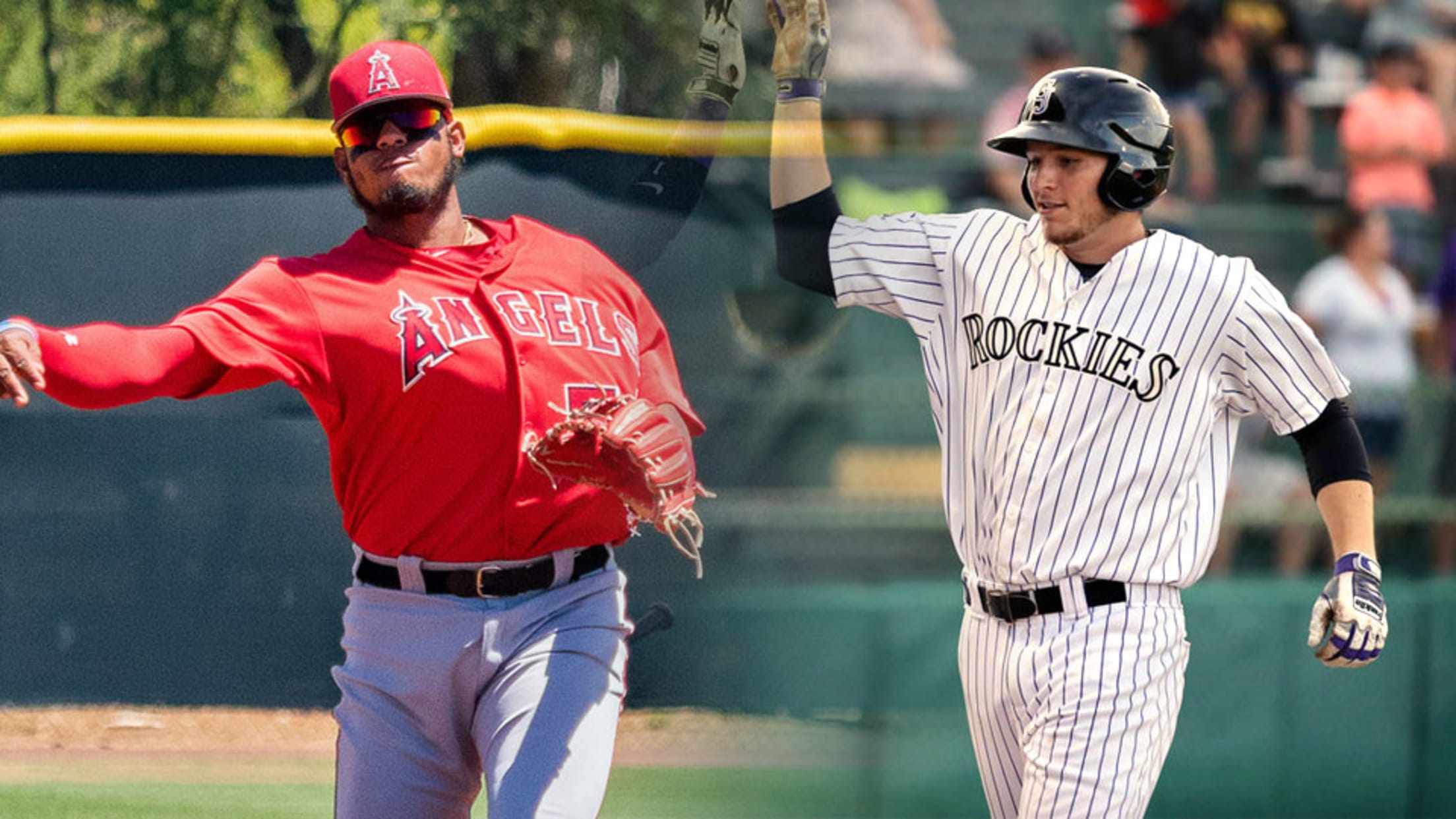 Kevin Maitan (left) and Grant Lavigne were among the big names selected by the Pioneer League. (Freek Bouw, Todd Bennett)
Kevin Maitan may not be starting his first All-Star Game on Aug. 7, but there will be plenty of anticipation to see the Angels prospect emerge at Suplizio Field.Maitan and Rockies prospect Grant Lavigne headline the Pioneer League's 2018 All-Star roster, revealed Wednesday morning ahead of the Pioneer-Northwest League All-Star
Kevin Maitan may not be starting his first All-Star Game on Aug. 7, but there will be plenty of anticipation to see the Angels prospect emerge at Suplizio Field.
Maitan and Rockies prospect Grant Lavigne headline the Pioneer League's 2018 All-Star roster, revealed Wednesday morning ahead of the Pioneer-Northwest League All-Star Game next week. Neither infielder is slated to start, but both will be counted on in a matchup with the best of the NWL in Grand Junction, Colorado.
Maitan, ranked No. 7 among Angels prospects, was the No. 1-ranked international prospect when he signed for more than $4 million with Atlanta in 2016. He became a free agent in November as a result of sanctions placed on the Braves for violating international signing rules, leading the shortstop to the Angels and Orem after playing 42 games across two levels on the East coast last summer. He's hitting .238 with three homers and 13 RBIs in 31 games so far this season.
Lavigne, a first baseman, was Colorado's supplemental first-round pick in June and is hitting an impressive .371 with five homers and 29 RBIs for the host Rockies. He's already earned a Pioneer League Player of the Week award.
Of course, the game's starters have their own credentials to brag about. J.C. Cloney of Idaho Falls is scheduled to start the exhibition and add to his eye-popping stats: He's 8-0 in eight starts this season, owning a 2.16 ERA with 45 strikeouts and just nine walks in 50 innings for the Royals affiliate. Cloney, a ninth-round pick out of Arizona last year, is holding batters to a .237 average.
View the complete 2018 Pioneer League All-Star roster
Another host starter, Grand Junction's Coco Montes, leads the Pioneer League in total bases (97) through the end of July. The 15th-round pick in June out of South Florida is batting .374 with six homers and 27 RBIs in 41 games at shortstop.
Missoula catcher Zachery Almond was selected to start as the designated hitter after ranking second in the league with eight home runs in 31 games. Almond, the D-backs' 35th-round pick last summer, is hitting .313 with 33 RBIs.
Ogden's Jacob Amaya got the nod at short. The 19-year-old from California leads the circuit in OBP (.465) and is hitting .346 with three homers and 24 RBIs in 32 games.
The Pioneer League All-Stars will take on the Northwest League's All-Stars at 6:40 p.m. MST on Aug. 7 in Grand Junction. Salem-Keizer's Joey Bart, the No. 2 overall pick in this year's Draft, headlined the NWL roster, which was announced Tuesday. The game will be streamed live on MiLB.TV.